After finishing up a fairly exciting three day trek around the southwest portion of the Kathmandu Valley, we decided to stop in Pharping which was on the way home. It was a place I'd never heard of before, and I couldn't even locate it on Google Maps. It seemed clear that this would be a quick overnight stop in a tiny town. Boy, was I wrong! Pharping has more things to do in it than Kathmandu! I honestly couldn't believe it. We arrived and immediately felt at home. Within minutes, we had booked a second night at our hotel. Honestly, two nights wasn't enough, and I can't wait to go back. Pharping has several amazing day hikes, a bazillion Buddhist monasteries, giant statues of ancient gurus, Hindu temples, stupas by the dozen, and is home to the first hydro power plant in Nepal and the second in all of Asia!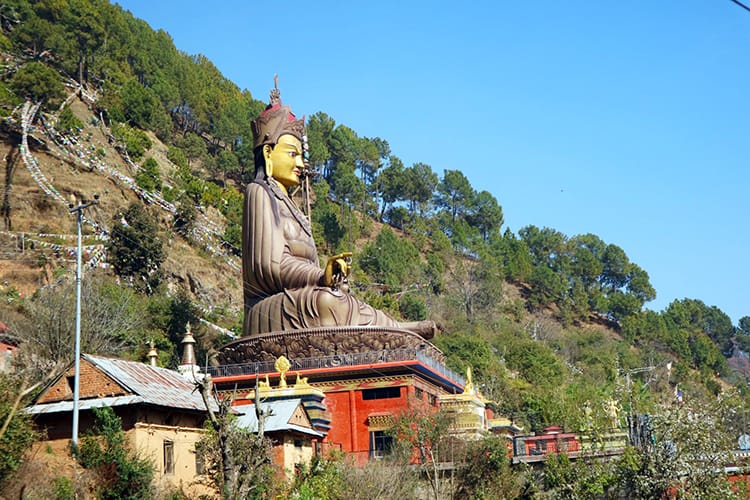 Today, Pharping is most famous for its plethora of Buddhist monasteries. If you ask the monks, they'll often grant you permission to walk around and take photos. The architecture reminds me of the temples I saw in northern Thailand. Many of the monasteries were built in the 2000's making them fairly new. Pharping is a pilgrimage site for many Buddhists and houses many of Nepal's monks.
So, why are there so many monasteries here? It's believed that a few small caves in the area were the meditation places of popular gurus. Two of these caves are the Phamting Vajrayogini Temple (Asura Cave) and Yanglesho Cave. Some Buddhists believe that meditating in or near these sacred spots increases the meditative experience and helps them to reach enlightenment quicker.
Not only is this a popular city for Buddhists. It also has some very significant Hindu temples. The Dakshinkali Temple is one of the most popular temples in Nepal for worshipping the goddess Kali. Each god and goddess in Hindi culture has specific likes and dislikes. Kali is a destroyer of evil forces and is pictured in a somewhat scary manner most of the time. She likes the taste of blood, and therefore, people bring her live sacrifices in the form of chickens and goats. They sacrifice animals here behind the main temple, and the stream beneath it often runs with blood. This temple was moved from a site above Asura Cave, and we were able to see the original as well as the newer version on our trip.
Besides it's religious history, the city is also famous for the Pharping Hydropower Station which was established in 1911. This makes it the very first hydropower plant in Nepal. I've heard that it was the second known hydropower station in Asia but can't find an article proving this. The plant used to provide electricity for the royal palace before there was any electricity in Nepal. Today, it acts as a living museum and supplies water to parts of Lalitpur.
If all that wasn't enough, the area is popular for small day hikes. The city is set in the hills with beautiful forests surrounding it. We did two hikes and plan to go back for a third. I mapped them out below for you to see. The pink line offers views of the Himalayas, a walk through millions of prayer flags, Asura Cave, and a Tamang Cremation Ground. The purple is the most popular route which goes to Champa Devi. We plan to go back to do that one as it's six hours and we wanted to spend a full day doing it. The green line takes you up to Dudjom Nadrom Choling Monastery, Hattiban Resort, and back down to town. We saw the Pharping Hydropower plant on that hike as well. You just have to continue past the trail down into the city.
Pharping City Map
---
Pharping, Nepal City Guide
Major ethnicity: Tamang & Newar
Major religion: Buddhism & Hinduism
Language: Nepali, Tamang & Newar
Location: 23 km (14 miles) southwest of Kathmandu
Altitude: 2,285 m (7,496 ft) – altitude of the hilltop near Champa Devi
How to get there: It's very easy to take a local bus from Kathmandu, and it's only about an hour ride. You can also get a bus from Kirtipur or Patan. Some people hire a cab or private vehicle for the day. We took a local bus from Kulekhani since we were coming back from a hike.
What to eat: Typical Nepali food is popular in the area. If you are staying at Solid Rock Lodge, you'll be treated to organic and vegetarian cuisine which was delicious.
What to see and do: As mentioned in detail above, there are so many places to see. I'd recommend checking out a few of the major religious sites like the original Dakshinkali Temple, the new Dakshinkali Temple, Asura Cave, Yanglesho Cave. See several of the monasteries and the Ringpoche Guru statue. There are three major day hikes. The first (shown in pink on the map), goes to a Tamang cremation ground, a football field, Asura Cave, and into town. The second (shown in purple), goes to Champa Devi which is a popular day hike from Kathmandu. The third (show in green) goes to Dudjom Nadrom Choling Monastery, Hattiban Resort, and back to town.
Read more about the Asura Cave & Dakshinkali Temple Hike
Read more about the Champa Devi Hike
Pharping Hotels & Accommodations
Comfort Hotel in Pharping: Solid Rock Lodge & Restaurant ($30 USD a night) We booked a room at Solid Rock the same morning we arrived. We sort of got stranded in Kulekhani and were stuck in the hot sun hitchhiking without sunscreen. Then, we took the rather bumpy ride to Pharping. Honestly, we rolled into the hotel looking awful, feeling awful, and obsessed with the idea of a hot shower. The owners were so incredibly kind and welcomed us right away. It was such a relief after such a rough morning. They proceeded to show us a list of all the best things to see and even a hand drawn map of the trails in the area for hiking. I honestly felt like we were part of the family. The rooms are beautiful, the bathrooms are clean with steaming hot water, and it's set away from the noisy road in a little oasis. I could not recommend this place enough. If I ever need a weekend getaway from Kathmandu, this is my new favorite spot.
Monastery Stay in Pharping: Dudjom Nadrom Choling ($7 USD per person for room and $5 USD per person for all meals) We stopped by the Dudjom Nadrom Choling Monastery on a day hike. It's set in the hills with a gorgeous view of the city below. You can even hike less than 15 minutes to see the Himalayas. You're welcome to spend as little as one night at the monastery or as long as you want. One man has been there for four years. It's a self guided program, so you meditate on your own. The rooms are really nice but there is no wifi, heat, hot water, or A/C. It's the perfect place to get some peace and meditate at your own pace. Call 9803637257 to let them know you are coming a few days in advance.
Luxury Hotel in Pharping: Neydo Hotel ($70 USD a night)
Pharping Photography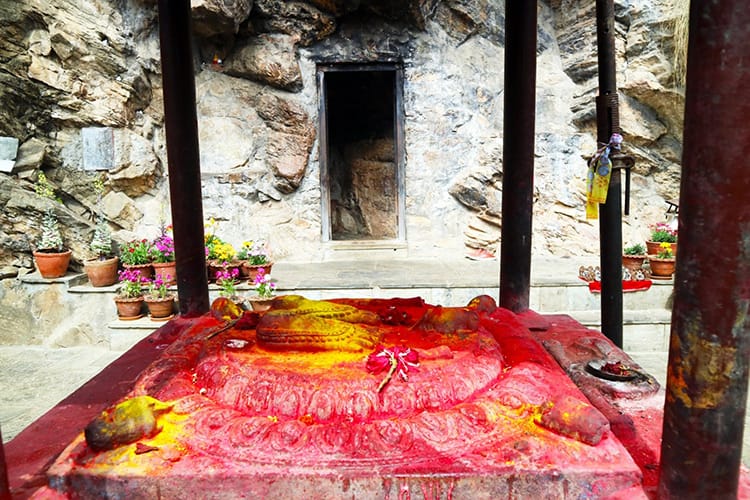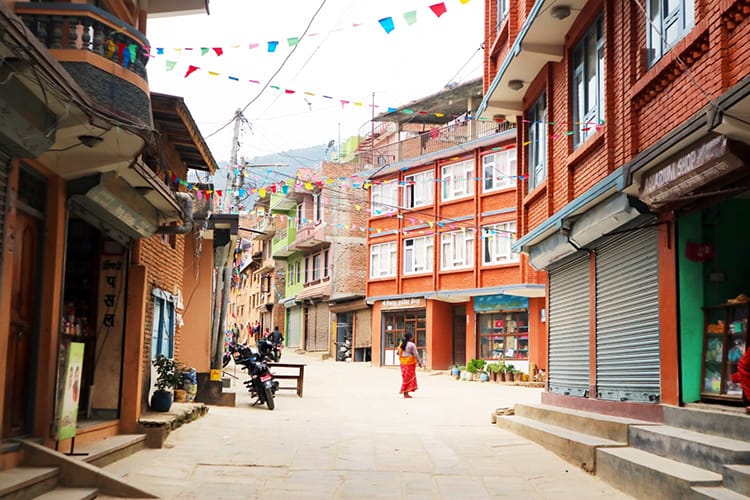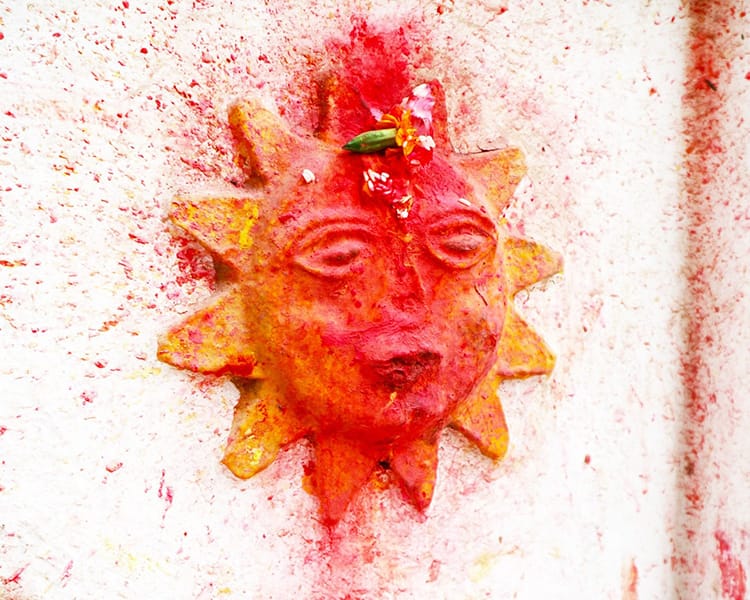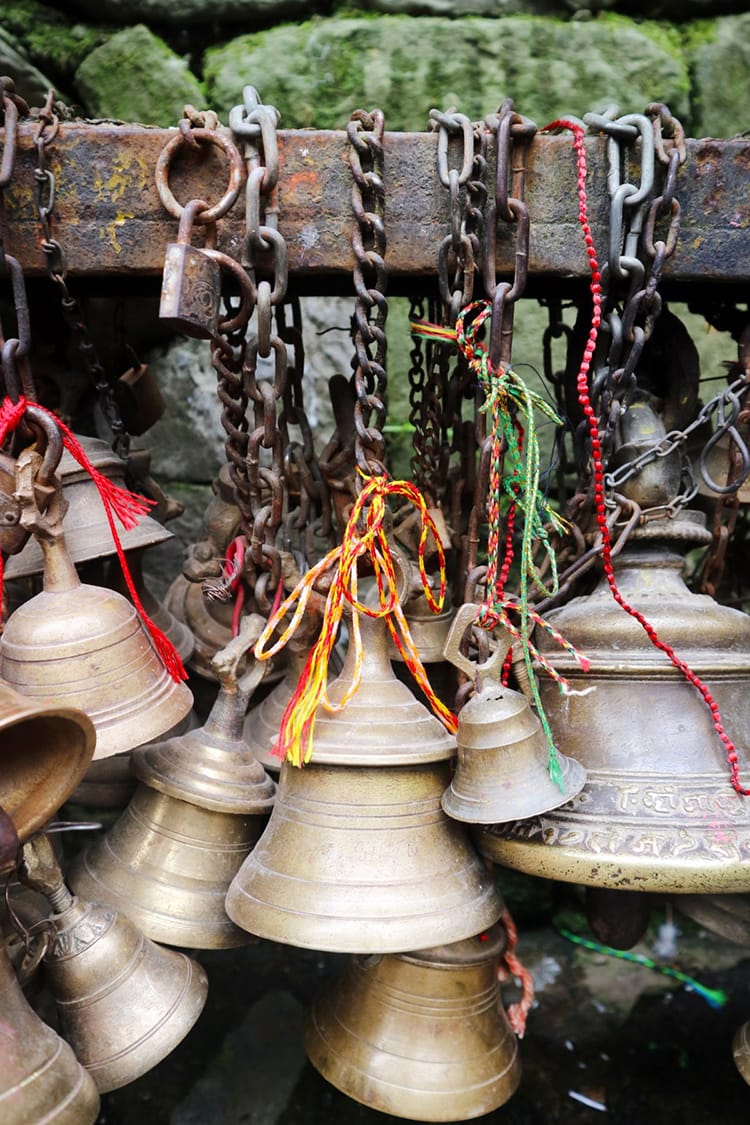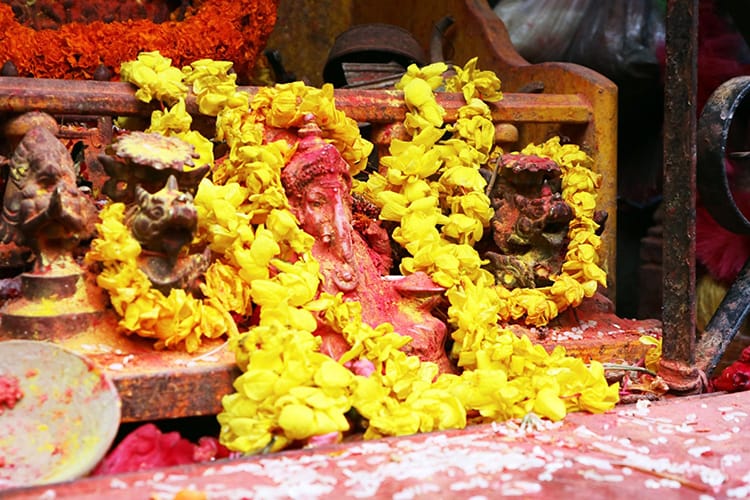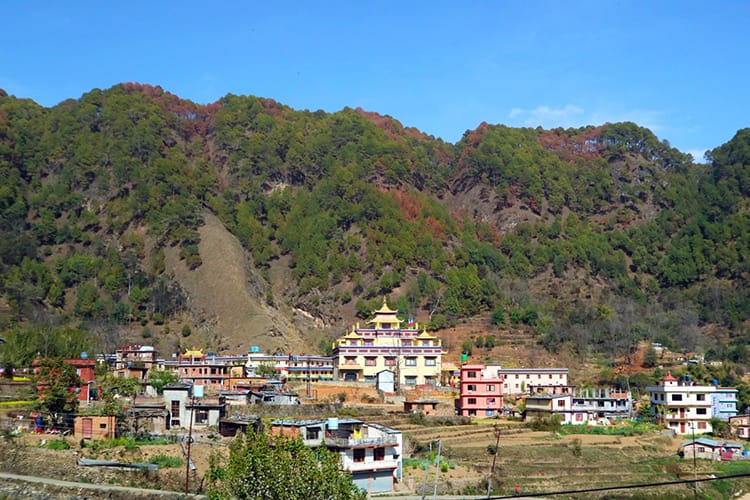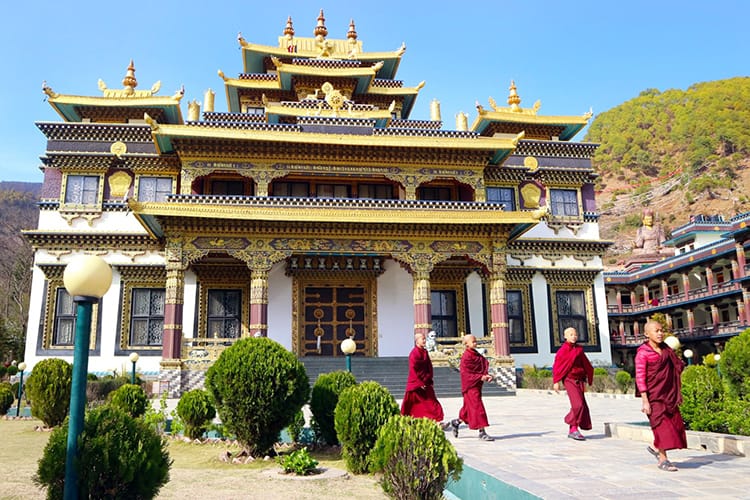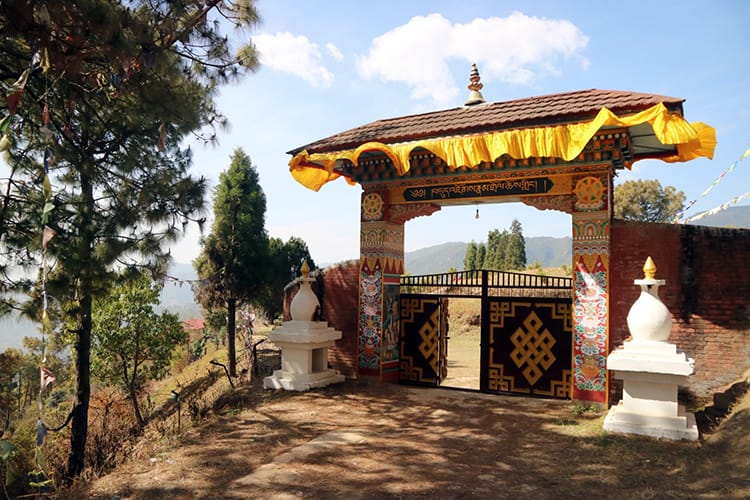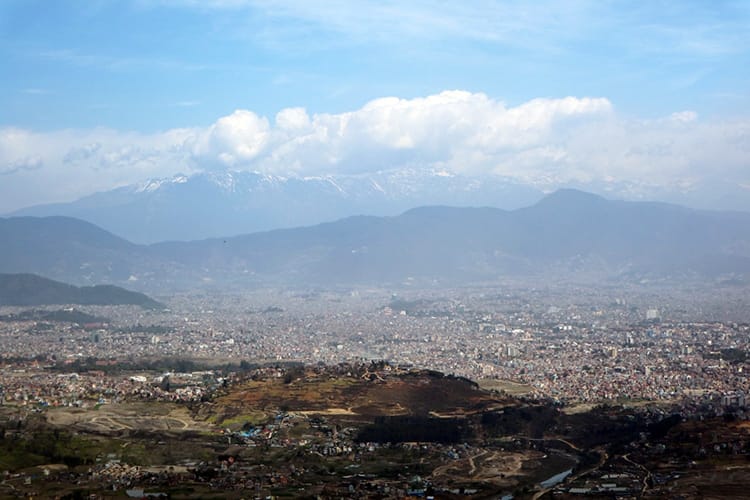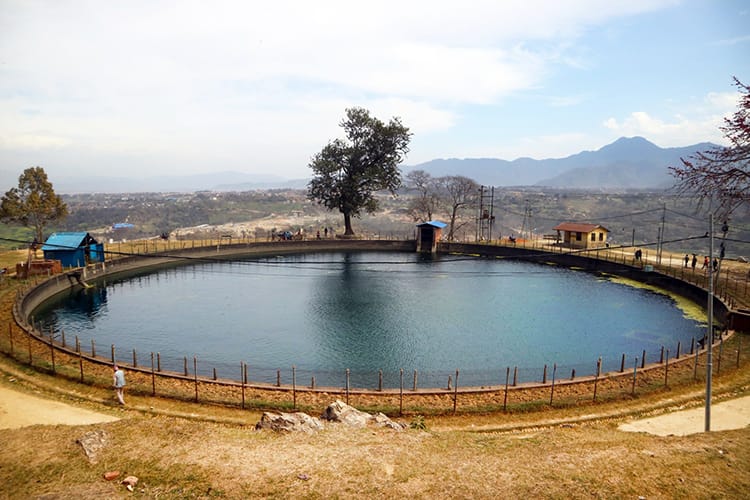 ---
If you enjoyed this post and found it helpful, please consider saving the pin below on Pinterest. It only takes a second, and it helps me to share my content with others. Thank you so much for your support!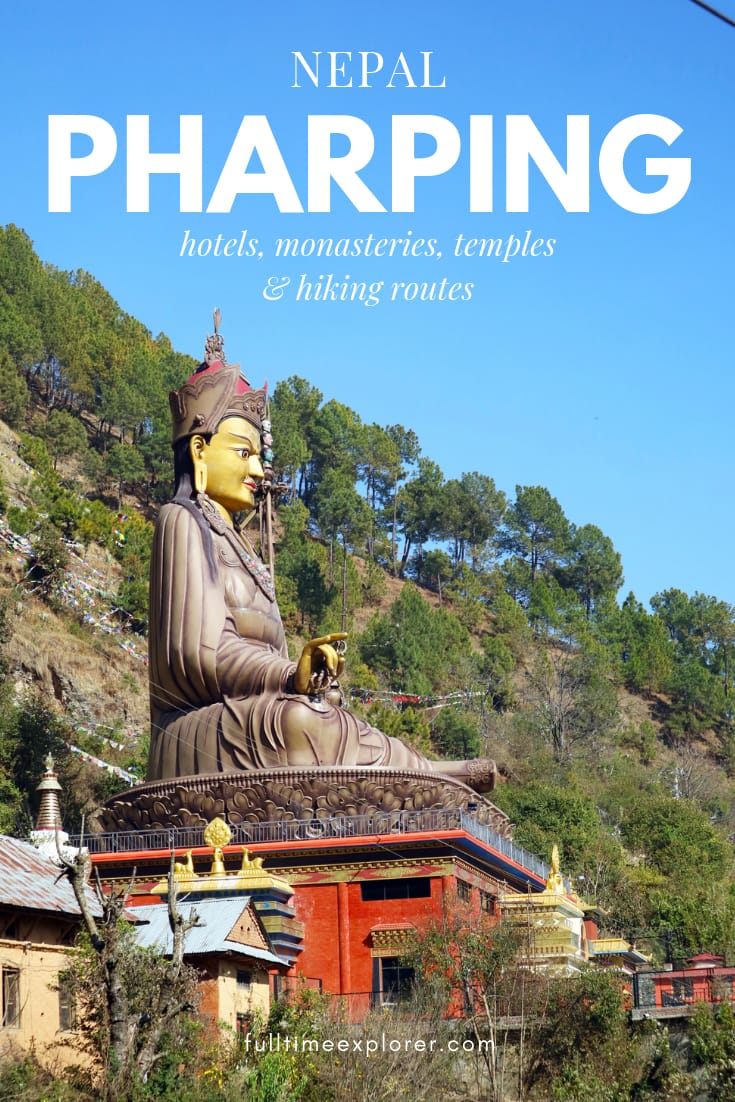 This post was written by Michelle Della Giovanna and originally appeared on www.fulltimeexplorer.com