My time in Pharping, Nepal felt so full. There were so many things to do and see, and I wanted to see it all. The owners of the Solid Rock Lodge offered us a few different day hikes so that we could walk and see everything at once without having to go to the dusty highway that cuts through the center of town. The hike shown below starts and ends at Solid Rock Lodge & Restaurant, however you can adjust that if you decide to start somewhere else. During this hike, you'll be in the woods for an hour to an hour and a half. Then, you'll walk through part of the city before heading back. It's the perfect way to experience a few of the famous sites in town including Asura Cave and Dakshinkali Temple.
---
Solid Rock Lodge
---
Our day started at Solid Rock Lodge & Restaurant, which is a homestay style hotel run by a Danish man and his Nepali wife. I cannot say enough good things about this hotel. It's one of my favorites in Nepal. It's tucked away in the peaceful hills of Pharping, surrounded by farmland, forests, and village life. Yet, it's a five-minute walk from wonderful sightseeing. The owners are incredible friendly, and they helped plan this hike for us.
Book on BOOKING.COM | AGODA
For more about Pharping, you can check out my Pharping City Guide.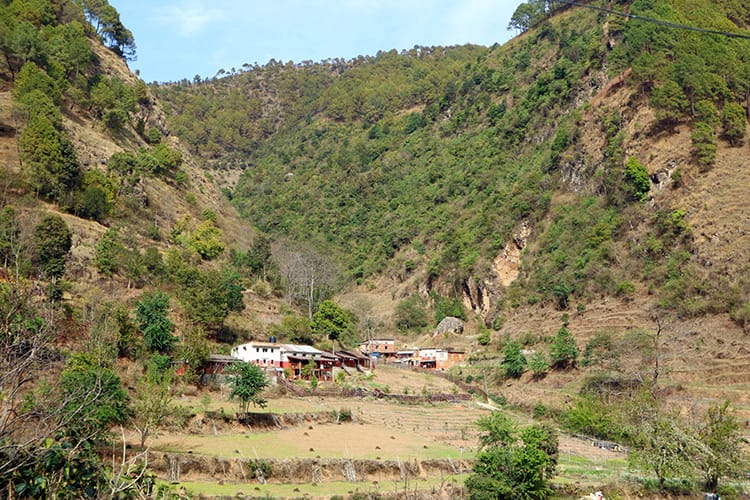 Tamang Cremation Ground
---
When you leave Solid Rock Lodge, you'll walk behind the buildings in town. When you reach the edge, you'll follow a cement path uphill. I recommend wearing long pants as the path is narrow and branches tend to hit your legs. It's a nice leisurely stroll uphill. It's a bit steep at times, but you won't see anyone else on this path which makes it the perfect place to escape to. At the top of the hill is a Tamang Cremation Ground. Tamangs are an ethnic group in Nepal. They're mostly Buddhist and believe in open air cremation. Buddhists follow the idea of impermanence so it's important to see a body being cremated to accept that we should not be attached to our body.
---
Old Dakshinkali Temple
---
Dakshinkali Temple is one of the most popular temples in Nepal to worship the goddess Kali. There's a temple lower down in Pharping which is fairly famous throughout Nepal, however we were told this was the original site before the temple was moved. I can't find any information backing this story up, so sadly I don't have the history of why it was moved. What's sad is that many tourists passing through have added graffiti to its walls. Please be respectful of this religious site.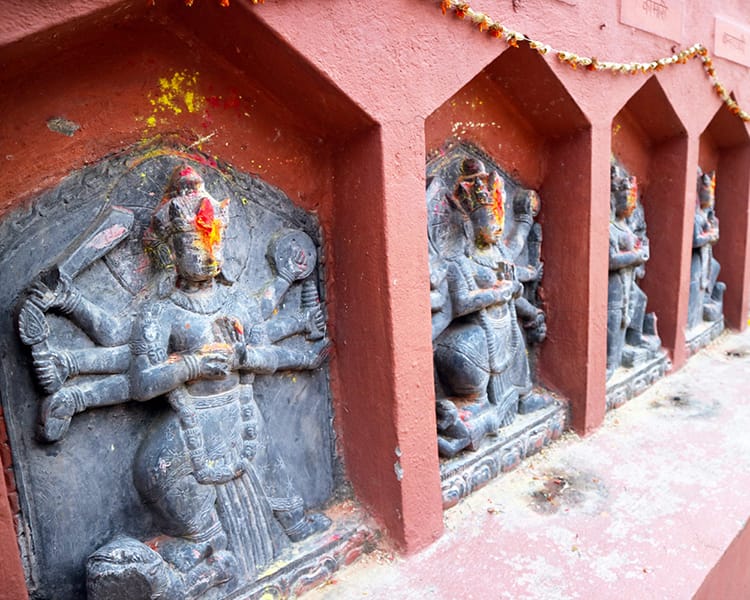 Prayer Flag Forest
---
After leaving Old Dakshinkali Temple, you'll head downhill through what I like to call a "prayer flag forest." In Buddhism, prayer flags also represent impermanence. You'll see them tattered in the wind. Each color represents a different thing like water, air, etc. Each flag has a prayer on it and as the fabric disintegrates, the prayers are released into the air to help the world. Here, you'll find millions of these flags on the hillside dancing in the wind.
Asura Cave
---
Asura Cave was a sacred cave for Guru Rinpoche since it was where he reached enlightenment. As you pass over the hill above, you'll notice a giant statue located just before the Solid Rock Lodge. This statue is of Guru Rinpoche. He is known as the founder of Tibetan Buddhism and as the "second Buddha." I'm a little confused about how it works, but there is a recent Rinpoche who has built a monastery surrounding the cave. I think there is always a Rinpoche (a reincarnated version) since there seem to be several noted in history at very different times. Sort of like the Dalai Lama. You can sit and meditate in this cave. It's big enough to fit about three people comfortably. Some Buddhists believe that meditating in holy places enhances the meditation experience.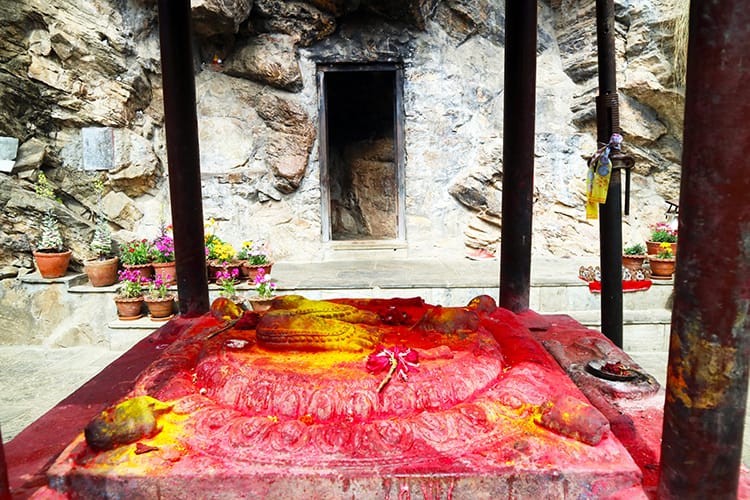 Dakshinkali Temple
---
After walking through the main city, you'll end up going downhill to the Dakshinkali Temple which is a popular place to worship the goddess Kali. She's a fearsome goddess who was Lord Shiva's wife. It's believed that she likes to have fresh animal blood two times a week (Tuesday and Saturday), therefore, this is a popular temple for live sacrifices. People come from all over the Kathmandu Valley to offer roosters and male goats to the goddess in hopes of having any evil removed from their lives. If blood makes you squeamish, this may not be the best place to see. Note: part of this temple is reserved for Hindus only. You may not enter that area as a tourist.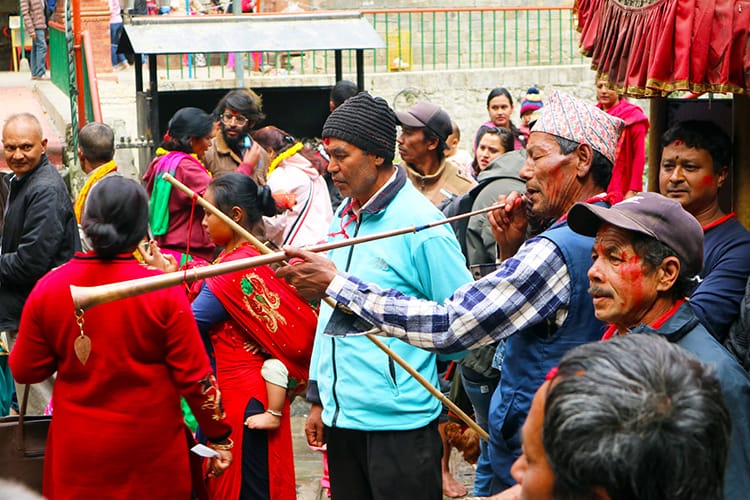 Yanglesho Cave
---
The history of Yanglesho Cave is a little confusing for me. Although I've tried to learn about Buddhism, it's different in every country, and sometimes in every region. Forgive me if this information isn't explained properly. Yanglesho Cave is popular among Tibetan Buddhists in Nepal. At the time of Guru Rinpoche (the original one), there was a three-year drought. He had certain objects brought to the cave from India to counter the bad luck. As soon as the items arrived, the drought ended. He then went on to continue teaching this specific form of Buddhism and became a guru.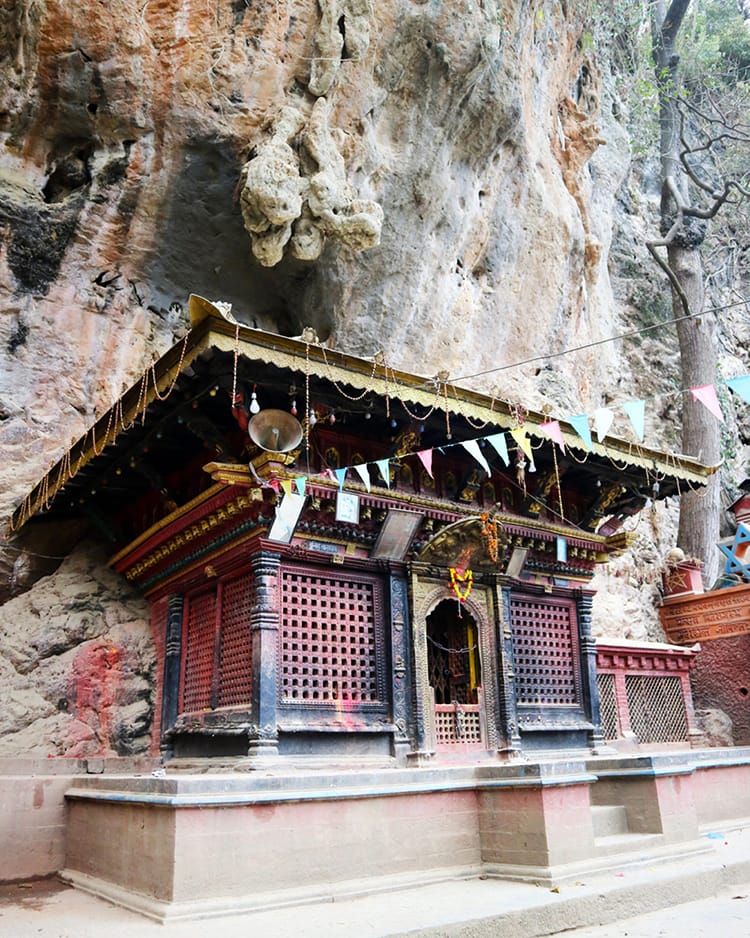 Azom Monastery
---
On the way back to Solid Rock Lodge, you'll pass a beautiful monastery. I highly recommend asking the monks if you can enter and take a few photos. It reminds me of the temples in Thailand with beautiful intricate gold details on the outside. This is a place where novice monks study Tibetan Buddhism. If you arrive during their chant, you might be able to sit quietly at the back and listen. Note, you aren't allowed to take photos inside, so it's best to put your camera away indoors.
Looking for a more difficult hike? Check out my post on the Champa Devi Hike which is also in Pharping.
Need a place to stay in Pharping?
---
You might also like…