When I first set out on my yearlong adventure, I would have done anything to join a tour group. Unfortunately for me, the costs of tour groups were too high. I could either do a year of solo travel and figure things out on my own or two months with a company. The idea of solo travel scared me initially, but the more research I did, the more confident I became. Once I was on the road, I was happy that I'd chosen to do things on my own. I've learned to go with the flow and adapt, and I've experienced the culture in a way that didn't seem possible in large groups.
All of that being said, I've always wondered what being in a tour group was like. Would my life be easier if someone planned everything for me? It wasn't until I looked up information on doing the Everest Base Camp trek that I really considered a tour group. My mom was adamant about me booking my trek with a notable tour company. I've never done a long trek or one with high altitude. She wanted to be sure I would be safe. Without a choice, I booked my very first tour group. To be honest, I was excited to have someone take over the planning for a while, especially since I was out of my element.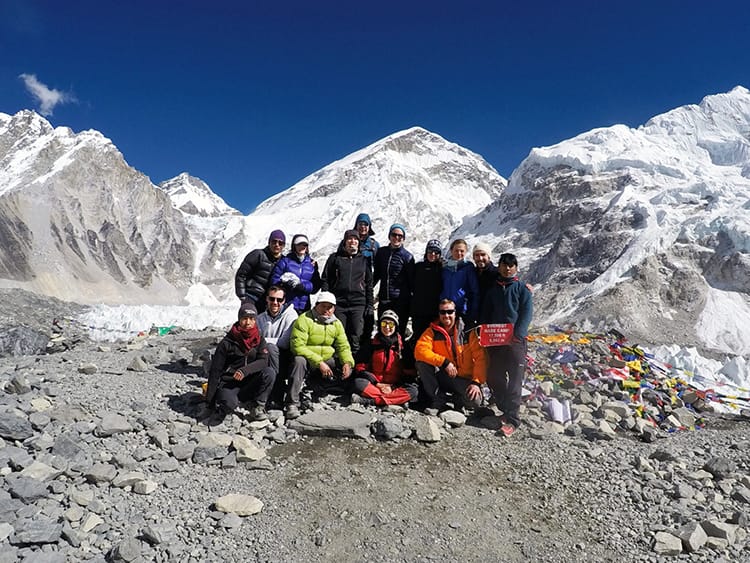 The Pros
---
Stability
Being part of a tour group has a lot to offer. One of the most exhausting parts of travel can be meeting new people every day. Knowing that I was part of a group for three weeks was a relief. I could get to know my nine counterparts with more than just the initial small talk I've done so many times this year. Having a little stability and some deeper conversations was a nice change.
Just Showing Up
Not having to make a game plan was incredible. I know I could have planned my Everest trek, but not NEEDING to was a relief. I woke up when they told me, went to sleep when they told me, and walked as far as I was supposed to. On the days when we were at high altitude, my brain could barely pick out a meal. I was so happy I didn't need to think of where to sleep, walk, or eat.
No Language Barrier
Our guides spoke excellent English, so we never had any confusing mix-ups. It was nice not having to worry about getting the right meal or negotiating the prices. I didn't have to wonder if I was making sense or if the other person actually understood me. After months of doing charades, it was a much needed break.
Safety
When I booked originally, it was because I was inexperienced with trekking. Now, I realize how much safety really went into consideration on this trek. Yes, our guides had oxygen and were trained in basic first aid and mountain medicine, but it's more than that. Our guide would go into kitchens to make sure the food was safe to eat. He'd ask what day things arrived on helicopters so no one got food poisoning. He went above and beyond to make sure we all made it to Base Camp without any mishaps.
Making Lifelong Friends
I'm not sure there is a better way to bond than to be stuck in extreme conditions with nine other strangers. Everyone was going through the same thing, and we were able to laugh at it together. We laughed at the toilet situations, room conditions, food mishaps, and anything else that could have otherwise been upsetting. We played games every night and teased each other throughout the days. Hell, we even knew each others poop schedules. If that doesn't say 'lifelong friends,' I don't know what does.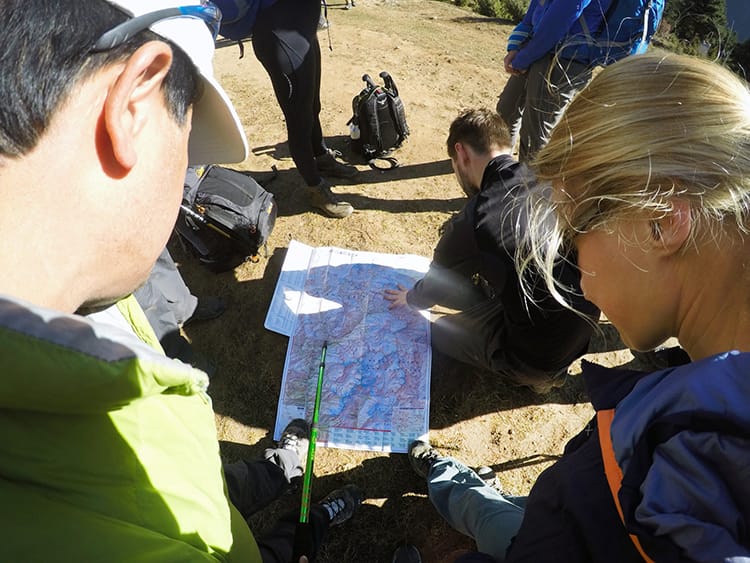 The Cons
---
You Don't Get to Choose Who You Travel With
Luckily, my group got along fairly well. We were all in the same age range and all spoke English. While some people walked faster than others, we didn't really have a big gap in physical fitness. That being said, if you didn't like someone, you were stuck with them for three weeks and had no choice. I'd also met a few really amazing people I wanted to trek with prior to the start of my trek, and I couldn't change my plans to go with them instead.
Staying on a Strict Schedule
Halfway through my trek, I got sick. It was just a cold, but I couldn't stop and take a day off. I had to keep moving forward with the group. If I'd been traveling alone, I could have taken my time. After pushing myself too hard in cold temperatures, I ended up getting pneumonia and spending two nights in a third world hospital in Pokhara. I also missed a sunrise hike to Kala Patar because I was too sick that day to summit. It was a part of the trip I was really looking forward to.
Less Interactions with Locals
While my guides were amazing, we didn't get to interact with any other locals. When I travel alone, I often meet the owners of guesthouses and restaurants. I spent one day in Myanmar picking through chilis with a local women on a farm who spoke no English. It was one of my favorite memories and that aspect was missing from my tour. When you're in a large group, it's a lot harder to connect with people outside of the group.
Less Choices
I've grown used to having every choice at my disposal over the last year (within reason). I can pick any restaurant to eat at or any hotel to stay in as long as it's within my budget. Having to eat at a specific restaurant and stay at a certain hotel was hard for me. There were days when I would have paid extra for a room upgrade just to feel better and I couldn't. There were other days when I wanted to choose a different restaurant but had no choice.
The Price Tag
Joining a tour group costs a lot more than arranging things on my own. While we did stay at nice places, I couldn't help but calculate what I would have spent if I planned it myself. I think I easily would have saved $600. Of course that money goes to pay for peace of mind and not having to think, but for me that $600 could fund another month of travel. Knowing that, I'd rather deal with the hassles and save the money.
No Alone Time
While being with a group gave me stability, I realized that sometimes you just need some space. In the past, I've had some really eye opening moments while doing treks, but this time I felt a little let down. I didn't always get to take in the scenery because I was busy talking. I didn't always get to stop and appreciate where I was. The days when I broke away from the group were the days I enjoyed the most because it gave me time to think and appreciate where I was.
---
My Thoughts…
---
Although I'm very happy I did my Everest Base Camp trek with a tour group, I realized that it really isn't for me in the long run. I like the mishaps and the challenges that come with planning on my own. Not every travel day is good, and not everything goes as planned, but I really love the ups and downs. I rarely learn anything about myself when things work out. It's when I'm outside of my comfort zone that I get the most out of my travels. Those are the moments I truly cherish.
---
You might also like…