Pumdi Bhumdi does not only have the best name of any village ever, it also has amazing mountain views, beautiful village homes, and incredible hospitality. It's located close enough to Pokhara that you can do a day trip or hike there and do an overnight trip. It is also part of the Panchase Trek which is a lesser-known low altitude trek that is gaining popularity.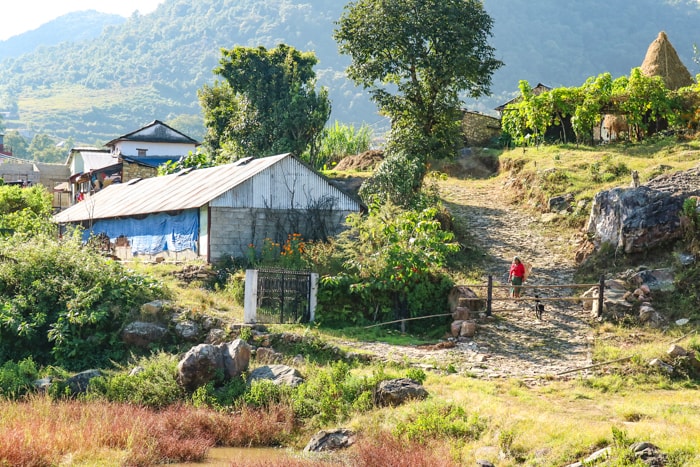 ---
Pumdi Bhumdi Village Guide
---
Major Ethnicity:
Gurung
Major Religion:
Buddhism & Hinduism
Language:
Gurung & Nepali
Pumdi Bhumdi Altitude:
1,525 m (5,000 feet)
Oxygen Concentration:
84% compared to 100% at sea level
Best Time of Year to Visit:
It's best to visit in the peak season around October or November as the skies are clear offering great views. You can visit here most times of the year; however, the area gets a lot of leeches in monsoon season (June, July, August, and September).
Wild Animals in the Region:
Wild animals in the region include spotted leopards, Himalayan black bears, porcupines, monkeys, and pheasants. It's also a popular place for bird watching. Some popular birds in the area are the bulbul, magpie, and woodpeckers. The area also has wild orchids growing in the jungle.
Location:
Pumdi Bhumdi is located 3.5 hours from Lakeside, Pokhara by taxi. It's located about 12.8km west of Pokhara by road.
Entry Permit:
No entry permit is required to enter the area.
NTC or Ncell service:
NTC had 4 bars
Ncell had 1 bar at 3G
---
What to Eat in Pumdi Bhumdi
---
The locals recommend millet, potato, and corn which grow locally in the area. Some specific items are roti, chapati, and millet pancakes. They recommend the local wine or buffalo milk to drink. A local dish that you might not find at restaurants is ghandruk which is fermented spinach. It's an acquired taste, but something different to try. I highly recommend the millet pancake for breakfast. It was delicious and surprisingly filling!
---
Things to do in Pumdi Bhumdi, Nepal
---
Nearby is the giant Shiva Mandir where a large Shiva statue sits in front of the Himalaya backdrop. You can also walk to the Peace Pagoda and down to the lake from here if you want to do a long day hike. Overall, this village is an incredible place to take in mountain views while barely leaving Pokhara. Pumdi Bhumdi is also the start or end of the Panchase Trek depending on which direction you choose to walk it.
Pumdi Bhumdi Lodges & Teahouses
---
Types of accommodation:
Lodges and Hotels are the main accommodation in the area. Lodges are basic hotels. They often have attached or indoor bathrooms, electricity, and real beds/furniture. They are a step up from basic teahouses which have thin walls, outdoor bathrooms, and simple furnishings.
Number of accommodations:
3 lodges/ 2 Hotels – This depends on where you are in Pumdi Bhumdi. If you go closer to Pumdikot there are a lot more options, but it's also touristy and doesn't feel like part of the trekking route.
Our choice:
Himalayan View Tea House – I'll be honest, my feet were killing me from the downhill trek. I had major blisters on the bottom of my toes, and I was planning to sleep in the first lodge we saw. But I was pleasantly surprised with this lodge. It's simple but cozy and gives you a local village experience. The owner was friendly and helpful and the views from the roof were amazing. The only downfall was that the mattress was super thin so it felt like sleeping on a wood bed.
Pumdikot Mountain Lodge – If we'd had the energy to walk another hour or two, we would have made it to Pumdikot Mountain Lodge which is a proper hotel and feels like luxury after the trek. They have incredible views, big cozy beds, and a gorgeous traditional mountain house vibe. This is in Pumdikot though, not Pumdi Bhumdi.
Book on BOOKING.COM | AGODA
Price of a Room:
600 rupees (about $6.00 USD) for a double room at a lodge. If you stay in a hotel it will likely cost over $30 USD per night.
Price of Veg Dal Bhat:
400 rupees (about $4.00 USD)
Electricity:
There is electricity with charging points in the room.
Toilet Situation:
Rooms have an attached bathroom with a western toilet.
Shower:
The lodge we stayed in only had cold water in the tap. They were able to boil water for a bucket shower if needed.
Wifi:
Wifi is available for free and works well.
---
Pumdi Bhumdi, Nepal Photography
---