I'm definitely guilty of being the person who watches a movie before reading the book, and then, if the movie intrigues me, I read the book to learn the whole story. Not sophisticated. I know. But, it's the truth. I watched Seven Years in Tibet and was curious to know the true story behind the movie, so I bought Seven Years in Tibet by Heinrich Harrer and began to read.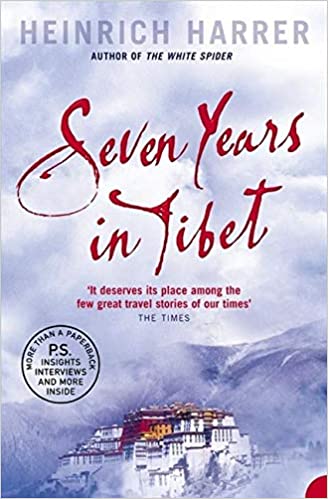 We spoke no word, and to this day, I can find no terms to express how overwhelming were our sensations. Our minds, exhausted by hardships, could not absorb the shock of so many and such powerful impressions.
Seven Years in Tibet by Heinrich Harrer is the true story of the author who was on a mountaineering expedition in the Himalaya when England declared war with Germany. He was then arrested by the British army in India and put into a Prisoner of War camp. The Austrian mountain climber made several attempts at escape, and finally succeeded at making it to the border of Tibet, a land that rarely accepted foreign visitors. While the world was at war with the Nazi's, Tibet was having its own problems which eventually led to an invasion by the Chinese.
Earthly existence is of little worth in Tibet, and death has no terrors. Men know that they will be born again and hope for a higher form of existence in the next life, earned by pious conduct in this one.
What I love about this book is the insight into Tibetan culture. Harrer and his climbing partner, Peter Aufschnaiter, escape the prisoner of war camp in India and end up living in Tibet for seven years. They sneak into the country with a number of elaborate lies and outdated travel permits all in the hopes of reaching Lhasa. When they finally arrive, they manage to convince the government that they should be allowed to stay, and in turn, they witness numerous festivals, learn the language, and Harrer even becomes a tutor to his holiness the Dalai Lama.
Here it is the yak's pace that dictates the tempo of life, and so it has been for thousands of years. Would Tibet be happier for being transformed? A fine motor road to India would doubtless raise the people's standard of life very greatly, but by accelerating the tempo of existence it might rob the people of their peace and leisure. One should not force a people to introduce inventions that are far ahead of their stage of evolution. They have a nice saying here: 'One cannot reach the fifth floor of the Potala without starting at the ground floor.'
While being immersed in the culture, they learn a new way of living. They learn to slow down, to appreciate the Tibetan way and to become Tibetan at heart. Harrer has many doubts about Tibet like their use of magic or prayer as medicine, their aversion to any kind of technology including things as simple as the wheel, and a religion that runs an entire nation. But, he learns to open his mind and his heart to accept the ways of a different world. He challenges his own way of thinking which results in a deep rooted love for a country and culture that will soon be extinguished.
In Tibet one is not haunted from morning till night by the calls of 'civilization.' Here one has time to occupy oneself with religion and to call one's soul one's own.
I would highly recommend this book to anyone who loves a good adventure and the lure of far off lands. Beyond adventure, it's a book about understanding and tolerance written at a time when tolerance was needed more than ever.
---
Don't have time to sit down and read a book? Check out audible! You can sign up for a 30-day free trial and get two books free by clicking the banner below! If it's not for you, you can cancel any time. This is a great option if you're on the road or commuting and want to listen as you go.
You might also like…