Living in Nepal has exposed me to a lot of vegetables that we don't typically eat back home in the states. For instance, fiddle head fern is extremely popular this time of year (monsoon season in Nepal) but is typically hard to find back home. This fiddle head fern recipe is extremely easy to make and is the perfect side dish. The fern is soft and flavorful making it one of my new favorite side dishes.
What I love about eating in Nepal is that food is only available when it's in season. Because of an unreliable infrastructure, most of the vegetables we eat are grown locally within an hour drive from where we live. So, each part of the year welcomes new surprises and foods to try.
In Nepal, it's most common to eat dal bhat for lunch and dinner which is rice and lentil soup served with side dishes such as spinach and curry. Here, "spinach" can mean a ton of different things from the typical spinach we have back home to almost any greens you can imagine like pumpkin leaves, mustard leaves, fiddle head fern and more.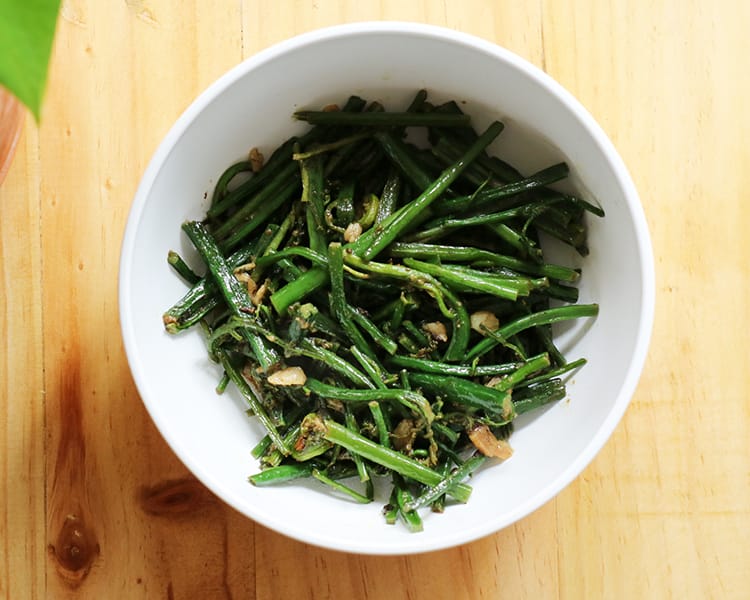 Nepali Cooking Ingredients
---
Many Nepali cooking ingredients aren't things we typically use in American cuisine and you may not have them readily available in your household. I put together a kit list below with popular Nepali ingredients that can be purchased on Amazon. The ingredients used in the sautéed fiddle head fern recipe should be available at your local market, however if you can't find the spices they are on this list. Please note that you won't need all of the ingredients below.
---
Fiddle Head Fern Recipe Photos
---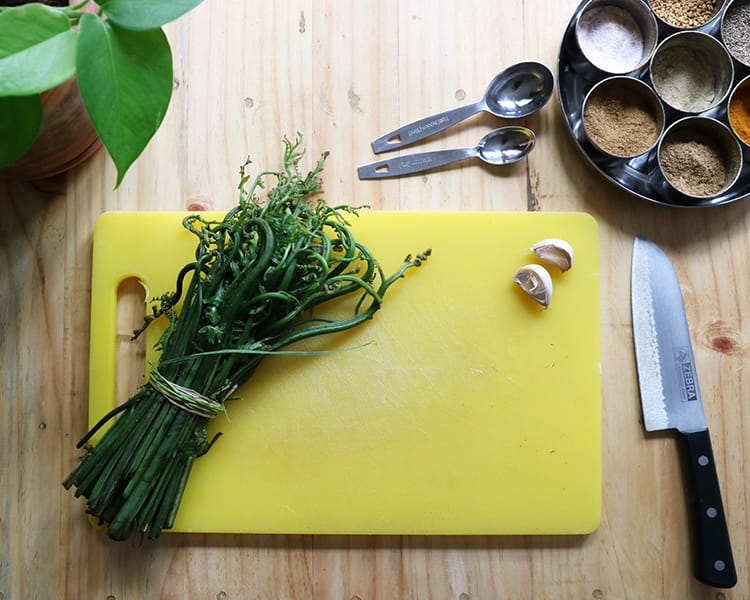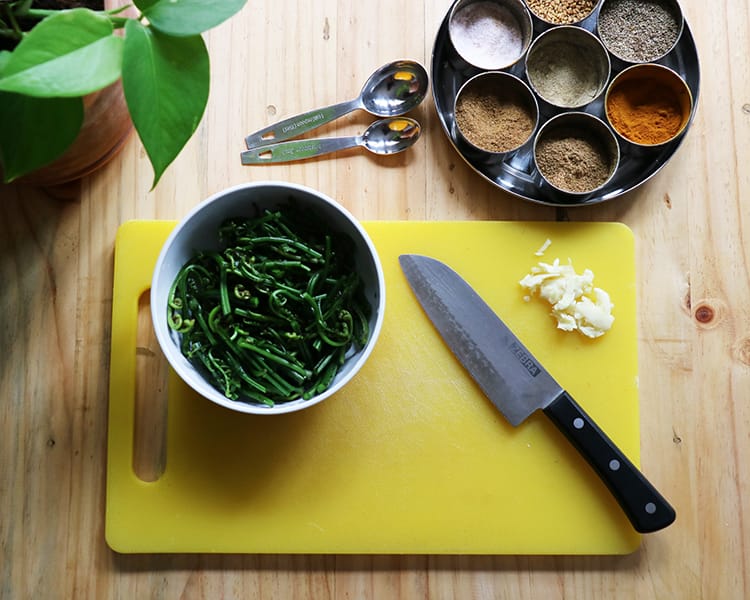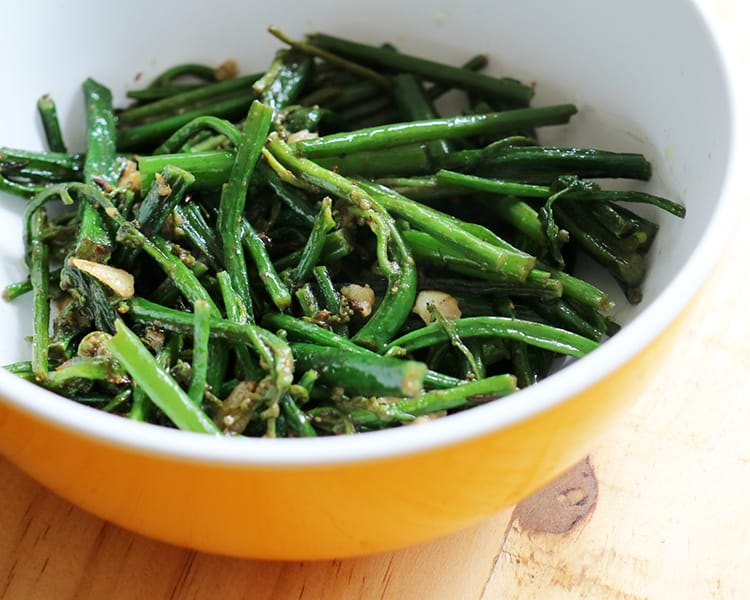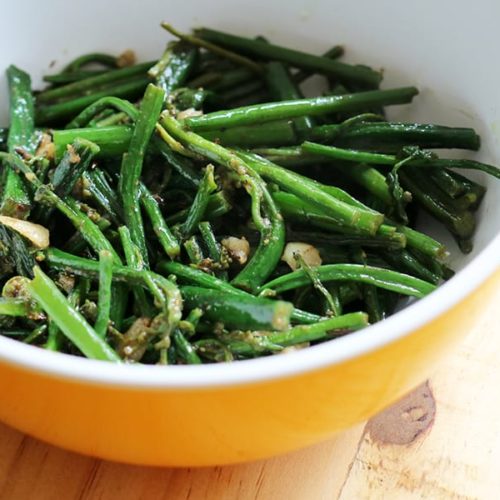 Sautéed Fiddle Head Fern Recipe
Easy to make sautéed fiddle head fern made in a Nepali style with light spices
Ingredients
½

lbs

fiddle head fern

2

cloves

garlic

1

tsp

salt

1

tsp

ground coriander

1

pinch

cumin seeds

1

tbsp

sunflower oil

1 ½

cups

water
Instructions
Prep
Remove the bottom of the stems of the fiddle head fern (the hard part) like you would on asparagus. Bend the stem near the bottom (about an inch or two) and it will snap around the place where the plant is tender. Throw out the hard pieces. Chop the remaining top part into 2 inch pieces and wash with cold water.

Smash 2 cloves of garlic in a mortar. Do not mush it too much. It shouldn't be a paste.
Cook
Put the fiddle head fern in a saucepan with 1.5 cups of water and bring to a boil. Once it boils, lower it to low heat and cook for 4 minutes.

When done, drain it and wash it with cold water to remove the stickiness. Drain again, being sure to remove all water.

Using a frying pan add 1 tbsp of sunflower oil and put on medium heat.

Add a pinch of cumin seeds to the hot oil and fry till brown (about 1 min). Add the 2 mashed garlic cloves.

When you can smell the garlic (about 30 seconds) add the fern and stir it together.

Fry and stir regularly for 2 minutes, then lower the heat to medium low.

Add 1 tsp of salt and 1 tsp spoon of coriander powder and continue to fry for 30 seconds.

If it starts to get dry you can add 1 -2 Tbsp of water.

Cover it and cook it on low heat for 8-10 mins (depending on how cooked you like your greens) while stirring occasionally.

Add salt to taste and serve hot.
You might also like…