Simigaun, Nepal is a small village set in the hills at the beginning of the Tsho Rolpa Lake Trek. I talked to the Gaurishankar Conservation Area officials upon entering the area and they told me they only see about 100-250 tourists during peak season (October-November). This area is still considered very off the beaten path, making it the perfect time to visit.
Simigaun was hit hard by the 2015 earthquake and almost 70-80% of the homes and buildings in the village needed to be rebuilt. You can still see a few homes under construction, but the area is looking forward to having tourists return. There used to be a temple at the top of the hill, however, it was destroyed during the earthquake. You can see the remains scattered around along with new lumber so that it can be rebuilt.
Simigaun is an agricultural area known for growing potatoes and corn. Just across the river is the village of Rikhu. We met another American on the way down from our trek who lives in Simigaun and explained that the two villages have an interesting microclimate. They're warmer than lower elevations, so they've been teaching villagers how to grow high yielding fruit and nut plants.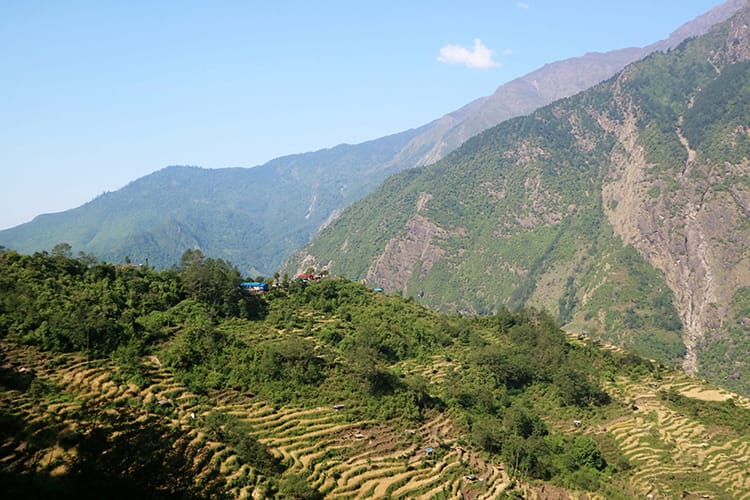 Simigaun, Nepal Teahouses
---
Number of teahouses: 3
We stayed at: Sherpa Hotel
We decided to stay at the Sherpa Hotel. It's located at the top of the hill, and on a clear day you can see an amazing view of Gaurishankar mountain. The young man who runs the teahouse is nice and makes a wonderful dal baht. The rooms are comfy and there're electrical outlets so that you can charge electronics. The bathrooms are a little far from the bedrooms, but other than that it's a great place to stay.
Price of room: 500 rupees (approximately $5 USD)
Price of vegetable dal baht: 300 rupees (approximately $3 USD)
WiFi: No
Electricity: Yes, with outlets in each room
Toilet Situation: Outhouse / squat toilet
Showers: Buckets of hot water available for a fee
NTC Service: Limited Cell Service
---
Village Overview
---
Major ethnicity: Sherpa
Major religion: Buddhist
Language: Nepali & Sherpa
Altitude: 2,000 m (6,561 ft)
Oxygen Concentration: 80% (compared to 100% at sea level)
Location: Simigaun is located in the Gaurishankar Conservation Area which is in the north-eastern part of Central Nepal. It's 2.4 km (1.5 miles) from Chhetchhet which is the closest village with road access. It's about a 2 hour walk from the closest road.
Best Time of Year to Visit: October, November, April, May
How to get there: Simigaun is part of the Tsho Rolpa Trek, Rowaling Valley Trek, and the Tasi Lapcha La Trek. It takes an 8-10 hour drive from Kathmandu and a 2 hour walk to reach the village of Simigaun.
What to eat: Because the area is mostly Sherpa, it's best to try authentic Nepali or Sherpa food. Dal baht is popular along with Thukpa (Tibetan noodle soup) and Thongba (millet wine). Most of the items you are served are grown fresh in the area including potatoes, corn, and spinach. Agriculture is the leading income source for most locals.
What to see and do: Simigaun is a quiet village set in the hills. If you're interested in learning about agriculture, village life, etc. it's the perfect place to visit. Most people come here on the way to the Tsho Rolpa Trek.
---
Simigaun Photography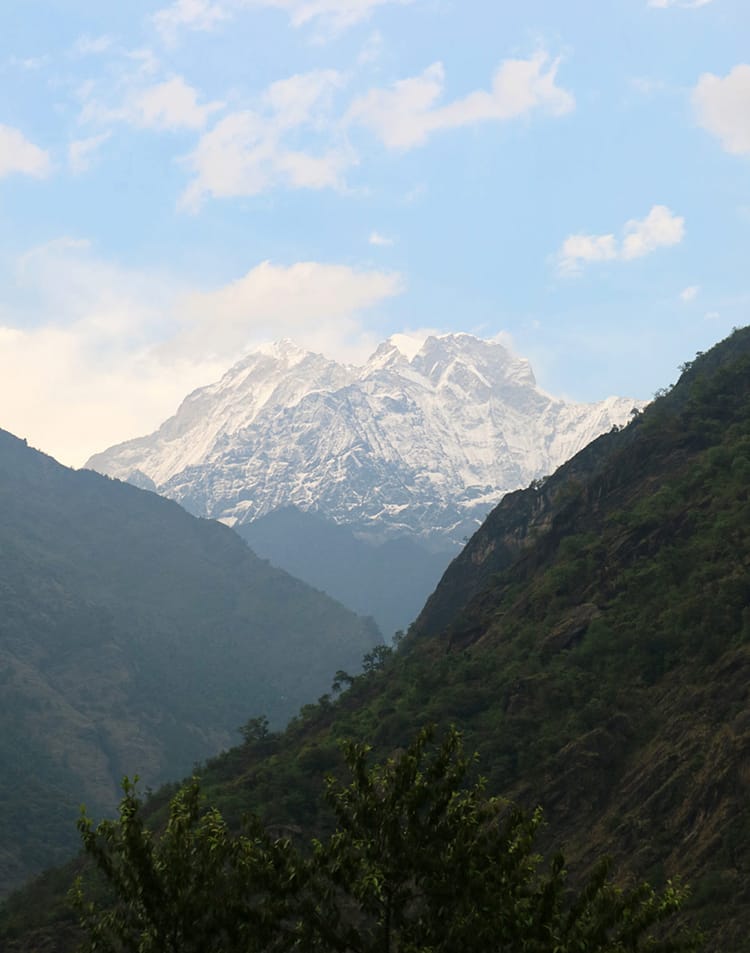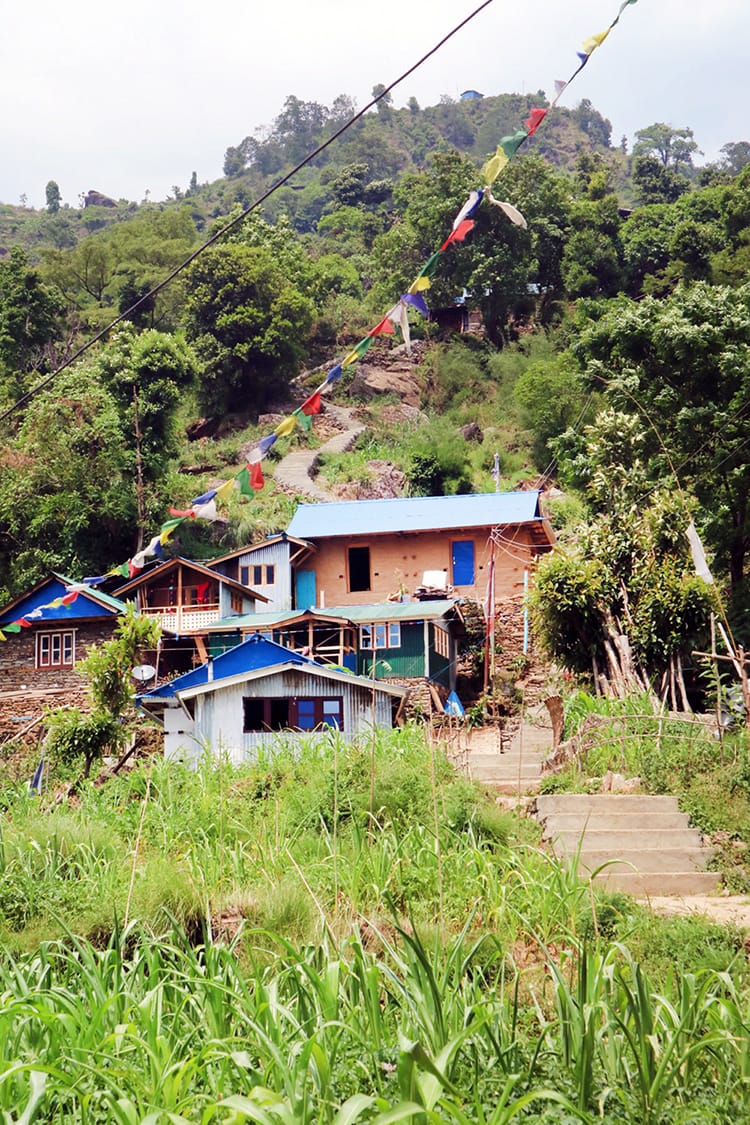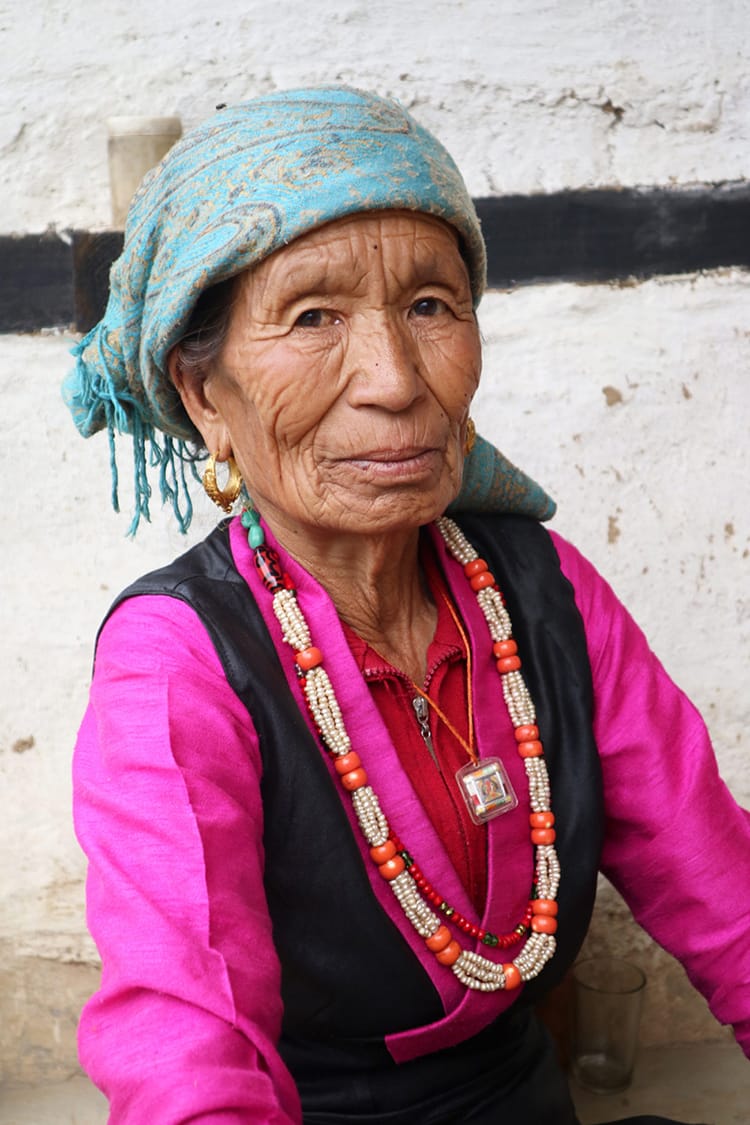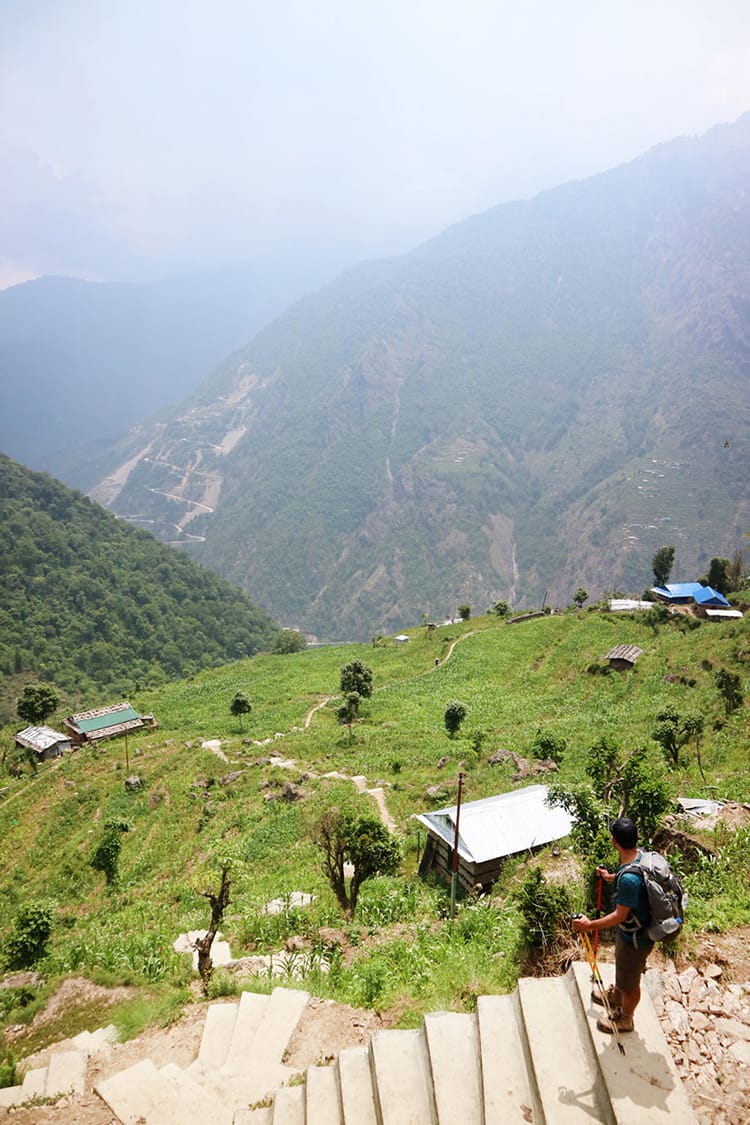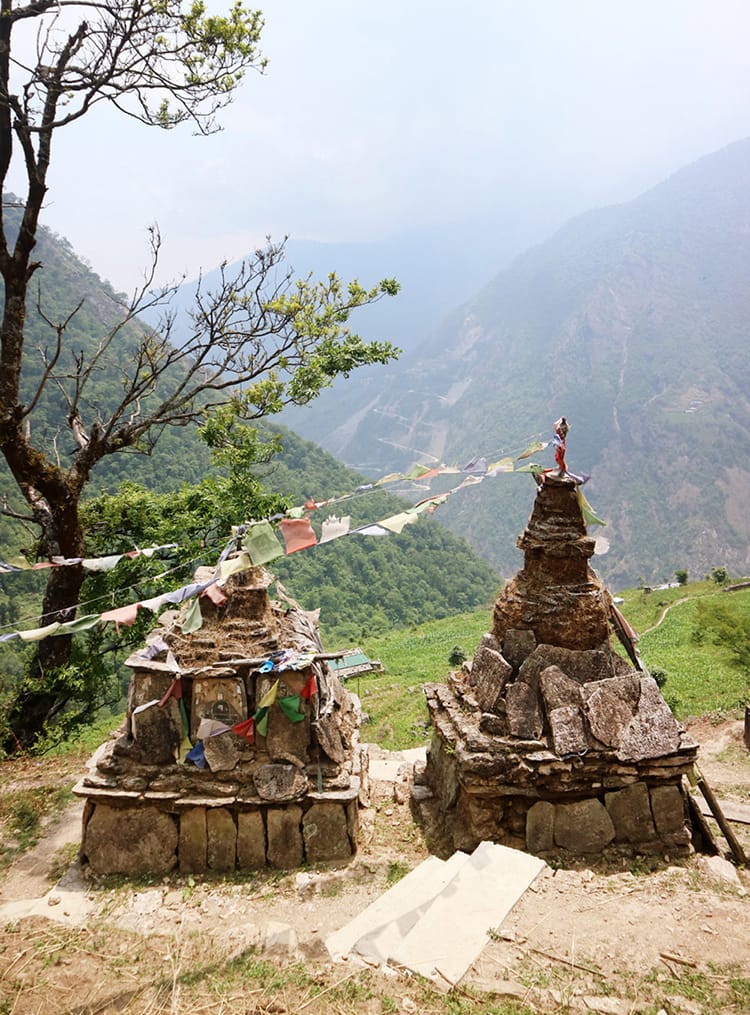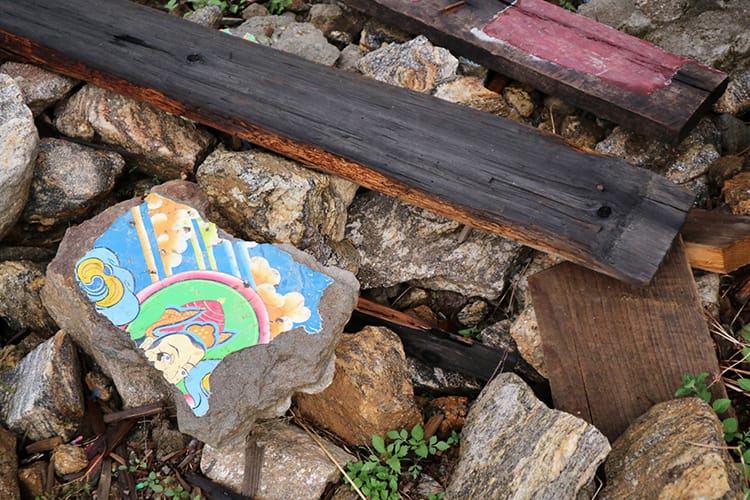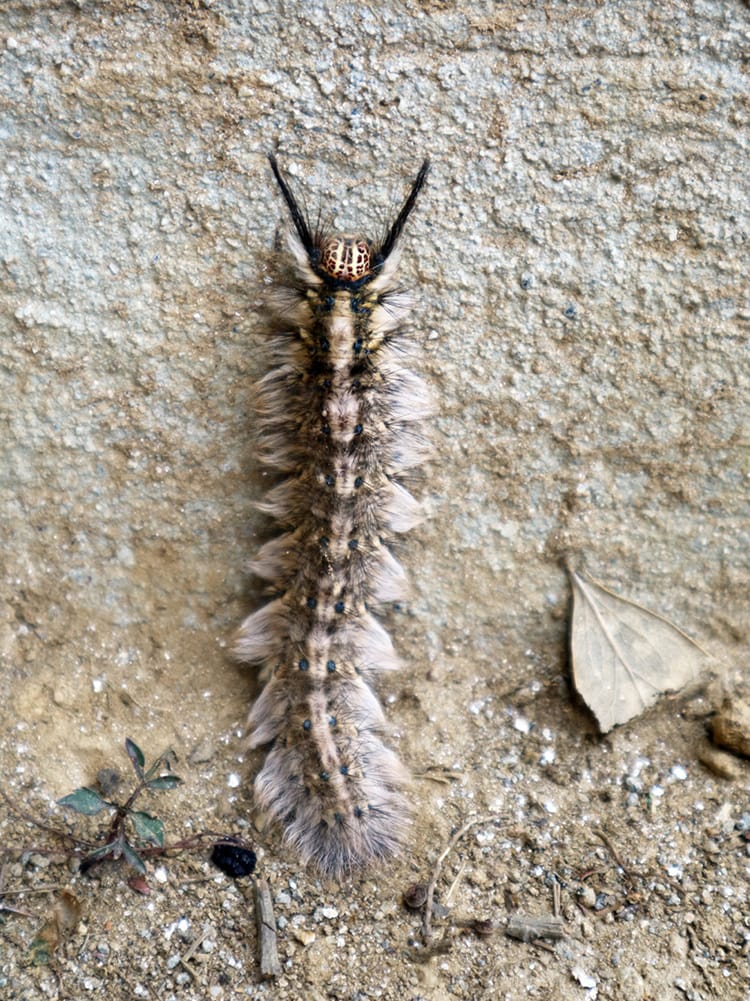 ---
You might also like…