The Tsho Rolpa Lake Trek is a 7-9 day trek in the Gaurishankar Conservation Area. The area was hit hard by the 2015 earthquake that devastated Nepal. In the last few years, the trekking trail was rerouted and the Swiss Embassy created well maintained walking paths. The best part about this trek is that barely anyone has heard of it yet. In seven days, we saw about 15 local tourists and 10 foreigners. The funny thing was that about 6 of the foreigners we ran into lived in Nepal. It seemed very few tourists knew this route, making it an amazing off-the-beaten-path experience.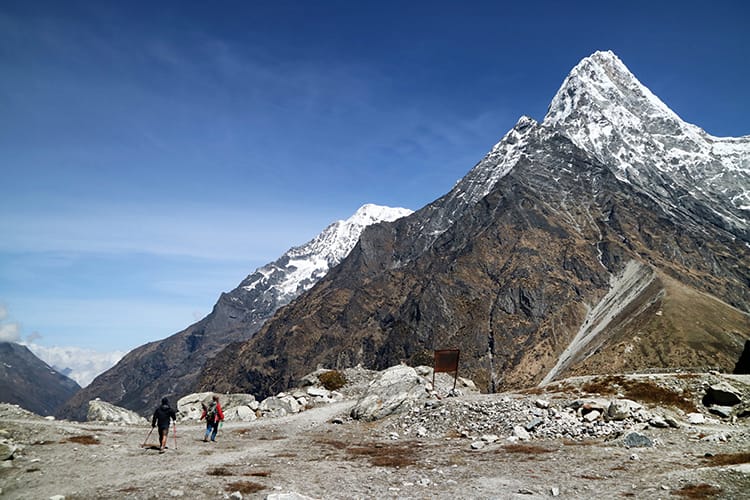 Brief Itinerary
---
This budget is for the 7 days we were trekking. We had one travel day each way, but we made stops and added days to our trip. I haven't included the stops in the itinerary/budget, however, I am including the cost to take a local bus from Kathmandu to Singati and a private jeep from Singati to Chhetchhet both ways. If you include extra travel days, you should account for extra food and lodging.
Day 1 Singati to Simigaun
Day 2 Simigaun to Dongang
Day 3 Dongang to Beding
Day 4 Beding to Na
Day 5 Na to Tsho Rolpa Lake to Bedding
Day 6 Bedding to Kyalche
Day 7 Kyalche to Singati
For an in-depth itinerary with teahouse information, you can read my Tsho Rolpa Trek Itinerary post.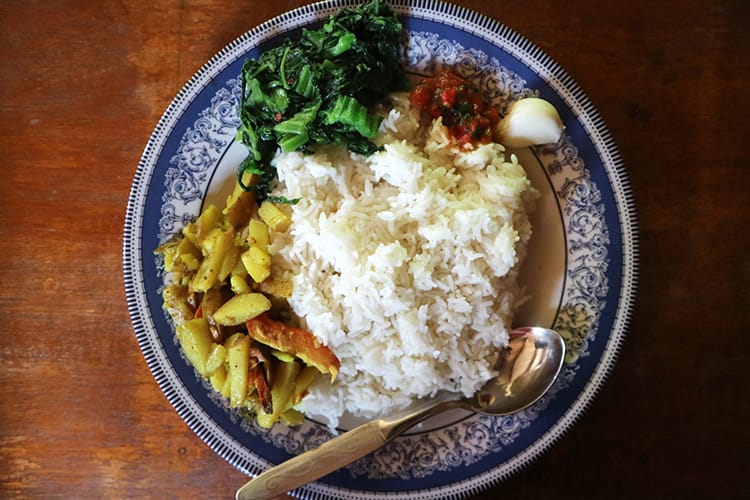 Itemized Cost Breakdown (for 2 people)
---
All these prices are based on two people. The totals shown are what we paid for both of us. We shared a room as well as the cost of private vehicles and one porter. We each had a $30 per day budget which meant a budget of $60 per day for the two of us.
Breakfast $5.80 – Most mornings we had an omelet and chapatis. It's one of the most filling meals that isn't super expensive. Eggs are expensive at altitude. In some villages it's $1.70 for a single egg because they have to be carried all the way there on a porter's back.
Lunch $8.49 – We almost always ate vegetable dal baht. The prices ranged from $3 to $6 depending on how far into the trek we were.
Dinner $9.73 – Again, we almost always had vegetable dal baht. It's super filling, healthy, and comes with free refills. It's my favorite trekking meal in Nepal.
Drinks $4.59 – Drinks are super expensive on trekking trails in Nepal. We carried our own water purification tablets, but when it was cold we ordered tea, and in the mornings we had coffee. Sometimes it was $1.50 a cup.
Accommodations $6.00 – All of the teahouses charge $5 for a room (even if two people share). We had a larger room one night which was $7. In Singati, we spent a night before returning to Kathmandu and it was $10.
Transportation $13.14 – On the way to the trek and on the way back, we took the local bus. The bus costs about $8 per person each way. We also hired a private jeep to take us from Singati to Chhetchhet and back. It cost $30 each way. We were doing some hiking in the area and visiting family prior to this trek and stopped in Singati, but you can take a bus all the way to Chhetchhet.
Permits $8.57 – The GCAP (Gaurishankar Conservation Area Project) charges $30 for the entry permit. You can purchase it in Kathmandu at the Nepal Tourism Board Office. You do not need a TIMS card for this trek.
Porter $20.00 – We decided to hire one porter. He carried our larger bag while we took turns carrying our smaller bag. This trek is basically a never-ending staircase, so it was worth the investment. He charged $15 a day and we gave him a $5 tip per day.
Porter's Food & Lodging $9 – This area is a bit unusual compared to other areas in Nepal. On many trekking routes, the teahouses let the guide eat and sleep for free in exchange for bringing clients to their teahouse. At most, there's only three teahouses in each town on this route. Some towns literally consist of just one teahouse (there's not even another building in the village). So, it's not super competitive. Therefore, you'll need to either pay your porter/guide a higher fee or you'll need to pay for their food.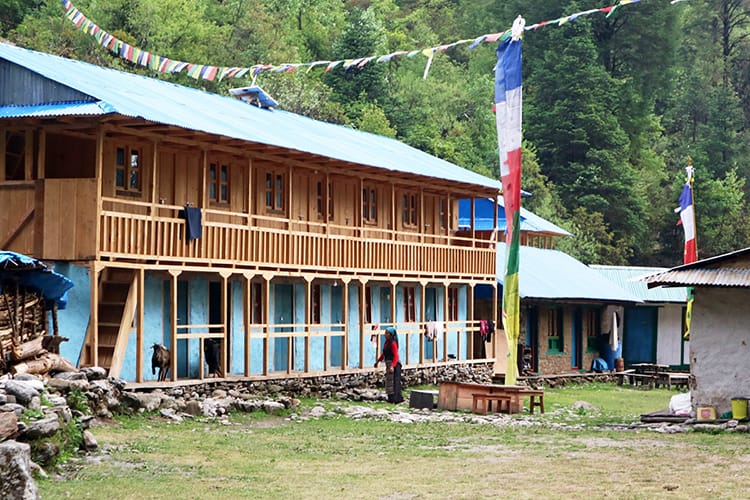 Average Price Per Day (for 2 people)
---
We had set out to have a budget of $60 a day. We came in close to budget because we had counted our permit fees and our transportation separately from the trek. If you don't count those into the daily budget, we spent $63.60 per day. However, if you include transportation and permits, we spent $85.30 a day. Considering how that paid for three people (2 of us and our porters fee and food), I feel like we did well with our budget. This area was more expensive than we had originally anticipated, but it was worth the extra money.
Total Spent Over 7 Days (for 2 people)
---
Note, I included the transportation fees to get to the trek and back to Kathmandu, but I did not include the cost of meals for the transportation days.
Breakfast – $40.60
Lunch – $59.40
Dinner – $68.10
Drinks – $32.10
Accommodations – $42.00
Transportation – $92.00
Permits – $60.00
Porter – $140.00 (with tip)
Porter's Food – $63.00
Total Spent for the entire trek
$597.20 USD including one porter which we shared
$394.20 USD without a porter
---
Want to know more about the Tsho Rolpa Trek? Check out my Tsho Rolpa Itinerary & Tsho Rolpa Packing List
Download my 15 page Tsho Rolpa Trek guidebook to take with you for $2.99!
---
You might also like…