The Tsho Rolpa Trek is a little different than the other treks I've done in Nepal. The area is highly under-touristed which means that there aren't a ton of places to buy things along the way. In places like the Everest Region or Annapurna Region, it's easy to grab whatever you forgot as you go. On the Tsho Rolpa trek, that's not the case, so it's important to pack carefully. One major thing I noticed is that there are almost no snack shops and very few tea shops on route. So bringing good snacks is crucial. Here's my Tsho Rolpa Trek packing list…
Note: We went in May when the weather was fairly warm. Those going in October or November should pack heavier layers.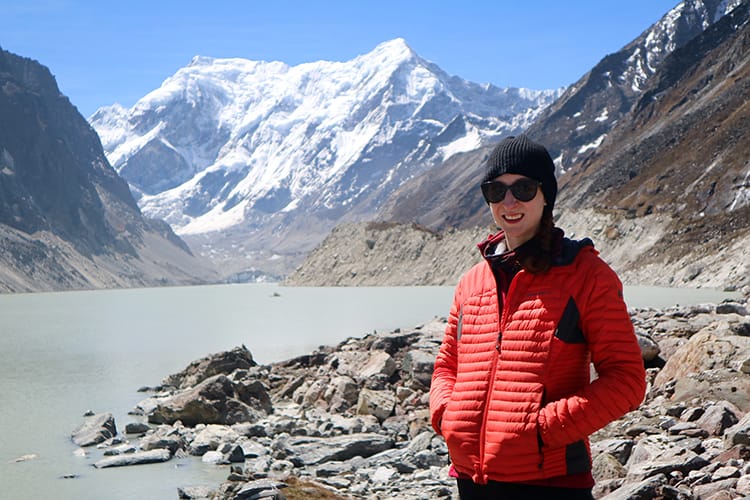 Tsho Rolpa Trek Online Shopping List
---
I'll mention a bunch of items in this post, so I've compiled them into an easy to navigate list. This Tsho Rolpa Trek packing kit helps you easily find everything online without opening a lot of tabs on your browser. Feel free to click the links to see more details on the exact items and brands that I carry. Most of the items are from Amazon, REI, or Eddie Bauer as that's where I shop and those are the companies I like best.
What to Pack for the Tsho Rolpa Trek
---
Backpack & Bags
40L Backpack – I currently have a 45L Osprey backpack and it was the perfect size. The problem is that this one isn't meant for trekking so it has no pockets or easy access. I have my eye on an Eddie Bauer bag which I plan to buy on Black Friday / Cyber Monday when they have their big online sale.
Waterproof bags – I always carry a few waterproof bags with me to keep my electronics in. That way if it starts to rain, I don't have to worry too much. These are a life saver especially in May when we got hit with rain at 2pm every single day.
Ziplock bags – Never underestimate the usefulness of ziplock bags. They're great for keeping things organized. I put medicine in the small ones to avoid carrying bottles. I use one for snacks and some for toiletries. I always have a few of each size.
Packing Cubes – Packing cubes keep my bag super organized. I can take everything out in seconds and find what I want without making a mess. My boyfriend's bag is always a mess so I'll be getting him a set when I'm back in the states.
Plastic Bag for Laundry – always have a plastic grocery bag with you to throw your dirty laundry in. I use it just for socks and underwear. I also like to throw a dryer sheet in with it to keep my bag smelling good.
Clothing & Accessories
We both packed super light for this trip because it was only 7 days of hiking. We went in the summer so it wasn't that cold which allowed us to forego a lot of layers. If you go in the winter, I recommend a set of thermals too.
I recommend Eddie Bauer products because that's what I wear. To be honest, I couldn't afford expensive brands when I started out. Eddie Bauer has great sales. At least once a month everything is 40-50% off on their website. I only buy things when they're on sale. I found that the items are a high quality even though they are much cheaper than brands like North Face and Colombia.
Down Coat – I'm obsessed with my Eddie Bauer coat. It's super warm and folds up tiny in my bag. It's also weighs very little making it easy to carry on treks. Get my favorite coat here.
Fleece Jacket – Pretty much every time we stopped for lunch or tea, I put my fleece on to keep warm. I also wear it to bed on nights when it's a little colder.
Raincoat – We went in May, so this was key. It rained after 2pm every single day. Most of the time, we reached our teahouse but there were two days that we walked in the rain, so a raincoat is a must.
Long Sleeve Quick Dry Shirt – I sleep in this at higher altitudes and it's great for the day you walk up to Tsho Rolpa Lake.
2 Quick Dry T-Shirts – I rotate between two shirts while trekking. Quick dry is important because when you stop moving you get cold and don't want your back to be wet with sweat. It also makes it easier to dry it when you do laundry. Get my favorite t-shirts here.
Lightweight Trekking Pants – I prefer full length pants as long as they are lightweight. This trail does go through the jungle which means leeches. Long pants make it harder for them to get on your ankles. You can buy my favorite pants here.
1 Legging – Mostly, I sleep in these, but they're also good for layering under your trekking pants on cold days. Then as the sun comes up, you can remove the top layer. Again, long ones are good to prevent leech bites.
8 Underwear – I hate doing laundry when I trek. As a girl, it feels weird to hang your underwear to dry in small villages so I usually bring enough to avoid washing them.
2 Short Hiking Socks – I used short hiking socks most days. Just make sure they come over your ankle to avoid blisters.
1 Long Hiking Sock – I only used long socks at night when we stayed in Beding and Na. In the winter, you may need them more often.
2 Sports Bras – Two is enough because you can wash one while you wear the other.
Hiking Boots – Comfortable shoes are a must. These boots are my favorite. They have great ankle support and keep me from slipping. They're super comfortable.
Flip Flops – I like to take my shoes off when I arrive to teahouses so light flip flops are great.
Summer Hat – It's super important to have a summer hat for the days when you're in direct sunlight.
Winter Hat – I used a winter hat in Beding and Na at night and while walking to Tsho Rolpa Lake. In the winter, you may need it more often.
Gloves – Lightweight gloves are important when you're above Beding. You don't need heavy ones unless you go in the winter.
Buff – Buffs make it easier to breathe in the cold. You can get my favorite buff here.
Sunglasses – I recommend polarized ones in case it snows. Snow blindness is a thing. You can buy my favorite sunglasses here.
Thermals – Only necessary in the winter (Oct, Nov, Dec, Jan, Feb)
Toiletries
Hand Sanitizer – Many places don't have a proper spot to wash your hands so this is very important.
Toilet Paper / Tissues –There's none in the teahouses so you have to bring your own.
Feminine Hygiene – You won't find pads or tampons very easily. I recommend bringing your favorite kind from home for comfort. You can buy pads in Kathmandu but the brands are limited.
Wet Wipes – I like to have biodegradable wet wipes with me. It's hard to take showers on this trail, so wet wipe showers are great. You can also use them in lieu of toilet paper.
Tooth Care – Pack a toothbrush, toothpaste, floss or anything else you need. It's hard to find anything on this trail.
Hair Care – A lightweight comb and small individual packets of shampoo are enough. There's not a lot of opportunities to shower along the way.
Quick Dry Towel – For the few times you have access to a shower, a quick dry towel is helpful.
Laundry Detergent – Bringing a ziplock bag of detergent is good so you can do your laundry.
Sun Protection – I recommend an SPF 50 that's also sweat or waterproof. The sun is strong at altitude.
Deodorant – It's hard to find western brands in Nepal and it's unlikely you'll find any on the trail.
Vaseline – This is good for your lips as the cold makes them extremely chapped.
Hand Cream – You'll wash your hand in cold water or use a lot of hand sanitizer. I find my hands are always extremely dry when I trek.
Medication & First Aid
Antibiotics – Get a good antibiotic before leaving. This is just in case you get sick along the way.
Diarrhea Medicine – 70-80% of people visiting Nepal get travelers' diarrhea so be prepared for the worst.
Vitamins – I bring several immune boosting vitamins with me including Airborne chewables, a gummy probiotic (because they don't have to be refrigerated like most probiotics), olive leaf, zinc, electrolyte powder, and activated charcoal (for food poisoning).
Prescription Drugs – There's no pharmacy on the way so come prepared with what you need.
Basic First Aid – Bandaids, Neosporin, Asprin, and other basics are good to have.
Water Purification Tablets – It's very difficult for villagers to get rid of garbage so please bring a water purifier instead of buying plastic bottles. It's a lot cheaper to bring tablets than to buy water on the trail.
Diamox– We both got a little sick in Beding because of the fast increase in altitude. We heard a few people coming back say the same thing. Have altitude sickness medicine just in case.
Electronics
Camera & Charger – I usually recommend a GoPro for trekking, but a lot of this trek takes place at a low altitude and I find the GoPro doesn't take great photos of the jungle. I took my Canon EOS M3 which is lightweight for a camera. I wish I had a better zoom though, so you may want to bring a DSLR. Whatever you choose, have spare batteries that are charged because there's limited electricity on this trek.
Phone & Charger – There are spots where you can get service on the way.
Solar Panel – Electricity is limited so a solar panel is good for those who carry a lot of camera equipment.
Battery Pack – We used my power bank to charge our phones several times throughout the trek.
SIM Card – NTC gets service in about 3 of the villages on the way. Ncell does not get service on this trail. You can read my blog about SIM cards for more info.
Power Adapter – There are a few places to charge things so have a power adapter with you.
Movie / Music Downloads – You'll arrive around 1-3pm each day. Having a few movies on your phone is good. If you like to listen to music as you go, make sure you have some good beats downloaded.
Kindle – I like to read after trekking. Kindles are lightweight, have a long battery life, and have back lighting so you can read in the dark.
Audible – Don't like carrying a book or Kindle? Check out audible! You can sign up for a 30-day free trial and get two books free by clicking the banner below! If it's not for you, you can cancel any time.
Head Lamp – There's limited electricity so you'll need a head lamp at night. Especially when you go to the bathroom.
Snacks for Tsho Rolpa
Jerky – This trek is almost entirely vegetarian. If you're a meat eater, make sure to bring dried meat with you. It's illegal to kill animals in the area, sell or buy meat. However, you are allowed to bring dried meat.
Fruit Bars – High altitude trekking often has a lack of fruit and veggies so these are important for me.
Protein Bars – Again, it's a vegetarian trek, so extra protein is good. There's almost no tea shops in between the villages so power bars are a good snack to keep you fueled.
Trail Mix – Nuts, dried coconut, raisins, etc. are all great snacks.
Chocolate – Sometimes, you just need a little sugar fix. Finding chocolate on the trail is hard.
Other Items to Pack for Tsho Rolpa
Map of the Area – Purchase a "Rowaling Valley Map" in Kathmandu. You won't need it for navigation as the trails are very easy to follow, but it's good to know what village you are going to and the altitude.
Water Bottle – Please avoid using plastic on the trails. It's much cheaper to bring your own water bottle and refill it. If you want, buy one water bottle at the beginning of the trek and then reuse it as you go.
Money – Bring enough money for the trek. There are no ATMs or ways to get money as you go.
Permit – The GCAP permit can be bought in the Nepal Tourism Board office in Kathmandu. It's about $30.
Trekking Poles – There are a lot of steps so trekking poles are extremely helpful. You can get the trekking poles I have here.
Copy of Passport & Visa – Just in case you need it.
Salt – If you're afraid of leeches, have salt with you. Simply sprinkle it on them when they bite you and they'll fall off and die. You can also pull them off if you don't have salt.
Sleeping Bag – Not necessary in April or May as the teahouses have warm blankets. You may want to consider one for October and November as it's much colder.
Trekking Insurance – This trek isn't super difficult, but there are only a few places to sleep. This means that you have to go to the next village even if it's a big increase in altitude. We both got headaches in Beding. In Na we had the same problem. We did some acclimation hikes to help and took Diamox in Na to get us through the night. It's fairly easy to go back down in altitude, but I always recommend people to be safe. There's no roads past Chhetchhet so getting help in an emergency is very difficult. The only emergency rescue available is by helicopter. Therefore, I recommend trekking insurance. World Nomads "Standard Plan" will cover rescues for the height of Tsho Rolpa Lake. I've used them on every trip and have always had my claims paid in full.
Download My Tsho Rolpa Trek Guidebook!
---
You might also like…