When I first arrived, I found it difficult to find street food in Nepal. The other countries I'd visited in Asia had giant night markets where you could walk from stall to stall trying every delight the country had to offer. In Nepal, you may need to look a little harder, but I promise the search won't disappoint. There's an array of different street food in Nepal from crispy fried and savory treats to delectable sweets. Here's a list of items to look for when walking around including some of my favorite places to try them.
Fried Street Food in Nepal
---
Samosa
Samosas are something I was familiar with before coming to Nepal as they are common at Indian restaurants back home. Samosas are an easy thing to grab if you're in a hurry and need a quick bite to eat as the shops have some pre-made. Samosas are generally vegetarian in Nepal, but you should ask ahead of time if you have dietary restrictions. Usually, they are filled with potato, onions, peas, and spices which are wrapped in a dough and fried. They are served with a sweet and sour sauce.
My Favorite Place: Tip Top Sweets in Kathmandu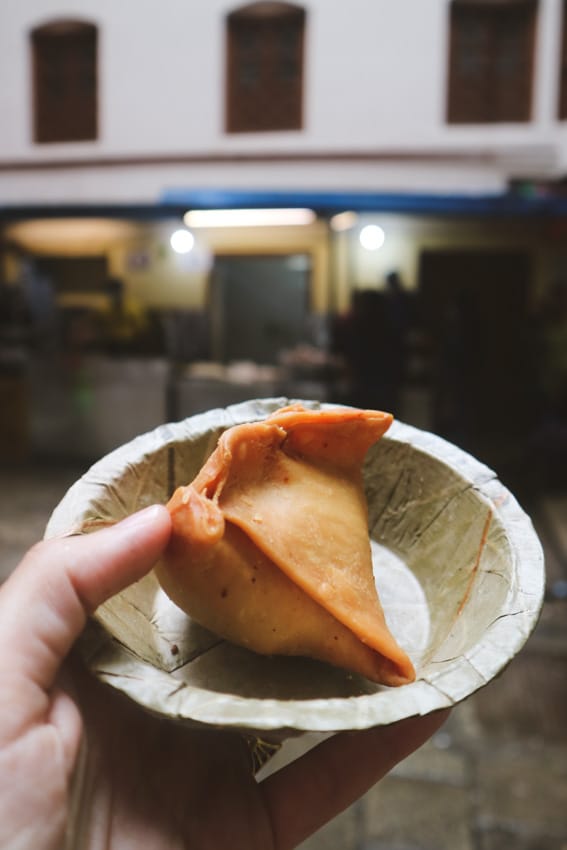 Kachori
Kachori is often sold at the same stalls that sell samosa. This vegetarian fried treat is one of my favorites. The crispy outer layer is filled with masala spices, onion, garlic, and dal. I like to get these in the shops located just across from the Sleeping Vishnu temple in Budhanilkantha. They aren't spicy and are so full of flavor making them a delicious afternoon snack.
My Favorite Place: Street stalls next to the Sleeping Vishnu in Budhanilkantha, Kathmandu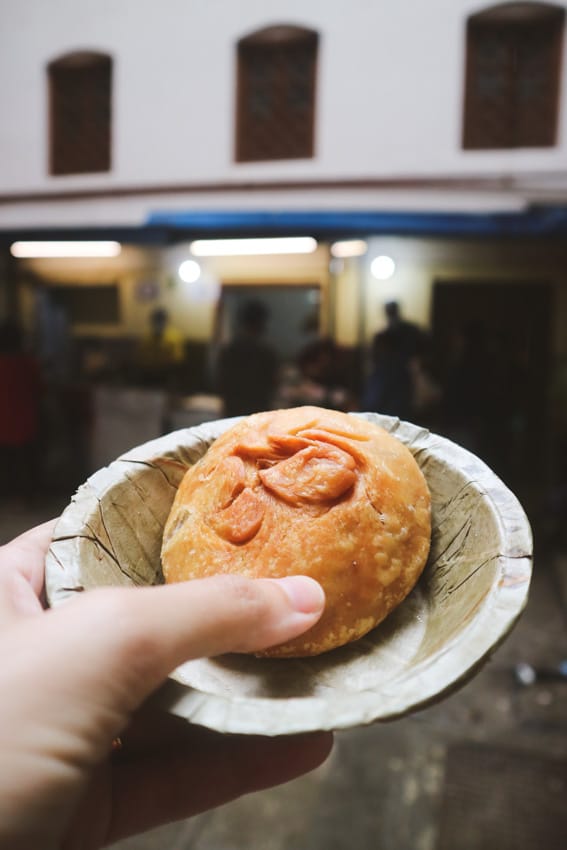 Sel Roti
Sel Roti is an interesting treat which is typically eaten with tea in the morning and is often found at street stalls near temples. The bread is made from rice which gives it an interesting texture. It is deep fried in oil which makes it a bit crunchy on the outside but soft on the inside. These are popular around festival season which is October and November.
My Favorite Place: Street stalls next to the Sleeping Vishnu in Budhanilkantha, Kathmandu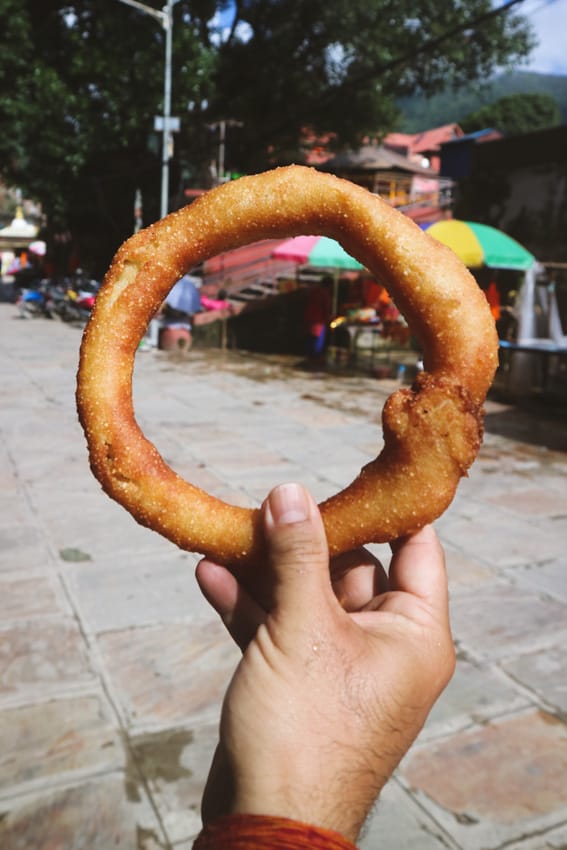 Pakoda
Pakoda are deep fried fritters that are made with different ingredients. My personal favorite is onion pakoda which tastes like onion rings. Pakoda can be made very spicy so you may want to ask for it without chili. For Nepalese, having big chunks of fresh green chili mixed in isn't uncommon. You can order these as a snack along popular trekking routes and in many restaurants.
My Favorite Place: Street stalls next to the Sleeping Vishnu in Budhanilkantha, Kathmandu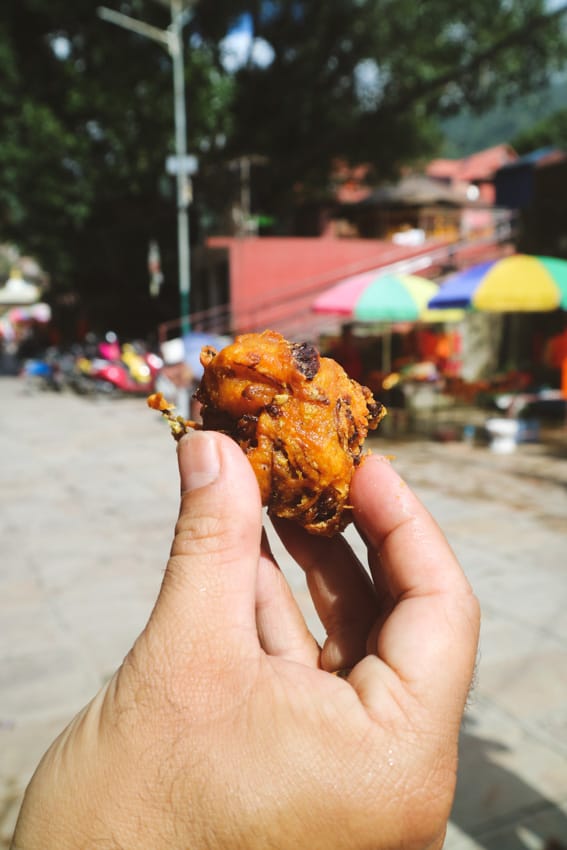 Aloo Chop
Aloo Chop is a mashed potato that is molded into a patty and then deep fried. The potato is mixed with spices and sometimes large chunks of green chili. This is not my favorite street food in Nepal, but if you like spicy potatoes then this may be the treat for you.
My Favorite Place: Street stalls next to the Sleeping Vishnu in Budhanilkantha, Kathmandu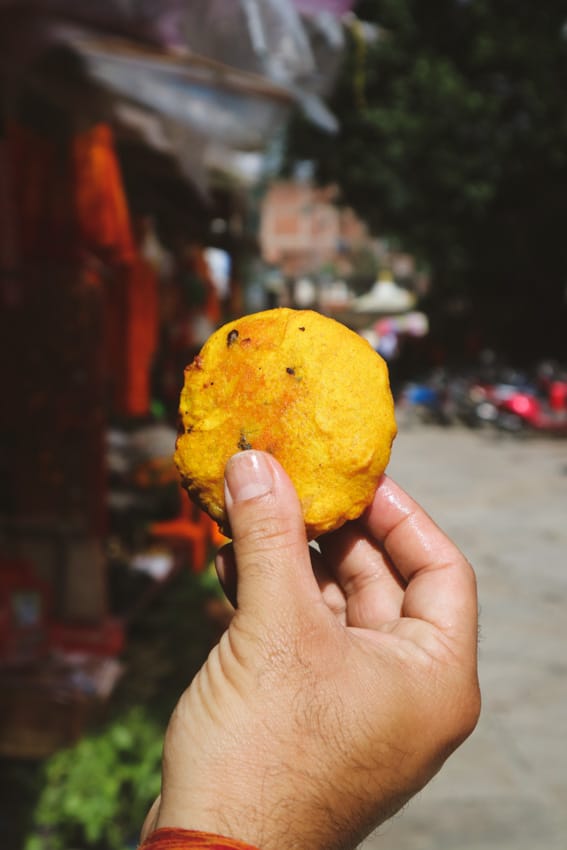 Fish Fry
Fish fry can be done with any kind of fish in Nepal including Japanese trout or small river fish. This is common in street stalls around Pokhara's Lakeside. I'm obsessed with the Japanese trout but have gotten food poisoning from it before. So be careful where you order it. Choosing a busy place is the best option to ensure the food is fresh. I also adore the tiny river fish which are easier to eat since you can usually chew through the bones rather than trying to pick them all out. The small fish are also served in Newari puja ceremonies (religious ceremonies) as sagun (holy food).
My Favorite Place: Tareba Sekuwa Corner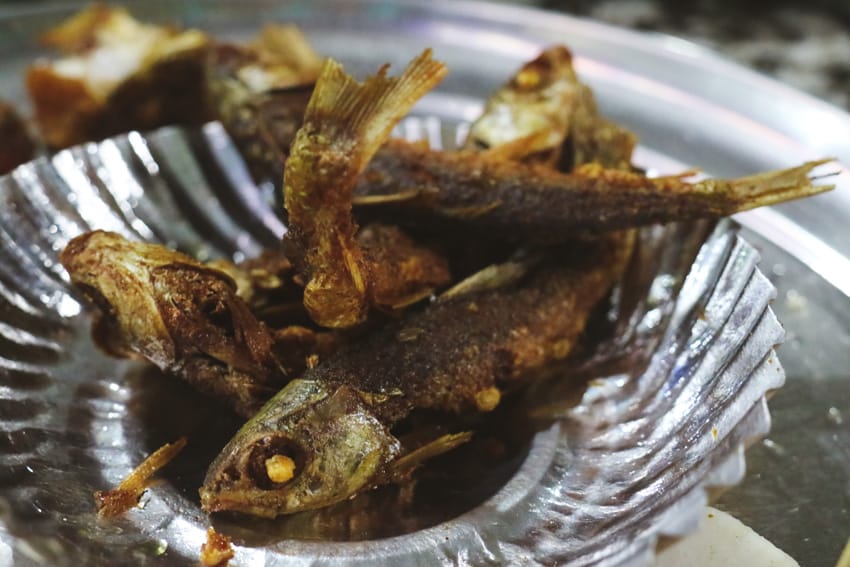 ---
---
Sweet Street Food in Nepal
---
Jeri
Jeri is a popular sweet offered in Nepal. It's a thin fried dough which is dipped into a sugary syrup. The first time I tasted it, I thought that they had deep fried honey. This is one of my favorite sweet snacks in Nepal. We typically get them from Tip Top which has several locations and is famous for their sweets.
My Favorite Place: Tip Top Sweets in Kathmandu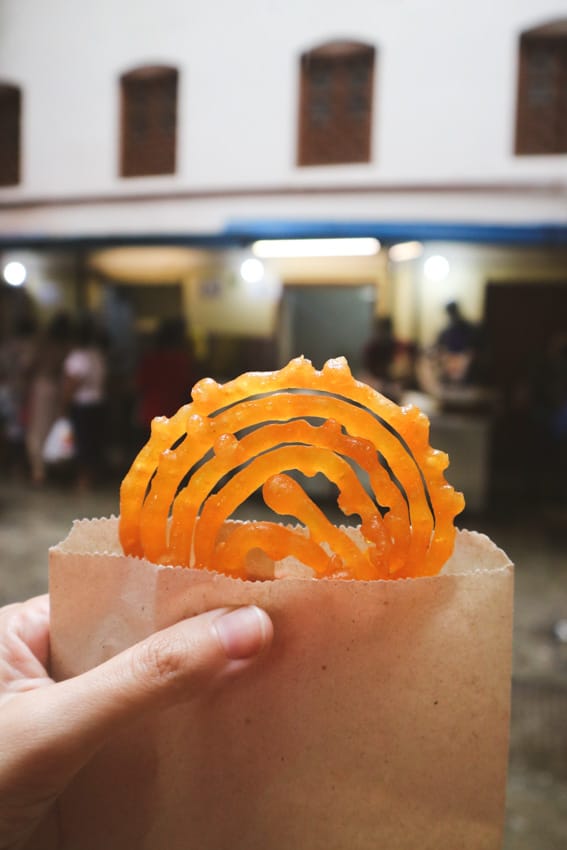 Jeri Puri Curry
Jeri Puri Curry is a variation on eating jeri. You take the jeri and you put it in between two puri. Like a sandwich. Puri is a thin fried dough which puffs up and looks round when cooked, but is just full of air. Then, you take the jeri and puri and you dip it into a chana aloo curry which is made from chickpeas and potato. The curry is a little spicy and the jeri is sweet, so you get a delicious bite of sweet and spicy.
My Favorite Place: Street stalls next to the Sleeping Vishnu in Budhanilkantha, Kathmandu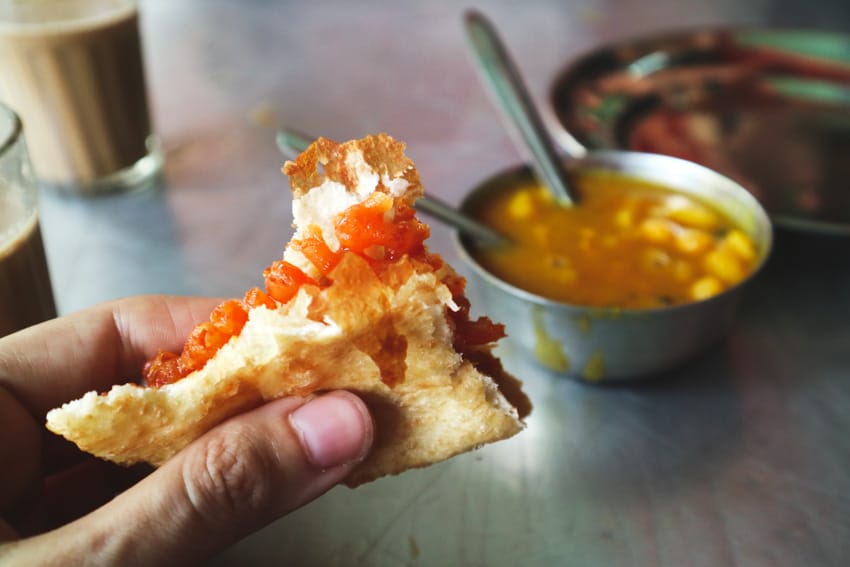 Jeri Swari
Jeri Swari is yet another way to enjoy the delicious sweet. Swari is a fried flat bread which has a softer consistency than puri. Jeri swari is often enjoyed in the morning with tea. This is more of a sweet dish but the swari helps to tone down the sugar. Our favorite place to get this is a little shop near the intersection of Bishal Nagar Marg and Handigaun Marg near the Krishna Temple. The shop is on Bishal Nagar Marg on the right side if you are facing away from the temple. It's popular among locals, so if you're there in the morning, you'll likely see a line out front.
My Favorite Place: A little shop near the intersection of Bishal Nagar Marg and Handigaun Marg near the Krishna Temple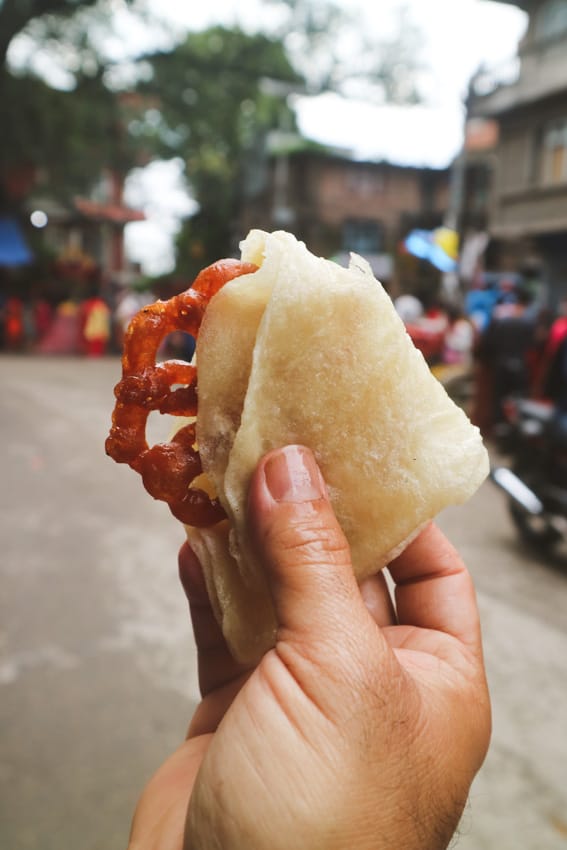 Donut
Local donuts are a little different than the donuts we have back in America. They remind me more of an Italian zeppole or a ball of fried dough like you get at carnivals. They don't have a filling or icing on them. They are simple but delicious and are often enjoyed with a cup of tea. If you happen to be in Bandipur, they are known for their local donuts.
My Favorite Place: Street stands on the main pathway in Bandipur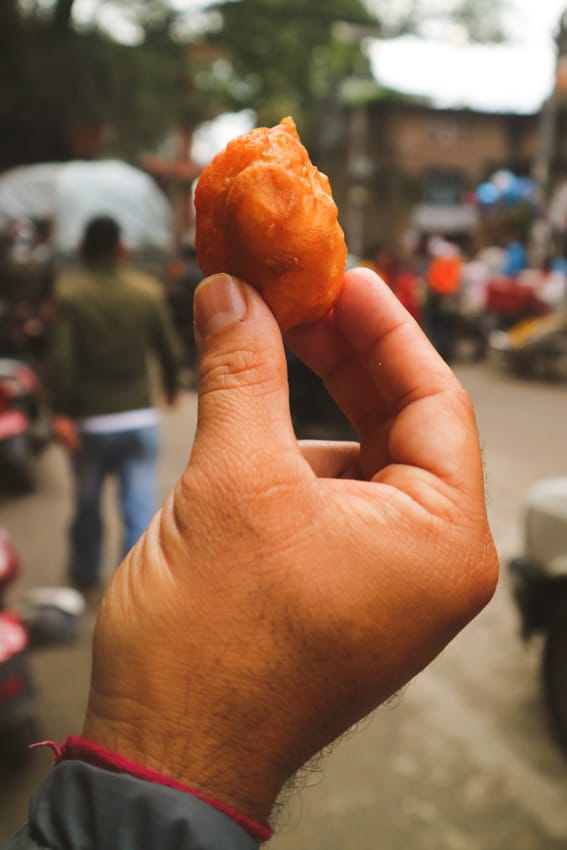 Malpua
Malpua are similar to the local donuts, but I like them a little bit more. They have a slightly different texture and are a little chewier in my opinion. These are often enjoyed around the holidays. We like to get them at a local shop near Bishal Nagar Marg. You can read the exact directions under the Jeri Swari description above.
My Favorite Place: A little shop near the intersection of Bishal Nagar Marg and Handigaun Marg near the Krishna Temple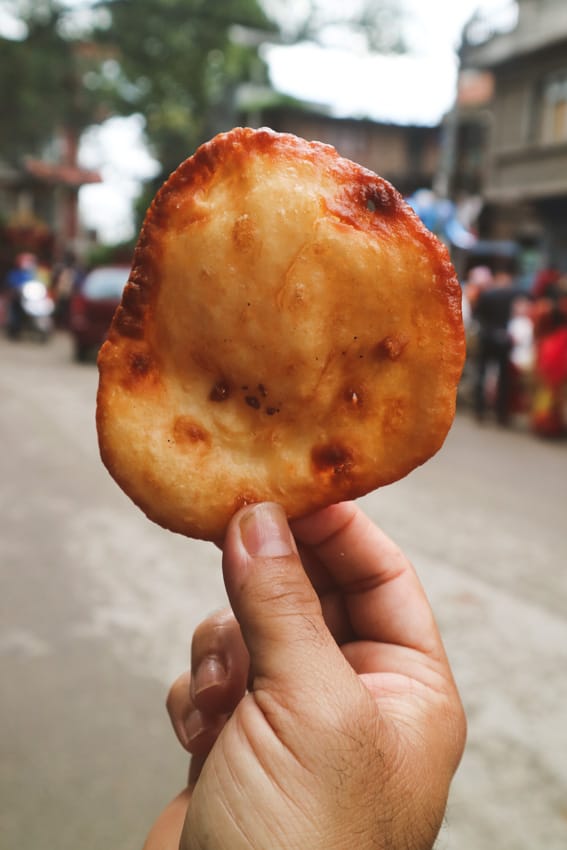 Lakhamari
Lakhamari is a popular Newari sweet which is enjoyed around the holidays and festival season. This is a hard crunchy dough which is covered in sugar. We've had them from several places, but I don't love them as much as the other sweets because they are so hard. You can buy them at several sweet stalls around the city and they are worth a try, especially if you like crunchy foods.
My Favorite Place: A little shop near the intersection of Bishal Nagar Marg and Handigaun Marg near the Krishna Temple
Yomari
Yomari is a Newari sweet which people seem to love or hate. It's filled with "chocolate" but not the kind of chocolate we have in America. It's a kind of molasses made from sugar cane and ghee. The outside is made from rice flour, but some places make it too thick which I don't enjoy. Personally, I only like the kind that comes with a custard inside as I don't like molasses. You can find these at typical Newari restaurants especially in areas like Bhaktapur and Patan.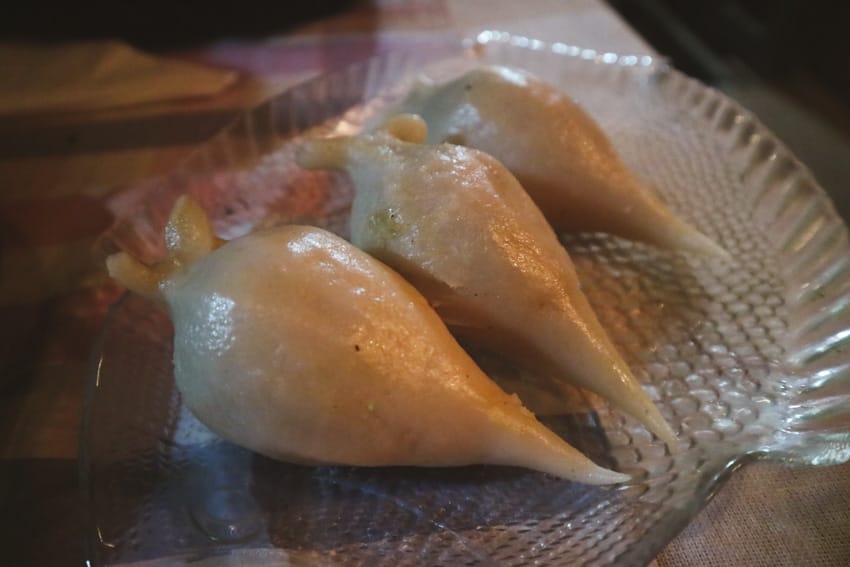 King Curd
King Curd, also known as juju dhau, is a yogurt (curd) made from buffalo milk. The buffalo milk gives it a unique taste and makes it extra creamy. Think of when you buy buffalo mozzarella as opposed to normal mozzarella. The traditional kind is made in a clay pot which also gives it a special flavor. You can find juju dhau around the Kathmandu Valley, but it's most famous in Bhaktapur where it's on almost every street.
My Favorite Place: Small street stalls all over Bhaktapur (just look for the King Curd signs out front)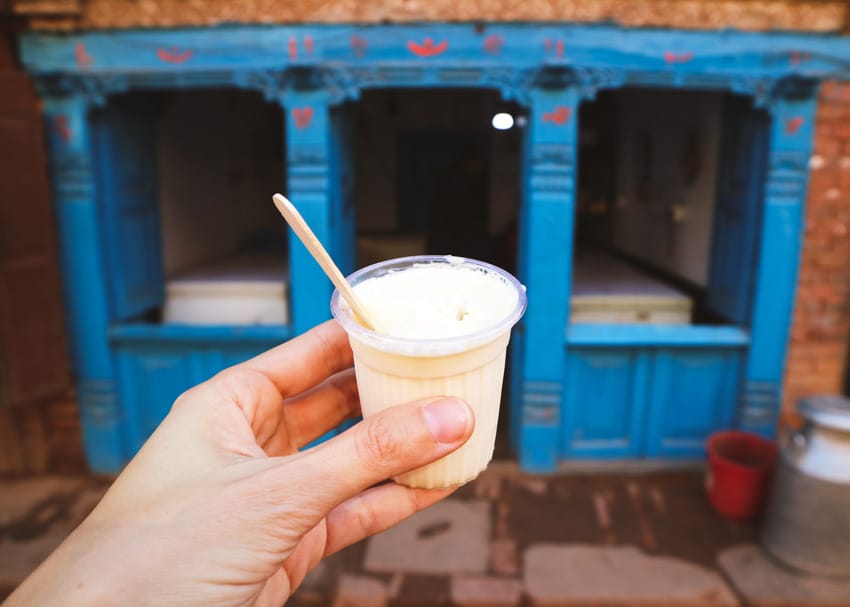 Paan
I'm not sure if you can count paan as a sweet. It's more of a mouth freshener, but it does have a sweet after taste. Paan is famous among locals in Nepal, but you rarely see it available in tourist areas. Paan is made with a green betel leaf. The leaf is filled with a number of items including dried fruits, cardamom, cloves, betel nuts, shaved coconut, and an array of colorful items that I honestly can't name.
My Favorite Place: A little shop on the corner where Pashupati Road, Charkhal Road, and Thirbum Marg meet (across the street from Lunch Time Restaurant & Bar on Google Maps)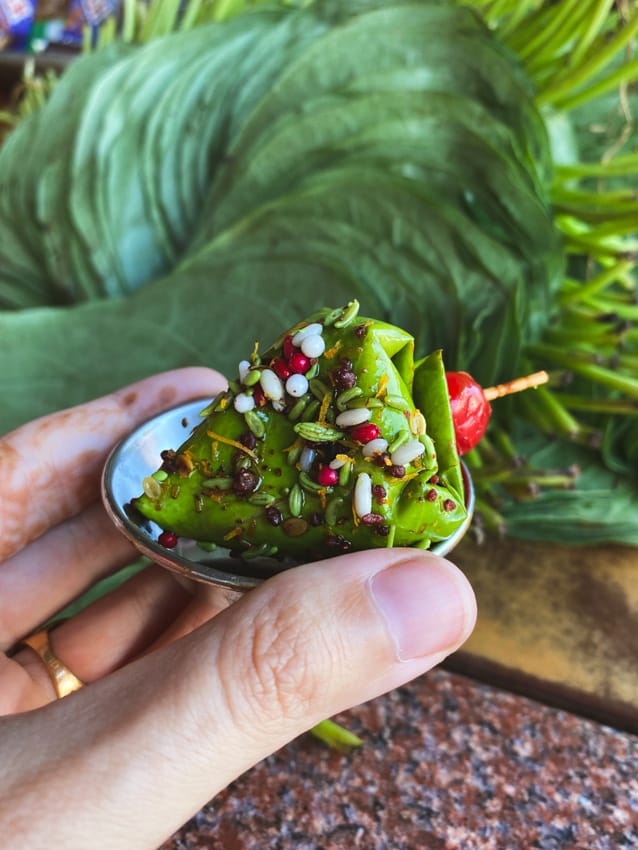 ---
---
Savory Street Food in Nepal
---
Choila
Choila is a Newari dish consisting of either buffalo, chicken, or a vegetable option like mushroom. Choila is a spicy street food in Nepal where the meat is marinated in spices, grilled, and then more spices and raw garlic are poured over top. It's typically eaten with chura (beaten rice). Our favorite place to get choila is at Narayan Dai Ko Momo. They have a few locations, but I like the one by Durbar Square in Kathmandu best.
My Favorite Place: Narayan Dai Ko Momo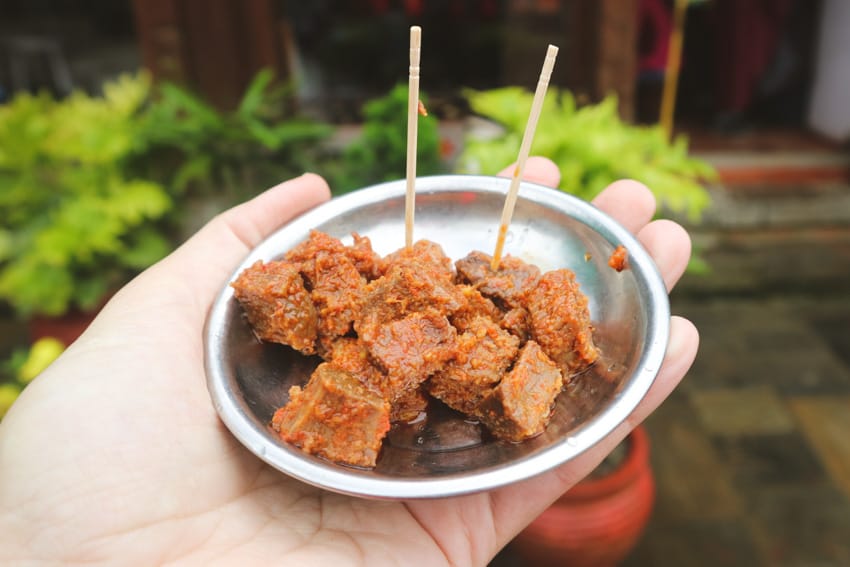 Chatamari
Chatamari is considered a Newari style pizza. The crust is made out of rice flour and it's topped with some kind of meat (ground pork or chicken), tomato, onion, chili and other spices. The toppings can vary a lot. This dish is extremely popular among locals, however, I don't like it. As an Italian, I feel it's too close to a pizza without actually being a pizza. Also, I've never liked meat on my pizza. If you like meat-lovers pizza, then perhaps you'll like this dish.
Chana
Chana is a mix of chickpeas, spices, and chili which is often eaten with some kind of bread like puri or beaten rice (chura). This savory street food is great for those who like dry curries and spicy food. Chana is one of the snacks you can find at most street stalls. One of our favorite places to get this is at Tip Top near New Road or the one near Kathmandu Durbar Square.
My Favorite Place: Tip Top Sweets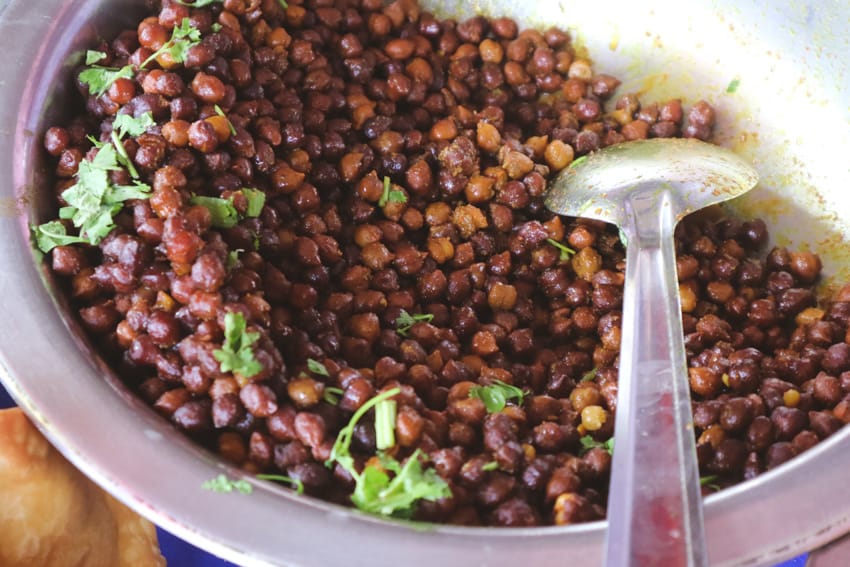 Kati Rolls
Kati rolls are like the Nepali version of a wrap sandwich. I've tried them at a few places and they can be kind of hit or miss. Typically, there is a selection including chicken, vegetable, and buffalo. I like the chicken kati rolls best. These are available at street stands like the ones in front of Bhatbhateni supermarkets as well as fancy restaurants. There are also a few small stalls that specialize in only making kati rolls.
Roti Tarkari
Roti tarkari is a piece of flatbread and vegetable curry served together. It's a dish that's available at most street food stalls and roadside stops. Each place will make it a little differently as vegetable curry can be made thousands of ways. I don't have a favorite place to get this, but it's easy to find.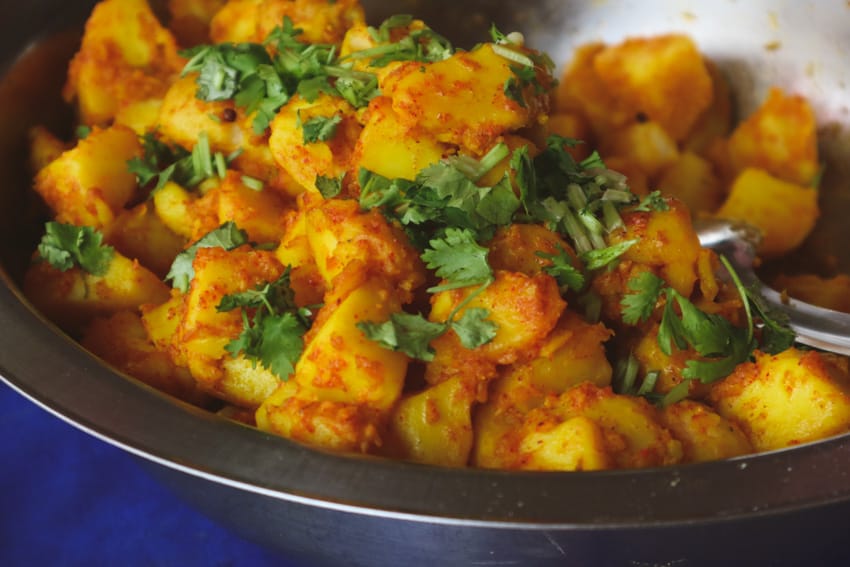 Chaat
The first time I had chaat, it was described to me as a deconstructed samosa which is accurate. It is a lot like a samosa that has been crumbled onto a plate. I've had good chaat (at Tip Top Sweets) and awful chaat at a random stall in Kathmandu. The bad one literally had banana mixed in with it and was a super strange combination of flavors. Chaat is typically made with potato and chickpeas that are cooked in spices. It's served with crispy bits of bread (like the outside of a samosa) and is topped with yogurt.
My Favorite Place: Tip Top Sweets
Pani Puri
Pani puri is one of the most famous street foods in Nepal. It's popular among Nepali girls. Pani puri can be found in the small carts that are pushed around the streets. It consists of a small shell of crunchy dough. Inside is a mixture of onion, potato, cilantro, garlic, chili, and a flavored liquid. Because these carts are pushed around all day in the sun, and because a liquid (with water) is added to it, you need to be careful where you get pani puri. I recommend Tip Top on New Road. It's a street stall, but they are so busy that it is always fresh, and they have proper refrigeration and use clean drinking water. I've never gotten sick after eating there.
My Favorite Place: Tip Top Sweets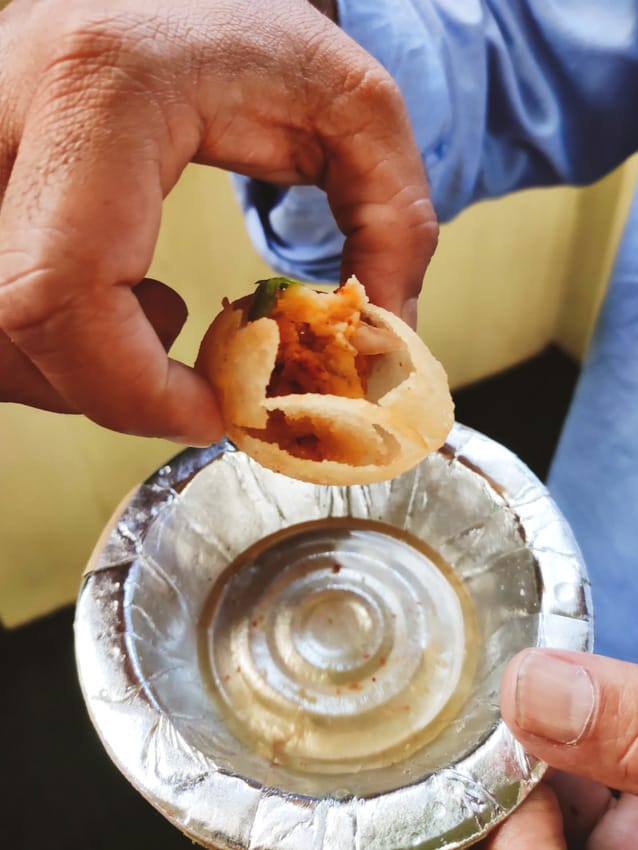 Sekuwa
Sekuwa is Nepali style barbecue! You can try different types of meat including chicken, pork, and buff (buffalo). In Nepal, pork is the favorite option. The meat is marinated in spices and then cooked over a wood fire. It's often spicy so I prefer to eat it with chiura (beaten rice). You can find this near Lakeside in Pokhara or at street stalls and restaurants throughout Kathmandu. I don't eat pork anymore, but when I did, my husband and I would get it at Tareba Sekuwa Corner.
My Favorite Place:Tareba Sekuwa Corner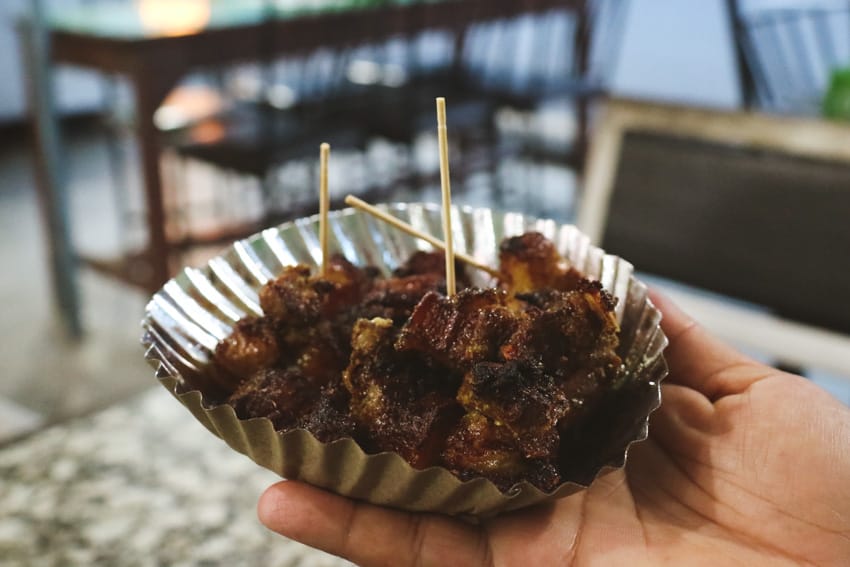 Bara
Bara is another Newari treat that's popular in Kathmandu at street stalls and restaurants. Bara is a lentil pancake. It's often served after puja (worship) as part of sagun (holy food). It's best if you dip it into a curry as it has a very mild flavor by itself. You can try this at street stalls like Honacha, but they only serve a few items a day and it isn't always on the menu. You can also get it from a restaurant like Bhumi in Kathmandu.
My Favorite Place:Honacha in Patan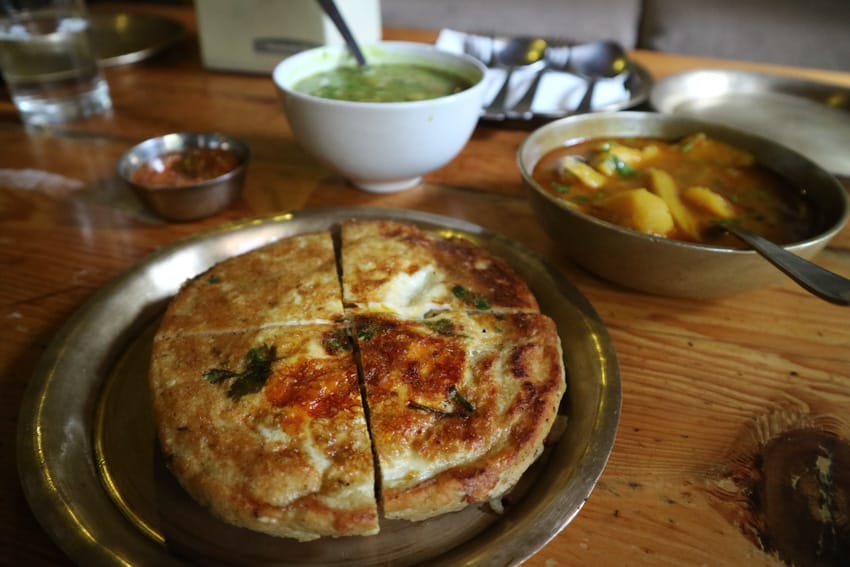 Sausage
Nepali sausage is basically a hot dog that is served at small street stands. It's especially popular near Lakeside in Pokhara. Although it looks like a hotdog, it won't be served on a bun with mustard or ketchup. The sausage is scored on the sides, rubbed in spices, and then grilled and served hot on a stick. I don't eat sausage often, so I don't have a favorite place. This is a cheap quick meal if you're staying in Pokhara.
---
---
Tibetan Street Food in Nepal
---
Laphing
I was surprised to find that my husband who is Nepali had never tried Laphing (sometimes spelt Lafing). This noodle dish lines the streets of Boudhanath Stupa. While you can buy it right next to the stupa, I highly recommend taking one of the winding alleyways behind the stupa into the more local area and trying it there. Laphing is offered both "dry" or in a garlic broth soup. The garlic soup is delicious, so I'd recommend it that way. Laphing can be made very spicy, so you may want to ask for it mild if you're not accustomed to spicy foods.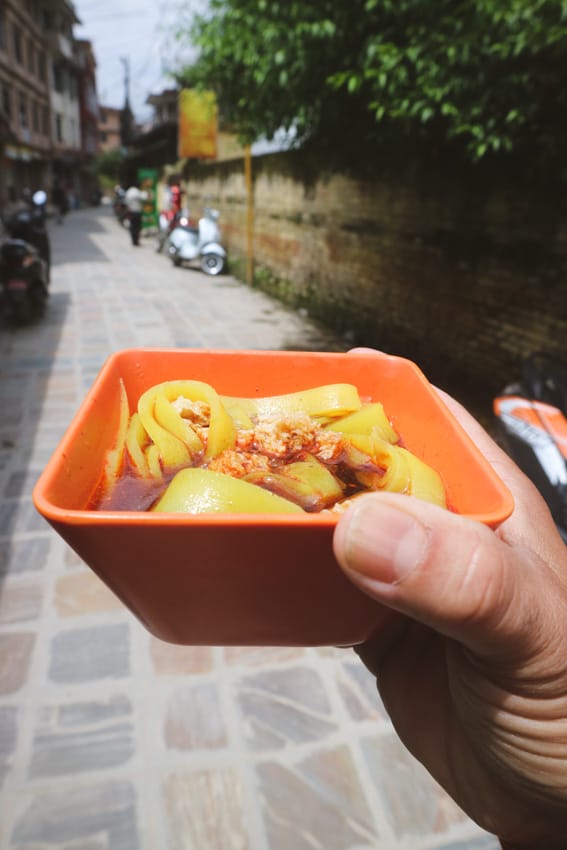 Momo
Momo is arguably the most popular dish in Nepal. Momo can be served as a sit down meal in a restaurant or as a street food in Nepal. They come in a myriad of flavors such as chicken, buff (buffalo), and vegetable. The most popular place to get momo on the street is from Narayan Dai Ko Momo which has several locations including one near the Kathmandu Durbar Square entrance gate. Buffalo momo is considered the best type of momo among many Nepalese.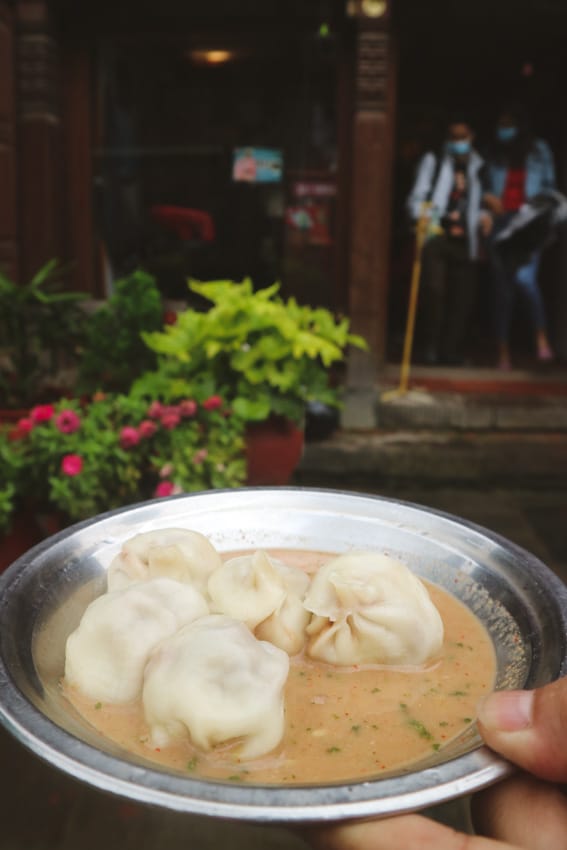 Shafala
Shafala is one of my favorite street foods. This Tibetan dish is minced meat inside of a deep-fried dough. My favorite place to get them is just outside of the Tibetan Refugee Camp in Pokhara which is located near Devi Falls on the way to the Peace Pagoda. The restaurant is called Tibetan Yak. This tasty snack comes with either a chicken or buff (buffalo) filling. I personally prefer the chicken version as I rarely eat buffalo.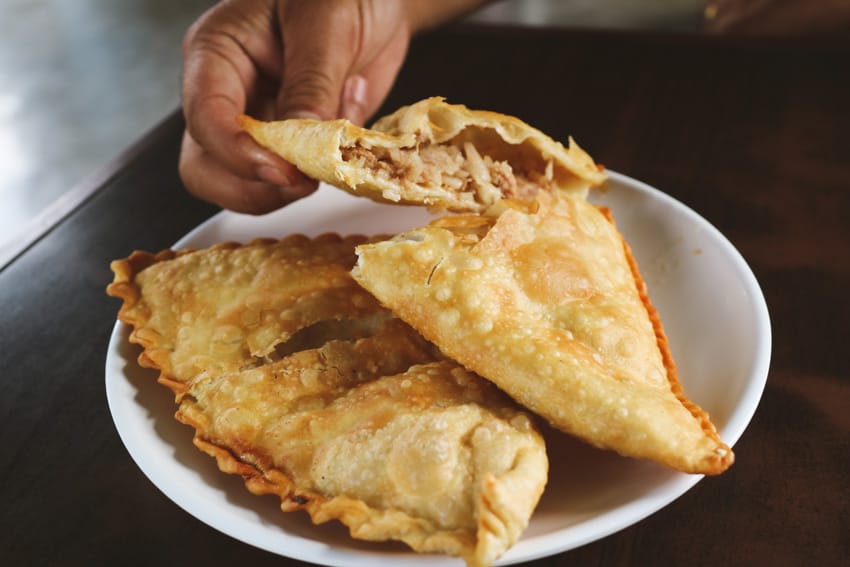 Drinks to Try
---
Lassi
I've had lassi a million times in the U.S. and in restaurants in India and Nepal, but nothing beats a street lassi. I honestly have no idea what they add to it to make it so tasty, but the lassi sold on the streets are delicious. There are a few famous stalls near Ason Market and Durbar Square in Kathmandu. Specifically, near Akash Bhairav Temple in Indra Chowk.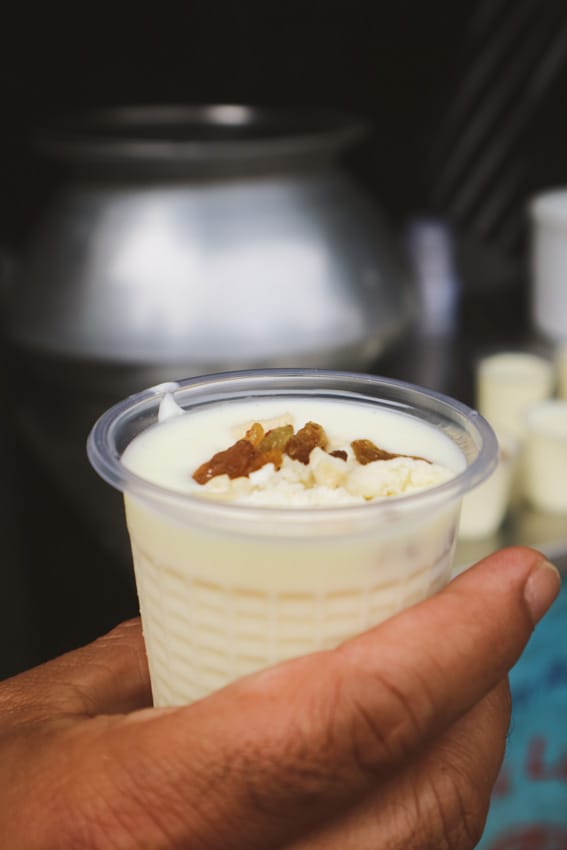 Nepali Chiya
Nepali Chiya, also known as milk tea, is a very sweet tea. In Nepal, people drink tea throughout the day whether it's winter or summer. When you go to someone's home, you'll be offered at least one glass. If you meet friends on a break, you'll grab a tea. If you go on a long road trip, you'll have tea breaks. Nepali tea is part of the culture and you can get it at every restaurant and food stall. Each place makes it slightly different, but I find the little local street stalls make it way better than even the best restaurant in Kathmandu.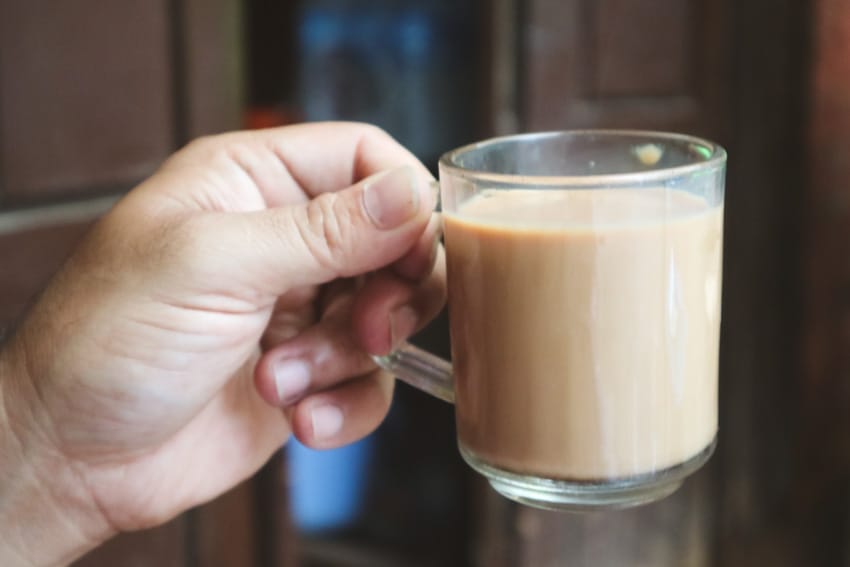 Butter Tea
Butter tea is literally not my cup of tea, but it's so unique that I think everyone should try it. Butter tea is most popular in mountain regions and among Tibetans, therefore you can try it at the street stalls surrounding Boudhanath stupa where there's a large Tibetan culture. Traditionally, this is hot tea poured over yak butter. People drank it because the high calorie content gave them lots of energy to do work, and it also helped to keep them warm at high altitudes.
Which street food in Nepal are you most looking forward to trying?
You might also like…