I've spent a lot of time in Pokhara during my travels since it's a major hub for tourism in Nepal, not to mention the starting point for several treks. Suraj and I like to frequent certain restaurants while there, and I finally decided to compile a list of the best restaurants in Pokhara. This time, we spent a month in Pokhara trying a different restaurant for lunch and dinner every day including revisiting our favorites. Based on online reviews, Instagramable favorites, and friends' recommendations we hit the streets of Pokhara ready to eat a lot of different foods. We focused mostly on Lakeside as that's where most tourists hang out and eat. Out of all the places we tried, these are the restaurants in Pokhara that we would visit time and time again.
---
Café Camellia
---
Type of Cuisine: Café & Bakery
Price range: 200 – 350 for drinks or cakes ($2.00 – $3.50)
My pick: Cheesecake, Strawberry Lemonade, Cream Latte (Vienna), English Muffin Sandwich
Café Camellia has a modern yet natural vibe that I absolutely love. The décor is what caught our attention, but their adorable dogs, named Coco and Latte, are what got us in the door. Their cakes are what kept us coming back literally every day we were in Pokhara. This place is an absolute gem. Their cakes are some of the best I've had in Nepal. The Cream Latte is to die for. Seriously, I ordered one and Suraj kept stealing it. Every day at 3:00pm we'd walk over to Café Camellia for a snack. We tried something different each day, and each day we left happy. The owners and staff are extremely kind, and the dogs are hilarious and adorable. This is in our top three picks for the best restaurants in Pokhara.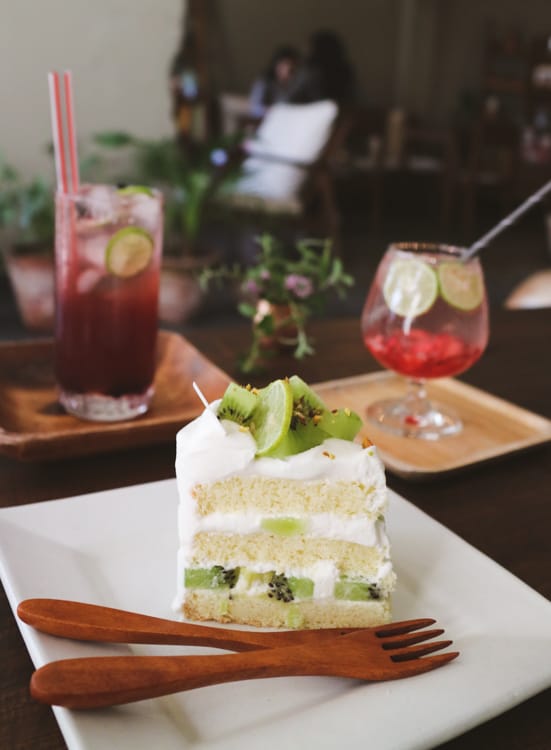 ---
Fresh Elements
---
Type of Cuisine: Italian, Chinese & Continental
Price range: 400 – 800 rupees ($4.00 -$8.00) for most dishes
My pick: Spaghetti Bolognese (chicken), Garden Salad, Miso Eggplant, Kong Pow Chicken, Chicken Burger
Fresh Elements is our go to restaurant in Pokhara. They have a variety of dishes, and while I prefer restaurants that specialize in one thing, they do everything on their menu well. We visited here so often that by the end, the entire staff knew us. The restaurant has a great ambience with several levels to sit. They have indoor and outdoor seating, and just opened a large bar which is now the longest bar in Nepal. The bar reminds me of New York City, and I didn't realize until seeing it, that there aren't many bars in Nepal where you can sit and drink at the actual bar. Overall, this is my top pick for food in Pokhara. Every time we went, the food was fantastic.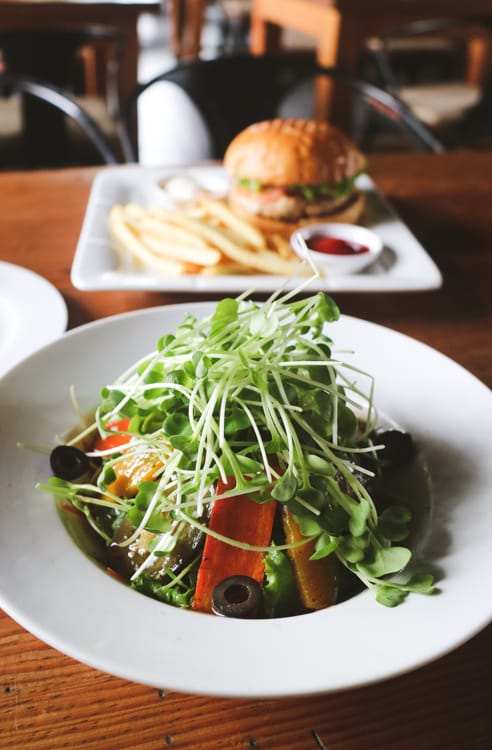 ---
Pokhara Thakali Kitchen
---
Type of Cuisine: Thakali (Nepali)
Price range: 300 – 700 rupees for a Thakali set with free refills ( $3.00 – $7.00)
My pick: Chicken Thakali Set
I don't know anyone who is as picky about dal baht as Suraj, so when he gives a place the thumbs up, it means it's extremely good. We were a little skeptical when we went to Pokhara Thakali Kitchen. The restaurant is nice with ample seating and a small outdoor patio. The décor is nice with terracotta floors, stone, and mud walls, with high end finishes. It has a very homey feel like you're in the mountains visiting friends. The sets are a little on the expensive side, but you get a giant serving. Make sure to come hungry! The food is rich and a little spicy but full of flavor. This is the best dal baht we've had in town, which is why it makes our list of best restaurants in Pokhara.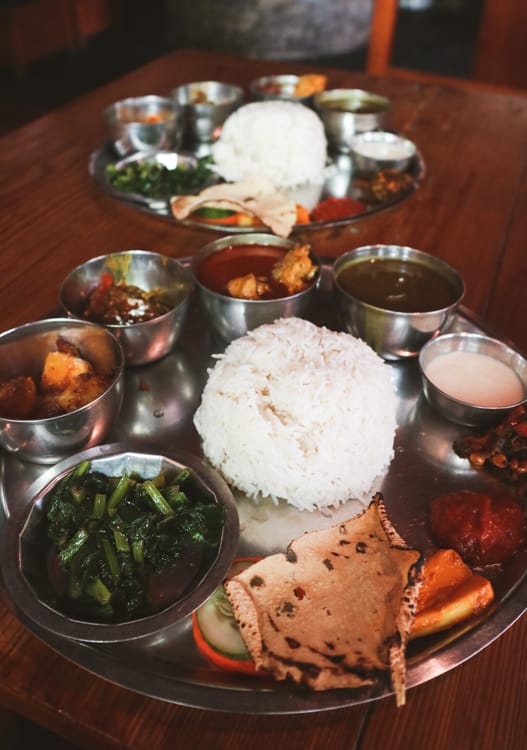 ---
Juice Box
---
Type of Cuisine: Juices & Smoothies
Price range: 100 – 300 rupees for drinks ($1.00 – $3.00)
My pick: Mango Madness Smoothie
Juice Box is an old juice stand which recently got a face lift, and now, it's the trendy new juice bar in Pokhara. I was a little worried that it wouldn't live up to the hype it's accumulated on Instagram, but this place is the real deal. They offer cold pressed juices, shots, and smoothies. We tried the Mango Madness Smoothie on a super hot day. I feel like mango drinks can sometimes disappoint and feel watered down or too icy. This smoothie was amazingly rich and creamy. It was the perfect treat for a hot day. I highly recommend stopping at Juice Box.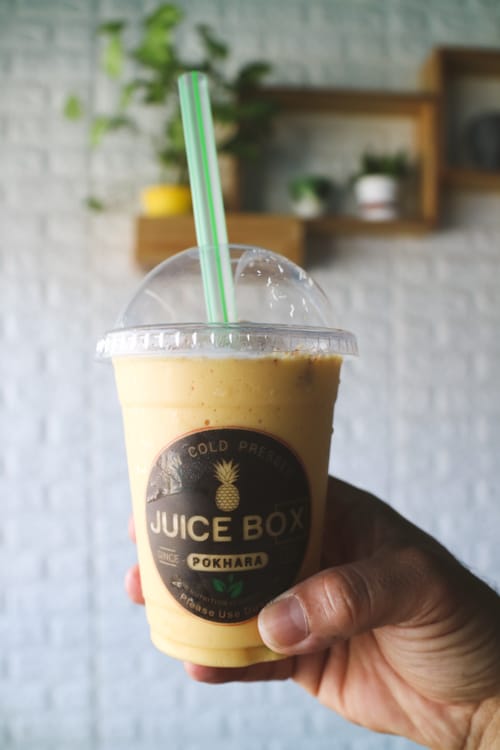 ---
Tibetan Yak
---
Type of Cuisine: Tibetan
Price range: 200 – 300 ($2.00-$3.00)
My pick: Chicken Momo with a side of buff broth, Chicken Shapale
Tibetan Yak is located near Devi Falls on the way to the World Peace Pagoda. Although it's not near lakeside, it is on a popular route that tourists go. Even if it wasn't, it would be worth going out of the way for. Tibetan Yak is located right in front of the Tibetan Refugee Camp and has been there for 35 years! They specialize in a few main dishes including momo, shapale, and Tibetan soups and they have perfected them. They make the best momo in Pokhara (maybe even in all of Nepal). The restaurant is a simple place without any gimmicks. Suraj hadn't been there before, so when I took him I was excited to see his reaction. He described it as, "So fresh, yea? Like eating at home. It's the kind of food that makes you feel happy."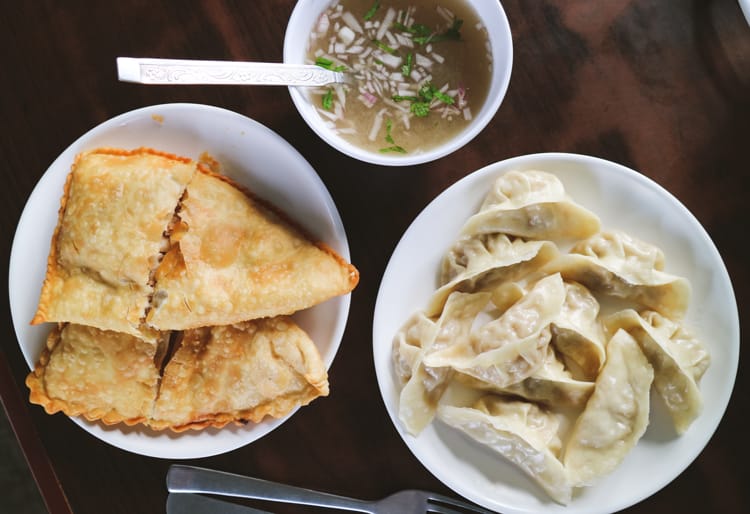 ---
San Chon
---
Type of Cuisine: Korean
Price range: 350 – 1000 ($3.50 – $10.00) for individual to family sized portions
My pick: Chicken Gimbap, Pork Belly, Bibimbap
San Chon was recommended by a friend, but it also happened to be across the street from our hotel and we had decided to go there before he even suggested it. They recently renovated the space into a beautiful modern Korean style restaurant which is eye catching when you walk down the street. They offer both indoor and outdoor seating, and the staff is friendly. I hadn't had Korean food before, so the waitress had to keep popping over to explain to us how to eat it which was funny and sweet at the same time. This restaurant is great for groups as it's fun to share the larger family style dishes with friends and family. I enjoyed the Korean style sushi and vegetable rice bowl. Suraj and our friend Sunil enjoyed the pork belly which is cooked in front of you on a hot plate.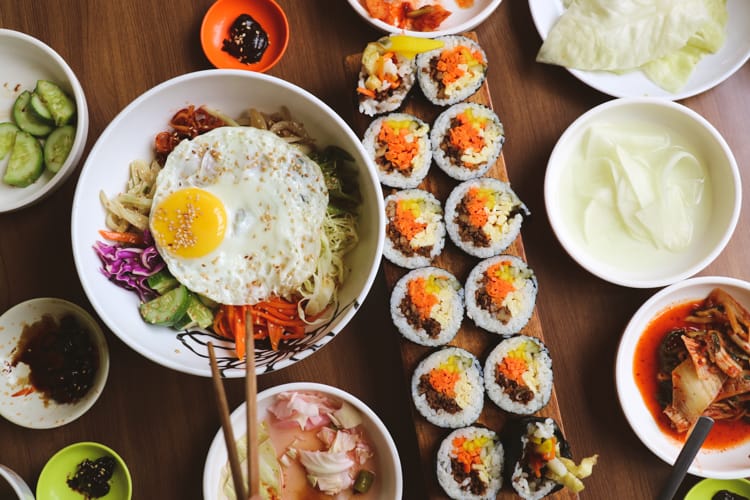 ---
Belle Lyipa
---
Type of Cuisine: French Café & Bakery
My pick: Baked goods like croissants and tarts
Before going to try restaurants, I do a lot of research based on friends recommendations, reviews online, etc. But I also check Instagram as that is one of the biggest ways that locals share their favorites. Belle Lyipa was on everyone's Instagram! We went in a little hesitant, but the food was great! They didn't have their famous croissants when we went, but they did have miniature egg tarts. We tried the chocolate and blueberry ones which were delectable bite sized treats. They weren't too sweet and it was clear that they used high end ingredients. They were made with lots of experience and love.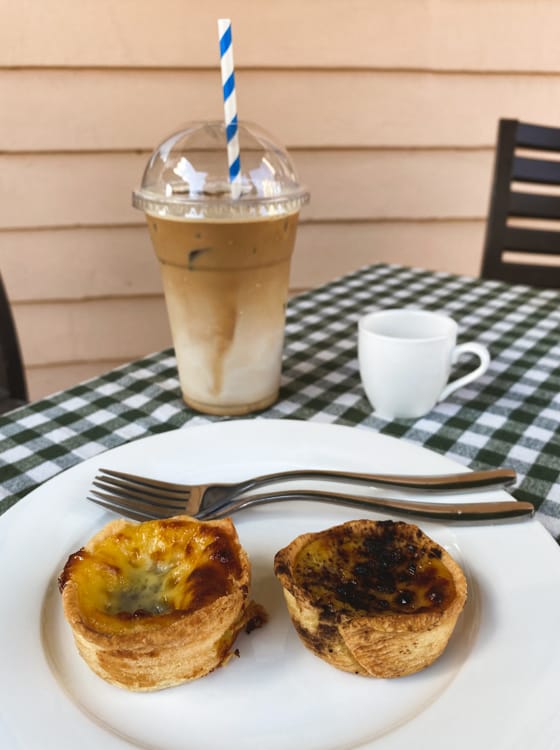 ---
Frituur No. 1
---
Type of Cuisine: Burgers & Fries
Price range: 200 – 600 rupees ($2.00 – $6.00)
My pick:
Frituur No. 1 is one of the top rated restaurants in Pokhara. It also happened to be on the street we were staying and yet we didn't even notice it the first five days that we walked back and forth past it. It doesn't scream "best restaurant in Pokhara" but once you take a bite, it'll be hard to deny. This little restaurant reminds me of the high end delis in New York City that you wouldn't know to try, but every local knows is the best. We asked the cook/waiter what was best and he recommended the buff/pork burger. I don't eat buffalo or pork, so Suraj ordered it, and I got a crispy chicken burger and a side of Belgian fries. While the chicken burger was good, it was the hamburger that stole the show. I tried a bite, and then had to have another. It was by far the best burger I've ever had in Nepal. It would probably even be in the top five burgers I've had ever. Don't let the inconspicuous look throw you off, this place is top notch.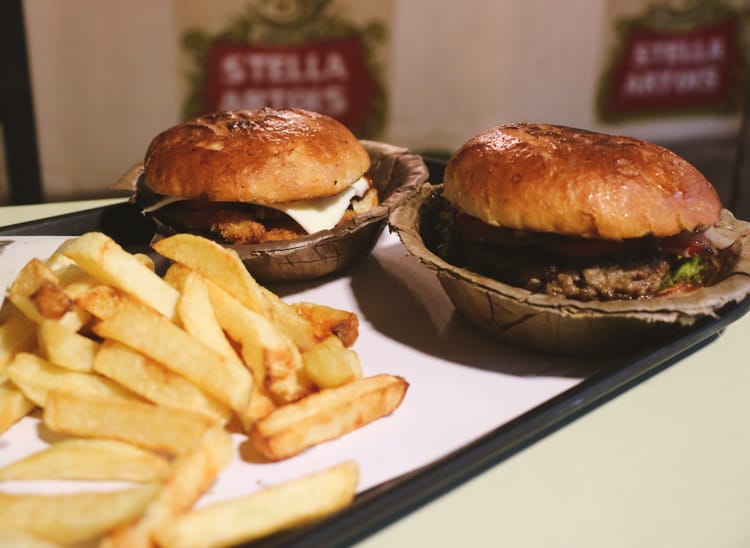 ---
Vegan Way
---
Type of Cuisine: Vegan, Salads, Sandwiches, Smoothies, Juices
Price range: 350 – 500 rupees ($3.00 – $5.00)
My pick: Avocado Salad
Vegan Way is a literal trip. It's like stepping back into the late 60's or early 70's in America. The vibe is all natural and low key without a lot of frills. You order your own food at the counter and pick it up when someone calls your name. The food is delicious and the serving sizes are generous, plus everything on the menu is healthy. I would even dare to say that this is the best cheap restaurant if you want healthy food as most dishes are under $4 USD!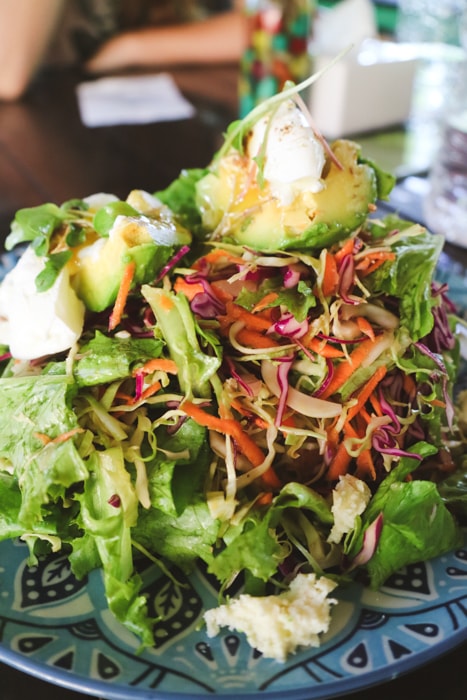 ---
The Old Lan Hua Chinese Restaurant
---
Type of Cuisine: Chinese
Price range: 300 – 1000 rupees ($3.00 – $10.00) for family style dishes
My pick: Kong Pow Cashew Chicken, Sauteed Bok Choy, Cucumber Salad, Grilled Fish in Oyster Sauce
The Old Lan Hua Chinese Restaurant was the first Chinese Restaurant in Pokhara. They recently renovated it giving it a more upscale vibe. The servings here are very large, so it's good to come with a group and order family style while sharing. One dish per person would be too much. They also like to use a ton of Schezuan chili so be sure to ask for no chili if you don't like spice. That being said, this is my favorite Chinese restaurant in Pokhara. The food is delicious and it's extremely fresh when you order it. It's a restaurant I like to go to every time I'm in Pokhara.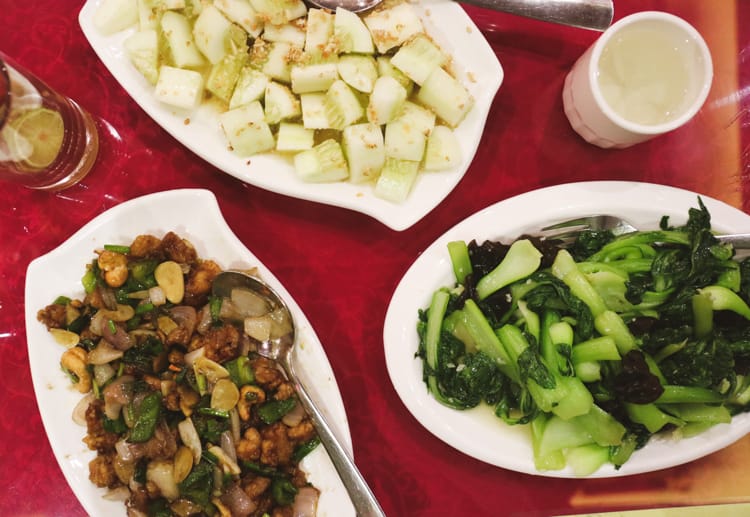 ---
Madhav's Organic Bakery
---
---
Type of Cuisine: Baked Goods, Bread
Price range: 100 – 800 rupees
My pick: Baguette, Set Breakfast, Sourdough Bread
We met a German couple while trekking and they recommended a small shutter bakery located in Dam Side on 7th Street. They said it's hard to find, but it had the best bread they've had in Nepal. Now, Germany has some of the best breads in the world, so I was intrigued to go find this place I'd never heard of.
It was hard to find, but this tiny little bakery had some yummy baked goods. The owners spent time learning to make baked goods in Europe and the baguette is proof. We had the set breakfast which was over 700 rupees. It was a little expensive compared to other places, but you get an entire freshly baked baguette, eggs, a well-made coffee/tea and fresh local cheese as well as juice. Overall, I loved this well kept secret that only locals seemed to know about.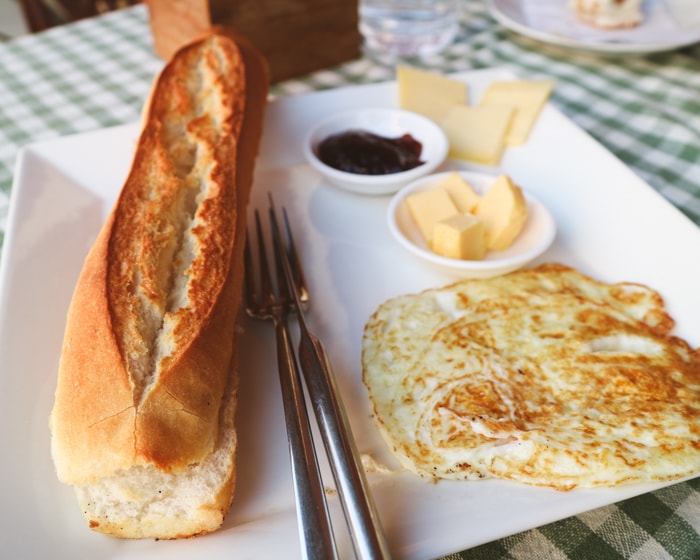 ---
Med 5
---
Type of Cuisine: Mediterranean
Price range: around 500 rupees per dish
My pick: Mezze Combo Platter
Med 5 is a Mediterranean themed restaurant located near Dam Side in Pokhara. There's both indoor and outdoor seating which overlooks the water at this cute restaurant. I liked the overall vibe and decor, the staff was super friendly, and the mezze combo platter was delicious. It was enough for two people to enjoy, however we did order a second piece of naan to go with it. This is a great place to mix it up if you've been trekking and eating dal baht for a week. Their fresh ingredients and light but tasty meals are perfect for a hot summer day.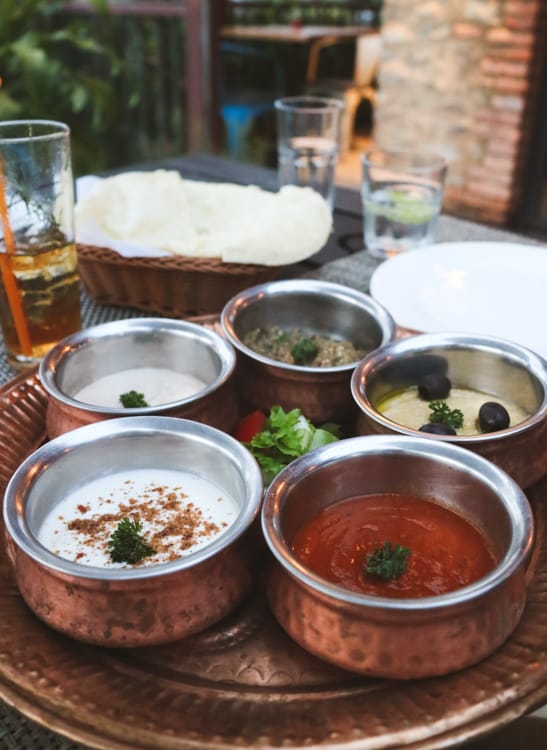 ---
French Creperie
---
Type of Cuisine: French
Price range: 300 – 700 rupees ($3.00 – $7.00)
My pick: Kombucha, Sugar Lemon Buckwheat Crepe
The French Creperie is a backpacker favorite in Pokhara. We almost didn't go because we tried several other backpacker favorites and thought they were highly overrated and that the food quality was extremely low. I'm glad we decided to check out the French Creperie on our last day in the city because it did not disappoint. It's got a very low key hippie vibe with indoor and outdoor seating. Their menu specializes in crepes and we opted for a dessert crepe. I'm extremely picky about crepes because my dad used to make them for me when I was little, and nowhere makes them as good as he did. But, the lemon sugar crepe brought back some good memories. It was well cooked with the right amount of sugar and lemon making it a perfect balance of sweet and sour. We also tried the Kombucha which was just strong enough, but not overly so. We both enjoyed this restaurant so much that we now go to the location in Kathmandu when we are home.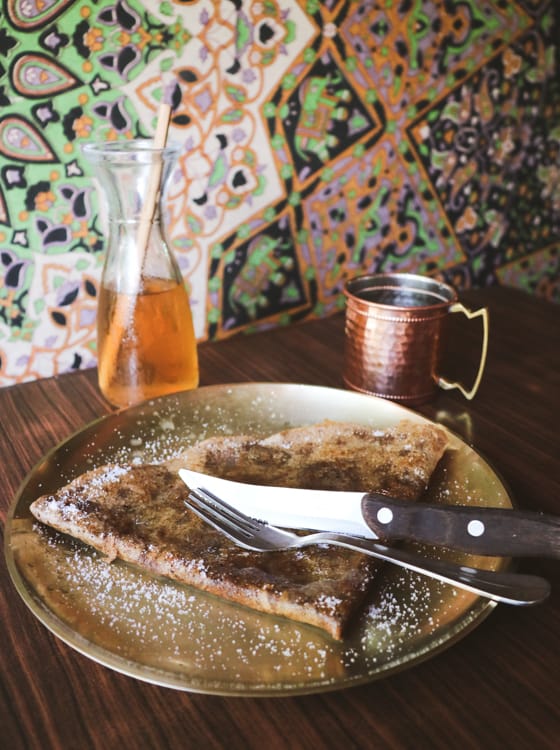 ---
Caffé Concerto
---
Type of Cuisine: Italian
Price range: 500 – 900 rupees ($5.00 to $9.00)
My pick: Spinach Ravioli in Sage and Butter Sauce
Finding ravioli in Nepal is not so easy, and it's one of my favorite Italian dishes, so I was very excited to find it on the menu at Caffé Concerto. We'd been trying out a ton of restaurants and a lot of them disappointed, so we started to only order one dish at each place so that we weren't forced to eat two meals we hated. We ordered the ravioli here and it was so good, we immediately ordered another dish to try. We also tasted the gelato on the way out since Suraj hadn't had gelato before. We went for a chocolate flavor which was delicious and creamy. A lot of ice cream in Nepal has a kind of icy consistency so I was excited to have a creamy ice cream. Yum! Overall Caffé Concerto was a great place to get an Italian fix. The staff was friendly and the décor was cute with an Italian vibe.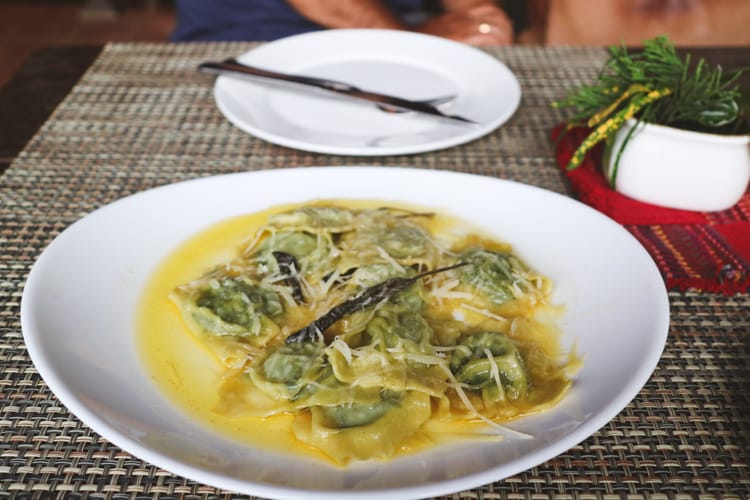 ---
Little Windows
---
Type of Cuisine: Vegetarian / Vegan
Price range: 200 – 700 rupees ($2.00 – $7.00)
My pick: Eggplant Falafel Buddha Bowl
We tried several highly recommended restaurants in the category of healthy vegetarian / vegan restaurants and each one was disappointing. We even tried the crowd favorite The Juicery and could barely finish our meal which had no flavor other than pepper. We were about to give up when we saw Little Windows was open. We went in with low expectations after being let down time and time again, but left pleasantly surprised. The Buddha Bowl, which was under 600 rupees, was filling enough that the two of us shared it and still couldn't finish it. It was fresh, tasty, and healthy. If you're looking for a healthy restaurant at a reasonable price, this is the only one I'd go back to. We enjoyed our meal here a lot.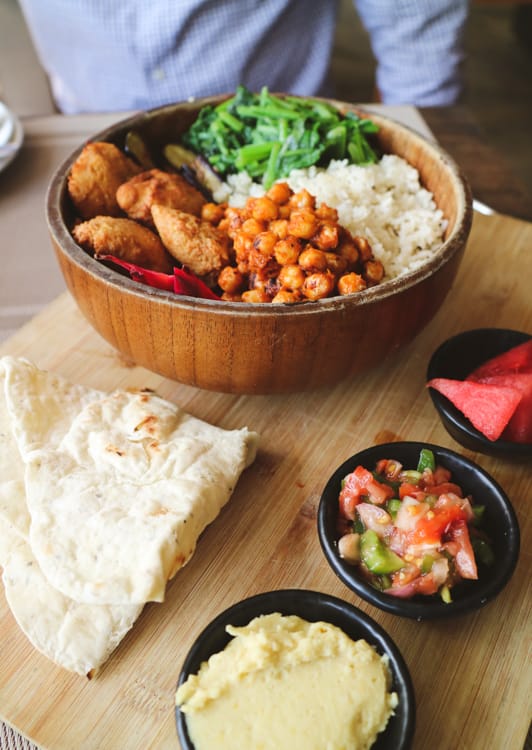 ---
Momotarou
---
Type of Cuisine: Japanese
Price range: 400 – 800 ($4.00 – 8.00) for most main dishes
My pick: Sweet Tofu Don, Tofu Don, Prawn Sushi
Momotarou is one of our favorite restaurants in Kathmandu, and it has several locations around Nepal including one in Pokhara. I love how you can eat a filling meal here for about 550 rupees but not feel overly full after. The food is light and fresh and full of flavor. I also appreciate their vegetarian friendly options. They have a ton of amazing tofu dishes that I haven't seen at other Japanese Restaurants. Their don bowls are my favorite and they come with miso soup and a pickle making it a well rounded meal.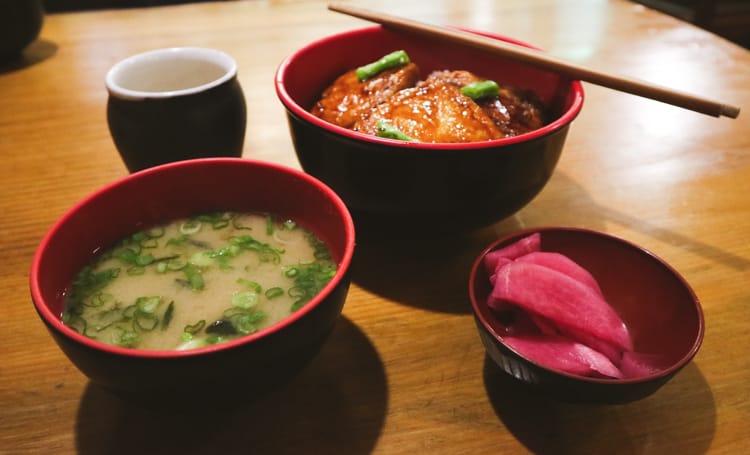 ---
Roadhouse
---
Type of Cuisine: Continental & Italian
Price range: 400 – 900 ($4.00 – $9.00) for most main dishes and pizza
My pick: Fungi Pizza, Caesar Salad, Penne Truffle Mushroom
Roadhouse is another one of our go-to restaurants in Kathmandu which also has a restaurant in Pokhara. Whenever I feel homesick, we order a fungi pizza and Caesar salad for takeout and watch cheesy Christmas movies in bed while eating. This place reminds me of the brick oven pizza restaurants in New York, so I love it. I took my mom to Roadhouse when she was visiting and she could not believe how good the truffle mushroom penne was and how affordable it was. She said "I'd order this every day if I lived here!"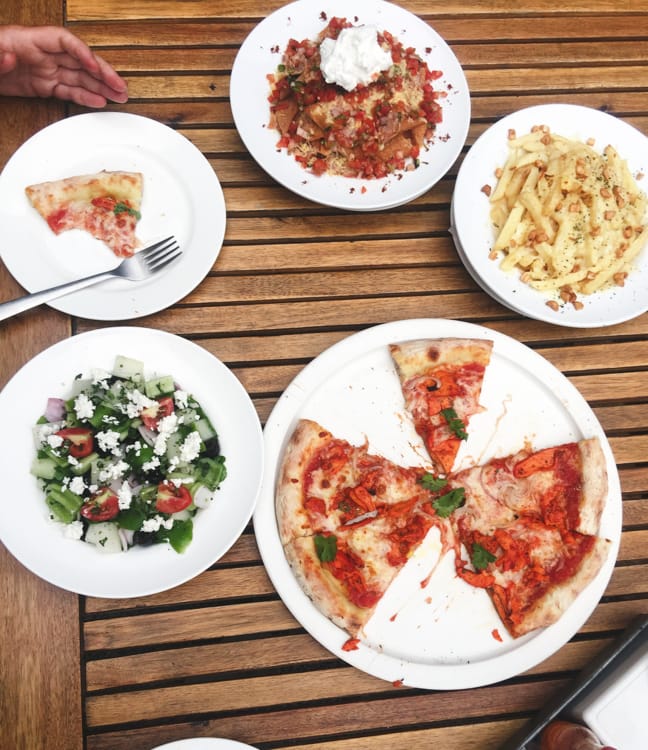 ---
OR2K
---
Type of Cuisine: Mediterranean / Vegetarian
Price range: 200 – 700 rupees ($2.00 – $7.00)
My pick: OR2K Combo Platter, Shakshuka
OR2K is another Kathmandu favorite which has a location in Pokhara. We absolutely love their combo platter which has a little bit of everything including falafel, naan bread, baba ghanoush, hummus, tahini, salad, and more! I'm also a huge fan of the shakshuka for breakfast. I literally have dreams about the red sauce they serve it in. In fact, writing this is making me so hungry, I think I'll go there tomorrow to get a craving fix. OR2K is one of the most popular restaurants among backpackers since it's reasonably priced, has a great vibe, and has delicious vegetarian options.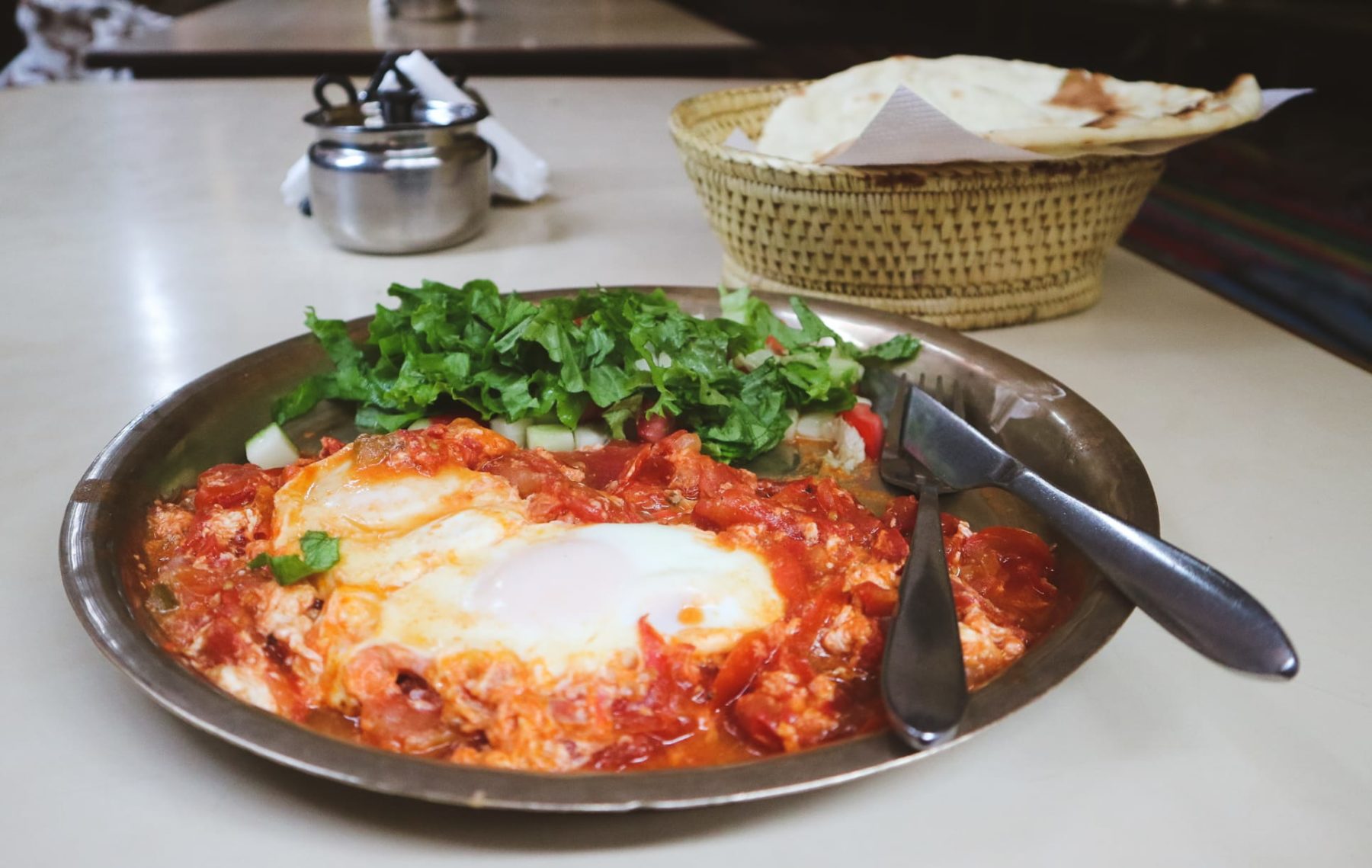 Do you have a recommendation for the best restaurants in Pokhara? Let me know in the comments, and I'll check it out the next time I'm in town.
---
My Top Picks for Hotels in Pokhara
---
Budget Hotel
Forest Lake Backpacker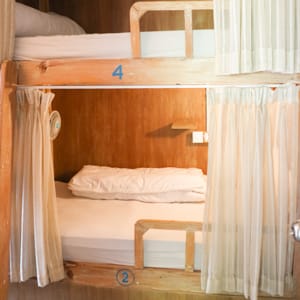 $12 a night – Located on the quiet northern side of Lakeside, this hostel has everything you need including lockers, outlets near the bed, privacy curtains, individual reading lights and more. I stayed here for an entire month and loved it!
Comfort Hotel
Hotel Middle Path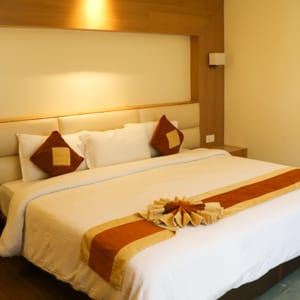 $50 a night – This is my go to hotel when I visit Pokhara. There's an on site pool, large clean rooms, a beautiful garden, a spa, and very friendly staff. It's located in the heart of Lakeside close to all my favorite restaurants. I can't recommend it enough!
Luxury Hotel
The Pavilions Himalaya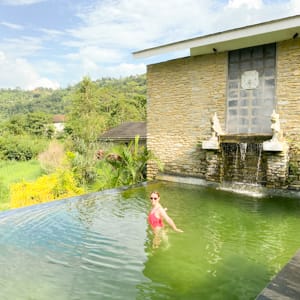 $200 a night – If you want luxury, The Pavilions is the place to be. Visiting here feels like an escape into a private paradise. I felt so relaxed during out stay and can't wait to go back. The hotel is sustainable without compromising luxury!
---
You might also like…