I'm going to be honest here and start this post by saying that I used to hate souvenirs. Like, really hate them. To be fair, I grew up in New York, and my idea of a souvenir was an assortment of different sized plastic Statue of Liberty knick knacks. Later, I began to collect one Christmas ornament from every country I visited. They took up very little space in my luggage, and I got to appreciate them once a year. After traveling to so many amazing countries, I realized that souvenirs aren't just shot glasses or statues of famous landmarks. There's so many cool things you can buy and incorporate into your home that don't look "touristy." Having travel bedroom decor can look sophisticated and chic.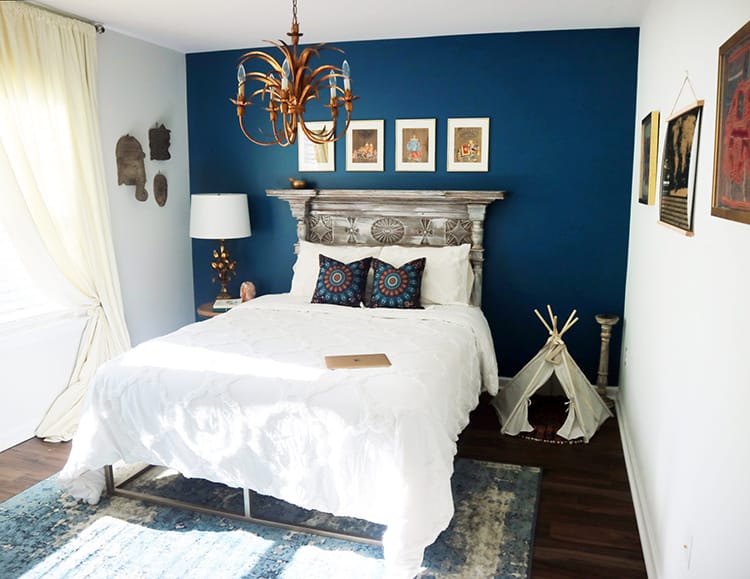 Choose a Color Palette
---
First things first. Choosing a color palatte can help prevent you from having a ton of things that don't match. I went with a peacock-blue that I'm obsessed with. To be specific, I revolved my entire room around Sherwin Williams "Oceanside." And no, this isn't a product plug. I just genuinely loved that specific shade of blue. Whenever I saw something I loved, I thought about whether or not it would work with that color in my room. Amazingly, when I got home, everything matched!
---
Consider Space and Weight in Your Luggage
---
I'm a backpacker, so anything I buy, I have to lug around on my back for months. I have to really love something to commit to it, but it keeps me from making impulse buys. When I was in Bali, I fell in love with everything I saw, but most of it would need to be shipped. Luckily, my mom was visiting so I sent her home with a few things I normally wouldn't be able to buy. Usually, I'm forced to think outside of the box. For instance, I bought pillow covers in Nepal that have a fun pattern on them. They make an impression, but are lightweight and take up very little space in a bag.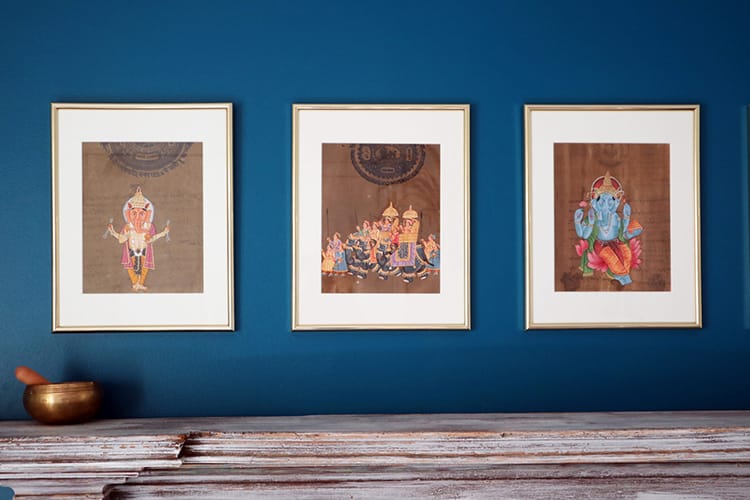 Buy Things in Sets
---
Everyone knows you get a better price if you buy things in sets. A lot of people buy one of this and one of that and have a hard time putting it all together when they get home. I buy things in multiples. For instance, I saw some amazing artwork in India. If I bought one, it would get lost on my wall. So, I bought four. When I got home, I matted and framed them (for cheap) and now they look like a million bucks.
---
Mix Souvenirs With Items From Home
---
If your entire room is covered in souvenirs, it may look a tad crazy. I like to mix everything together. I keep most of my non-souvenirs simple so that the memorable items stand out. Then, I added a few more travel decor items to the mix like a scratch off map. That way, I can see where I've been and all the places I have yet to explore.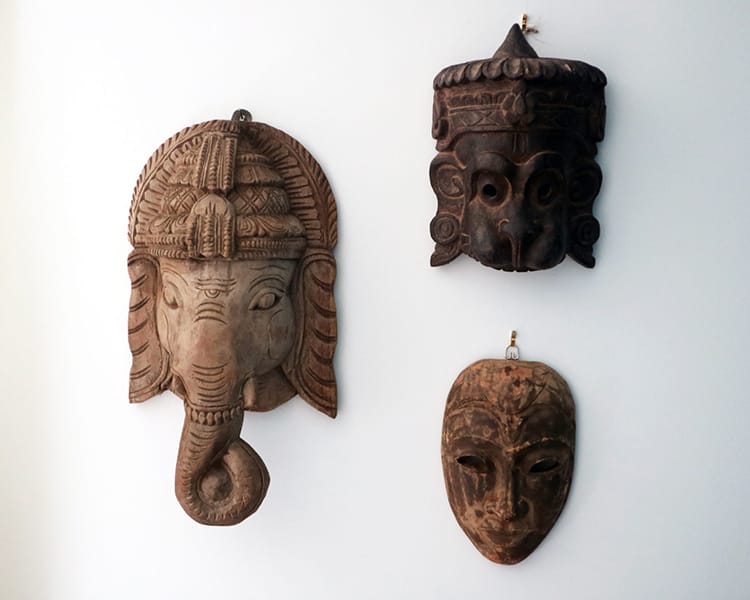 What exactly is in my room…
---
Wood Masks
I love wood carvings, so I have an assortment of masks that represent different gods. Ganesh (the Hindu elephant god) is from southern India, Hanuman (the Hindu monkey-god) is from Nepal, and Buddha is from the Shan State of Myanmar. They represent wisdom, strength, and balance. I bought these towards the end of each trip when I knew I'd have the space in my bag and would be heading home shortly.
Artwork
I have some very old postage stamped papers from India which someone drew over with bright colors. I also bought some incredible embroidered pillows which I had framed for the wall. Oddly, I ended up with an elephant theme in my room even though I never had that intention. I guess I'm just drawn to elephants.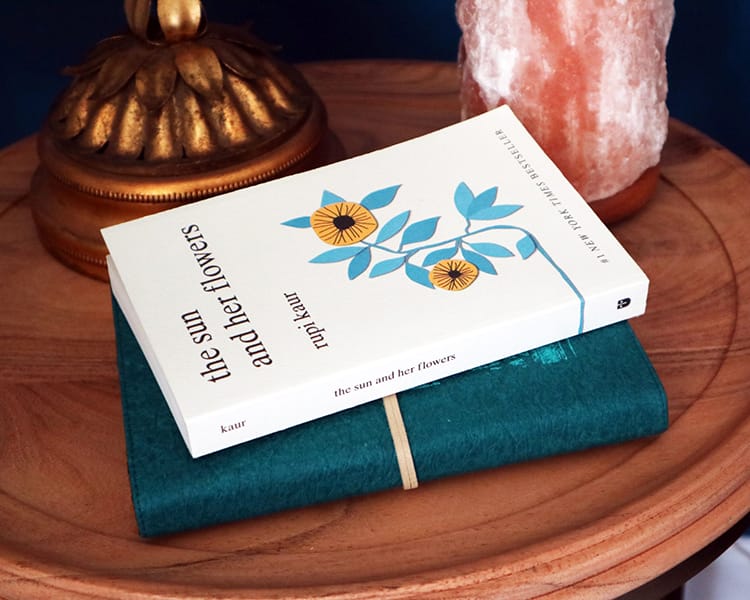 Photo Albums
I try to create a photo album for each country I visit. What I really love is buying the actual photo album there. These are a tad heavy since they are books, but I really love having beautiful handmade album covers. The blue one pictured above was purchase from a social enterprise in Nepal. It was handmade by a sustainable company!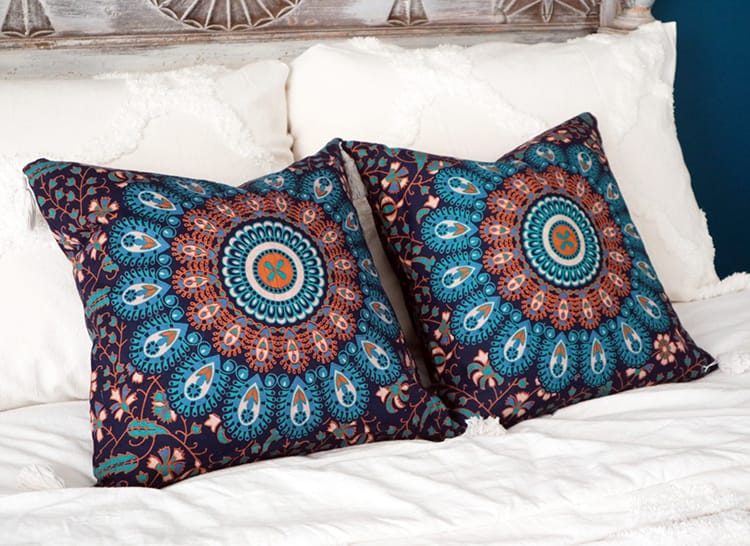 Pillows
As mentioned above, pillow covers are a great thing to buy when traveling. They're so lightweight and barely take up room. I got mine in Nepal where there are tons of brightly colored options. And, they ended up matching my feature wall perfectly!
Antique Mantle
While I can't exactly say that this is from my travels, it was an adventure to get it. While I was living in NYC, I worked for a real estate company. One of the tenants was throwing it out, and I rescued it from its fate. It literally fell to pieces being moved to my apartment and then fell apart even more being moved to South Carolina. But, I was able to restore it to its glory, and it reminds me of my time in New York City.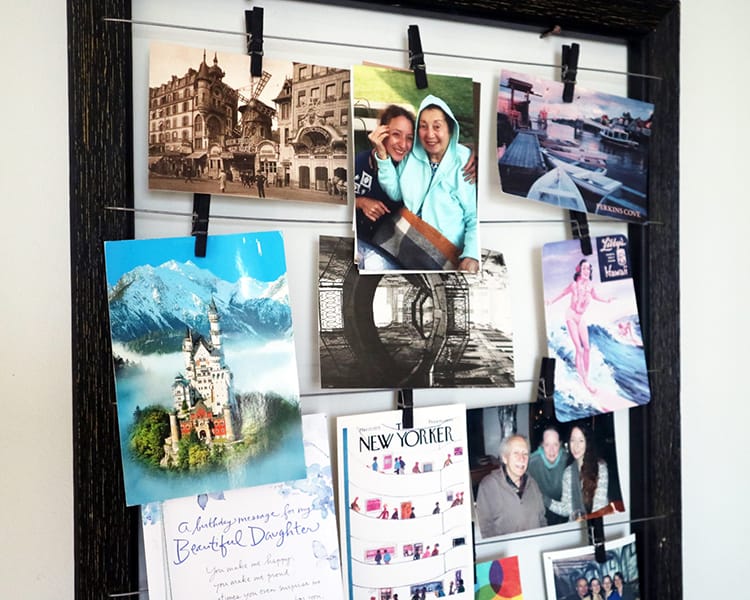 Post Cards
For those who pack as light as humanly possible, postcards are an awesome way to decorate your home. You can have them framed or hang them on a large display. I've met people who mail themselves postcards with a reminder of what they were feeling the day they wrote it. That way, they always have a little reminder of the place they went to and how it made them feel. Like a journal.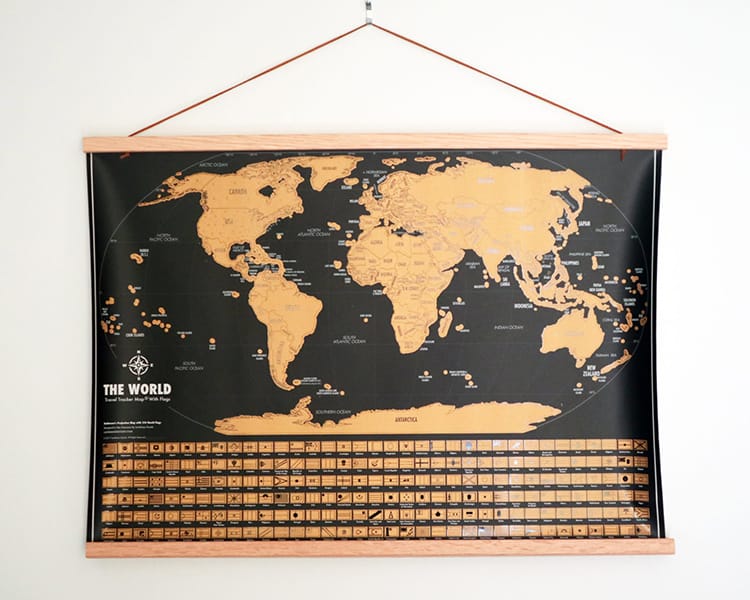 However you choose to decorate, I think the important thing is that your room holds memories. I'm on the road so often that coming home is always a nice treat. I want to feel comfy as soon as I arrive, but I also go into a bit of culture shock, so having something familiar from my travels puts me at ease.
---
You might also like…