I've spent a lot of time in Pokhara as a traveler including month-long stays in the city. The first time, I went as a solo backpacker staying in hostels. Later, I went back to stay in mid-ranged private rooms. Most recently, Suraj and I took advantage of some deals at the higher end hotels in the area. Pokhara is the kind of place where you can find an amazing hotel in every budget whether you spend $5 a night or $500. Here are our top picks for the best hotels in Pokhara in every price range.
---
Best Hostel in Pokhara (Under $10)
---
Forest Lake Backpacker Hostel
Book on BOOKING.COM | AGODA
I stayed in Forest Lake Backpacker Hostel several times on my first visit to Nepal, and it became a sort of home base for me. I had tried several other hostels first and they were all disappointing. This hostel considers a backpacker's needs and the comfort of sharing a room. First of all, the bunk beds are made of wood. This might sound silly, but a lot of bunk beds in Nepal are made of metal and they shake and shift whenever the person above or below you rolls over. I once stayed in a bed so bad that I didn't feel an earthquake because it seemed no different than the person rolling around in the bunk on top of mine.
Their bunks also include a privacy curtain (great for those who turn lights on at awfully inconvenient times), a small reading light in each bunk (prevents people from turning the big lights on at inconvenient times), an outlet in each bunk (so you don't have to fight for electricity), and a large drawer for each person to store their bags. These might sound like basics in a dorm, but most of the places I stayed before going here were missing at least two of these major items.
Last, there's a nice shared outdoor space to hang out in as well as a small restaurant downstairs. It's located right next to one of the entrances to the Lakeside walkway along the water. It's close to a lot of great restaurants, and the area isn't too loud. Overall, this place just gets it on so many levels and is worth a stay.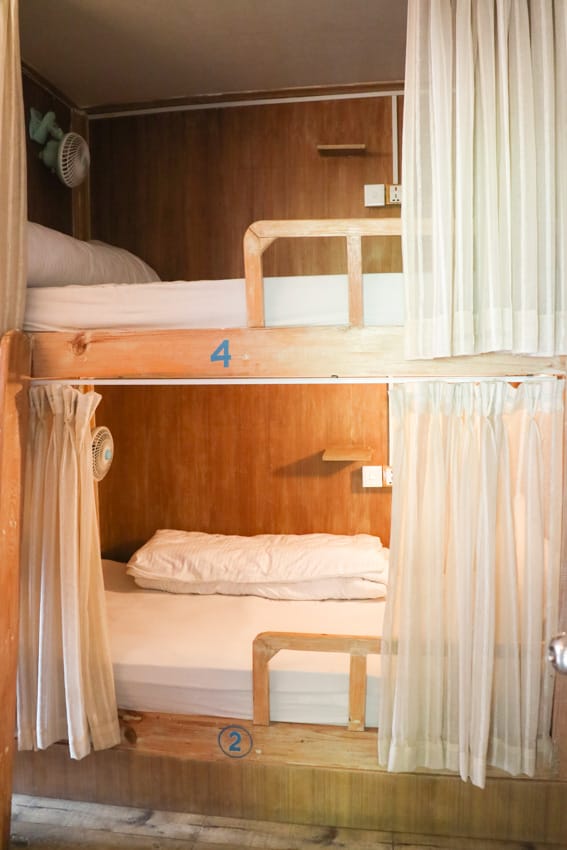 Best Cheap Hotel in Pokhara (Under $20)
---
Pokhara Tourist Home
Book on BOOKING.COM | AGODA
Pokhara Tourist Home was started two years ago and is run by a local family. What I love about this hotel is the welcoming family vibe where you feel like you are staying with friends rather than in a hotel. Pokhara Tourist Home is in the northern part of Lakeside on a quiet side street, close to many restaurants. Some of the rooms even offer lake views! If you're on a budget, but want a private room (instead of a hostel) it doesn't get much better than this place.
Something I enjoyed about this hotel is the décor. I think a lot of places in the $10-$20 price range are decorated with insanely bright colors or mixed matched décor. While that's fine, Pokhara Tourist Home has really thought about their room décor and while the rooms are simple, they have a nice relaxing spa-like feel with white, chocolate brown and sky blue accents.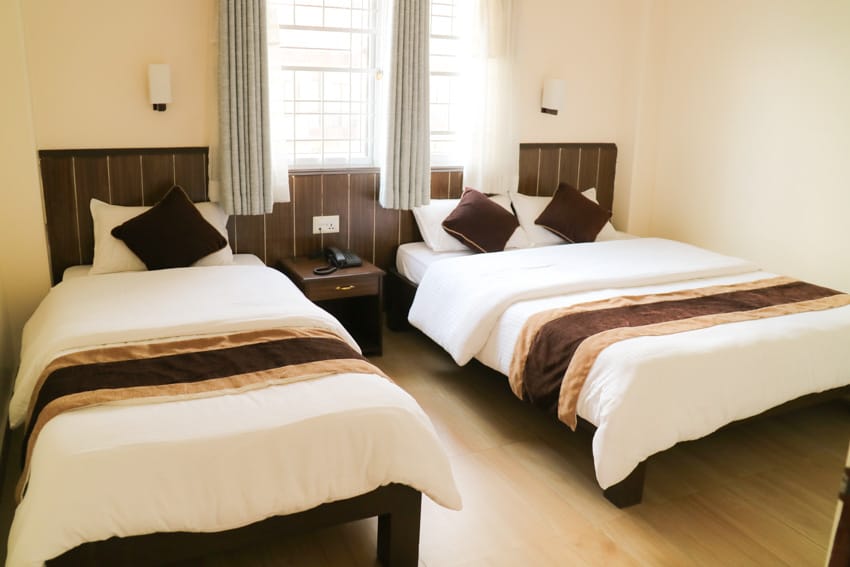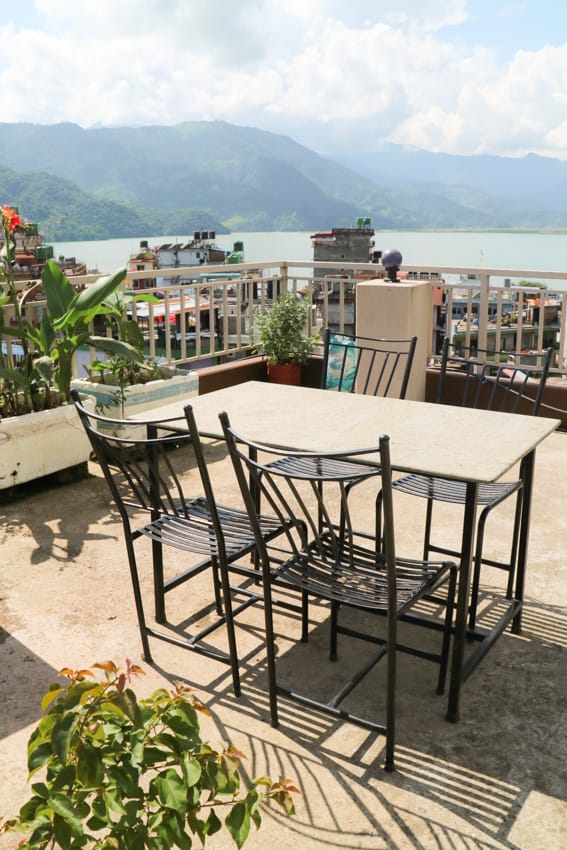 Best Mid-Range Hotel in Pokhara (Under $50)
---
Hotel Mera Peak
Book on BOOKING.COM | AGODA
Hotel Mera Peak is located close to Lakesides Center Point. I love the way they included a traditional vibe with modern finishes. The walls have been treated with a special finish that looks like the mud homes in the mountain villages giving it a gorgeous rustic feel. They've also incorporated light wood details and local textiles to finish off this modern mountain vibe. There's a small bar and restaurant on site as well as a spa.
Hotel Mera Peak is located in a convenient area where you can walk both to northern Lakeside and Dam Side which gives you a wide range of restaurants to choose from. This is a great choice for those who want some modern luxuries without a high price tag.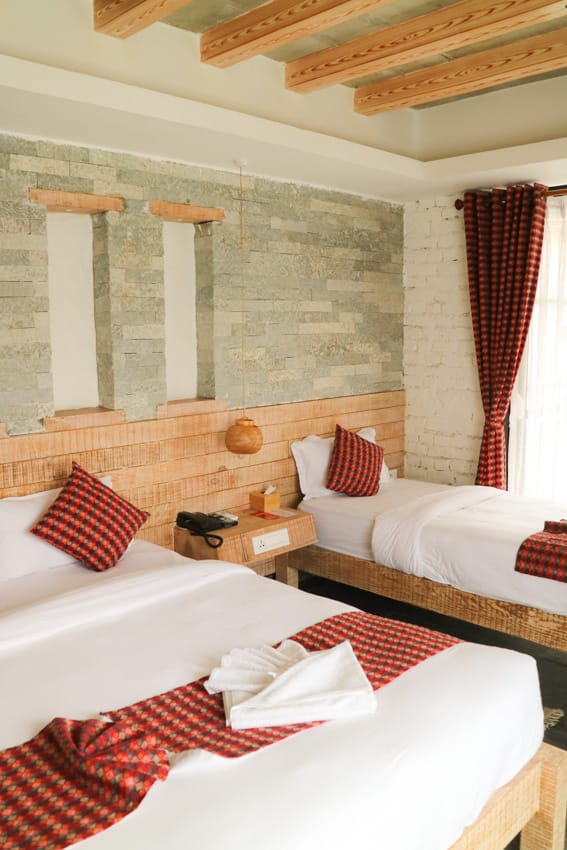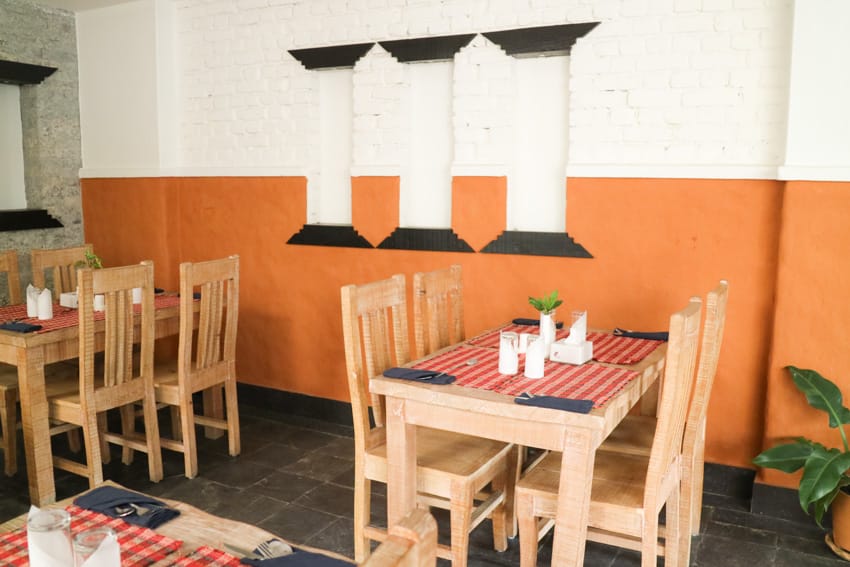 Best Comfort Hotel in Pokhara (Under $75)
---
Hotel Middle Path & Spa
Book on BOOKING.COM | AGODA
Hotel Middle Path & Spa is our go to hotel. For the price and quality of the hotel, this is the place we frequent the most and our number one pick for the best hotels in Pokhara. Hotel Middle Path is located near the Center Point of Pokhara making it a convenient place to stay. What sold me on this place the first time we booked it was the garden and pool area. They've created a little oasis behind the hotel that is so relaxing and zen especially after coming back from a tough trek. My photos don't do it justice.
Their rooms are clean and spacious and some of them even have mountain views. The rooftop has plenty of space to hang out and offers mountain views on a clear day. The room comes with a delicious breakfast that is very filling. We often had to ask for less food which is a rarity in hotels.
We've used the onsite spa several times, and I've gotten some amazing massages there. I also recommend the scrub and massage which is beyond relaxing after a trek. But most importantly, this place has an amazing staff. Everyone there remembers us from the manager to the cleaning ladies and they all have a big smile on their face when they see us. I can't recommend this place enough.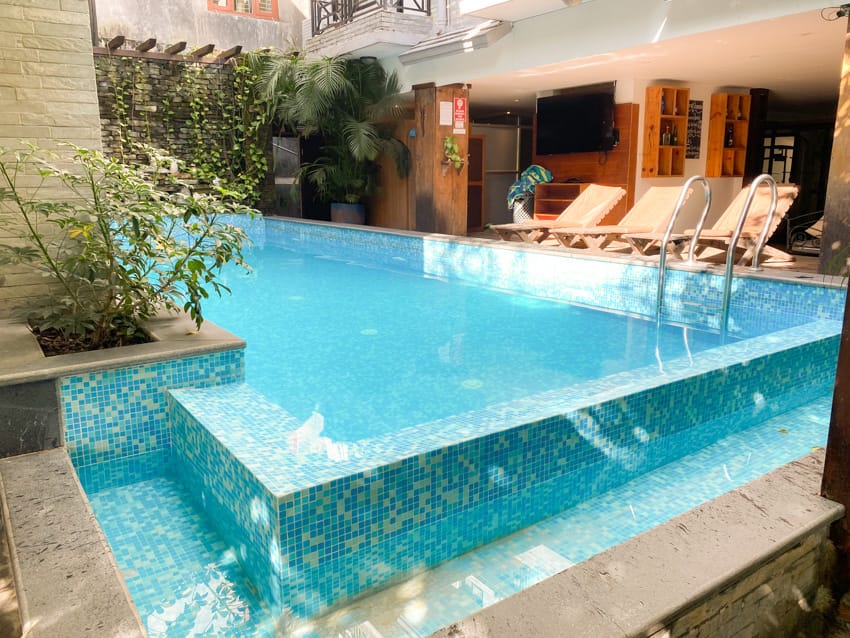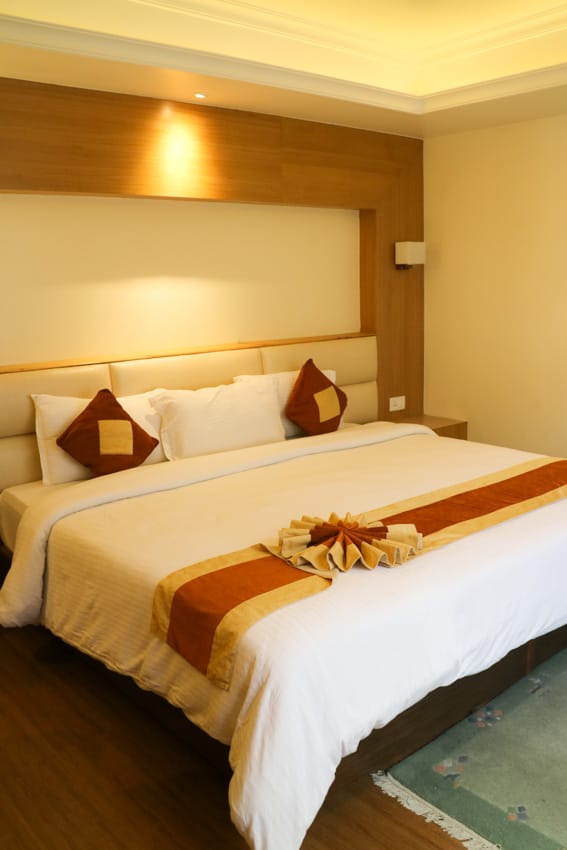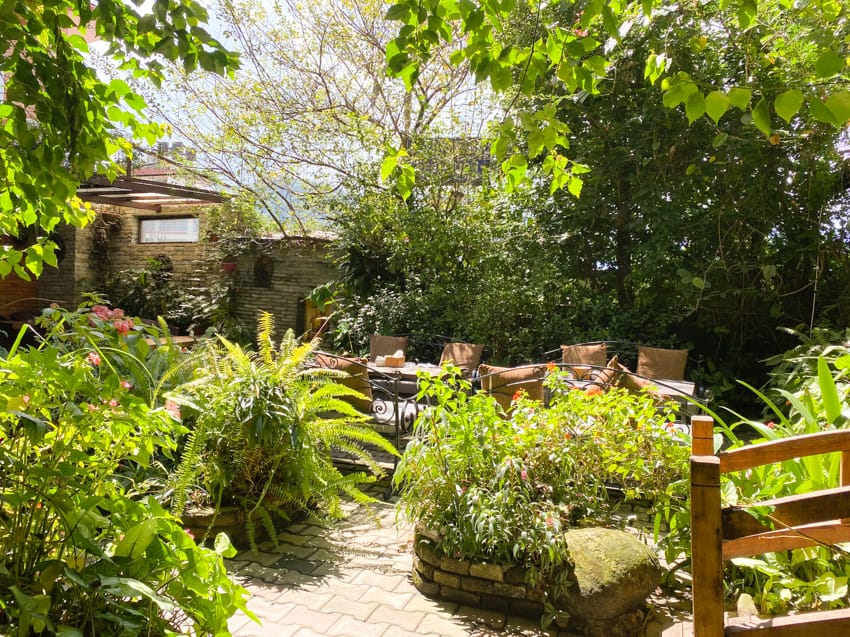 Best Resort in Pokhara (Over $100)
---
Temple Tree Resort & Spa
Book on BOOKING.COM | AGODA
Temple Tree Resort & Spa is a great choice for those who want everything nearby. The resort is almost 10 years old and is located close to Dam Side in Pokhara. It's within walking distance of many restaurants including some of our favorite restaurants. This resort is massive with 68 rooms, a restaurant, a large pool, and a spa. It also has plenty of outdoor space to hang out without the hustle and bustle of the city bothering you.
The resort has a rustic vibe on the outside, but the rooms have modern finishes. They have several options for rooms including a basic deluxe room up to suites. Some of the rooms have small living room spaces and even a tiny kitchen if you plan to stay longer and want your own apartment space. Overall, Temple Tree has everything you could need or want without having to leave.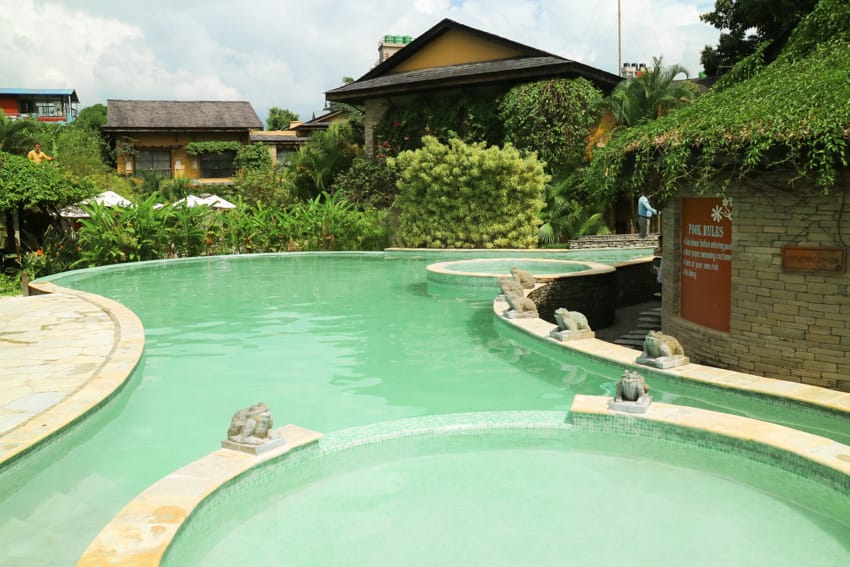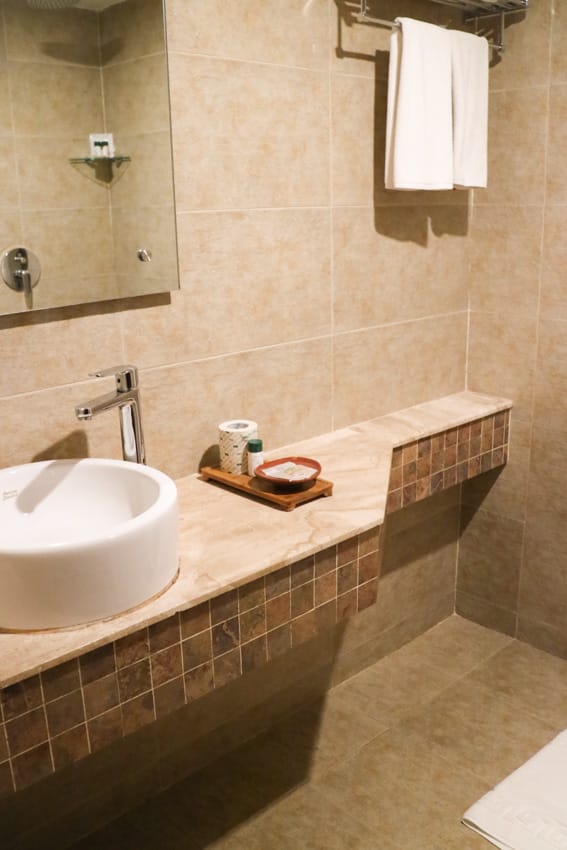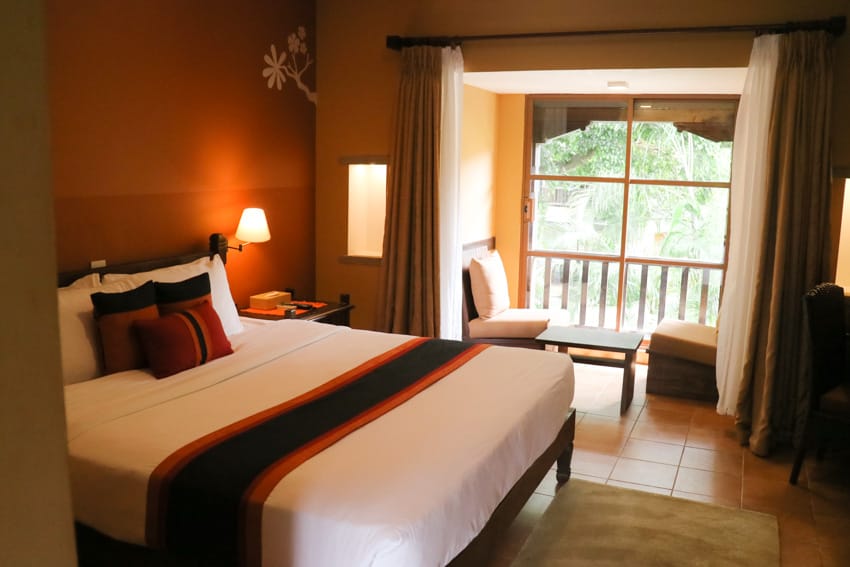 Best Luxury Hotel in Pokhara (Over $100)
---
The Pavilions Himalaya – The Farm
Book on BOOKING.COM | AGODA
The Pavilions Himalaya was a special treat for us after a difficult trek. We'd gone trekking during monsoon and were met with rain and leeches. Yikes! So, visiting The Pavilions Himalaya was the ultimate treat and a much-needed reward. As far as luxury goes, this place is an absolute oasis. It's located about an hour outside of the main city. Therefore, this is the kind of place you go to unwind and relax as it's far from all the main activities. Here, you'll find yourself in the rolling hills overlooking rice terraces with the mountains in the distance.
This hotel has a major focus on sustainability which makes it even more lovable. They harvest rainwater, run exclusively on solar power, avoid plastic, recycle water, and even filter the pool with Himalayan salt to avoid harsh chemicals. The restaurant on site uses organic produce grown on their own farm. They even have cows and buffalo for milk and curd. The restaurant menu focuses on seasonal items to ensure freshness. And while "eco lodges" have a stigma of giving up modern luxuries, that couldn't be further from the truth here. It's been a long time since I've felt as relaxed as I did staying at The Pavilions Himalaya, which makes it an obvious choice as one of the best hotels in Pokhara.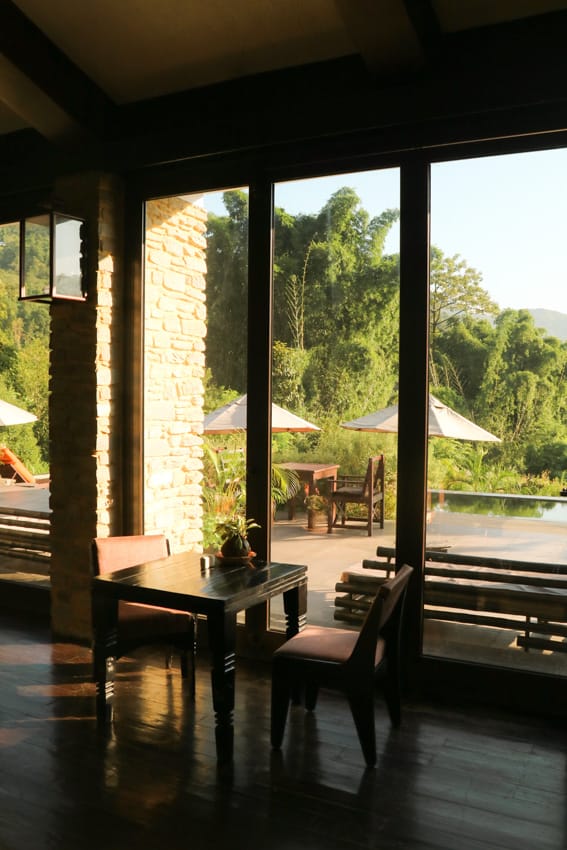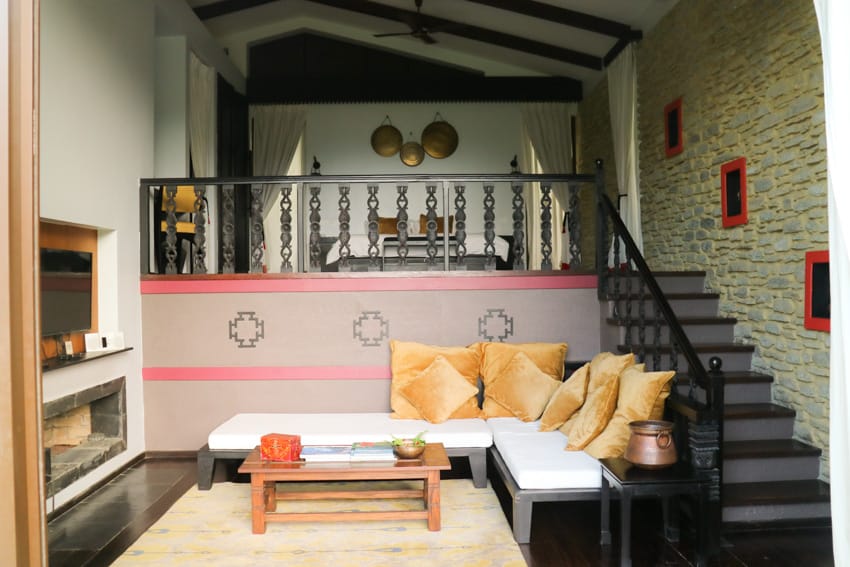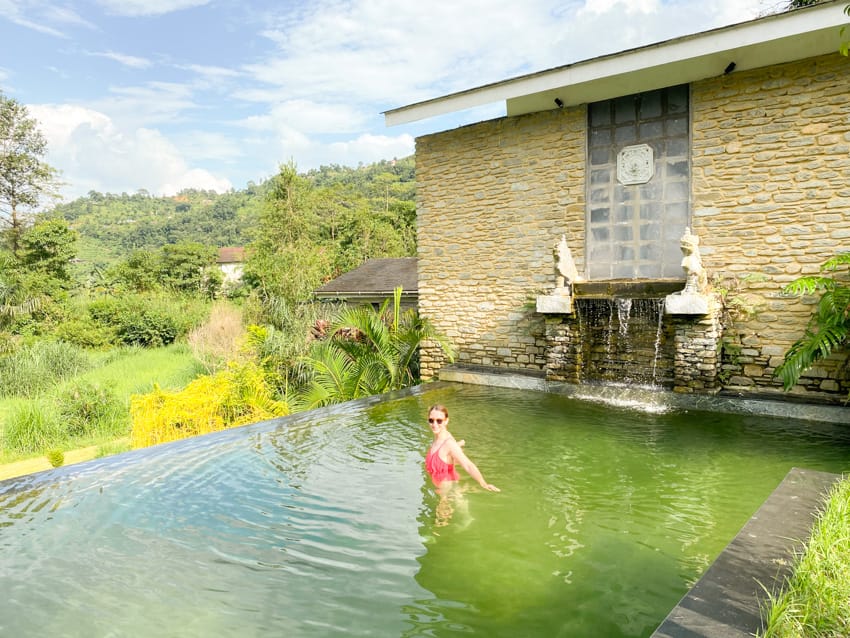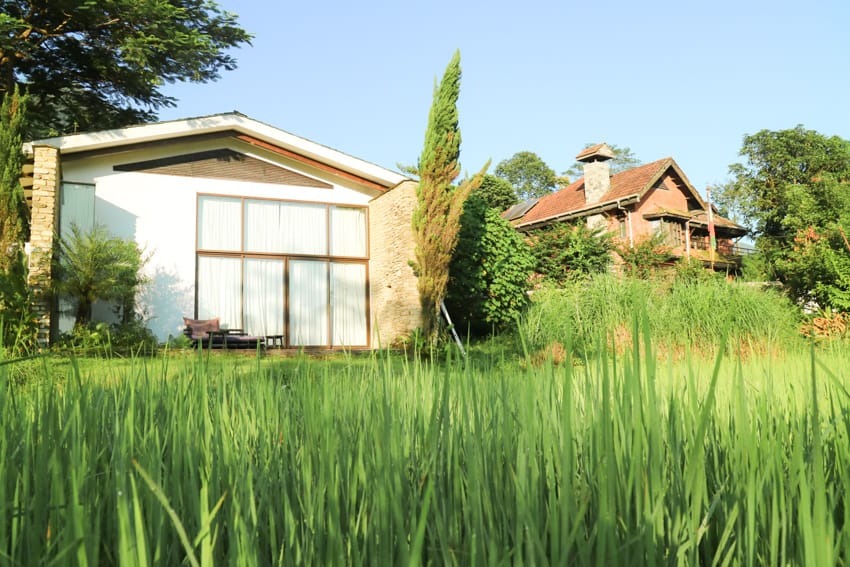 Which of the best hotels in Pokhara are you looking forward to trying?
---
You might also like…