Figuring out public transportation in Nepal can be daunting. There's very little information online, and what is listed is vague at best. However, taking the bus from Kathmandu to Pokhara is not as hard to figure out as one would think. Buying tickets is easy and getting to the bus station isn't particularly difficult, but there are some tips to know before going.
Kathmandu to Pokhara Bus
---
How Long Does the Bus from Kathmandu to Pokhara Take?
This is my all-time favorite question. Almost everyone will tell you that the bus ride takes 6 hours. This is a lie. I'm not even sure why people tell anyone six hours. It's like everyone who is allowed to sell bus tickets had a secret meeting and decided 6 hours was the amount of time tourists wanted to hear. The bus ride takes 10-12 hours on an average day. On a good day, you may arrive in 9 hours. If there's a straight up miracle, you might get there in 7. Plan for 12 hours in your mind, and you'll be happy if you arrive early.
How Much Does it Cost?
This varies based on the type of bus you get. I'll get into that a little further down, but the local bus costs about 300 rupees. The tourist bus costs about 800 rupees ($8 USD). The night bus costs around 2,200 rupees ($20 USD).
Where to Get the Bus from Kathmandu to Pokhara
In Kathmandu, you'll want to go towards the Ratna Bus Park in order to get the tourist bus. The specific stop is called Kanti Path (pronounced 'pot'). All of the buses (there will be like 50 of them) will be lined up right on the main road. It's best if you just show your ticket to the drivers as you walk past. They'll either tell you to hop on or tell you to keep walking further down. If all else fails, just look super confused. Nepali people are insanely friendly and are accustomed to helping lost tourists. It's best to arrive 20 minutes before departure in case your bus is all the way at the far end.
For the local bus, you can either go to Kalanki Bus Stop or to Gongabu New Bus Station. Gongabu is fairly easy to navigate. Again, if you look lost, someone will probably come over and ask what bus you are trying to find. I have only taken buses within Kathmandu from Kalanki, so I've never navigated the long distance bus area.
Where to Buy Tickets
This is interesting because for most things, you will pay more in Thamel. In this case, you'll get a better price if you buy your ticket for the tourist bus in advance in Thamel. If you arrive at the bus station without a ticket, drivers will tell you there's a high demand for seats and only a few left. This tends to leave people in a bind, and they end up paying more. You can buy tickets for the bus through almost any tour agency for 700 or 800 rupees. At the bus station, they'll try to charge 1,000 rupees.
You can also buy a bus ticket online. This is really helpful if you won't have time to arrange your ticket when you arrive, or if you like to have everything planned in advance. They cost the same as if you were to buy one in Thamel, and it's super convenient.
For the local bus, you can't buy a ticket in advance. Therefore, you'll need to get to the station early. When I went through Gongabu, they tried to sell me a ticket for 8am when I had arrived at 6am. After insisting, they gave me a ticket for 6:30am, and the bus wasn't even full. Make sure to get the earliest bus possible even if they give you a hard time.
The Tourist Bus
I highly recommend taking the tourist bus. For a few dollars extra, you'll get A/C and more space. Ask for a seat near the middle or front. For some reason, they like to put tourists in the back row and it's super uncomfortable. I always request a window as well (if you're facing the front of the bus, the right side has better views). The tourist bus is also known for being safer because the drivers don't drive as recklessly or as fast.
VIP Bus
VIP buses have large reclining seats making the journey much comfier. We took Swift Buses to Pokhara one time and it was worth the extra price. The aisles have two seats on one side and one seat on the other side. I was able to curl into a ball and sleep part of the way. The only downfall was that the seats were a little slippery because they were a faux leather. So be sure not to wear slippery pants like my leggings. Tickets for the VIP bus typically cost around $25 each.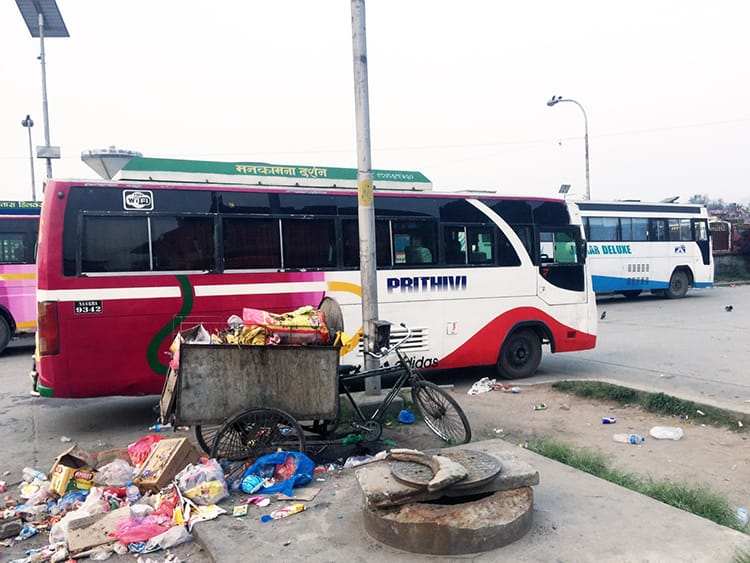 The Local Bus
If you're on a major budget, saving a few bucks might be a big deal. I've taken the local bus and honestly, the few extra dollars you pay for the tourist bus are worth it for the extra space. The best part of the local bus is that it's faster, but it's also more likely to get into accidents. Sometimes, the bus is actually a van. You'll be piled in with more people than any van should hold, and the A/C probably won't work. The worst part is that a lot of Nepali people are not accustomed to traveling by car or bus for long distances, which means they're more likely to get motion sickness. I've never been in a local bus where someone wasn't throwing up. Last time, a teenage girl next to me threw up about 10 times in the 8 hour journey.
Note: They no longer let people ride on the roof of any of the buses.
The Night Bus
The night bus is a version of the local bus. The tourist buses only leave Kathmandu around 7:00am. Local buses leave throughout the day, including a night time option. I've only taken the night bus from Kathmandu to Lumbini, but I'm told it's almost the same experience since the first half of the journey is on the same road. The bus stops after a few hours for a dinner break, and stops to let some people on or off on route. I don't get motion sickness very often, but being on the nightbus made me sick. You can't see out the window since there are no street lights and the roads are windy and fast. I personally would not take the night bus in Nepal a second time.
Is the Bus Safe?
This one is hard to answer. Road accidents are pretty common in Nepal. The fatality rate of these accidents is also pretty high. The road from Kathmandu to Pokhara is often on the side of a hill where one side is a retaining wall and the other side is a cliff. It constantly weaves around blind turns. Drivers in Nepal tend to go fast, and it's common to pass in areas where you can't see around a turn. I've been on the buses enough times that this seems normal and doesn't freak me out anymore. Nepali people know how to drive this way, and they drive this route every single day. If you get motion sickness or are a nervous traveler, this might be a long ride.
Tips for an Enjoyable Ride from Kathmandu to Pokhara
Food
Always have food and snacks. It's going to be at least 9 hours, so have a variety of food. I usually ask my guesthouse to pack a breakfast to go for me, and I buy some bananas, peanuts, cookies, and trail mix. There is a stop along the way with hot food. I've met a ton of people who got food poisoning from these highway restaurants. I have always gone unscathed, however, I only eat the fried noodles and rice. I don't ever eat the meat or anything questionable.
Bathrooms
You will usually stop two times for the bathroom and once for lunch. I recommend using every toilet you can because you never really know when the next stop will be. If you get stuck in bad traffic it could add hours to the journey. Make sure to have your own toilet paper and purell with you. Highway stops tend to have Asian squat toilets. If you aren't sure how to use them, you can read my post about Asian squat toilets. At the very least, that blog post will make you laugh.
Entertainment
I always have my phone, a book, music, and a movie (or two) downloaded. It's a long ride. I also have my power bank charged so that I can recharge my phone if it dies, and I recommend putting your phone on airplane and low battery mode to make sure it lasts longer. Think of this bus as a long term flight.
Get car sick reading? Check out audible! You can sign up for a 30-day free trial and get two books free by clicking the banner below! If it's not for you, you can cancel any time.
Kathmandu to Pokhara Flight
---
It's also possible to fly from Kathmandu to Pokhara. A flight is a much quicker option for those with a time crunch. The flight is only 25 minutes and since the airport is so small, you only have to arrive about 1 hour before your flight.
How to book a flight from Kathmandu to Pokhara
You can book your own flight in person at the airport or online. You can also book through your hotel or a nearby tour agency. Flights cost about $100 – $150 depending on the time of year. I recommend flying Yeti Air as it's considered one of the safer airlines in Nepal.
Airport Tips
The airports in Nepal are not set up the best. There are restaurants before security, but once you go through security options are limited. Therefore, if you arrive early, stay outside of security at the restaurant. In Pokhara, there's a nice outdoor space located before security where you can hangout and watch the planes take off. The areas beyond security are not as nice.
Bring snacks with you as flights in Nepal are notorious for being delayed due to weather. I also make sure to have a book or movie downloaded to keep me occupied.
Is there anything I didn't answer above? Leave a comment if you still have questions!
---
My Top Picks for Hotels in Pokhara
---
Budget Hotel
Forest Lake Backpacker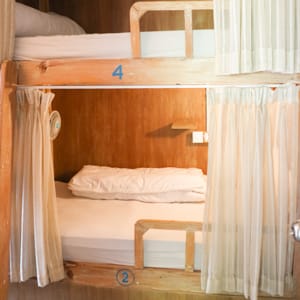 $12 a night – Located on the quiet northern side of Lakeside, this hostel has everything you need including lockers, outlets near the bed, privacy curtains, individual reading lights and more. I stayed here for an entire month and loved it!
Comfort Hotel
Hotel Middle Path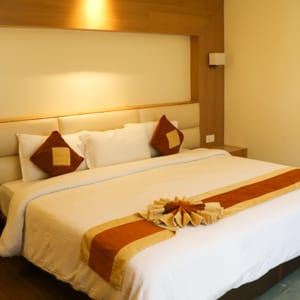 $50 a night – This is my go to hotel when I visit Pokhara. There's an on site pool, large clean rooms, a beautiful garden, a spa, and very friendly staff. It's located in the heart of Lakeside close to all my favorite restaurants. I can't recommend it enough!
Luxury Hotel
The Pavilions Himalaya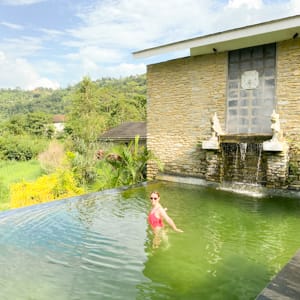 $200 a night – If you want luxury, The Pavilions is the place to be. Visiting here feels like an escape into a private paradise. I felt so relaxed during out stay and can't wait to go back. The hotel is sustainable without compromising luxury!
---
You might also like…