The list of things to do in Pokhara is endless. Pretty much walk in any direction, and you're surrounded by beauty. It's a haven for trekking and adventure sports. For those who don't fancy themselves "thrill seekers" there's tons of places to sit back and relax as well. The best part, it's not expensive. Below is a list of all the things I was able to do during my time in Pokhara.
---
Things To Do in Pokhara Map
---
See the Sun Rise from Sarangkot
---
My friends and I attempted to hike up Sarangkot almost every day for a week. Every morning at 4:00am we'd wake up to find a sky full of clouds and zero visibility. We'd all roll back into bed and try again the next day. Eventually the clouds cleared up, and we made the two hour hike to see the sunrise. It was well worth the wait and the short but steep trek. If you aren't into trekking, you can also take a taxi up most of the way.
Cost: 50 rupee entrance fee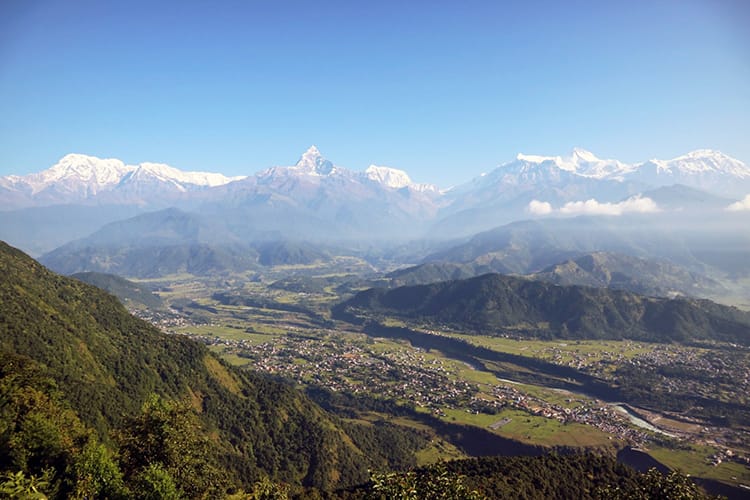 Paraglide Over Pokhara
---
See Lake Phewa and the Annapurna range from above. You'll take off from Sarangkot and land in North Lakeside. Depending on the conditions, your ride could last from 15 minutes to a half hour. You get to soar through the sky like a bird while your guide takes you in circles up above. If you're feeling even more adventurous, you can ask them to do tricks on the way down. For those who don't want to run off a mountain, you can watch from the take off location which is really interesting. Read more about my paragliding experience.
Cost: Peak season will cost up to 12000 rupee, while off season will only be 5000 rupee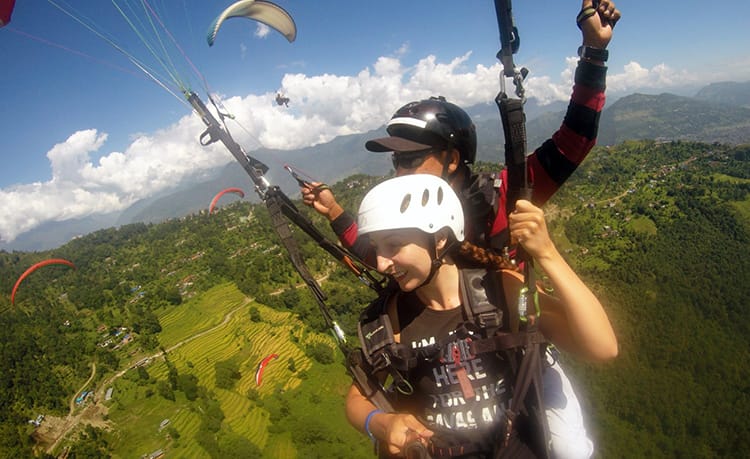 Go Kayaking on Lake Phewa
---
I'm a huge fan of kayaking, but it always seems too expensive to rent one. Luckily, here it's fairly cheap. I grabbed one for an hour right before dinner when the sun was setting. It's way too hot to be on the lake in the middle of the day, so 4:30pm was perfect. The only downfall was trying to carry the kayak from the store to the water and back by myself. If you have a group, you can rent a row boat which is already in the water and easier to get to.
Cost: 200 rupee per hour or 1,000 rupee a day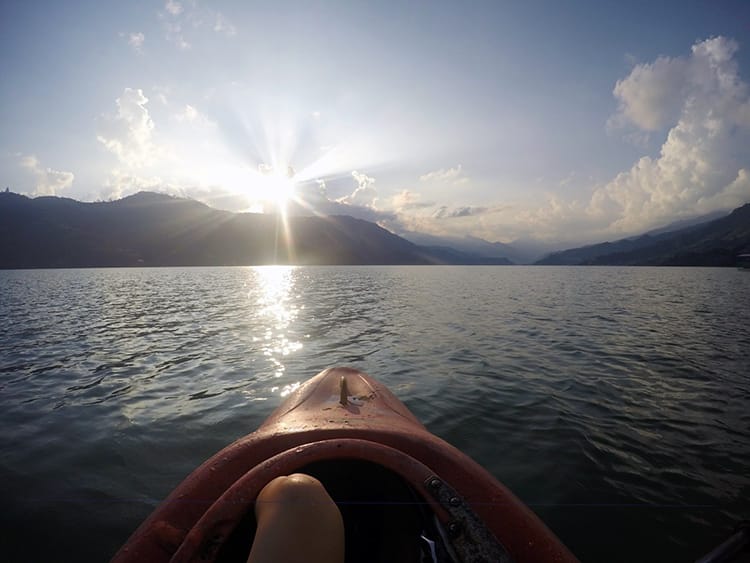 Boat to Tal Barahi Temple
---
While you're out boating, check out the Tal Barahi Temple located on a small island near Dam Side on the lake. My friends and I rented a boat for an hour, and it took us longer to get there than we anticipated so we didn't have time to go inside. The temple is sometimes used for weddings and you can see masses of locals visiting it daily.
---
Learn to Make Momos
---
Try your hand at dumpling making. While most of the class is spent learning how to seal a dumpling in different styles, it certainly brings out your artistic flare. A bit cooking class, and a bit arts and crafts (think playdough), it's a lot of fun to learn this art form. Read more about my cooking class experience.
Cost: 1250 rupee per person
---
Attempt to See Devi Falls
---
I say attempt because it's almost impossible to see the actual falls. For some reason, there is a very tall fence that feels like a prison surrounding it. No matter where you stand, the view is only meh. We actually had a good laugh at how bad of a view it was, and I got mad at websites who recommended seeing it. If you are in the area, check it out, but definitely don't go out of your way to see Devi Falls. The second photo shown above was taken by shoving my camera through the bars.
Cost: 30 rupee entrance fee
Explore Gupteshwor Mahadev Cave
---
Right across from Devi Falls is Gupteshwor Mahadev Cave. Unlike the falls, this is actually pretty cool. As you descend the large stairs, you almost feel like you are in ancient Greece. Once underground, you'll duck through manmade tunnels until you can see the Devi Falls from below. This is a good place to stop on route to the World Peace Pagoda.
Cost: 100 rupee entrance fee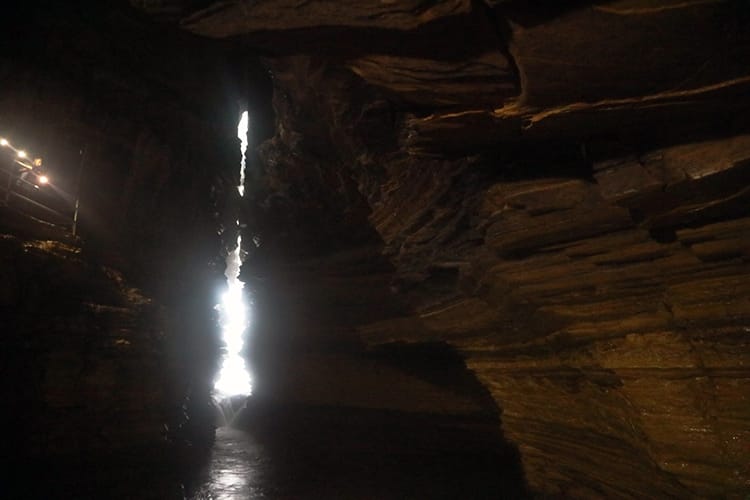 Hike to the World Peace Pagoda
---
The World Peace Pagoda boasts beautiful views of the city, the lake, and Annapurna on a clear day. There are two routes to hike. One is over an hour while the other is only 20 minutes. I found the views on the hour trek to be really pretty. Most of the time you're on an unpaved road so it wasn't too difficult to navigate or climb. I've been told it's also a beautiful place to watch the sunset.
Cost: Donation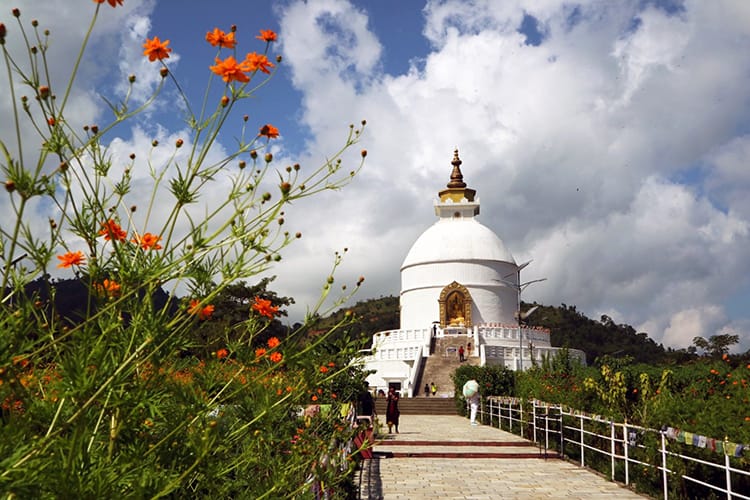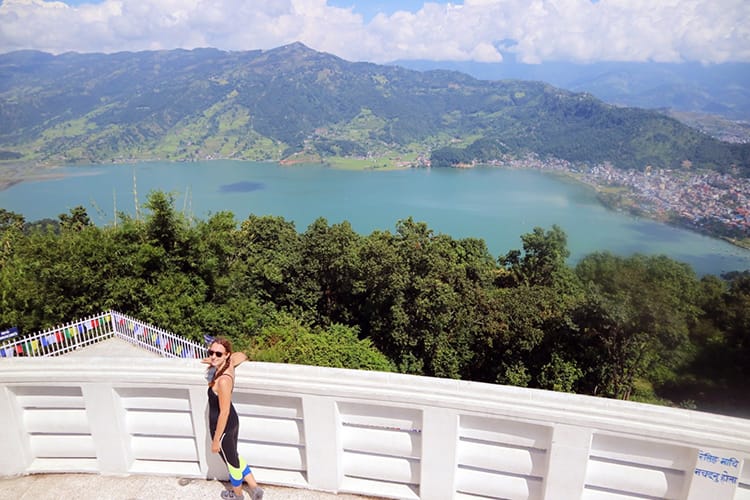 Eat Banana Chocolate Momos at Sabina Momo
---
I don't normally recommend places to eat in my roundups, but these were too good not to mention. Sabina Momo is located on North Lakeside. I recommend going all the way up to the roof for beautiful views of the lake. Although all the momos are good, we actually ordered seconds of the dessert momos because having just a few each wasn't enough. I'm already planning to stop by and get more before leaving town.
Cost: 200 rupee (for 10)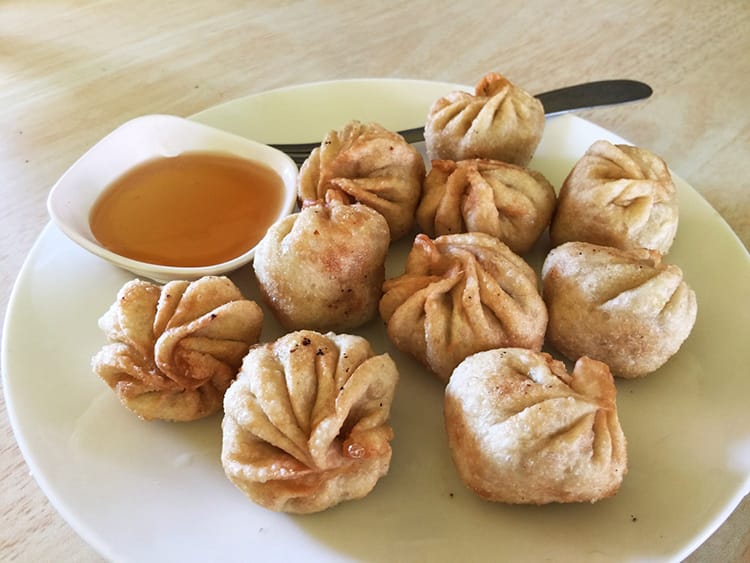 Take a Day Trip to Kusma
---
If getting off the beaten path is your main goal, hire a bike to take you to Kusma. It's about two to three hours outside of Pokhara. I was fortunate enough to have a friend take me to this adorable little city. There were no other tourists in sight, and the locals were thrilled to see us visiting. Kusma is known for having the longest and highest suspension bridge in Nepal. You can test your fear of heights by crossing it. Despite being terrified, the views from the middle are pretty spectacular. There is also a beautiful cave in the area. Unfortunately, it's rainy season in October, so the water was too deep for us to enter.
Cost: Varies for transportation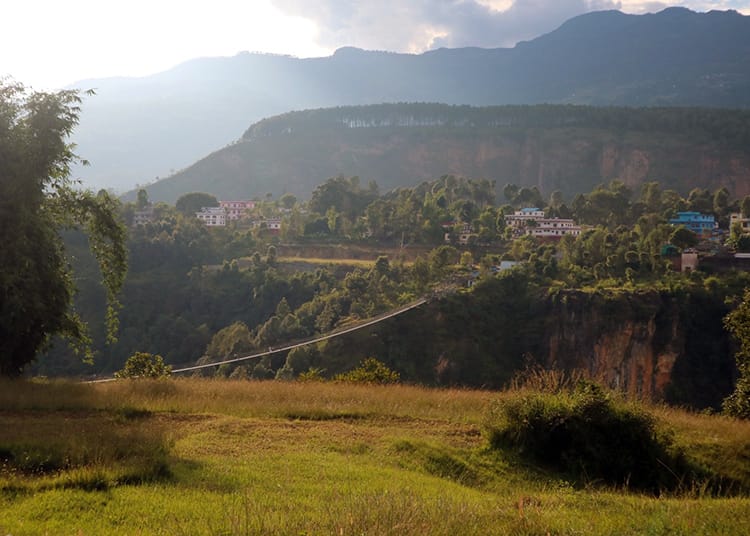 Catch a Live Band at The Office Bar
---
The Office Bar, a local hang on North Lakeside, is the perfect place to grab a beer and enjoy some live music. My friends happened to know the owner, and I was invited over on numerous occasions. If you want to relax in a laid back bar with the locals, this is the place to do it. You'll find people just chilling, playing cards, and catching up after work. I'd definitely recommend the veggie burger or veg pakora if you're looking for food or just grab a drink. Some nights they even have a famous local jazz band playing.
Cost: Varies based on food and drink
---
Get Lost on Back Streets in Pokhara
---
Main street is so convenient that it takes effort to actually leave the ease and comfort that it offers. Take a few side streets and get lost. Try samosas from a local shop. Say hello to kids playing football. See the rice fields after a rain shower. Nepal is the type of place where you can accidentally stumble into someones back yard, and they'll either point you in the right direction or offer you some tea.
Cost: free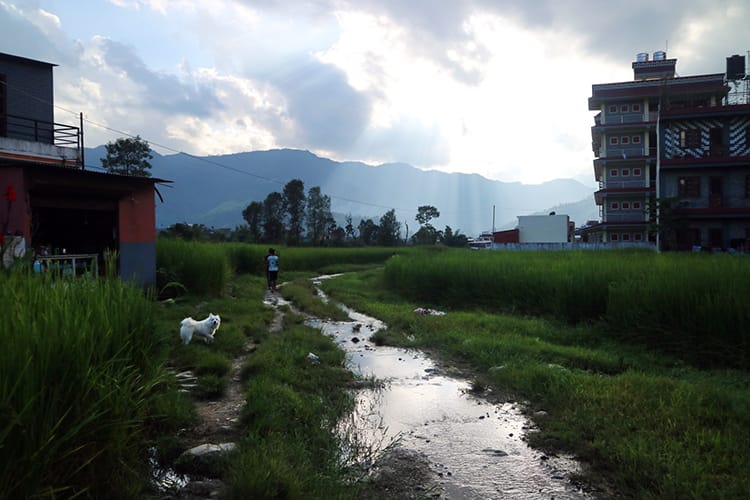 Take a Day Trip to Begnas Lake
---
While Pokhara is beautiful, the surrounding areas offer so much as well. About an hour drive outside of the city is a less touristed lake. On a clear day, you can see the Himalayas towering over the water. While most tourists visit the west side of the lake, the east side has a beautiful viewpoint with barely anyone around. There's a small restaurant right on the water that makes some of the best fish I've ever had. Just look for "Begnas Lake Viewpoint" on Google Maps to find it. From here you can rent a boat to take out on the water.
Cost: Boat rental 500 rupee per hour
For more info: Check out my Begnas Lake: City Guide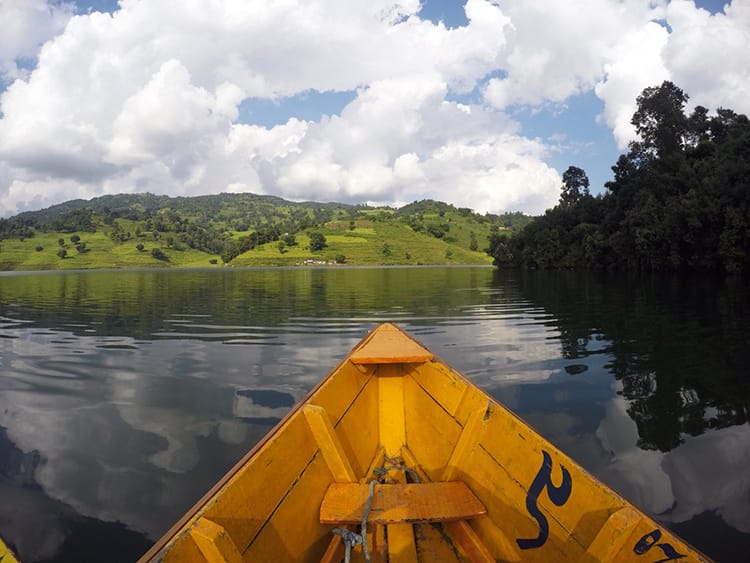 Drink Chai in a Local Village
---
You can hike to a few small villages around Pokhara. One of my favorite things is sitting down to have some tea in someones home. Sometimes locals will offer it to you free of charge, especially if you know a little Nepali. Sometimes, they'll charge for it. Regardless, it's always fun to take a break from a hike to enjoy the spectacular views. You can grab chai on the way to Sarangkot, the Peace Pagoda, or any little village you stumble upon even if it's in the middle of nowhere.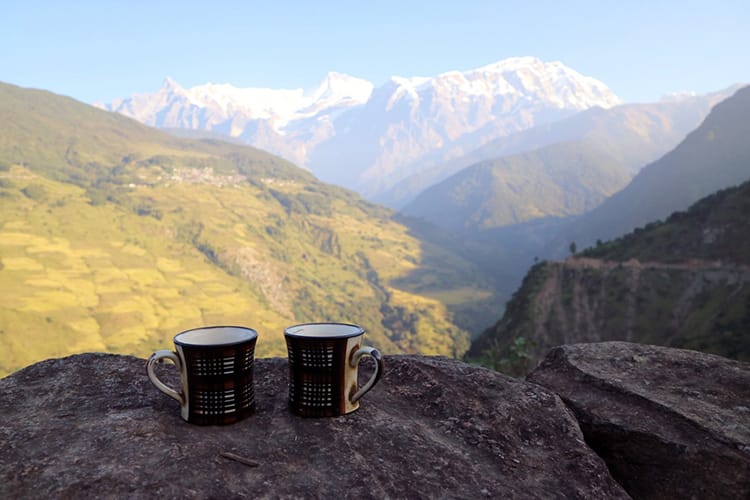 Visit the International Mountain Museum
---
I'm not usually big on visiting museums in other countries because I'm always so busy trying to see the culture first hand. That being said, the International Mountain Museum was really interesting. It showed what village life is like in the mountains including traditional clothing from each caste. My favorite part was seeing all of the equipment used to summit some of the highest mountains in the world and reading about the first people to make it to the top. Some of the equipment looked so archaic that I honestly have no idea how people survived their treks. It was really amazing to see in person.
Cost: 400 rupees for foreigners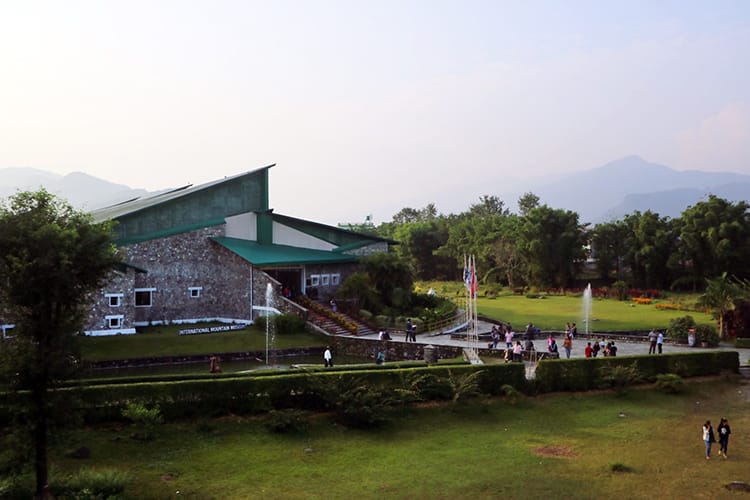 Eat Tibetan Momos at a Refugee Camp
---
I know this is the third time I've mentioned momos in this post, but after asking several locals which were their favorite, they all seemed to agree that the Tibetan's make them the best. I got to visit two refugee camps (one on the way to Kusma and another near Devi Falls). Both were the best momos I had in my entire stay. You can tell they are going to be amazing because there's usually a wait for a table and everyone eating there is a local. They also tend to sell out so get there early.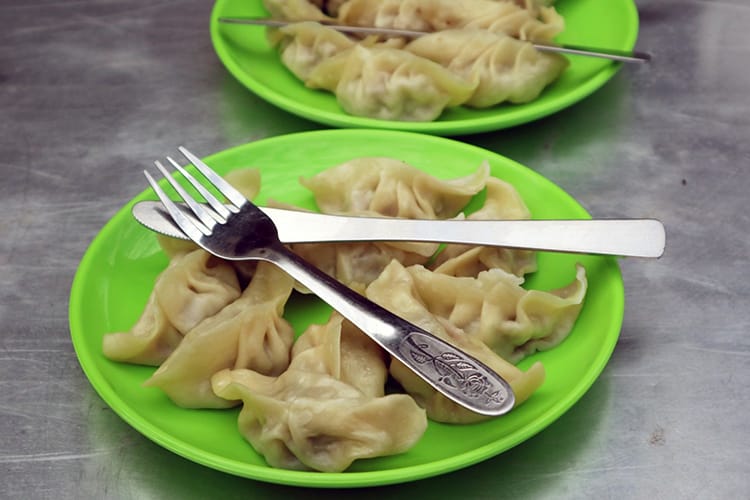 Go Zip-Lining
---
Zip-lining has been on my bucket list for a long time. For some reason, I've just never gotten around to crossing it off. Nepal is definitely the place to do it. A quick 30 minute drive outside of the city is the worlds longest, fastest, and highest zip-line. Dropping out of the gate was terrifying, but after that it was actually fun, and dare I say, relaxing. It only lasts less than two minutes, so it's a tad on the expensive side, but I'm glad I did it regardless. Read more about my zip-line experience.
Cost: $68 per person for one zip-line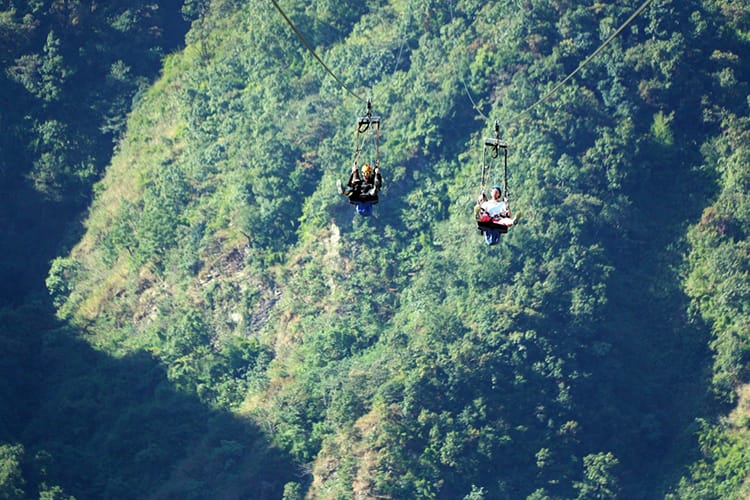 Kick Back at the Movie Garden
---
The Movie Garden is an outdoor cinema located in Lakeside. It's a little hard to find since it's tucked away up a hill off the main street, but once you're there, you'll feel like you're in another world. The small pathway is illuminated by candle light, and the seating area is under a giant canopy. It's probably one of the cutest places I've been in Nepal. They play a different movie every night. We caught Life of Brian when we visited.
Cost: $3.50 for the movie plus you can order food and drinks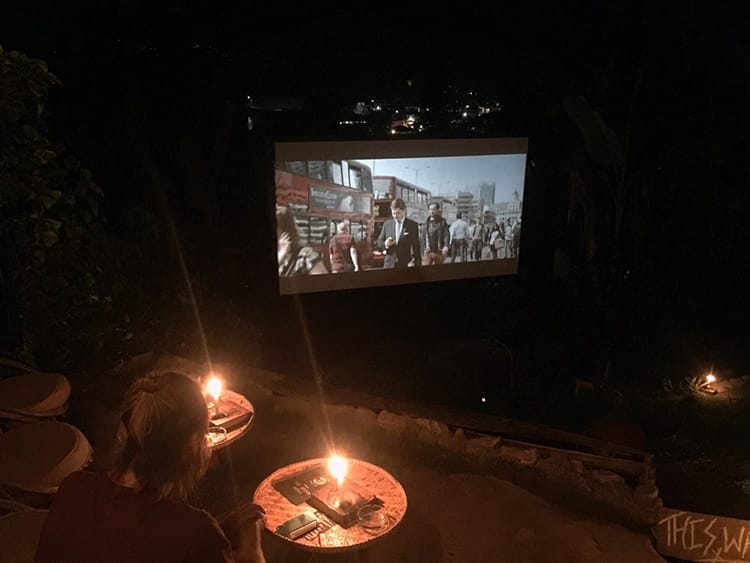 Need a Hotel or Accommodations in Pokhara?
Want to book a bus, car or flight to Pokhara?
You can save time by booking your tickets to Pokhara online. Often if you book a bus ticket in person, you aren't able to choose the company you go with. Online, you can pick which bus you want including VIP buses. You can also book a car, SUV, or flight to Pokhara.
---
You might also like…