Bhaktapur, a small city on the outskirts of Kathmandu, is a cultural hub. It's been coined "the cultural capital of Nepal" and certainly lives up to the name. While you can experience beautiful architecture, dive into the history, or learn a new art form, culture has always been about one thing for me. The food. It seemed crazy to go to such a cultural city and not find the best places to eat. Bhaktapur is known for its Newari culture, so I tried to eat as much amazing Newari food as I could. Below you'll find a list of the best restaurants in Bhaktapur as well as restaurants with the best views!
---
Newa Lahana
---
Located near Taumadhi Square
Newa Lahana is a little difficult to find, but it's worth the search. Down a small side street near Taumadhi Square, you'll find this little gem. They serve typical Newari food. Newars were the main ethnic group in Bhaktapur, and they have their own unique cuisine. Newa Lahana has a vast menu with something for everyone, but you should note that Newari food is typically very spicy. I recommend trying Samay Baji which is also called the Khaja Set. This has beaten rice, bara, egg, chicken choila, and a few spicy vegetables. It's the typical snack platter served in Newari homes around festival season.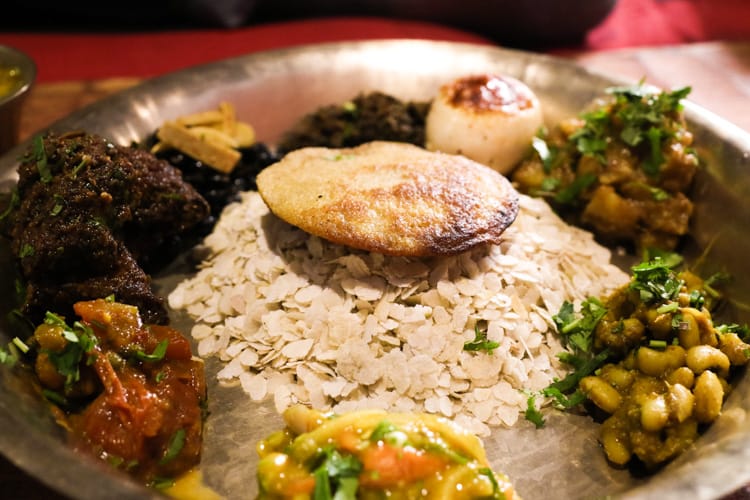 ---
Temple View Palace Restaurant
---
Located in Durbar Square
I tend to avoid restaurants located in tourist hubs. Often, they're overpriced and the food is overly westernized. I find that you're just paying for the view and the ambience rather than the quality of the food. Temple View Restaurant is the exception. We ate there on our last night in town, and it ended up being the best restaurant of the bunch. We ordered the Samay Baji set which is a traditional Newari set meal. The dish consists of spicy chicken, beaten rice, vegetable curry, a fried egg, a potato pancake, beans, a dried fish, and a green vegetable. This is the only place we went where they were able to make it "mild" and surprisingly, it didn't take away from the flavor. The set dish cost 795 rupees ($8 USD), but was worth the expensive price tag.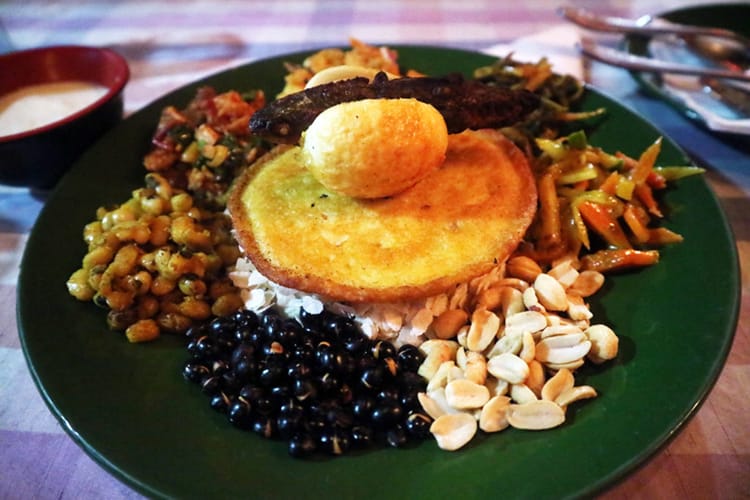 ---
---
Pagoda Guest House & Rooftop Restaurant
---
Located in Taumadhi Square
The Pagoda Guest House & Rooftop Restaurant would be my second pick for places to eat in Bhaktapur. Again, we ordered the Samay Baji set which is a meal associated with festivals and special occasions. I will say that it was very spicy, so if you don't like spicy food, ask for it without chili. Despite it being spicy, it was so delicious that I couldn't stop eating it. This meal felt like I was in someone's Newari home kitchen during festival season. The Samay Baji set costs 700 rupees ($7 USD).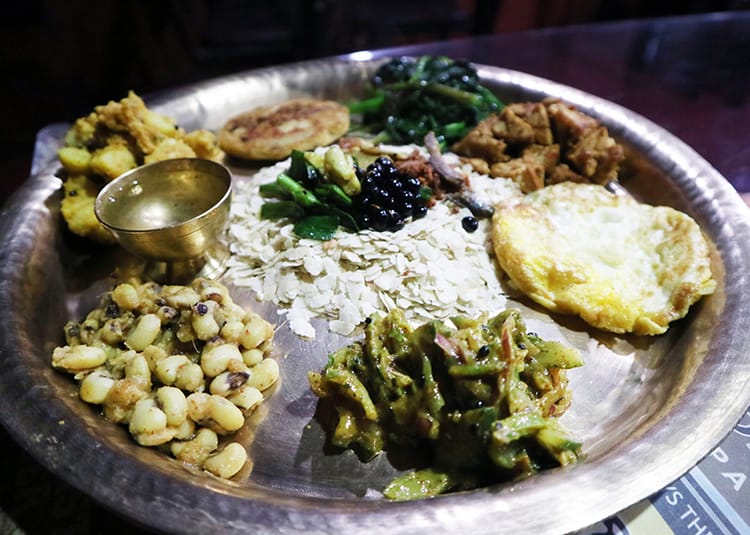 Palache Restaurant
---
Located near Guhya Pond
Palache Restaurant makes the top of the list because of the view. The views from the patio are beyond spectacular. We ordered the Samay Baji here. It was not as good as the two mentioned above simply because we asked for it "not too spicy" and it came out spicier than any meal I've ever had in my life. Most of it was delicious but I couldn't eat the chicken or onions. I'd recommend asking for it without chili. What won me over was that they had some of the best dal I've ever had (and I've been in Nepal for over 8 months). It was so full of flavor and not spicy at all. I could have eaten ten bowls!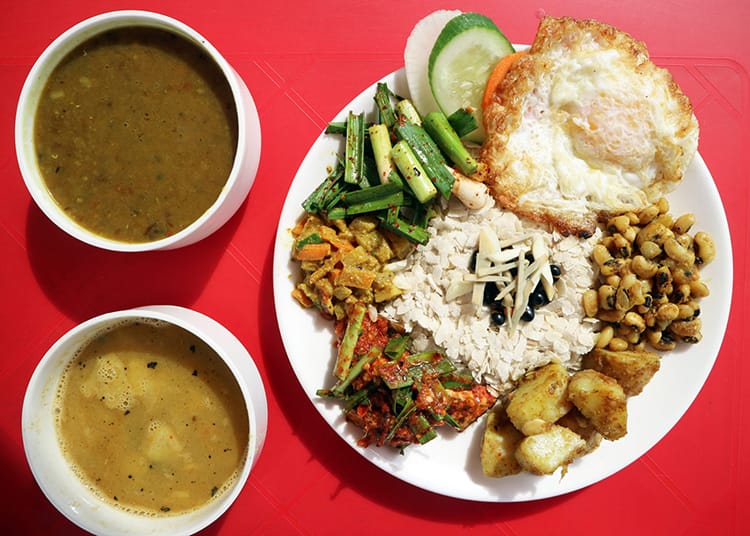 King Curd
---
Available all over Bhaktapur
Bhaktapur is famous for its buffalo milk yogurt which is called King Curd. King Curd is kind of like the Starbucks of Bhaktapur. There's one every ten feet. I'd recommend getting it at one of the little local shops that sells it out of a refrigerator. It costs 50 rupees per pot ($0.50 USD). If you order it at a sit down restaurant, they charge over 200 rupees for the same thing. Newari food is so spicy that we had some curd after every meal to cool our mouths.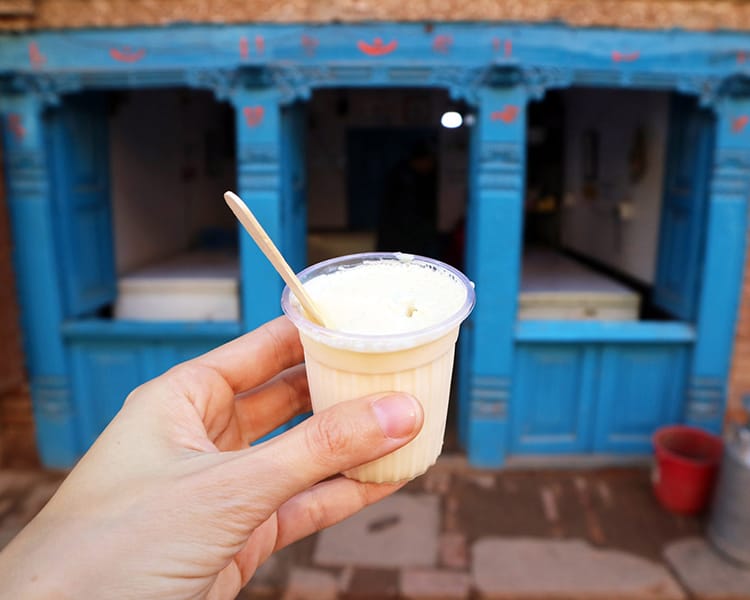 ---
---
Nyatapola Guest House
---
Located near Taumadhi Square
If you are staying in Nyatapola Guest House (which I highly recommend) then you can have dinner cooked by the guest house owner. We had chicken dal baht and it was really amazing. The chicken curry was one of my favorites, and it felt like I was eating in my friends' homes. Everything was super fresh and full of flavor. She made it so it wasn't too spicy which was a welcomed break from all the chili we'd been eating. We paid 380 rupees ($4 USD) each for dal baht. It was so good I forgot to take photos.
---
Mulmi Coffee Shop
---
Located in Taumadhi Square
With all the expensive coffee shops serving somewhat average masala tea, we wanted to try a local spot. No one makes Nepali chiya (masala tea) as good as a local place. Here you can get a cup for 15 rupees ($0.15 USD), and it will taste way better than the 100 rupee tea found at all the fancy places. Plus, I love watching all the locals drink and chat during their breaks.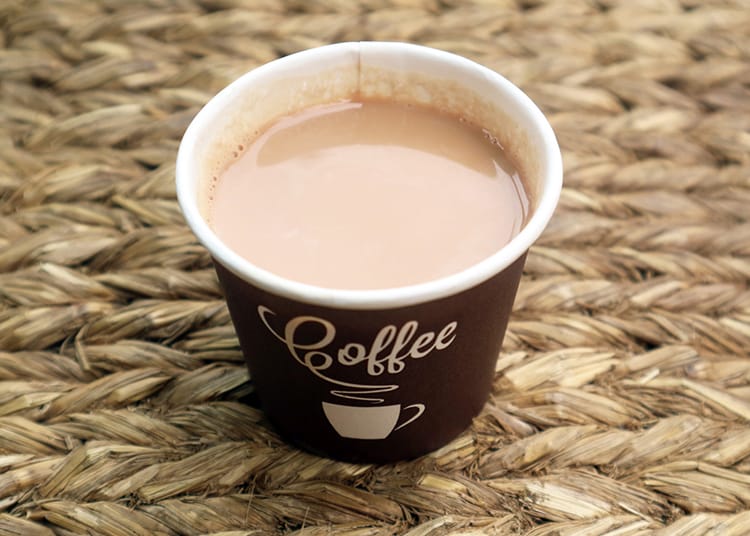 ---
---
Peacock Restaurant
---
Located in Duttatraya Square
Peacock Restaurant is one of the more popular places in Bhaktapur. It's a little on the expensive side, but the food is good. The menu caters to western taste buds, so you won't find an authentic Newari meal here. That being said, we needed a break and wanted some simple chow mein and this restaurant delivered. Their chicken chow mein was excellent. We also had fish curry but the fish didn't have a lot of meat, so I wouldn't recommend it. The curry sauce was really good though, so I'd recommend a chicken or vegetable curry instead.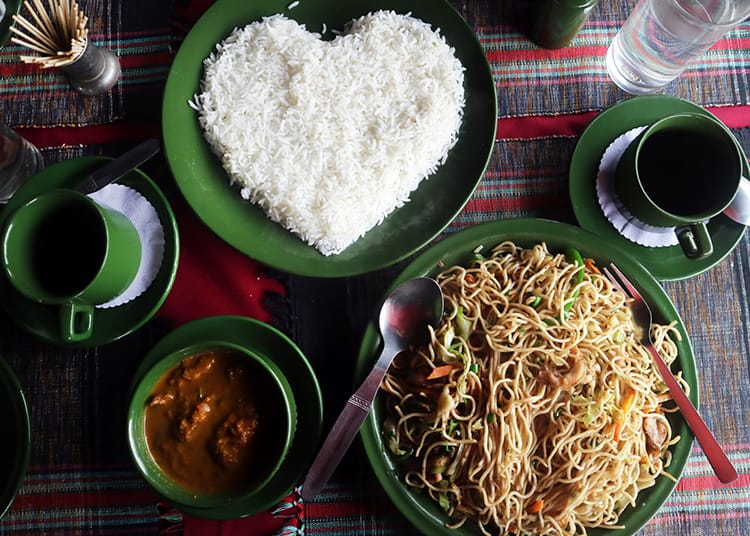 Travellers Coffee & Café
---
Located in Duttatraya Square
We stopped at Travellers Coffee & Café for a quick ginger tea. Although we didn't eat here, I have to recommend it for the view! From the roof, you can actually see the Himalaya mountains including Langtang. I was completely blown away. I had no idea you could see the mountains from Bhaktapur. It was such a special treat. I would recommend going here for breakfast since your chances of a clear sky are best in the morning.
De Gurkhas Restaurant
---
Located in Taumadhi Square
We went to De Gurkhas Restaurant for snacks one day. It has an incredible view of Nyatapola Temple, and we wanted to enjoy the sunshine on such a nice day. Besides the ambience, the food is pretty good and not too expensive. We had a banana lassi and chicken choila with beaten rice. Choila is a Newari snack. You can order chicken or buffalo. It's definitely on the spicy side, so ask for it mild if you need to. We didn't go to this restaurant at night, but they have live music some evenings.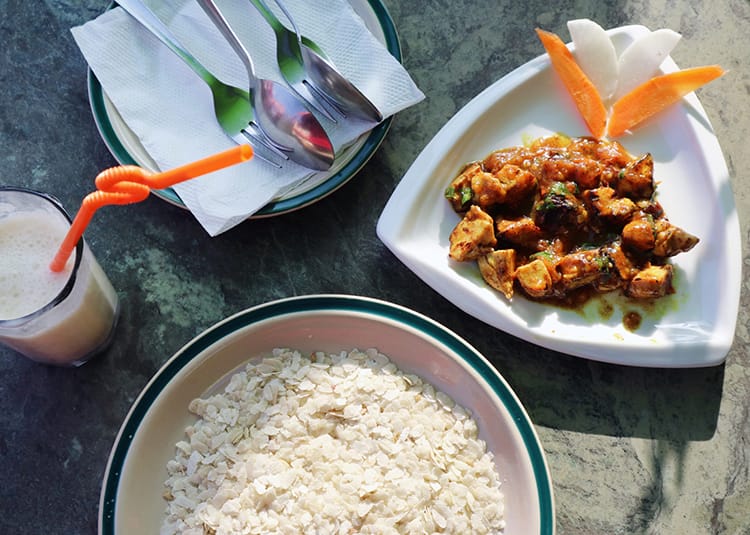 Namaste Restaurant
---
Located in Taumadhi Square
Namaste Restaurant offers great views, but it's also one of the cheaper places to get breakfast in town. For less than $3 USD you can get a really good set breakfast with eggs, hash, toast, coffee, and juice. It's a great value for the money. We stopped at other places nearby and they were all charging over $5 or $6 for a similar meal.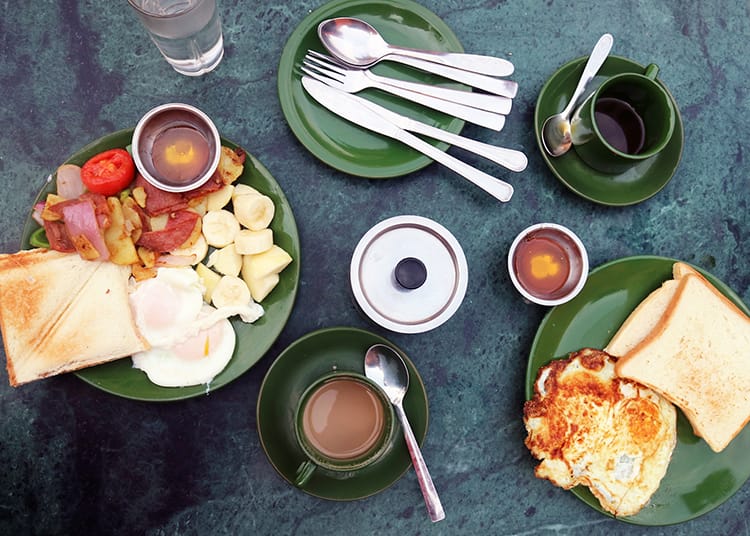 ---
New Café Nyatapola
---
Located in Taumadhi Square
New Café Nyatapola was a little on the expensive side for me, but I couldn't resist spending a little time in this adorable café. It looks like a miniature temple. It does seem overpriced, so I'd only recommend it for a cup of coffee or tea. That way, you can enjoy the view and keep your budget in check. If you end up getting food here, let me know how it is in the comments.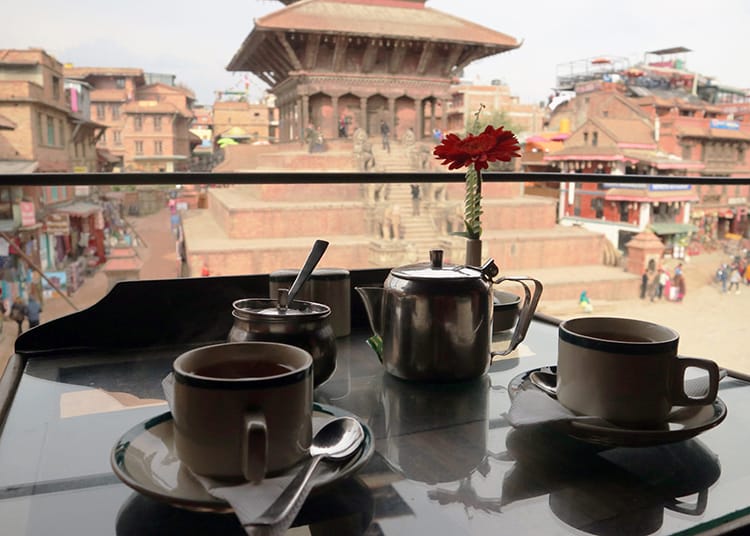 Shyama Bakery
---
Located near Taumadhi Square
This tiny local bakery is what we would describe as a "hole in the wall." Located near Taumadhi Square, it offers a variety of local treats like jeri, lalmahon, or sweet samosa. I tried the sweet samosa which I'd never had before. It was definitely interesting as it's filled with a hard sugary substance. I love trying new things so this was fun. I'd recommend trying jeri if you haven't had it before as it's my favorite street treat. You'll have to forgive the placement on the map for this bakery as it might be a little off from the real location. It is on that street though.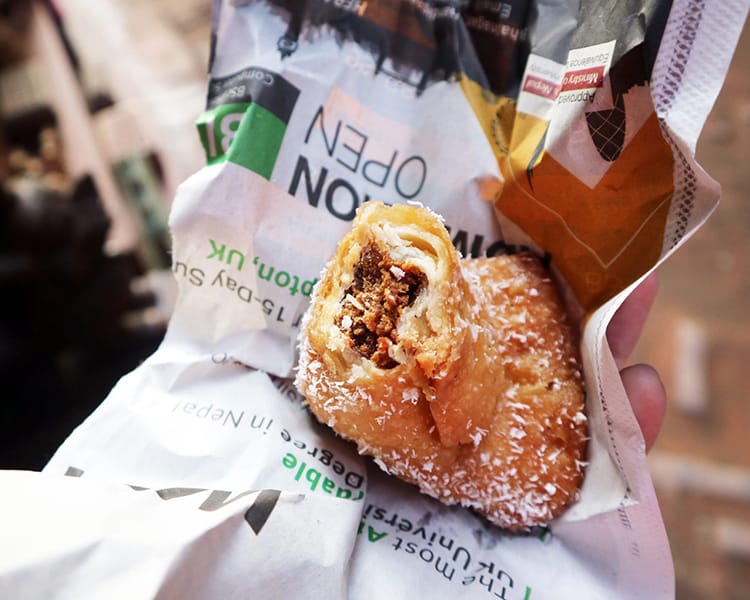 ---
You might also like…