Bhaktapur, in my opinion, is one of the most underrated destinations in Nepal. The city comes from an extremely rich culture dating back to the 8th century. Until the 12th century, it was actually the capital of Nepal. It's most famous for its handicrafts including wood carving and pottery making. But don't let this quaint little city fool you, the list of things to do in Bhaktapur is a long one full of history and culture. While most people would advise you to stay a day, we were able to fill almost four days with things to do.
Map of Things to do in Bhaktapur
---
Bhaktapur's Squares
---
Bhaktapur Durbar Square
Bhaktapur's Durbar Square is known unanimously as the cities major attraction. It houses temples, palaces, and statues along with beautiful architecture featuring ornate wood carvings, stone art, metal art, and terracotta art. The craftsmanship alone is the perfect example of Newari culture within the Kathmandu Valley. The entrance fee is a little high at 1500 rupees ($15), but the ticket is good for a week which allows you to leave and re-enter the temple. If you bring a copy of your passport, visa, and a passport photo you can get an official pass which allows re-entry for months at no additional cost.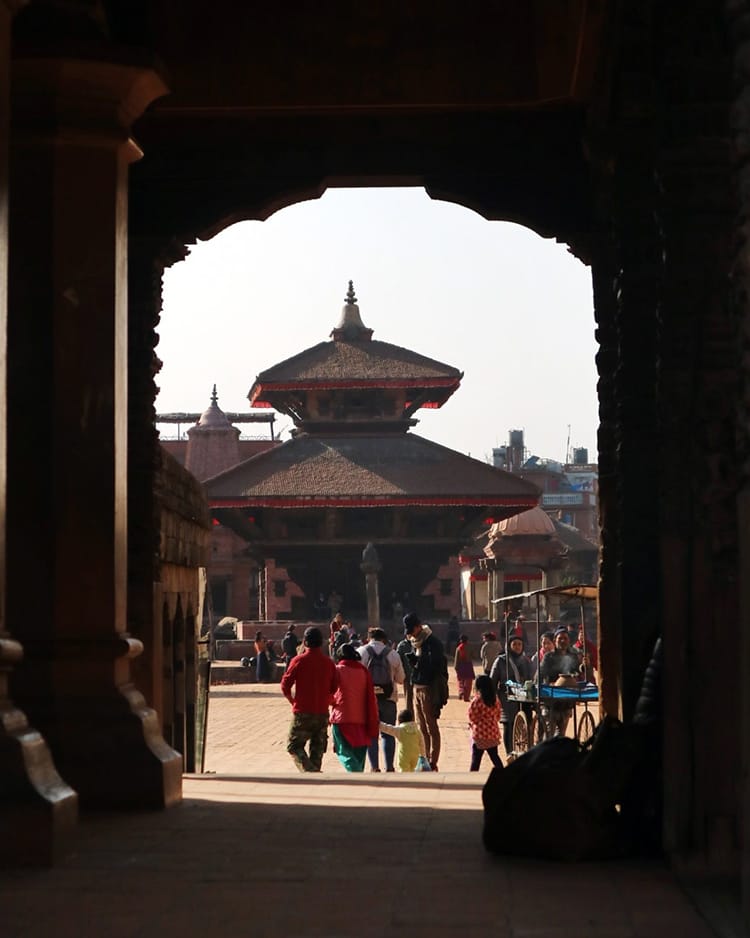 Taumadhi Square
Tamadhi Square is well-known for having the five-story temple. It's miraculous that a temple of its height survived the massive earthquake in 2015. The square has two other temples and is considered the second most important square of Bhaktapur. At one entrance, you can see local farmers selling produce. The square is surrounded by rooftop restaurants that all offer wonderful views of the Nyatapola Temple.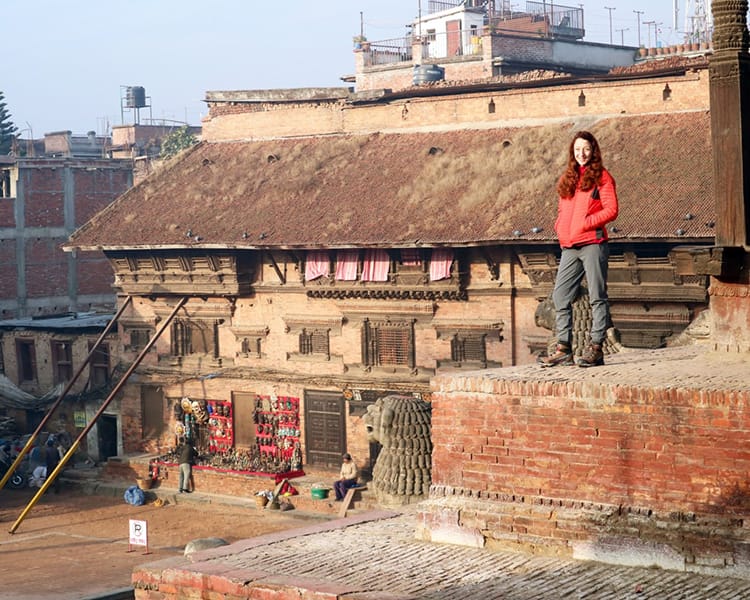 Pottery Square
Pottery square is famous for its pottery of course. Here, you can find local potters making vases, flower pots, curd dishes, and more. The clay is hand spun, dried in the sun, painted, and then put in the kiln before being sold. You can purchase items directly from the makers which makes for great souvenirs.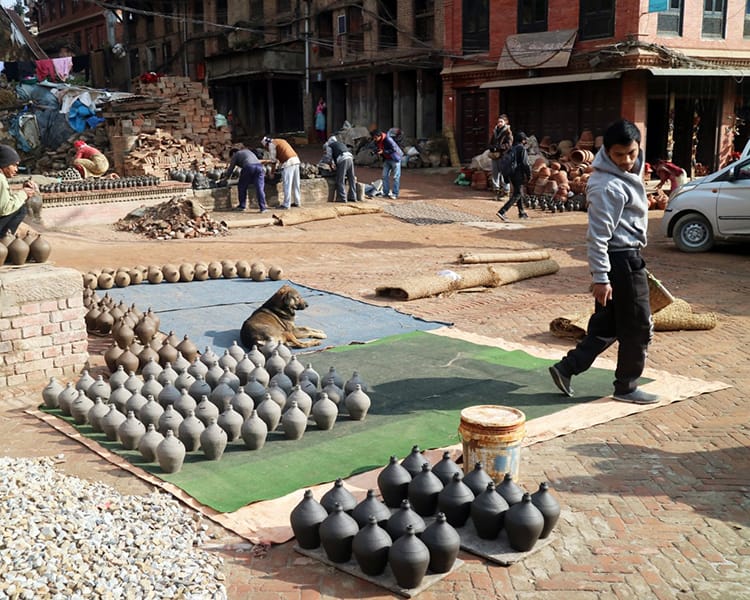 Dattatreya Square
Dattatreya Square is probably the least talked about of the squares in Bhaktapur, however it's my favorite. It's the oldest part of the city and features some of the best wood carving I've ever seen. It's been described as an "open museum" meaning that the entire square acts as a museum which one can walk through. If you have time, stop in the Travellers Coffee & Café and head to the roof for a mind-blowing view. You can actually see the Himalaya on a clear day, right there in the middle of the city.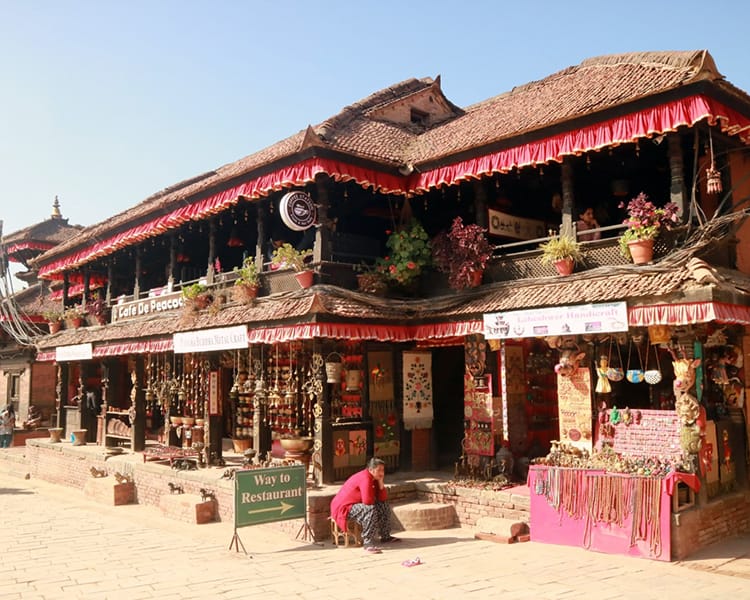 Museums in Bhaktapur
---
The National Art Museum – Art Exhibit
The National Art Museum is located right in the middle of Durbar Square. It's easy to spot, however, this is only the art exhibit. Inside, you'll find Thangka paintings and some stone carvings. You'll also see tapestries featuring Thangka art. My favorite part though is the section on kings. Featured is a drawing of each king along with a brief description. I used to be obsessed with the crazy stories of British rulers, but Nepali rulers really have crazy stories. Most were poisoned, held captive, or shot down. The drama of it all is better than a blockbuster movie. (Entrance fee is 150 rupees including all three exhibits of The National Art Museum)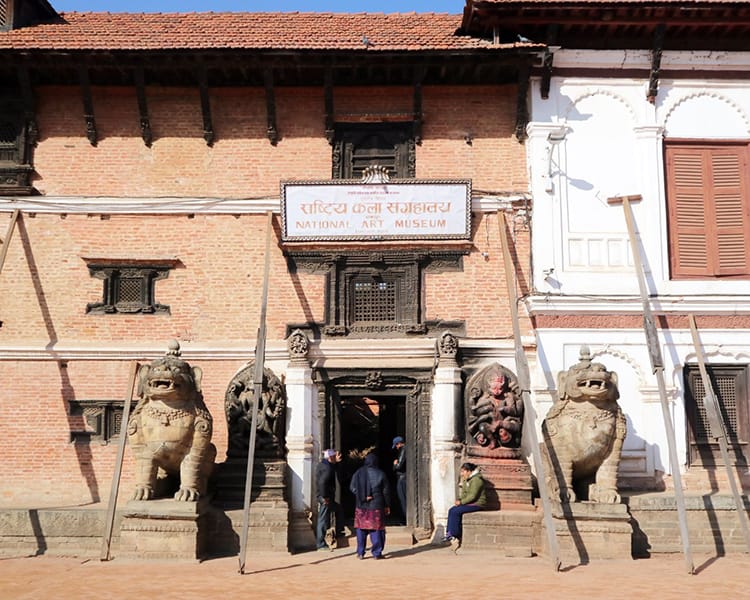 The National Art Museum – Wood Exhibit
The wood exhibit is located in Dattatreya Square. It's a little harder to locate since there's no sign. This building features exquisite wood carvings. Unlike other museums, you won't find much of an "exhibit." This is because the building itself is what is on display. Take a look at the fine detail on the windows, doors, archways, and pillars. They're all fine examples of the famous wood carving style associated with Nepal. The building, which is known as Pujari Math, was built in the 17th century. (Entrance fee is 150 rupees including all three exhibits of The National Art Museum)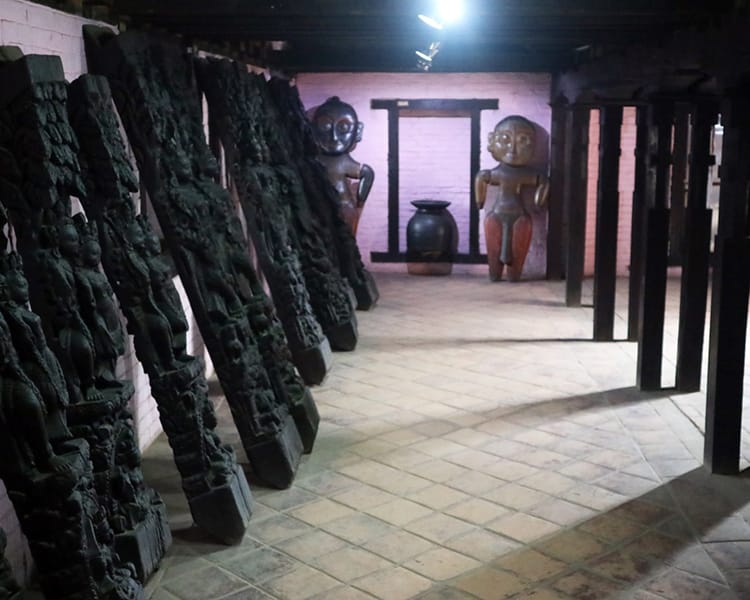 The National Art Museum – Bronze Exhibit
The bronze exhibit is located right across from the wood exhibit in Dattatreya Square. I did enjoy the exhibit, however I found the lighting to be a bit of a problem. Because the displays are poorly lit, it was a little hard to see what I was looking at. I did enjoy seeing the variety of pots used to serve beer and wine. (entrance fee is 150 rupees including all three exhibits of The National Art Museum)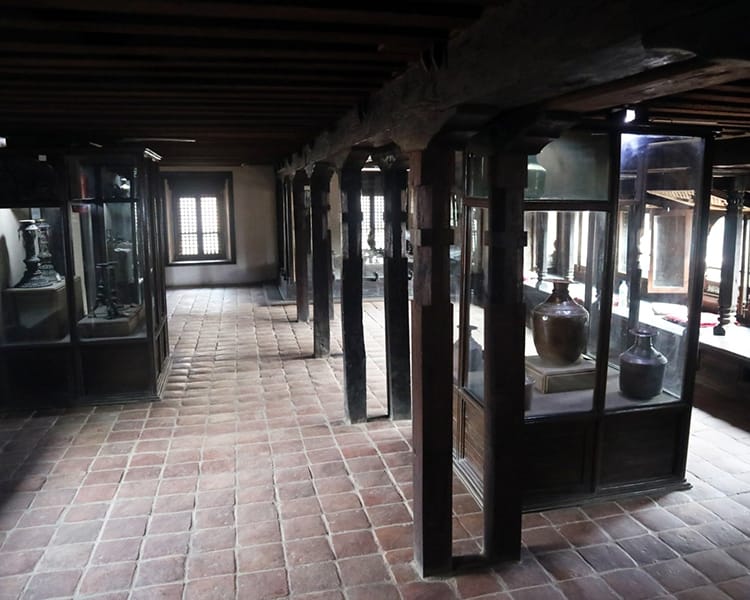 Temples in Bhaktapur
---
There are hundreds of temples in Bhaktapur, and to highlight them all would take forever, so I'm only mentioning my favorites (and generally the most popular) temples in each square.
Taleju Temple
Taleju Temple is located inside the old palace. This is one of the few temples that is designated for Hindus only. Even though you cannot enter or take photos inside, you can go into the golden gate. From there you can see the kings pond which has a serpent statue inside. You can also admire the incredible carvings on the outside of the temple entrance which is to the left of the pond.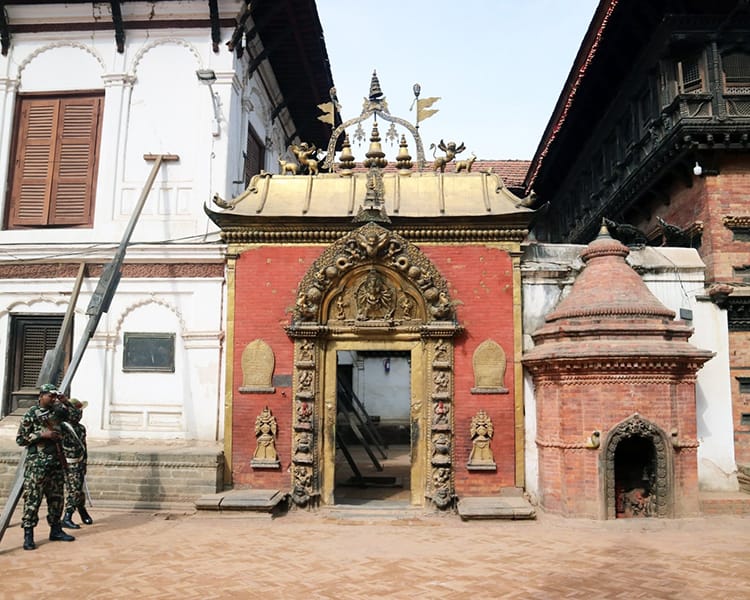 Nyatapola Temple
Nyatapola Temple is located in Taumadhi Square. The word Nyatapola means five storied building. The temple took seven months to build and was finished in 1703 under the rule of the Malla dynasty. This temple is famous for being the tallest temple in Nepal. Locals were amazed when they found it still standing after the earthquake.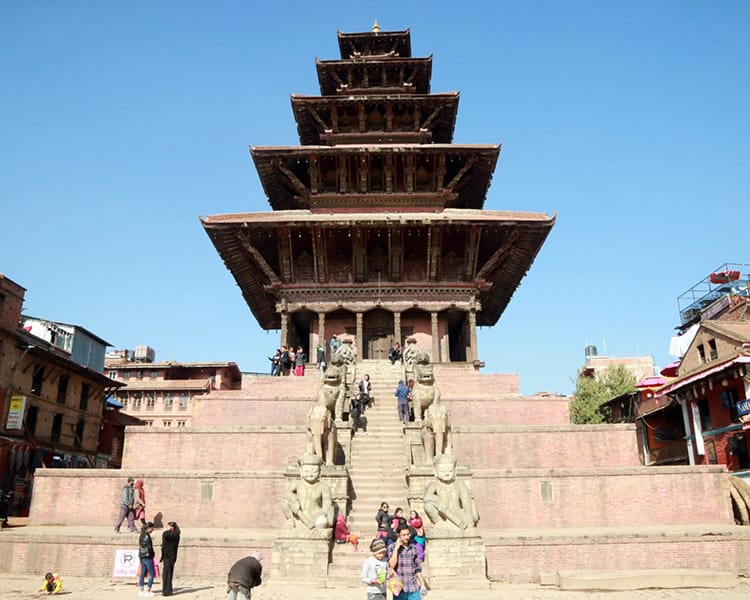 Dattatreya Temple
This temple stands in the oldest part of the city of Bhaktapur. It was built in 1427 and is rumored to have been crafted from a single tree. It was built during the Malla dynasty. In front are two men who are said to have been famous wrestlers at the time.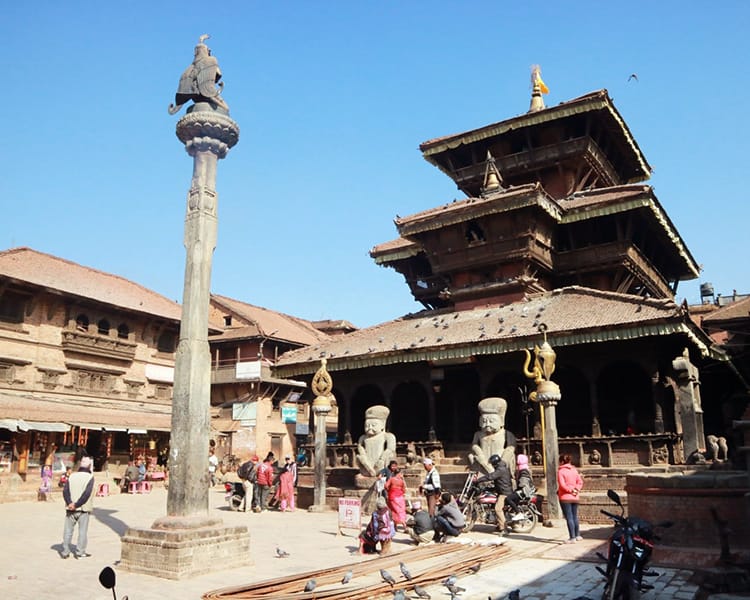 Puja & Candle Lighting
If you are spending the evening in Bhaktapur, you should go for a walk around 7pm. Nepal is extremely safe, so you don't have to worry about being out at night. Go to the closest temple and watch the evening puja. You'll see groups of elderly men and women singing and praying. It's really beautiful to witness. Younger generations can be found lighting candles at the temples with their families. The temples really are magical at night.
Ponds in Bhaktapur
---
Kamal Pokhari
Kamal Pokhari is the most popular pond among tourists, however I think it's a little overrated. One of the cool things about it is the small temple located right next to it. Locals bring children who don't speak here, and they pray to Ganesh to give them a voice. The owner of our guesthouse said she brought her son here four times because as a child he started speaking late compared to other children. "He didn't talk, but once he started, he never stopped." We all laughed as she suggested that the gods may have been too kind.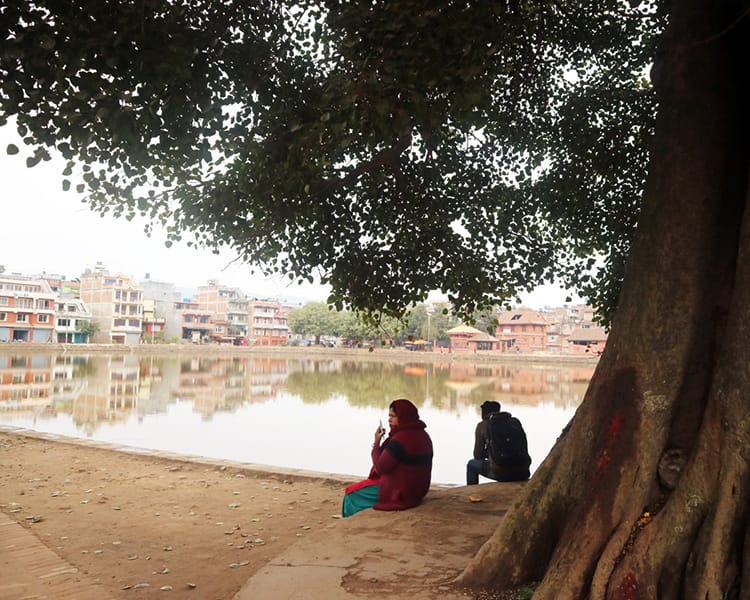 Siddha Pokhari
While Kamal Pokhari is arguably the most popular pond in Bhaktapur, Siddha is the largest. It's found at the very end of town tucked away from most of the tourist attractions. Don't let the short walk deter you because this pond is, in my opinion, the most beautiful. Nearby are local shops selling delicious local treats, and it's a serene place to sit and contemplate.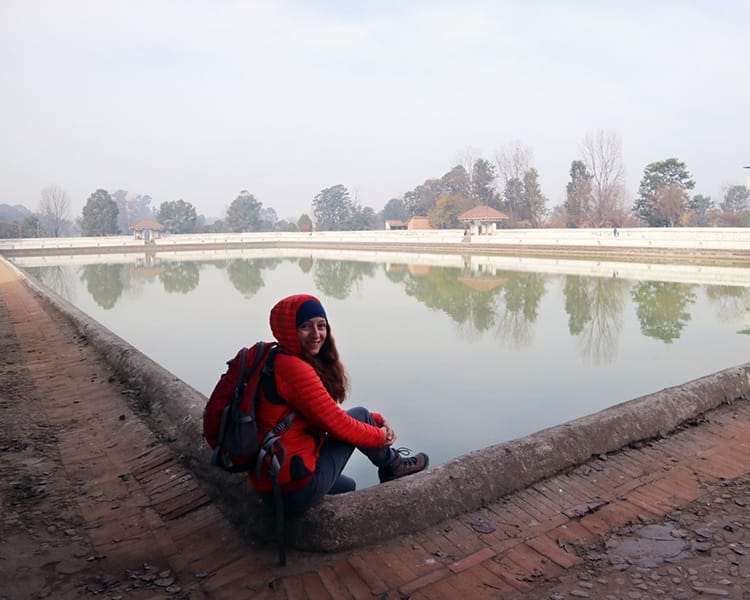 Guhya Pokhari
Not too far from Siddha Pokhari is Guhya Pokhari. This pond, although not as large, is also a beautiful place to stop and enjoy the peace that can be found on the outskirts of the bustling city. The few times I've passed by this pond, there are usually a few locals at the far end doing their laundry. Friends sit on the sides talking and drinking Nepali tea. It's a great spot to witness life's simple moments.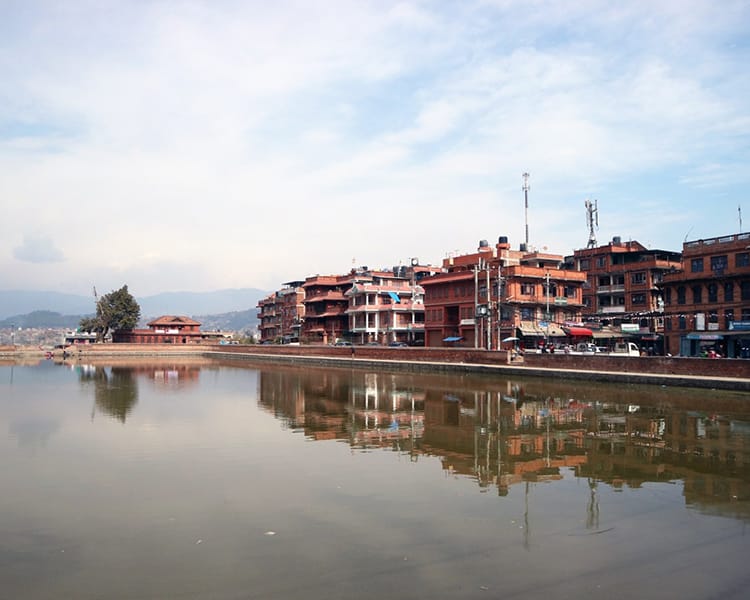 Small Pokhari
There are a number of small ponds scattered throughout the city. You won't find them written all over "to do lists" like this one, but they are my favorites. You can catch kids swimming or trying to catch a fish. Maybe you'll see a serene one with a perfect reflection. These small ponds of water are a hub for local life and the small ponds often have the best personalities.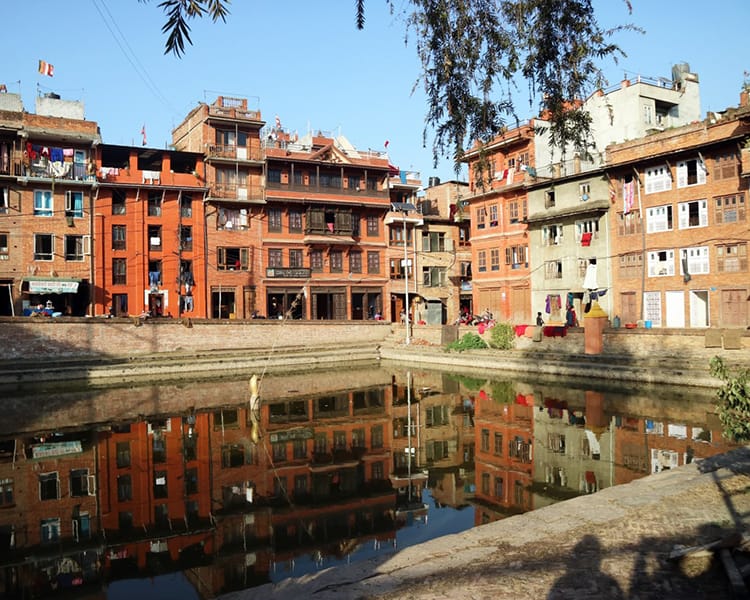 Architectural Gems
---
Durbar Square Gate
While most people focus on the main architecture inside the city squares, I can't help but love the architecture surrounding the city. There's a wall built around Bhaktapur because it was considered a sovereign country until the 18th century. Each road that leads to the city has a large gate, and I love how dramatic they are each time you reach a city checkpoint. Durbar Square's is probably the most popular as it leads directly to the most visited square in the city.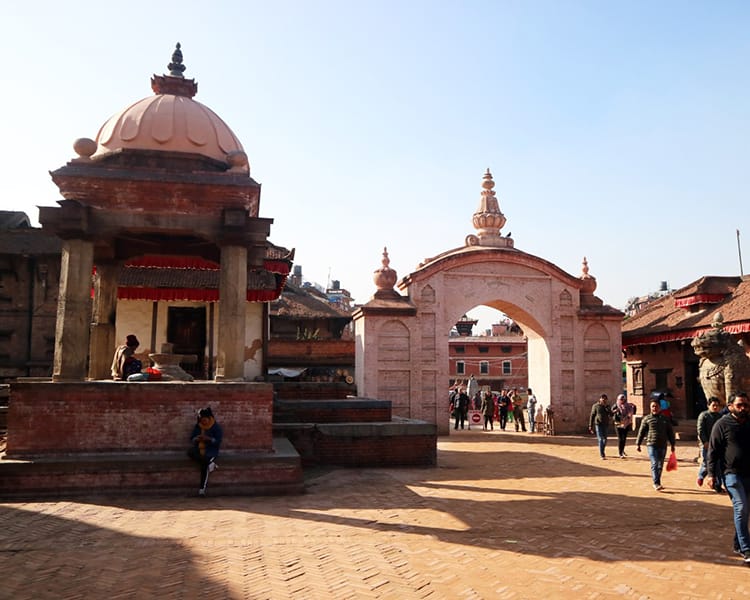 Bharwacho Gate
While Durbar Square's gate is lovely, I couldn't help but love the unique style of the gate by the Bharwacho entrance. It's white paint really contrasts with all of the other architecture in the city, and I like how unique it is in comparison. I wish I had more time to explore all the other unique gates surrounding Bhaktapur.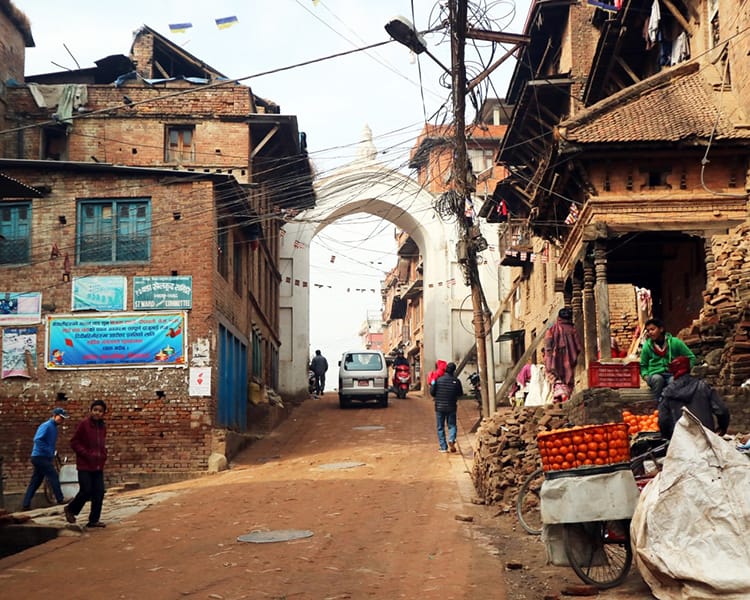 55 Window Palace
One of the best architectural gems in Bhaktapur is the 55 Window Palace which is located in Durbar Square. It was built during the Malla dynasty which is known as the Golden Age in the Kathmandu Valley. The Kings of Bhaktapur, Patan, and Kathmandu were all brothers and there was a rivalry to have the most beautiful city. During this time, the most beautiful temples and buildings of Bhaktapur were built. It's rumored that the building had 55 windows for the kings 55 wives (or concubines). How romantic.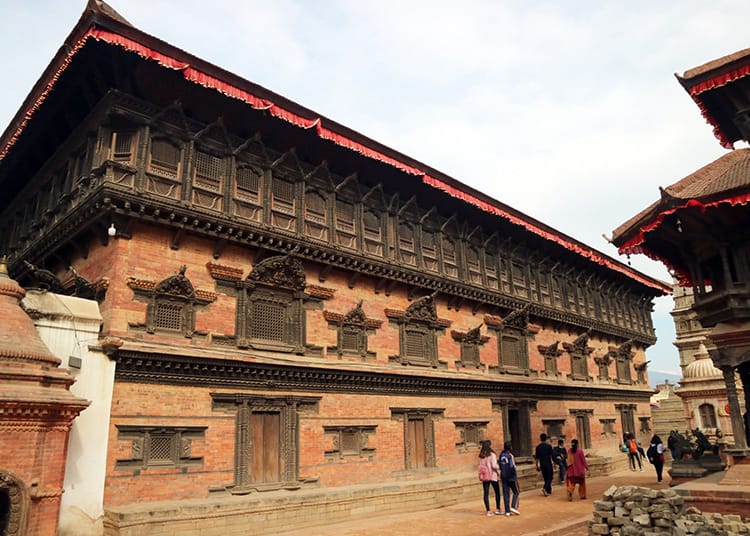 Peacock Window
The illusive peacock window is a hidden gem. It's so famous that there is a restaurant and a hotel named after the window. I had done little research on the actual location, so it became a bit of a scavenger hunt to find it. First, we asked people outside the hotel to point it out, but it wasn't there. We then looked for it at the restaurant, but it wasn't there either. We finally found it down an alley, but I'm not going to tell which one, because it's much more fun to look for it yourself.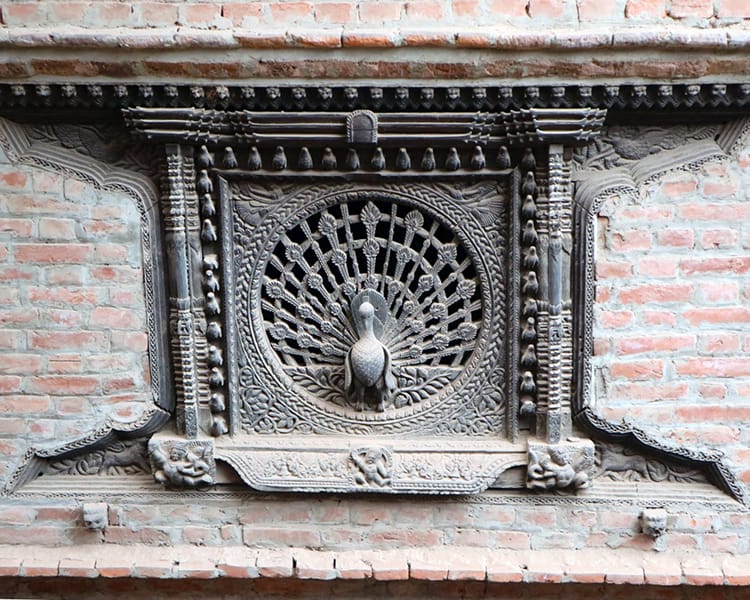 Famous Foods to Try
---
King Curd
Bhaktapur isn't just famous for its wood carving and pottery. Oddly, it's also famous for its yogurt. It's so famous in fact, that a few local friends and I drove the hour to Bhaktapur and back just to try a small cup of King Curd. The curd is made from buffalo milk and is served in a terracotta pot. Having curd in Bhaktapur is like having gelato in Italy. You can find it everywhere and it's great to have while taking breaks from sightseeing. We had curd at least two times a day. At 50 rupees ($0.50 USD) a pot, you really can't go wrong. It's also a great way to soothe your mouth after eating spicy food.
Newari Food
The city is a great place to try a variety of incredible Newari food. The dominant ethnicity in the Kathmandu Valley is Newar, so it's best to dive in and try the local cuisine. My favorites are choila and chiura (spicy chicken and beaten rice) and samay baji (like a Newari dal baht). If you're not into spicy food, ask for it without chili as Newari food is incredibly spicy.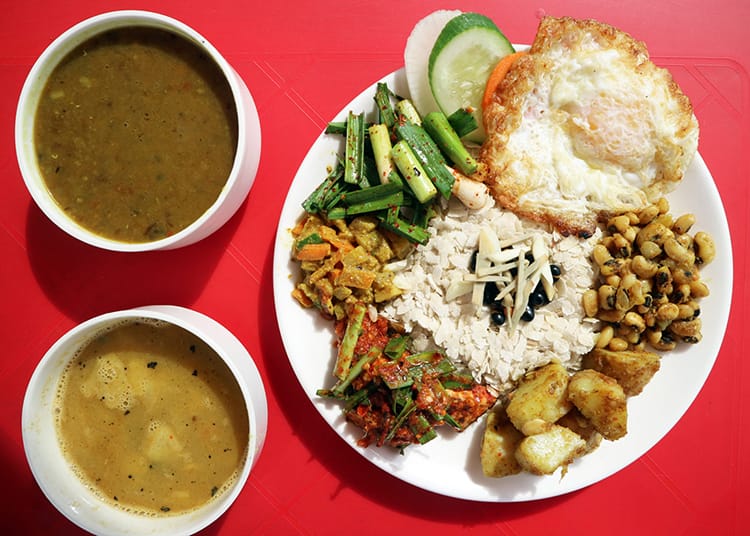 Shopping in Bhaktapur
---
Produce Market
Between Tamadhi Square and Pottery Square, you'll find locals selling fresh fruits and vegetables. It's a great place to buy locally grown snacks or to stock up on ingredients if you plan to try your hand at cooking. Most of the produce is grown locally, and if you venture outside of the city, you'll see the farms where everything is harvested.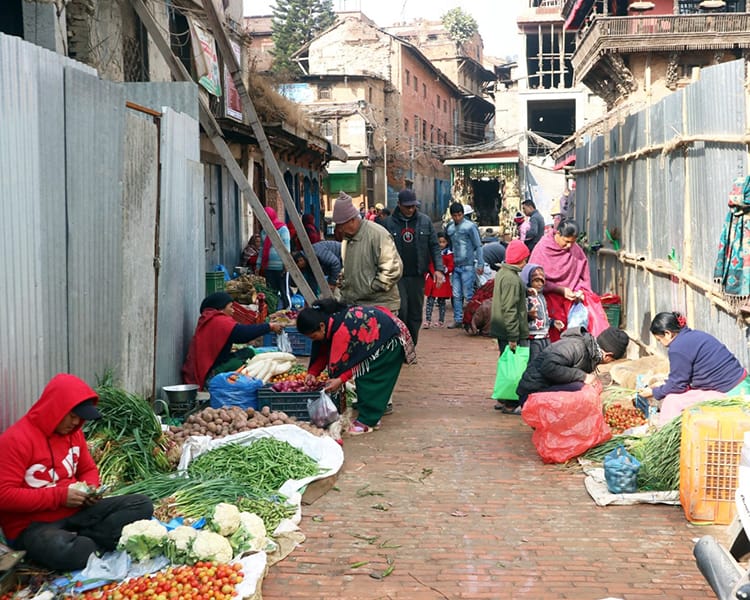 Kumal-Vinayak Khulla Bazar
If you want a very local experience of Bhaktapur, then I'd recommend leaving the main area of Durbar Square. Outside the gates, the city comes alive with an authentic local feel. Just past the Kumal Pokhari is the Kumal-Vinayak Khulla Bazar where you can find produce vendors, local restaurants, and shops selling all kinds of housewares.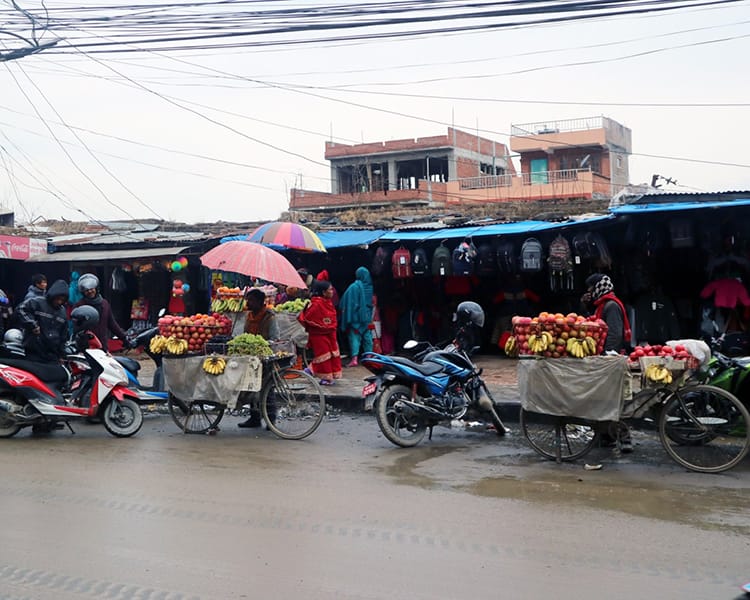 Sukuldhoka Bazar
Sukuldhoka is the shopping area located between Taumadhi Square and Dattatreya Square. Here you'll find everything from clothing shops to bakeries. I found this area to be a little more expensive than Kathmandu, so I'd recommend buying anything you need before arriving. I like it because it's a great place to people watch, and I loved seeing the street come alive on a Saturday when most people have off work and are out and about in the city.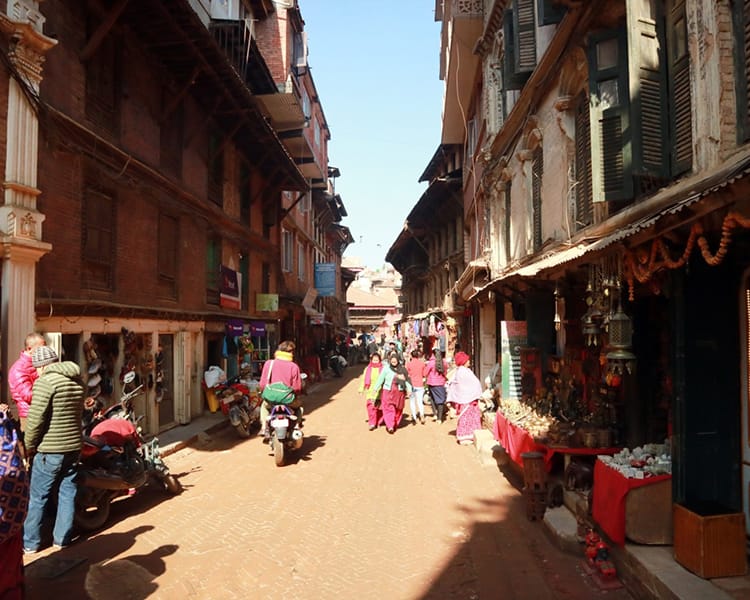 Tourist Bazar
The "Tourist Bazar" is located at the bottom of a steep hill near the river just before exiting the old city. Unlike the name, there's really nothing touristy about it. It used to be the place to buy foreign wares, however, now these items can be bought anywhere in the city. Despite that, it's an interesting walk if you want to get away from the epicenter.
---
Classes & Workshops
---
Pottery Making Class
You can try your hand at pottery making in the popular Pottery Square. We didn't take a formal class, however, one of the gentlemen there was extremely passionate about his craft and offered to let me try. He showed me how to make a small bowl, cup, and vase. If you are very interested in pottery making, you can stay at Pottery Home located in Pottery Square. Here you can spend a week learning the art of pottery making. A day course in the square will cost between $10 and $15 USD and you get to keep the item you make.
Update: Since writing this, I've taken a class with the Pottery Training Center. The photo below is their store, but they have a studio behind it where you can take real classes. My friend and I did a one hour class which was a lot of fun. We may even continue taking classes once a month.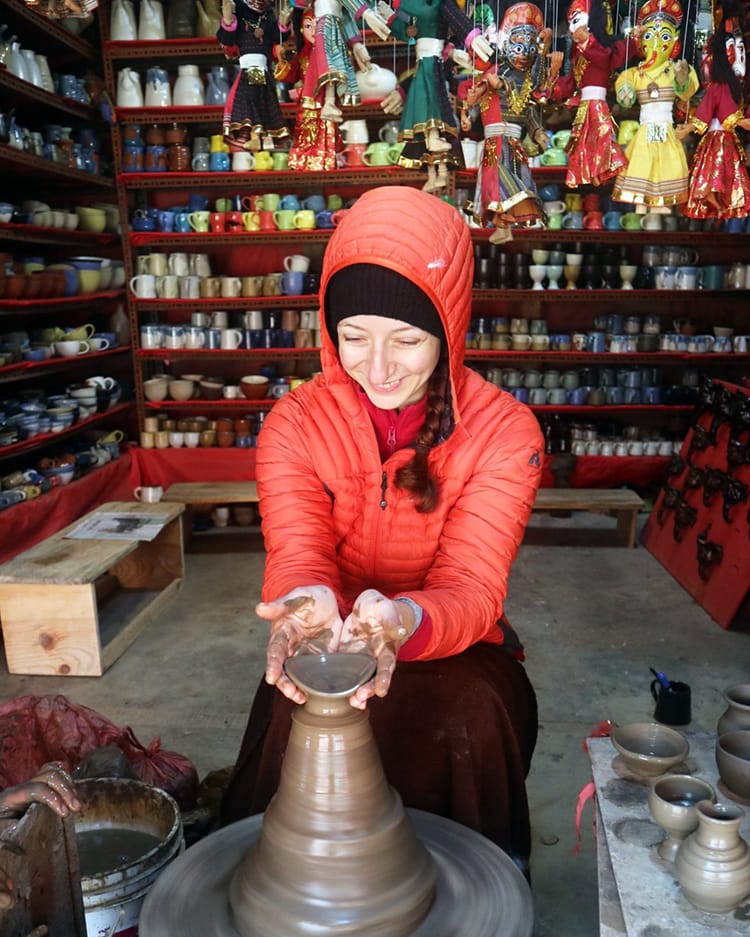 Wood Carving Class
The owner of our guesthouse (Nyatapola Guest House) was kind enough to teach us how to carve wood. She teaches formal classes for $10 nearby, however it was closed on a Saturday so she showed us in her small workshop instead. We got to carve an infinity knot. I have to say, this is way harder than it looks, but I really loved working with wood. It took us a couple of hours to shape the item. We had the choice of painting it as well, but I've always loved natural wood so we decided to stain ours instead. After you're done, you get to keep the knot as a souvenir.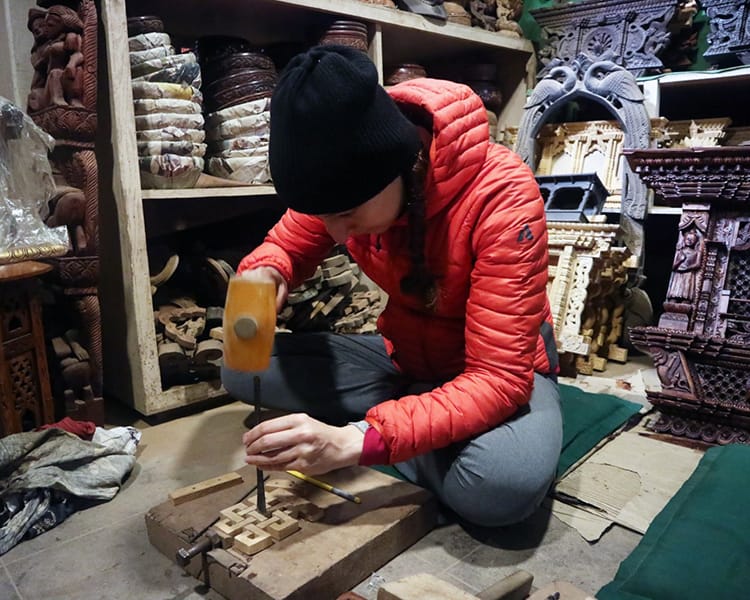 Cooking Class
On our last morning, we found out that we could actually take cooking classes with our guest house owner (Nyatapola Guest House). She charges $15 per dish (i.e dal baht, momo, samay baji). After eating her homemade chicken dal baht, we were so jealous we didn't get a chance to learn. She'll take you to the market in the morning and then teach you how to make everything. I'm hoping to go back soon to learn to make the famous Newari dish samay baji (pictured above).
---
Day Trips from Bhaktapur
---
Thimi
If you're spending a few days in Bhaktapur, I'd highly recommend taking a day trip nearby. Thimi is a 20-minute bus ride or an hour walk from Durbar Square. It's within the Bhaktapur District but is not often visited by tourists. If you're in Nepal during peak season, this is a much better way to see the pottery making process up close. You can read my post on the Pottery Making Tour I took.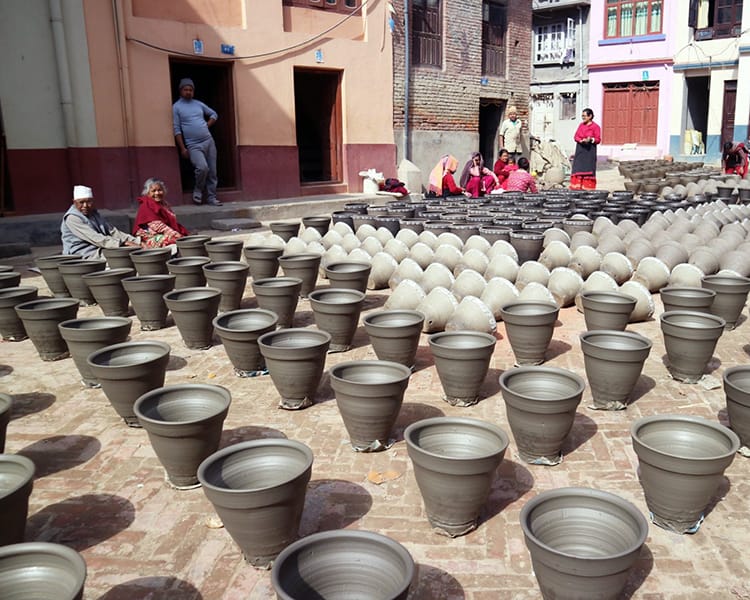 Changu Narayan
Changu Narayan is a 2 hour hike outside of Bhaktapur. You can also take a short bus ride up to the temple. Changu Narayan Temple is known as the oldest temple in Nepal. Parts of it were built in the 7th century. It's a bit off the beaten path, and I've read that only 150 foreigners visit a year. That number seems a tad low, but it is less touristic than most temples in the Kathmandu Valley. The town itself is super cute and has a number of guest houses and restaurants. It overlooks the valley in almost every direction and has a village vibe that's hard to find so close to a big city. Check out my posts on Changu Narayan and my hiking instructions for more info!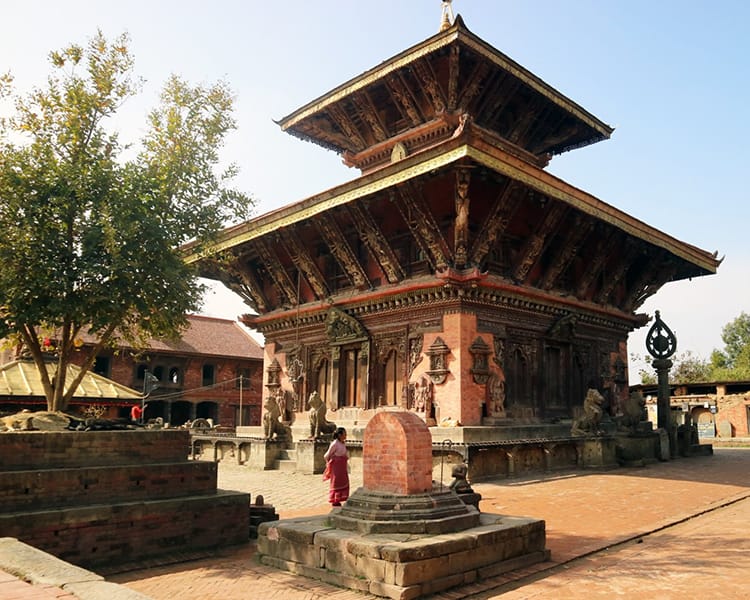 Nargakot
Nagarkot is the perfect overnight trip from Bhaktapur. You can hike there which will take between 6 and 8 hours depending on your path, or you can take a local bus. Although the town itself is not much to look at, the views are. Spending a night here is important because the best views can be seen at sunrise or before 10am. On a clear day you can see from the Annapurnas all the way to Everest (although Everest will be very tiny due to the distance). The real beauty is seeing Langtang from afar. Check out my posts on Nagarkot and my hiking instructions for more info!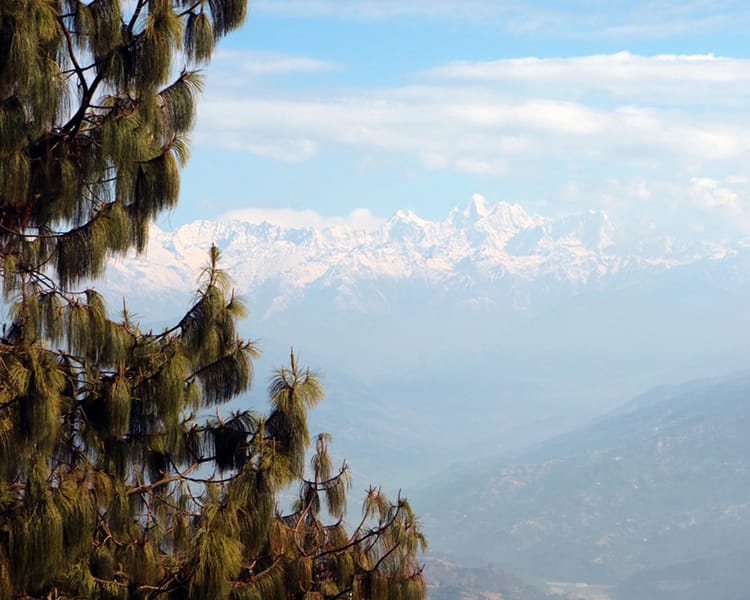 Looking for a hotel in Bhaktapur?
Budget Hotel in Bhaktapur: Nyatapola Guest House ($12 USD per couple) is located in an old Newari building with beautiful wood carvings. Staying here gives some insight into how Nepali people live. The best part of staying here are the owners who are insanely nice, not to mention they make amazing food!
Book on BOOKING.COM | AGODA
Comfort Hotel in Bhaktapur: Peacock Guest House ($50 USD per couple)
Book on BOOKING.COM | AGODA
Luxury Hotel in Bhaktapur: Hotel Heritage ($186 USD per couple)
Book on BOOKING.COM | AGODA
---
You might also like…