Generally, I travel on a really tight budget and try to stick to $30 a day. My Vietnam backpacking budget was a little different since two of my best friends from home flew to Vietnam to visit me. Since they were on a two week vacation and we weren't staying in hostels, I let my budget slide a bit. I'd also just gotten over a case of pneumonia from my Everest Base Camp Trek, so comfort became a priority for me. Oh yeah, and it was my birthday! All of that being said, I didn't feel like I over indulged or went crazy.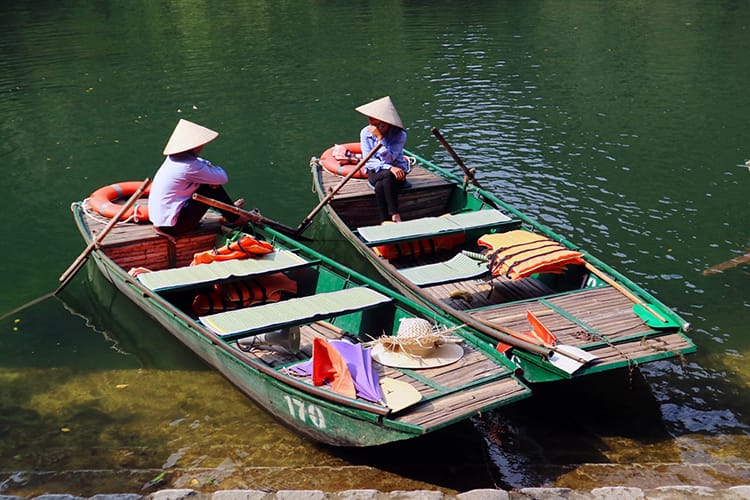 My Itinerary
---
2 nights in Hanoi – Our time in Hanoi was really meant for my friends to get over jet lag before jumping into all the adventures. It also worked out really well because it gave me time to get over pneumonia. Taking a cab from the airport put me over budget so I'd recommend getting an Uber or taking public transportation to save money.
2 nights on a Halong Bay Cruise – We definitely went over budget by booking a $140 cruise. To be fair, we were shown pictures of a luxury ship that included a lot of tourism and a cooking class (which normally cost $30 alone). Unfortunately, we didn't get what was promised and ended up cutting our tour short. I don't think the Halong Bay Cruise was worth it.
3 nights on Cat Ba Island – I'd recommend taking a bus straight to Cat Ba and skipping the overnight cruise. You can book everything here a lot cheaper and do a ton of amazing day trips. It's also a beautiful relaxing island to use as a home base for a few days while you explore. We ended up going over budget here by booking one night at a fancy resort right on the beach.
3 nights in Tam Coc – I actually wish we had spent more time in Tam Coc. This little town is super affordable and offers tons of sightseeing. If you know how to drive a motorbike, you can see a ton of stuff for cheap. We spent a little extra by hiring a taxi one day, but saved by renting bicycles the next day.
3 nights in Hanoi – Our last couple of days gave us time to take a cooking class, buy souvenirs, and relax before catching our planes back home. Since we never got the cooking class that was promised to us on our cruise we ended up spending another $32 each. We also indulged and got massages on our last night for under $15.
---
Vietnam Backpacking Budget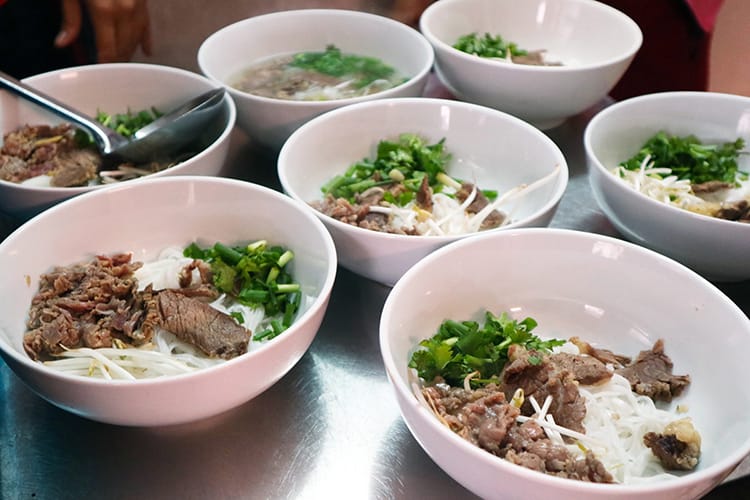 Itemized Average Prices Per Day
---
Breakfast $0.52 – Breakfast was always included for free with our hotel. A few days I treated myself to egg coffees after having our free meal.
Lunch $5.65 – Usually, I would only spend $2-$3 a day on food. Since I was getting over a really bad cold and on the end of a six month journey, I indulged in comfort food. This meant I was spending more at westernized restaurants instead of eating at local hangs.
Dinner $6.97 – A big thing in Vietnam is hot pots and Korean style barbecue. Although it was more expensive then regular meals, we treated ourselves to this three different times which definitely made me go over budget. That being said, the food was amazing and you got what you paid for.
Shelter $11.05 – We usually shared a triple room instead of staying in hostels. This ran us between $7 and $14 each a night. We always had a beautiful room, free breakfast, and a private bathroom. One night, we splurged on a fancy resort and got two rooms. It cost us $45 each.
Transportation $4.44 – This included buses to each place, cab rides, ferries, bicycle rentals, and any other form of transportation we took.
Tourism $16.69 – Tourism was really the biggest part of the budget. We spent $140 on the Halong Bay cruise, $13 trying laughing gas, $15 seeing all the sites around Tam Coc, $32 on a cooking class, and $13 on a massage. All of this added up really quickly. If we had done a day trip to Halong Bay instead of the overnight cruise, we probably would have saved $100.
Other $6.58 – This includes everything not listed above like laundry, SIM cards, sunscreen, toiletries, souvenirs, etc. For me this included Christmas presents for my family and some cute clothes for myself.
Itemized Total Spent Over 14 Days
---
Breakfast – $6.77
Lunch – $73.50
Dinner – $90.65
Shelter – $143.60
Transportation – $57.73
Tourism – $216.92
Other – $85.58
Total – $674.75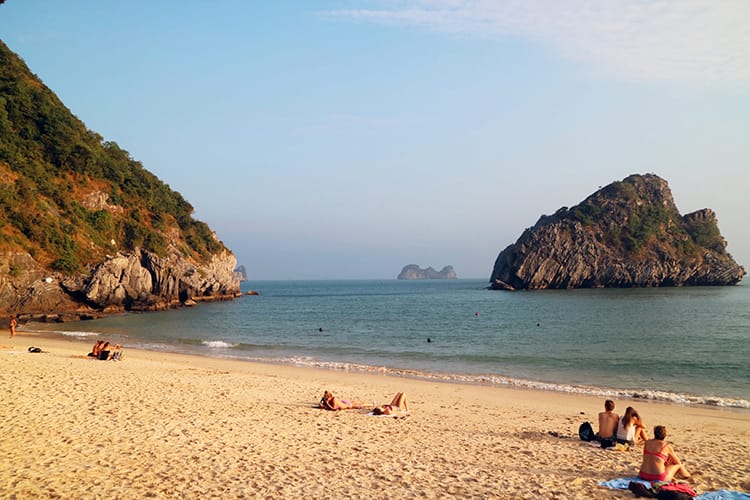 Average Cost Per Day – $51.90
---
So I ended up going WAY over my normal $30 a day budget, however I think it'd be easy to stay on budget if you really tried. We booked the $140 Halong Bay cruise for my birthday. I'd definitely recommend just going straight to Cat Ba Island and doing day trips. Sleeping on the boat was uncomfortable and not worth the extra money.
I spent money on a lot of personal things. I spent about $60 on souvenirs knowing I was coming back home and had room in my suitcase. That's something I normally would not have spent. On top of all of that we splurged on a $45 a night room and ate a few meals that cost $15 each. If I cut out those items, I would easily have come in under $35 a day.
Even though I went over my budget, I was really happy with what I spent. I knew I wanted to spend extra since my friends were in town on a two week holiday. I also knew I only had two weeks in Vietnam, (I usually try to spend a month in a country) and there was a lot I wanted to see in that time frame. Overall, I'm really happy with my budget since I didn't have to skimp on anything and got to treat myself for my birthday.
Have any questions about my Vietnam backpacking budget? Ask in the comments!
---
You might also like…