When it comes to Northern Vietnam, it seems that Sapa has been deemed the most beautiful. Everyone I met said it was their favorite part of their trip. So it was a bit of a bummer when we arrived in Hanoi and heard it was pouring and freezing cold there. I'm a big believer in being flexible, so instead of going to Sapa and trying to have the same experience everyone else has there, we decided to go to Tam Coc which is an absolute hidden gem. The list of things to do in Tam Coc is never ended and unique.
Tam Coc seems to be the less touristed version of Sapa. Approximately two hours south of Hanoi, this little town has been deemed the "hidden gem" of Vietnam. It boasts scenic boat tours through lush rice paddies, caves that go on for miles, and trekking up rocky terrain. Although the town itself is small, it holds an unsurpassable amount of beauty.
---
Things to do in Tam Coc, Vietnam
---
Bai Dinh Pagoda
We decided to get a taxi for a day to see several of the major sites. The roads are flat, straight, and fairly well paved, so this is actually a great place to try your hand at driving a motorbike if that's something you've always wanted to do. Just be careful of gravel or sand on the roads.
One of the stops on our day trip was Bai Dinh Pagoda. It's the largest complex of Buddhist temples in Vietnam. The newer portions were completed in 2013 as an addition to an older temple. The area is huge and requires transportation via electric car. Once inside, it takes a couple of hours to see most of the temples. We went towards the end of the day and were pretty exhausted, so we saw the highlights including the stupa and the temples around the outside.
At one point we found ourselves locked outside of the temples and tried to sneak through a door to get back in. We opened one of the large doors just slightly but, we must not have closed it all the way because the giant door slowly opened behind us making our entrance a little more grand then we anticipated.
Cost : Electric vehicle 60,000 dong (30,000 each way). Taxi for the day cost 950,000.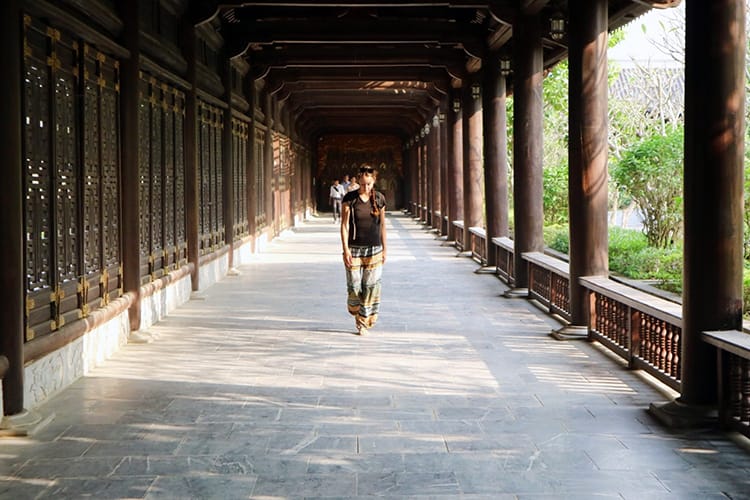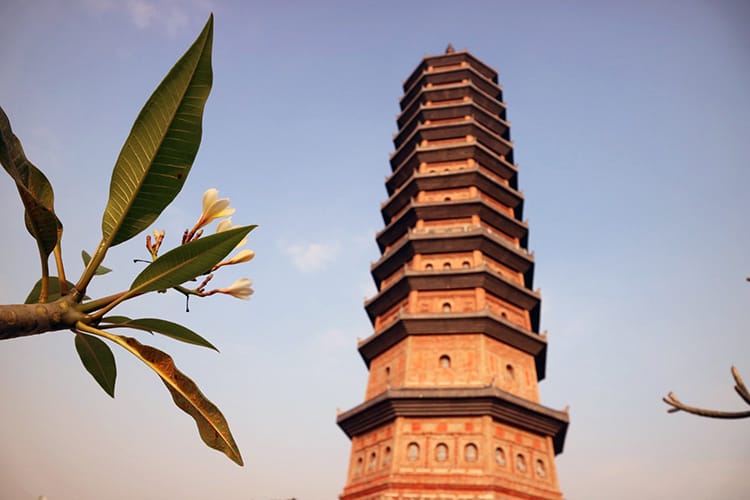 Hoa Lu Ancient Capital
I don't like to do research on places ahead of time because I like to be surprised when I get there. That being said, sometimes your taxi drops you off at a place, and you have no idea what you're looking at. I'm going to be honest and say that I'm not really sure what we were supposed to see in the ancient capital, but we were able to locate one temple with a beautiful garden.
If you have room in your budget, get a guide. This is one of those places that I'm sure is full of history and is very interesting if someone is there to explain it to you. Otherwise, it just appears to be a few old buildings that are very spread out and hard to walk to.
Cost : Entry to one temple was 20,000 dong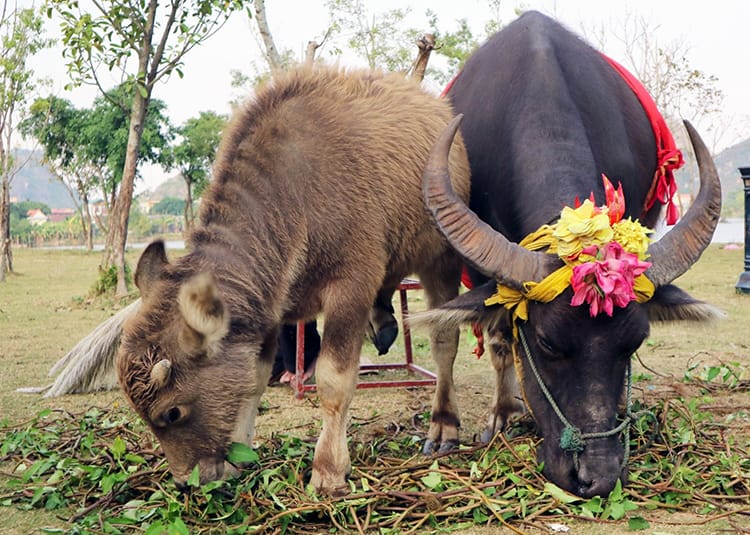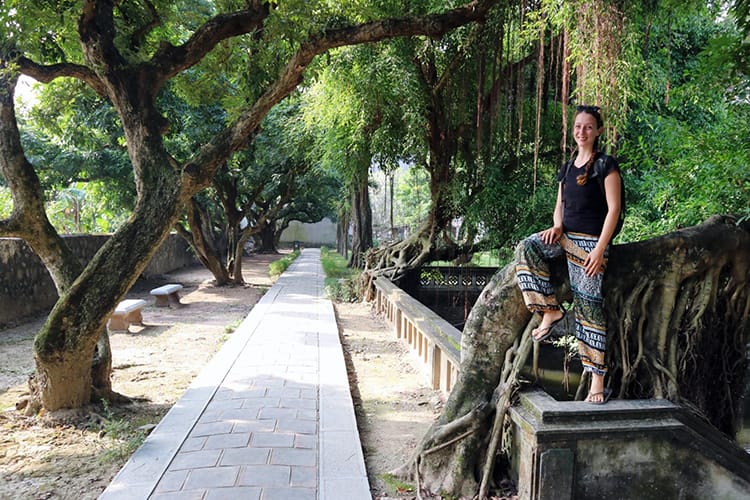 Trang An Boat Tour
The first thing we did on our tour, and my favorite thing we did in Tam Coc, was the Trang An boat tour. Upon arrival, we were a tad confused. There aren't many signs in English, and our boat guide didn't speak any English, so we really had no idea where we were going. The boat took us around and dropped us off in different areas where we got off, explored, and then got back on.
The best part about the tour was going through several caves with only two feet of clearance. We all had to duck down to avoid hitting our heads. Every once in a while, we'd be taking a photo and forget to duck which made for some very exciting moments of yelling and being pushed down into the boat. At one point, a very teeny tiny spider descended from the ceiling and Lisi began to freak out. It resulted in us almost tipping our boat over. Somehow we managed to even it out while only getting a few inches of water inside. Close call.
Cost : Temple entry and boat tour is 200,000 dong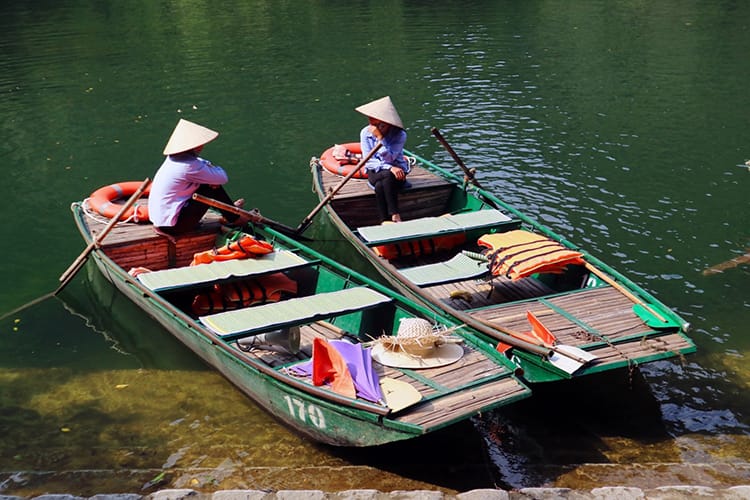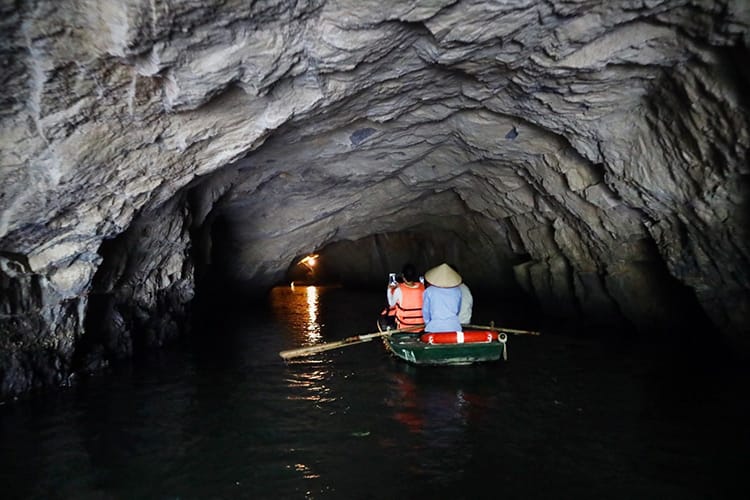 Mua Cave
Our tour included a stop at Mua Cave. Unfortunately, we arrived there around sunset and there was no way we'd make it to the top and back before it was dark outside. Full disclosure, we were also insanely exhausted by this point. I'd recommend going to Trang An first, and then heading to the cave. It would be so much easier to walk these steps after the boat ride. By the time we got here, we'd already spent a ton of time walking around Bai Dinh Pagoda.
But don't worry, this little trip to the bottom of the cave was not a waste. We got stuck behind a gaggle of geese (always wanted to say that) on the road, and ended up driving behind thousands of ducks for at least 15 minutes. We could not stop laughing as they waddled their way down the road holding up traffic.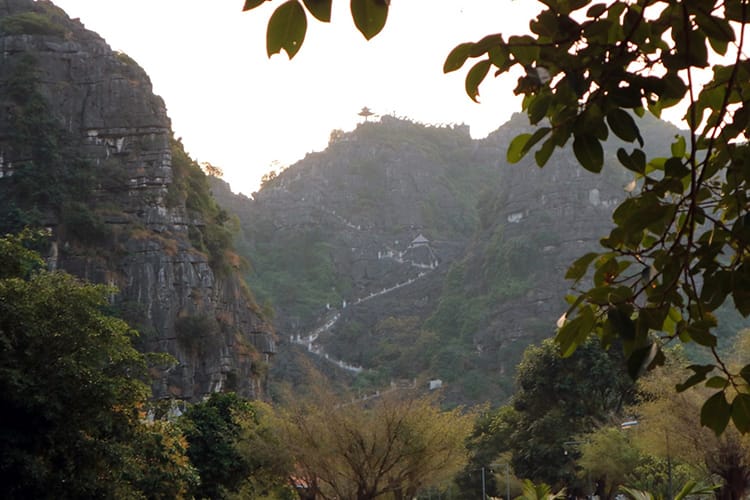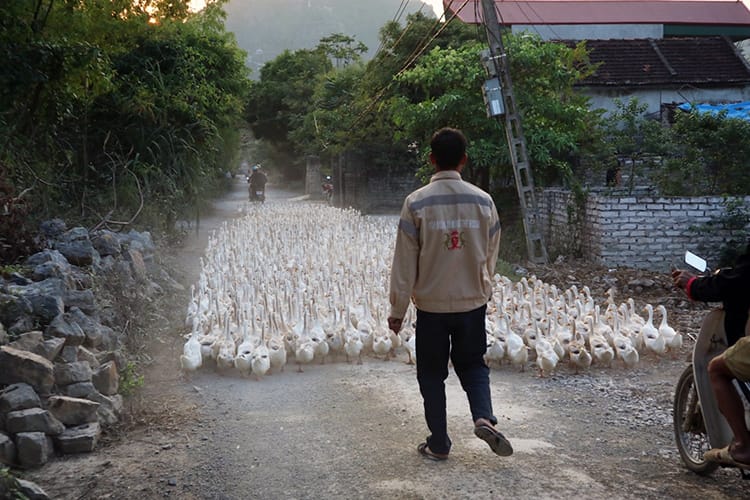 Rent Bikes and Explore Town
Whether you rent motorbikes or bicycles, getting around Tam Coc is super easy and worth the ride. We checked out a few places that our hotel recommended and circled on a map for us. Even if you don't have a specific place in mind, just wandering around aimlessly offers some pretty spectacular views. Make sure to get mountain bikes as some parts are gravel or dirt.
Cost : 50,000 dong for a bicycle and 100,000 for a motorbike.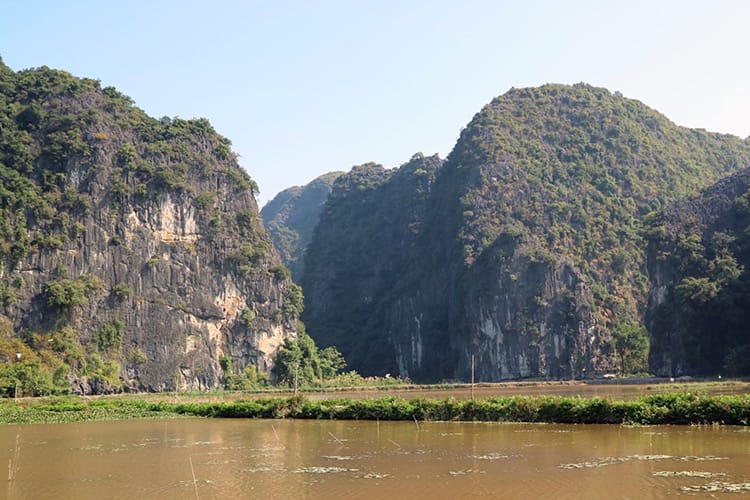 Bich Dong Pagoda
This pagoda is located in one of the mountains. There's a main temple plus some smaller temples inside of the caves. At the top is a "path" that goes over some rocks up to a lookout point. The climb isn't easy and is more like a rock scramble, but the view up top is really nice. We ran into a local man who handed out incense and then insisted on a big tip. My advice is don't take the incense. He tried to get us to pay extra on the way back down which was ridiculous.
Cost : Bike parking is 5,000. The entrance to the temple is free.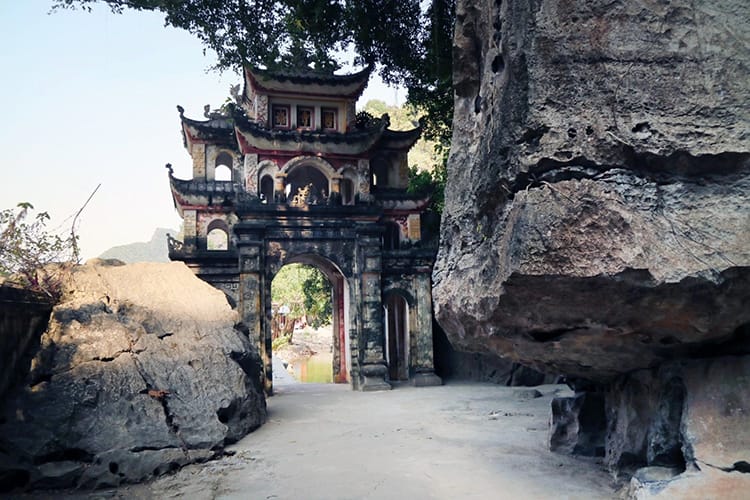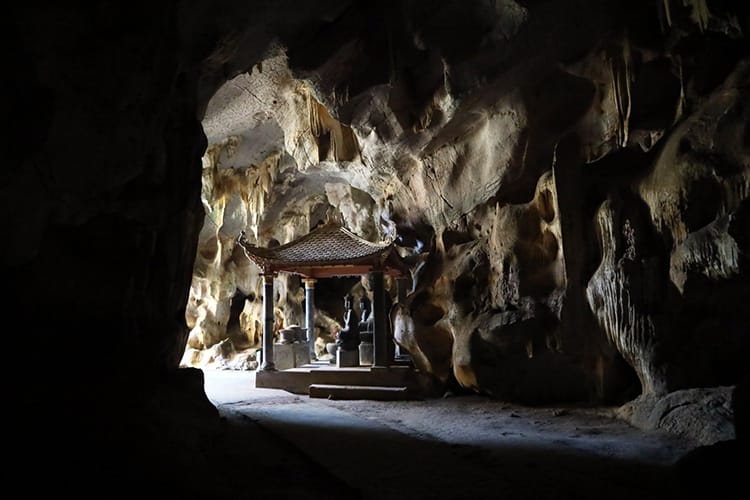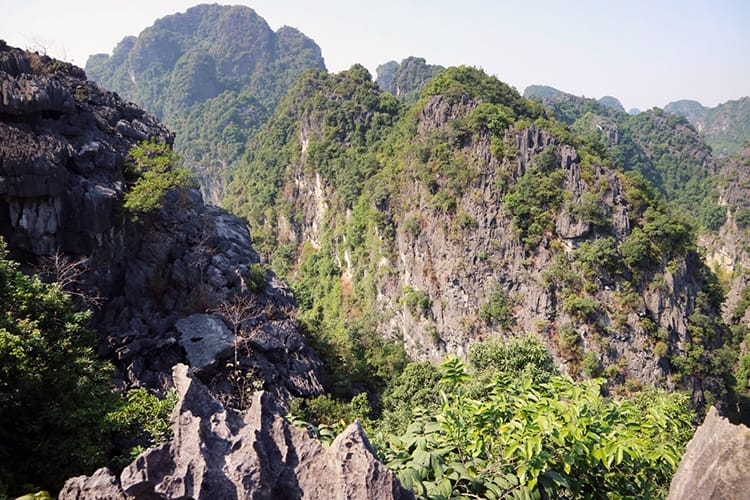 Thai Vi Temple
This temple was located close to our hotel. It's still under construction and probably isn't worth going out of the way for, but it was still nice to see since it was close by. The path there is mostly gravel so it was a little bumpy on a bicycle. The temple is free to enter and should be completed in the next year.
Stop at Chookies
After being on bicycles all day, our butts hurt a lot, and we needed a rest. We grabbed lunch at Chookies. It's the first place I've been in Vietnam that had organic and vegan options. There was a big emphasis on healthy food here and the atmosphere was really nice. I got a falafel salad and a mango smoothie. Both were really good. We even tried the apple crumble for dessert which was delicious.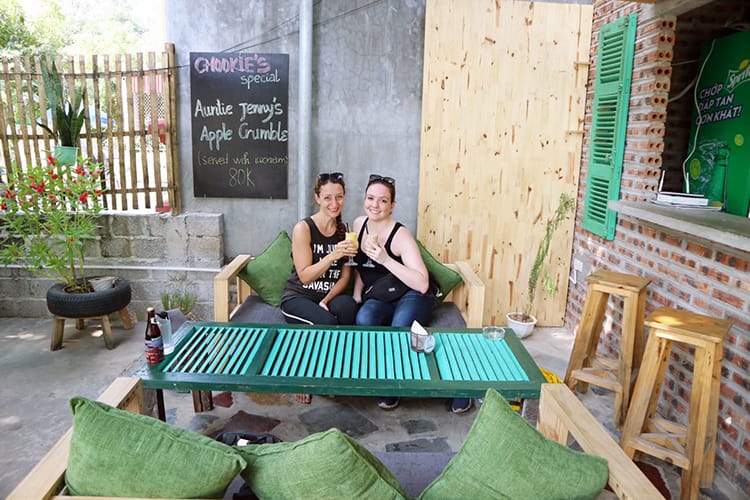 Tam Coc Hotels & Accommodations
How to get to Tam Coc
I really enjoyed taking buses in Vietnam. For a reasonable price, you could get a pretty comfy and clean bus. You can book with your hotel/hostel or online if you prefer to book in advance.
---
You might also like…