When it comes to travel in Southeast Asia, I always try to keep my expectations in check. Every once in awhile, that gets challenged. My friends, Lisi and Pat, flew out to Vietnam to spend my birthday with me, and we all decided to book a Halong Bay overnight cruise. We were shown an elaborate book with beautiful photos of the boat. The rooms looked like a fancy hotel on the water, the dining area vast, and the deck the perfect place to sit back and sunbathe. It was perfect. For $140 each, the three days and two nights seemed like a steal.
---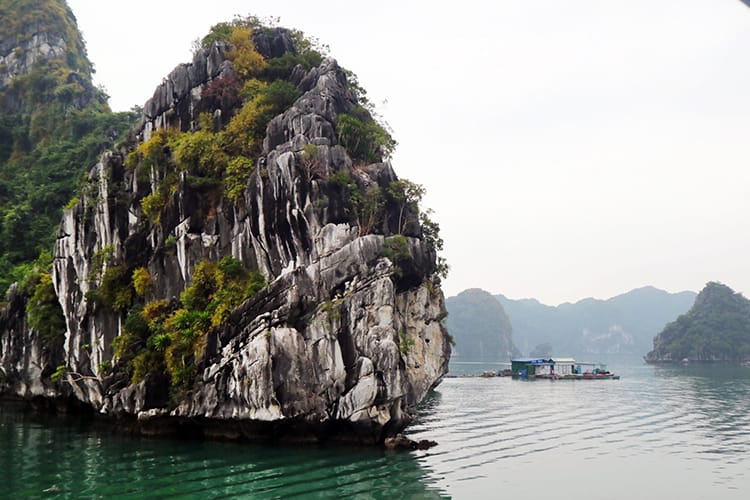 The Halong Bay Overnight Cruise
We took a four hour bus and a small ferry boat to the boats location. As we pulled up, we realized that the rundown boat in front of us was ours. It was much smaller than we'd imagined, considering the 23 people getting on board. An older French woman immediately began to complain to our tour guide while pointing at the photos. The sides of the boat looked worn down, and its tiny size felt cramped.
As we boarded, we were shown to the dining room and then our rooms for the night. We had booked a triple to save some money. In our small square box of a room was a double bed and a twin bed, so smushed in that they were almost touching. There was nowhere to put our luggage. The bathroom was tiny and had a dead cockroach on the floor. There's an expression in Asia, "Same, same, but different." I said it out loud with a laugh because this was clearly not what we were sold in the brochure for the luxurious Halong Bay overnight cruise.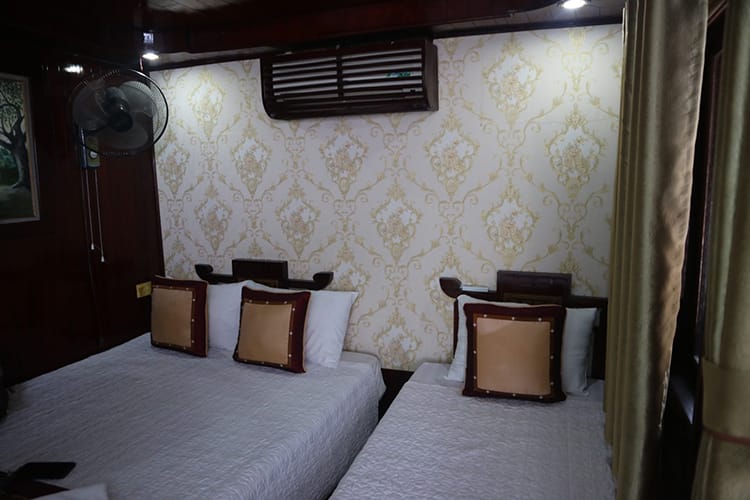 We headed back upstairs for lunch. The dining room appeared to be the only common area on the boat. It was small and cramped with just enough seats for the amount of people. The coveted rooftop deck seemed to be missing in action. As we sat down, our guide showed up and informed us that Pat could not sit with us since he didn't eat seafood. There would be a separate table for people with dietary restrictions. "So if two people are on their honeymoon and one doesn't eat meat, they can't sit together?" I asked absolutely dumbfounded. "Yes."
Lucky for us, they gave up on trying to enforce the no sitting together rule by dinner time. The food on the boat was actually incredible. For those of us who ate seafood it was a mecca of sautéed squid, grilled fish, and fresh prawns. Everything tasting as though they just caught it from the bay moments earlier.
---
Surprising Cave
---
Our first stop on the tour was a visit to the Surprising Cave. I asked what was so surprising about it and was told it was the most beautiful cave in Halong Bay. To be fair, it was the most beautiful cave I've seen on my entire trip. It's cavernous rooms were well lit with different colored lights that illuminated the curves in the rocks. It took us almost an hour to walk the entire thing it was so large.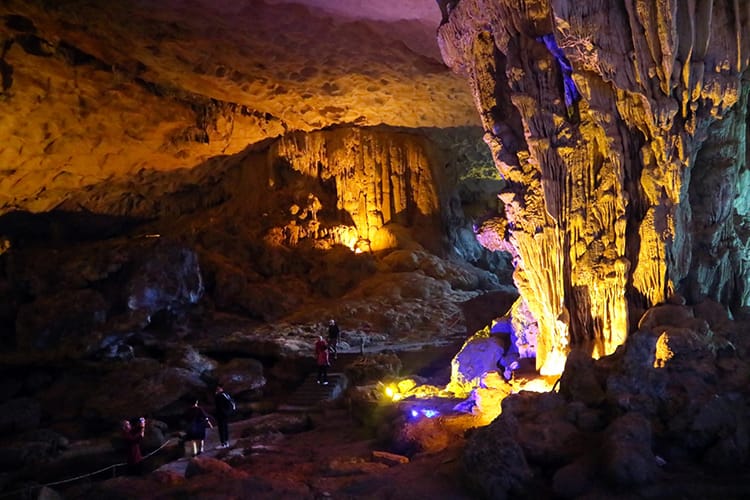 Titop Island
---
After our cave visit, we went for a short hike to the top of Titop Island. The building at the summit represents the friendship between Russia and Vietnam. The hike was kind of brutal, as it was 25 minutes of going up steep stairs. We took a few water breaks to catch our breath on the way, but the views were worth it. From the top, you could see a picture perfect view of Halong Bay. Limestone rock formations peaked out of the turquoise water and junk boats came and went dropping off tourists.
---
Happy Hour Party
---
We were invited back onto the boat where we discovered the staircase to the rooftop. Everyone took a deep breath in and relaxed a little about being ripped off. Maybe the boat wasn't so bad. After a free glass of wine, we went to the top of the boat and watched other ships in the distance bobbing up and down in Halong Bay. Their lights reflecting in the deep blue, and the sky filled with stars. We pointed at the fancy ones trying to guess which one we were shown photos of.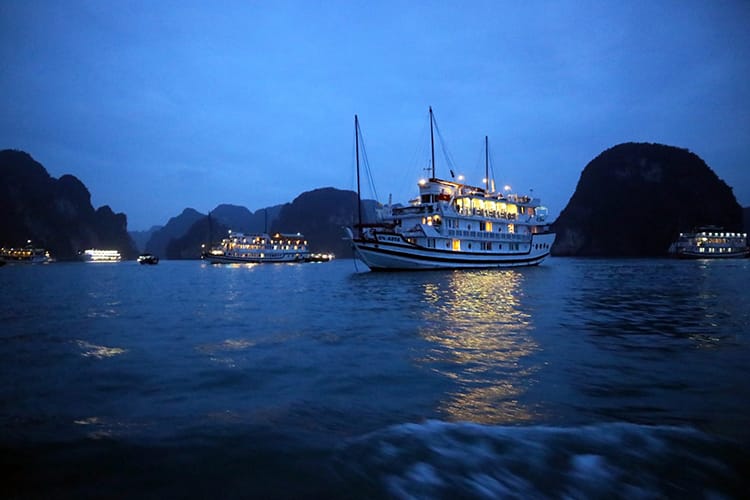 Pearl Farm
---
The next morning started early with a trip to a local oyster farm where they grow pearls. We walked through the entire process, which to be honest felt a little barbaric. The oysters are forced open slowly in order not to kill them. Then, they meticulously insert an irritant into the gonad of the oyster. This can sometimes be referred to as the surgery stage. The oyster is then held in nets and put back into the water while the pearl has time to develop. This can take from two to nine years depending on the pearl size. When it's time to cultivate it, they cut the oyster open and remove the pearl.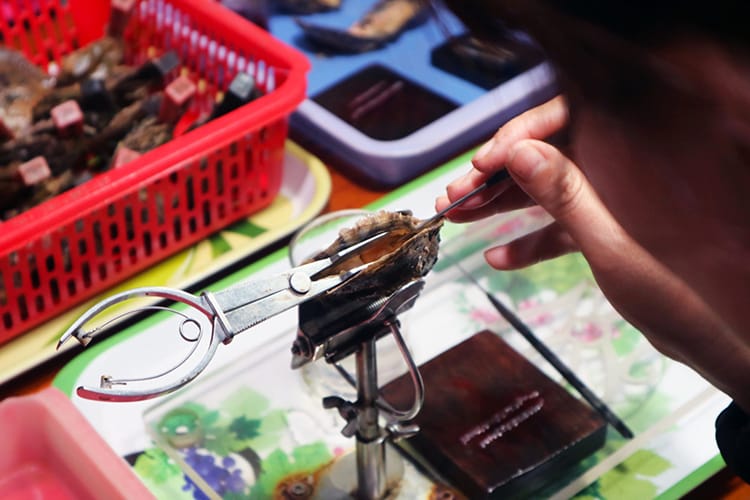 Kayaking
---
Once we finished the pearl tour, it was time to kayak. I met a cool travel video producer from Denver who agreed to share a kayak with me. We got a pretty decent paddle in around Halong Bay during our 50 minute allotted time. We also had a good chat about blogging and favorite travel destinations. Toward the end, we went into a teeny tiny cave for a few quick seconds just to be able to say that we did it. Unfortunately, we couldn't keep the kayak out longer, so we headed back to the floating pearl farm to return it.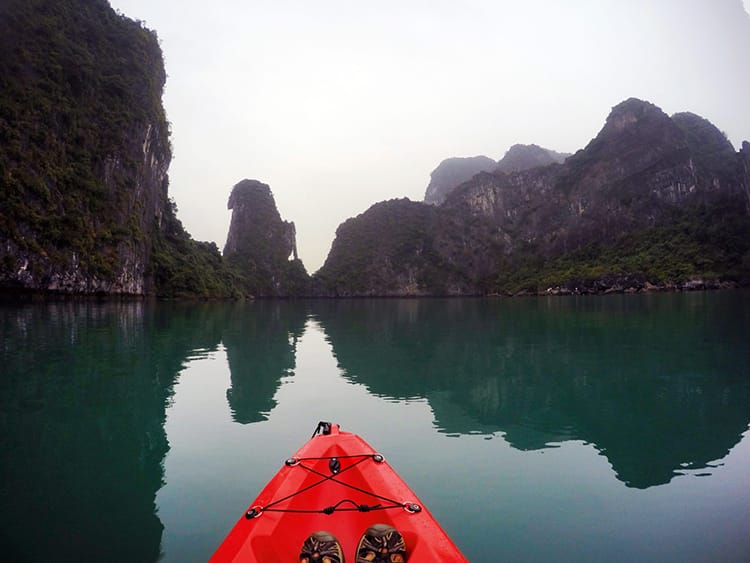 Floating Villages
---
We checked out of our overnight boat and got onto a ferry with more room to spread out. The ferry took us through smaller parts of Halong Bay that the larger boat couldn't access. We ended up going through the floating villages and more oyster farms. The tiny brightly colored shacks stood out amongst the jungle covered mountains. The scenery was gorgeous.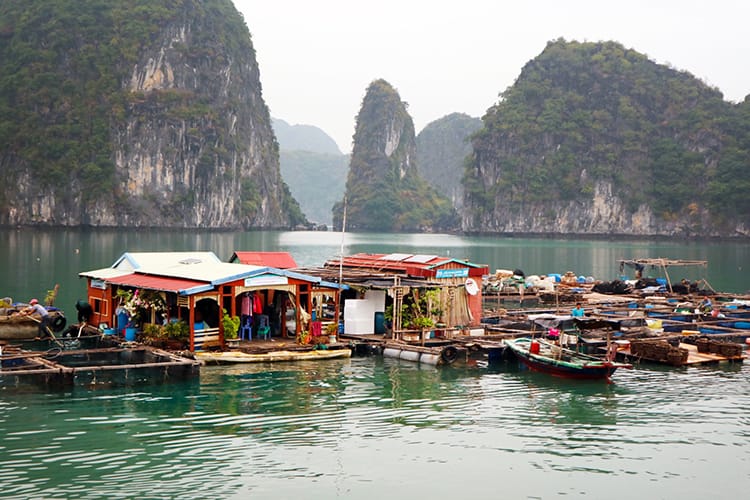 Monkey Island
---
Next, was the stop I was looking forward to the least. Monkey Island. I hate monkeys. They look all cute, but they steal your stuff and are really aggressive sometimes. Luckily, there were very few monkeys in sight when we got off the boat. There was a hike up the mountain, but I was still getting over pneumonia and decided to pass on this excursion. I was exhausted from kayaking in the morning and hiking felt like too much. After hanging out on the pristine beach, more and more monkeys started to show up. Eventually, they chased us off the island and back onto the boat while one girl screamed as monkeys grabbed her ankles.
---
Cat Ba Island
---
The ferry took us to Cat Ba Island where we were shown our hotel for the night. Again, the brochure showed an extravagant room, and we received just a decent room. However, we were thrilled to be out of the tiny cramped space on the boat, so it felt like an oasis. We were also happy to have some free time. The activities on the tour were scheduled in 50 minute increments and never felt long enough to enjoy. Just when I started to relax, our guide would yell, "This way! This way! Follow me!" and we'd all be herded to the next location.
We ended up just relaxing that evening, but after seeing what the large island had to offer, we wanted to stay longer. We had been promised a cooking class on the boat which never happened, and we were a little fed up with the whole experience. The next morning, we told our tour guide we wouldn't be getting on the bus. We decided to stay behind and do some things at our own pace. It was the best decision we made.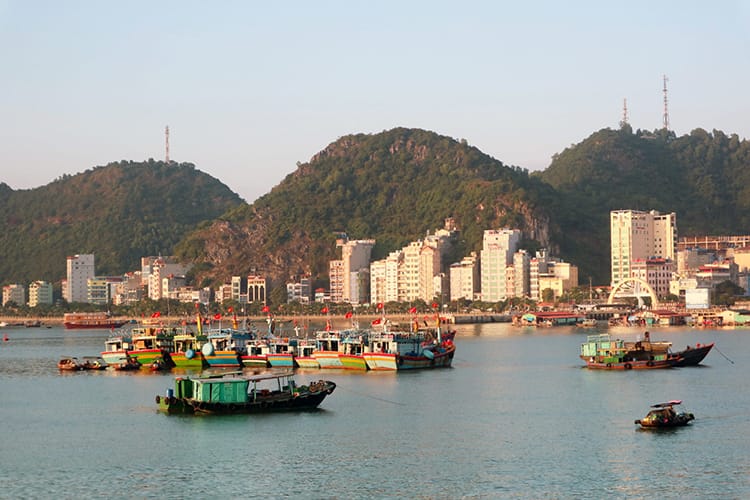 I recommend skipping the overnight boat and spending more time on Cat Ba Island. From here, you can book day trips without being smushed into tiny rooms. Check out my post on Things to do on Cat Ba Island for more
If you want to read tips on how to choose a cruise company, check out this article on Everything You Need to Choose the Best Halong Bay Cruise.
Have you ever been promised an experience that totally let you down when you arrived? How did you make the most of it? Spill in the comments.
---
You might also like…