Chomrong, Nepal is a small village located inside the Annapurna Conservation Area. It's located on the Annapurna Base Camp trekking route making it a popular stop for trekkers in the region. Unlike other villages along this route, Chomrong existed before tourism making it a unique village to experience the local culture.
Brief History of Chomrong
---
Chomrong village is more than 100 years old. As the population in Ghandruk began to rise, people moved outward creating other settlements including Chomrong. Around the 1950's, explorers began passing through including some of the first mountaineers. In the 1970's trekkers began to show up and teahouses formed. It's said that this was one of the very first trekking trails in Nepal.
The locals in Chomrong also told us a fun story about the first climbers to attempt climbing Machhapuchhre in 1957. The group climbed from Camp I to Camp II and went to sleep there, but in the morning when they awoke, they were back in Camp I. Since the people in this region are Bon (worship nature), they believe the gods sent them back down the mountain. Machhapuchhre is one of the holiest peaks in Nepal and it's now illegal to try to climb it. It's never been summited and that first attempt was also the last.
---
Chomrong, Nepal Village Guide
---
Major ethnicity:
The major ethnicity in Chomrong is Gurung.
Major Religion:
The major religion is Bon which means they worship nature.
Language:
Gurung & Nepali
Chomrong Altitude:
2,170 m (7,119 feet)
Oxygen Concentration:
78% compared to 100% at sea level
Population:
400-500 people live in Chomrong.
Best Time of Year to Visit Chomrong:
October and early November are considered the best time to visit Chomrong. During this time, you'll get the best weather and views. It's also festival season which is a fun time to witness the local festivities.
Location:
Chomrong is located about 45 km (28 miles) northwest of Pokhara. It's located inside the Annapurna Conservation Area and lies south of the Himalaya mountains.
How to get to Chomrong:
Chomrong can only be accessed by foot. The closest roadways stop in Ghandruk or Jhinu Danda. It's a one day walk from each of these locations. From Jhindu Danda it's a 1-2 hour climb straight uphill. From Ghandruk, it's a 5 hour walk going up and down the valleys.
Entry Permit:
An entry permit is required for foreigners which costs 3,000 rupees ($26 USD). ACAP permits can be purchased at the Nepal Tourism Board office in Kathmandu or Pokhara. Chomrong is one of the areas with a checkpost, so make sure to check in and out when passing through.
NTC or Ncell service:
NTC has 4 bars with 4G service. Enough to make phone calls easily. Ncell had 2 bars with 3G service which is enough to browse the web.
---
What to Eat in Chomrong
---
Chomrong is one of the villages that has a small bakery with a real coffee maker. Many tourists enjoy the chance to get a real coffee rather than instant Nescafe. I recommend their apple pie which was delicious.
Locals in the area recommend trying traditional dal bhat and dhido (a flour paste used in lieu of rice). If you are a meat eater and plan to continue the ABC trekking route, you'll want to order meat here as there are limited options above Bamboo where it's restricted to eat certain animals including chicken and buffalo.
---
Things to do in Chomrong
---
Chomrong is a small town where many people pass through on the popular ABC trekking route. The main thing to do here is to enjoy the view! However, the town also boasts a bakery, snooker hall (pool hall), and bookstore. The village is building a gorgeous Buddhist stupa which is located toward the bottom of the town. You can also try and spot some wildlife including deer and Himalayan goats.
---
Chomrong Lodges & Teahouses
---
Types of accommodation:
Teahouses and basic lodges
Number of accommodations:
There are approximately 15 teahouses/lodges in Chomrong.
Our choice:
Fishtail Guest House & Restaurant – This teahouse is one of the first when you enter town from above. It's the highest one in Chomrong and offers some great views. You can see Machhapuchhre, Hiunchuli, and Annapurna South. It's a cute old building with clean rooms and a nice toilet and shower.
Price of a Room:
500 rupees (about $5.00 USD) for a double room.
Price of Veg Dal Bhat:
520 rupees (about $5.20 USD)
Electricity:
There was electricity, however if you want to charge a phone or device it's 100 rupees ($1 USD).
Toilet Situation:
There is a western toilet and squat toilet available at the property. They are not attached to the rooms, however they are close by and easy to get to at night.
Shower:
Hot showers are available for 100 rupees ($1.00 USD) and cold showers are available for free. We took a shower here and it was really nice.
Wifi:
Wifi is available. It's 200 rupees ($2 USD) for unlimited wifi on one device.
---
Chomrong, Nepal Photography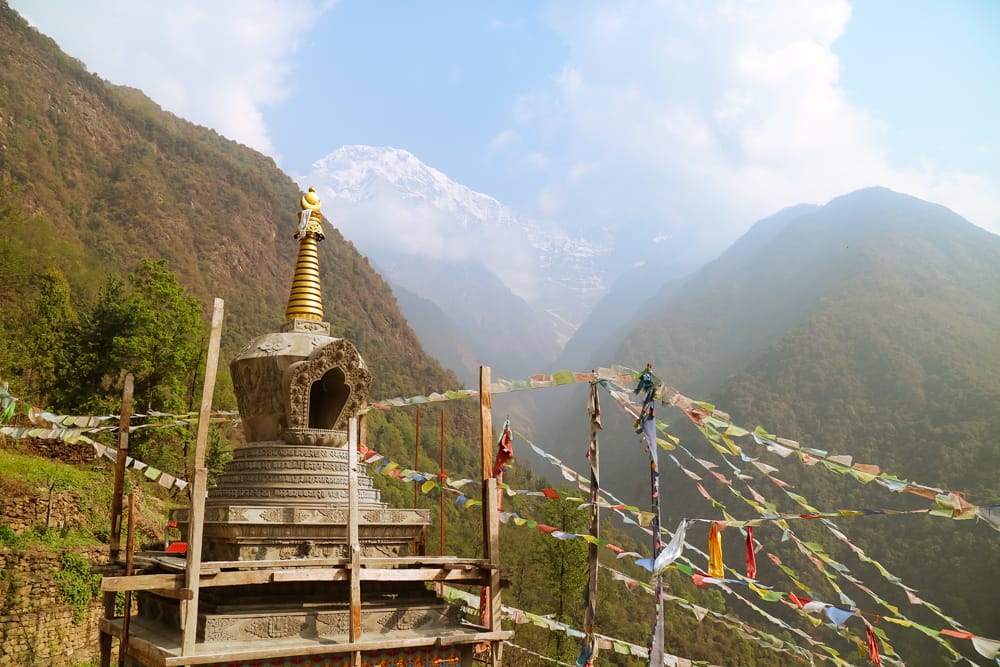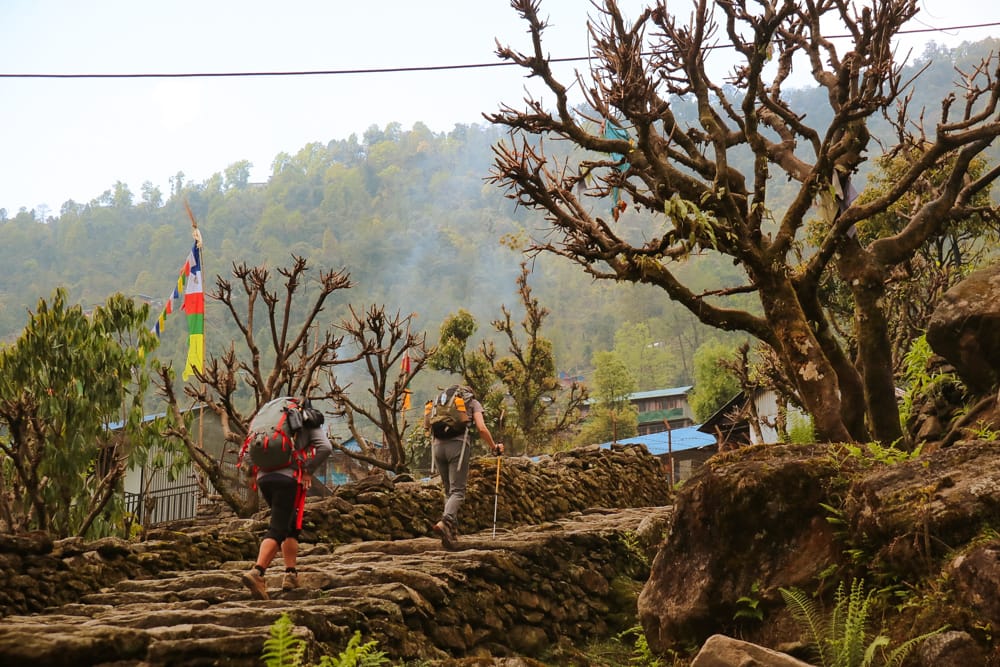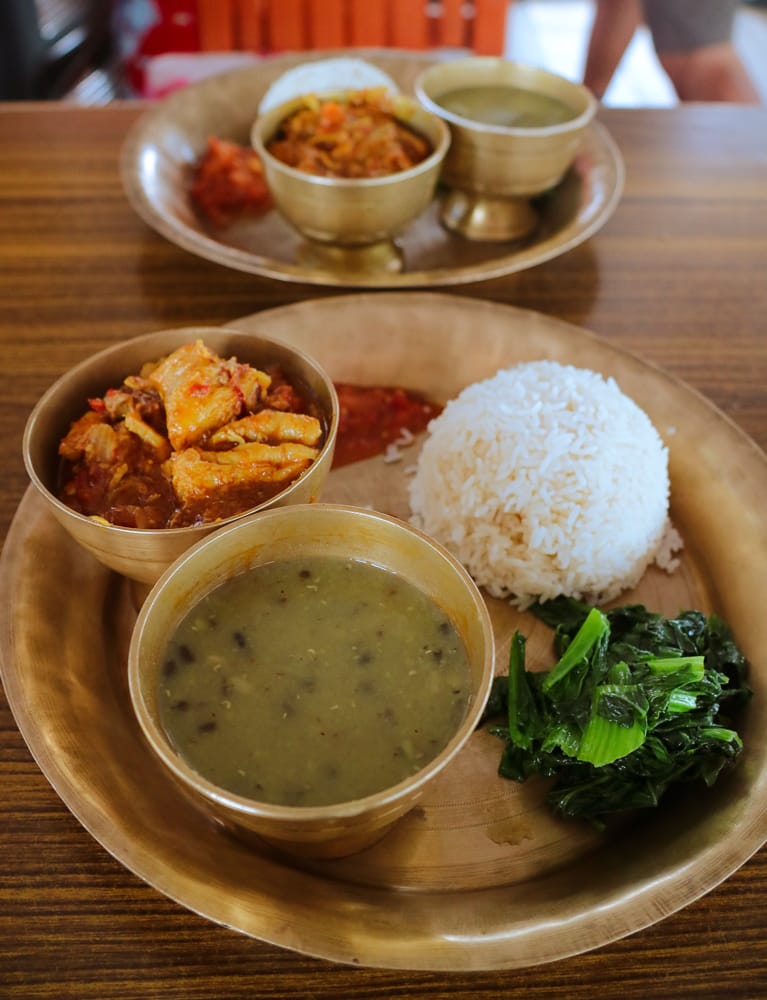 ---
You might also like…