This year has been all about exploring the areas around Kathmandu, and we finally got around to visiting Shivapuri Nagarjun National Park. While we have visited the Shivapuri section many times, we hadn't made it inside the Nagarjun National Park section, and we were eager to try the Jamacho Gumba Hike. My friend Laura told us about the Jamacho hike which is straight up hill and one of the more challenging hikes in the area. We plan to do the Mardi Himal trek soon and decided to use this as a warmup.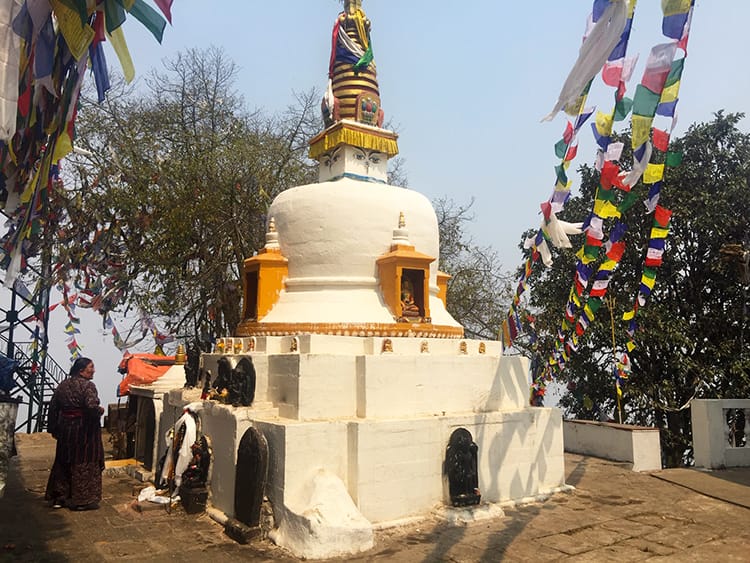 A Short History of Jamacho Gumba
---
Jamacho Gumba is a holy place for Buddhist to visit on pilgrimage. I asked our guide what Jamacho meant, and he said, "it is like a celebration of the hill" and that people come here on Jamacho Jatra. Jamacho Jatra is a festival in Nepal and many people hike to the top of this hill on that day to celebrate. It's said that Buddha meditated here, and therefore, it's an extremely sacred place. Another guide was telling his group that many Buddhist come here to pray or meditate before they die.
---
Who would enjoy the Jamacho Hike?
---
This hike is on the difficult side compared to other hikes in the Kathmandu Valley, therefore, I would recommend it to those who are in good physical shape, those who want to train for an upcoming trek, and those who want a break from the city and the chance to breathe fresh air. It's not a good hike for beginners as it is extremely steep. I also would not recommend this hike for kids unless they are used to hiking. If you are a beginner, I'd recommend the Nagi Gompa Hike or the Tarebhir Hike.
---
---
Shivapuri Nagarjun National Park Entrance Fees
---
Nepali Citizens – 100 rupees
SAARC Citizens – 600 rupees
Foreigners – 1000 rupees per person (about $10 USD) plus 1500 rupees (about $15) per group for a required guide
***Required Guide – A guide is required for all foreigners entering the park. The guides at the guidepost charge 1,500 rupees to go to Jamacho. This hike is very straight forward and a guide isn't necessarily needed, but this hike is kept very clean and the wildlife is respected under the watchful eyes of the guides.
---
How to Get to Shivapuri Nagarjun National Park
---
Shivapuri Nagarjun National Park is actually two large parks, so you'll want to head to the Nagarjun National Park (Nagarjun Forest Reserve) side to start this trek. The entrance begins at Fulbari Gate (Fulbarigate on Google Maps) which is an army gate and the main entrance to the park. You can also search Fulbari Chowk on Google Maps or Backyard Bones Restaurant as both are nearby.
The easiest way to get there from Kathmandu is to hire a taxi. You can either arrange for them to pick you up at a certain time or hire them for the day to wait. This shouldn't cost more than 1500 rupees if they wait for you. It's about a 20 minute ride from Kathmandu's city center. You can also take a bus to Goldhunga Bus Stop, but this will be hard to navigate unless you're a local.
---
---
How long does the Jamacho Hike take?
---
Hiking time will depend on your speed. We walked at a moderate pace and made it to the top in 2.5 hours. We took a long break at the heli pad to rest. We also rested at the top for about an hour and had snacks. It took us 1.5 hours to go back to the bottom. Overall, we spent 5 hours inside the park including all our breaks. Someone who walks quicker could easily go up and down in 3 hours if they didn't stop at the top. Someone slower might take 6 hours. We left our apartment at 9:30am and made it back home around 2pm, so it's a good half day hike.
---
How difficult is the Jamacho Hike?
---
I would say that this hike is on the difficult side. It feels like a proper trekking route and more than half of it goes straight up stairs. It's similar to the Champa Devi Hike which I usually recommend to people who like a good challenge. Overall, I found this hike enjoyable but challenging at the same time. It wasn't too easy or boring. It may be hard for people with knee issues as coming downhill is hard on your legs.
---
---
What to Pack for the Jamacho Gumba Hike
---
This hike is entirely in the forest so you don't have to worry too much about sunscreen, hats, sunglasses, etc. I would recommend a good bug repellent as there were a lot of gnats flying around our faces. Definitely bring at least 1 liter of water per person and some snacks. There is a small tea shop at the top where you can buy tea or ramen noodles. They also have bottled water if you need it.
---
Best Time to Go To Nagarjun National Park
---
I would recommend avoiding Saturdays. The trails get very crowded around Kathmandu on Saturdays because most Nepalese only have a one day weekend. Our guide said that sometimes thousands of people visit the park on Saturday. We went on a Sunday and only saw about ten other people, so it was nice and quiet. You can do this hike year round; however, it may be cold in the winter and you may experience some light snow towards the top.
---
Jamacho Gumba Hike Photos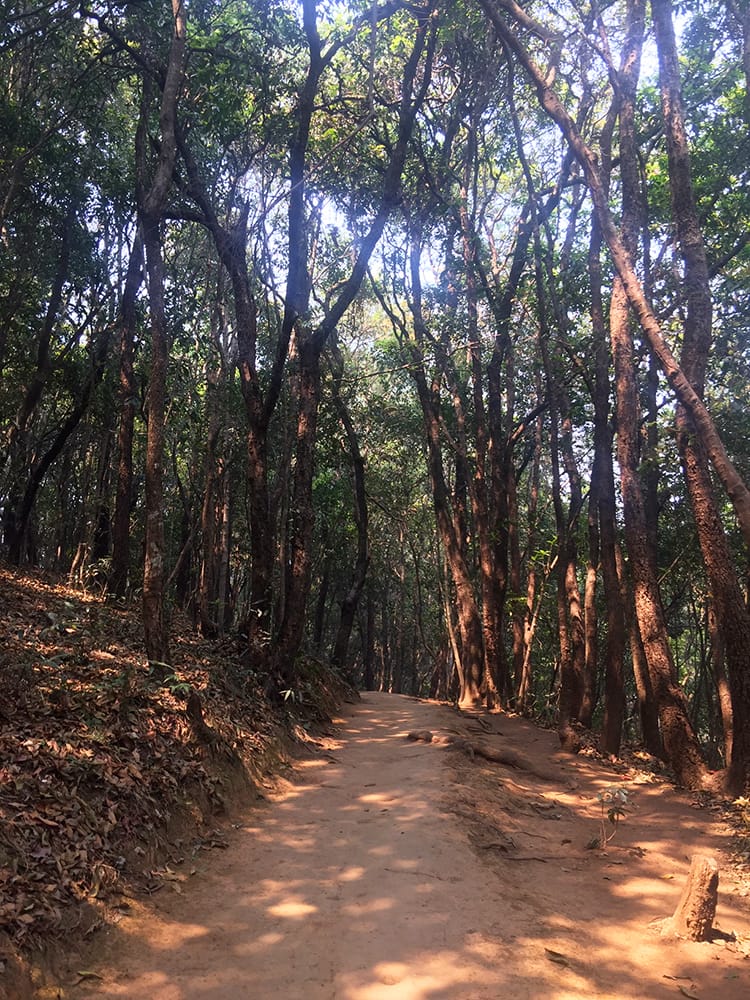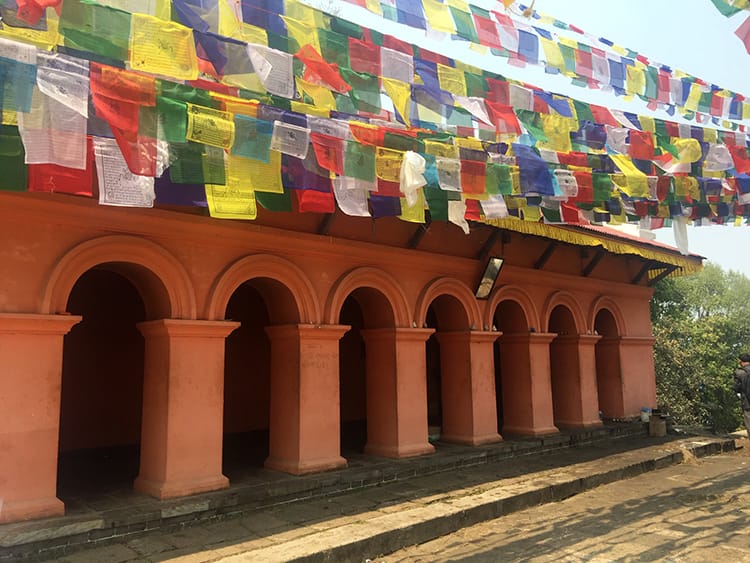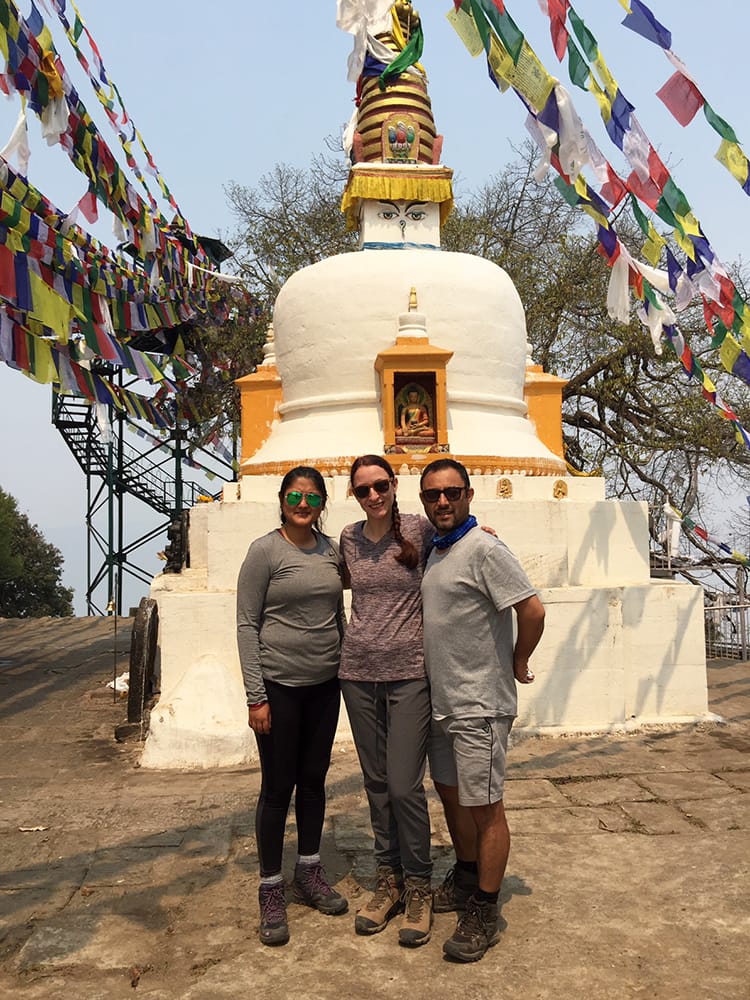 ---
You might also like…