Deurali is a small village built entirely to accommodate tourists trekking in the area. The area was once used for shepherds to bring their sheep, but now it's a stop along one of Nepal's most popular trekking routes, the Annapurna Base Camp Trek. In peak season, hundreds of trekkers pass through each day. Here's what you need to know for your visit…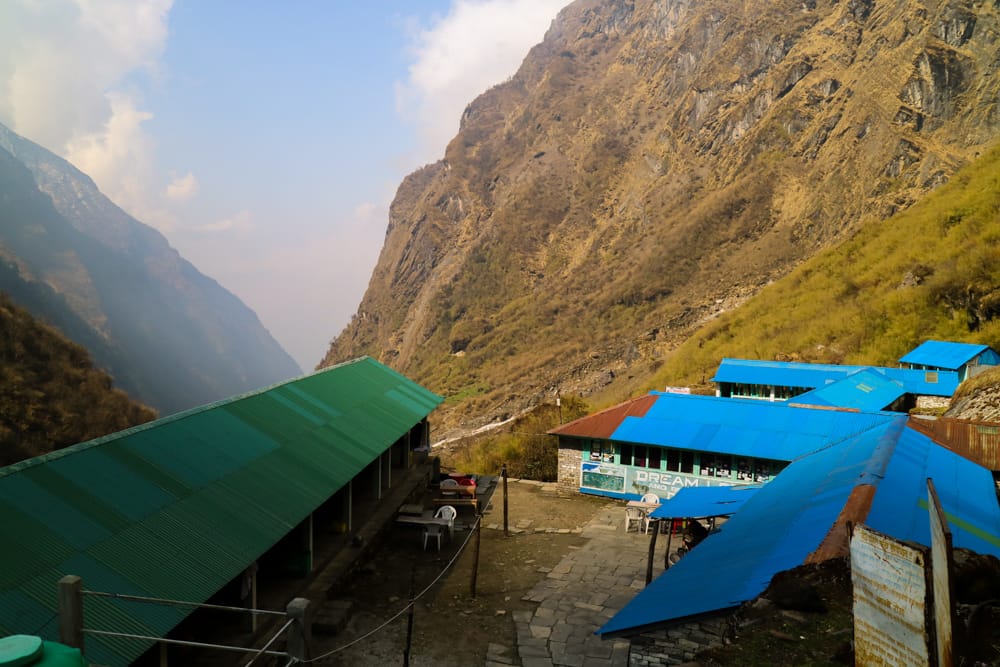 Brief History of Deurali, Nepal
---
Before the 1950's this area was used only for sheep grazing in the summer. Shepherds would bring their flocks into the mountains, and they would stay in Hinku Cave for shelter. After mountain climbers made the route famous in the 1950's explorers and mountaineers began traveling through the area. By the 1970's trekkers were arriving to walk to Annapurna Base Camp and the first teahouse was built.
Prior to the 1970's, women weren't allowed in Deurali because it was considered a highly religious area and women were considered impure because of their periods. With the arrival of female trekkers and mountaineers, they made an exception and now women are allowed in this region.
It's illegal not only to kill or eat certain animals (buffalo and chicken) in the area, but those animals can't walk past the temple along the trekking route either. You'll notice mules are used below Bamboo to carry items to the teahouses, but above the temple only humans can pass as they might taint the holy mountain.
---
Deurali Village Guide
---
Major ethnicity:
The major ethnicity in Deurali is Gurung.
Major Religion:
Most people are either Bon (worship nature) or Buddhist
Language:
Most people speak Gurung and Nepali
Deurali Altitude:
3,200 m (10,498 feet)
Oxygen Concentration:
69% compared to 100% at sea level
Deurali Population:
20-30 people live in Deurali.
Best Time of Year to Visit:
Locals agree that October or early November are the best times to visit as that is when you get the best visibility. It's also festival season and a fun time to experience the culture. March and April are the second best time to visit, however the visibility is not as good. That being said, you do get to see the flowers in bloom.
Location:
Deurali is approximately 60 km (37 miles) north of Pokhara. It's located inside the Annapurna Conservation Area just south of the Annapurna Mountain range in Nepal.
How to get to Deurali:
Deurali is a two day walk from the closest road at Jhinu Danda or Ghandruk. There is no road that goes directly to Deurali.
Entry Permit:
An entry permit is required for foreigners which costs 3,000 rupees ($26 USD). ACAP permits can be purchased at the Nepal Tourism Board office in Kathmandu or Pokhara.
Safety:
In the winter, it's not good to stay overnight in Deurali due to avalanches nearby. It's best to walk further on to MBC where the chances of avalanches are smaller. If you can avoid doing this trek in winter, that would be best as ABC is dangerous in the winter.
NTC or Ncell service:
NTC has 4 bars of service and you can browse the web. Ncell has no service.
---
What to Eat in Deurali, Nepal
---
Locals recommend trying traditional Nepali dal bhat as it's filling and healthy. Dal bhat consists of rice, lentil soup, spinach, vegetable curry, and a spicy achar. They also recommend Gurung bread, Mustang coffee, and the local liquor called raksi.
---
Things to do in Deurali
---
Locals recommend sitting back and relaxing after the long walk. You can try to spot the natural Buddha statue in the mountains. This was not carved by hand but appeared naturally. The Hinku Cave is nearby which used to be used by local shepherds as a form of shelter before teahouses existed. They would bring sheep here in the summer to graze. You can also admire the many waterfalls in the area and look out for wildlife including mountain goats, local birds, and mountain flowers.
---
Deurali Lodges & Teahouses
---
Types of accommodation:
Teahouses and basic lodges
Number of accommodations:
There are five teahouses in the village.
Our choice:
Shangri La Guest House
Price of a Room:
500 rupees (about $5.00 USD) for a double room.
Price of Veg Dal Bhat:
620 rupees (about $6.00 USD)
Electricity:
There was electricity, however if you want to charge a phone or device it's 200 rupees ($2.00 USD).
Toilet Situation:
The property has two western toilets and three squat toilets available which makes it easy to get ready in the morning.
Shower:
Hot water is available for 250 rupees (about $2.50 USD).
Wifi:
Wifi is available for 300 rupees (about $3.00 USD) for unlimited internet on one device.
---
Deurali, Nepal Photography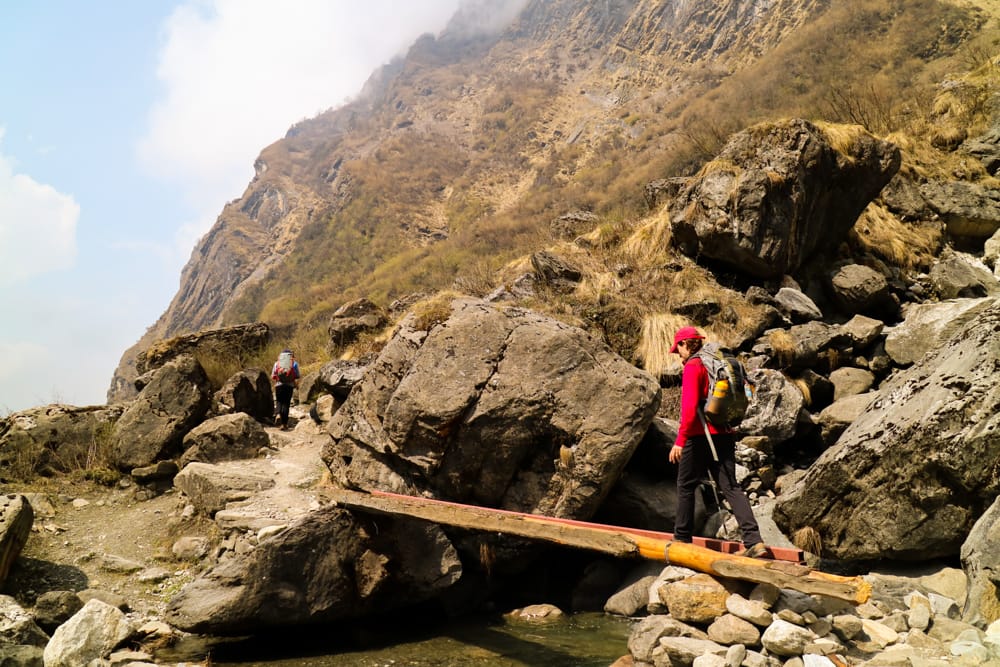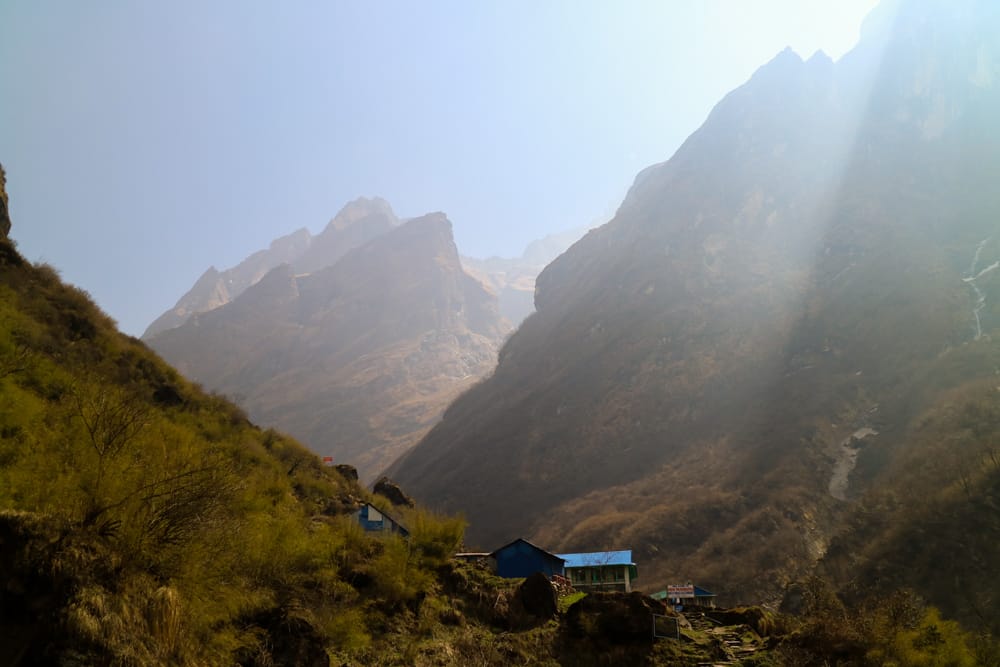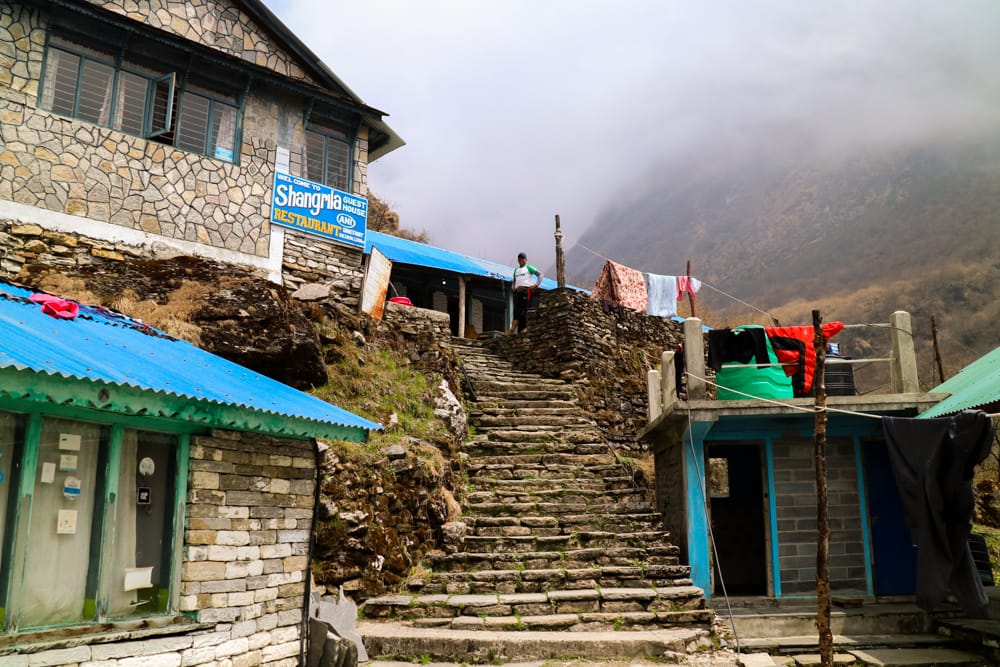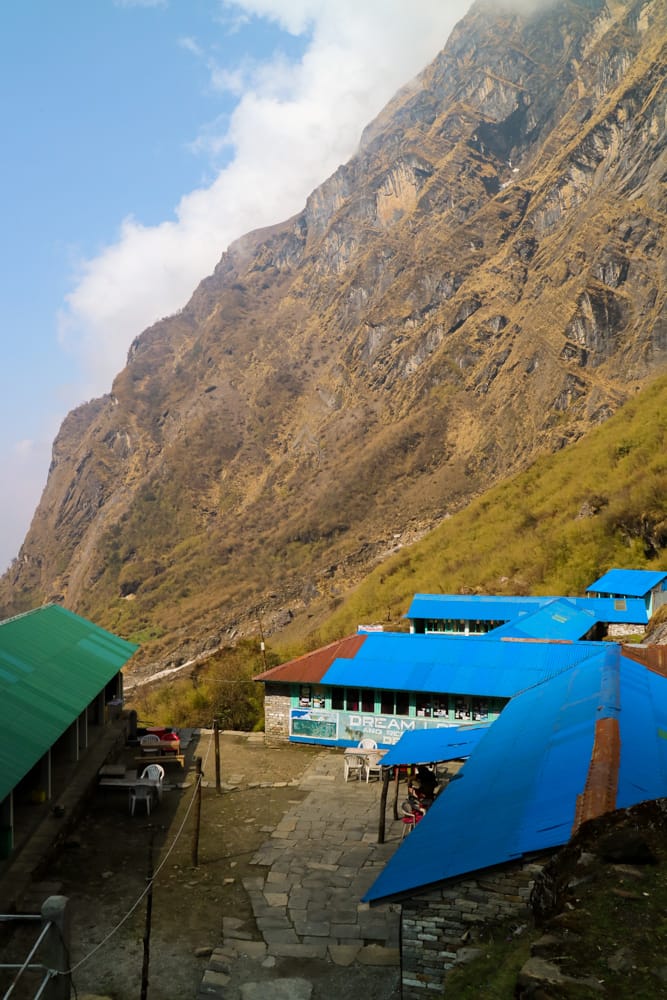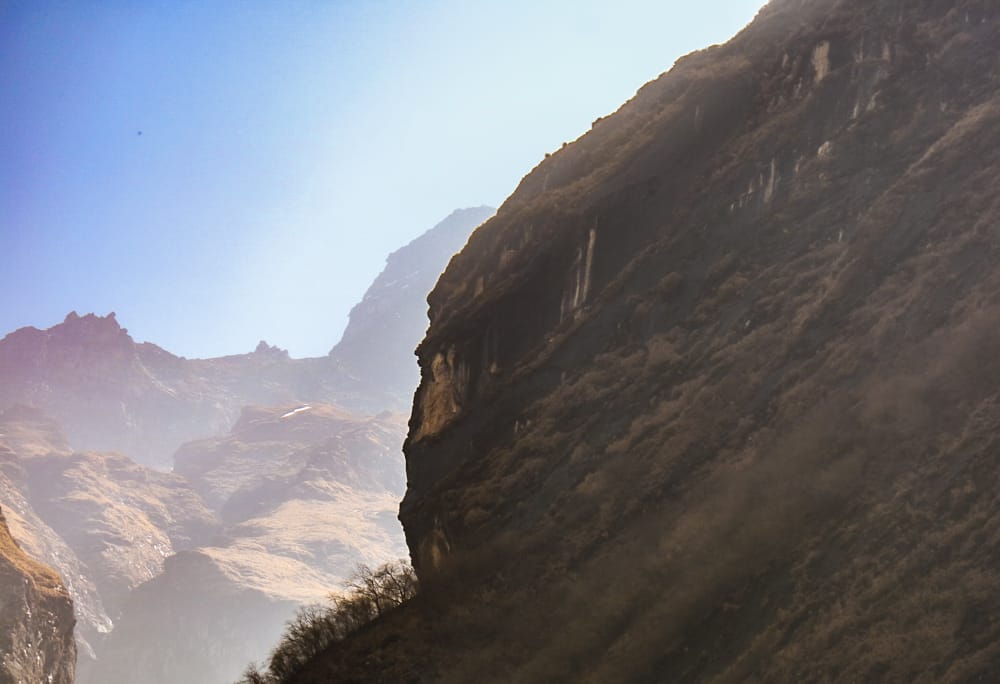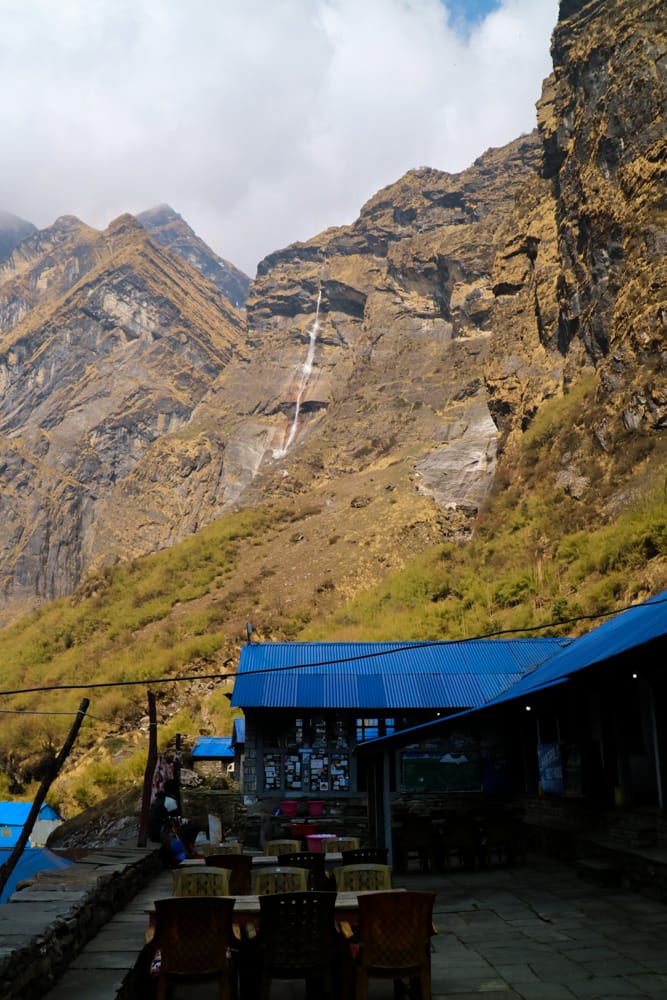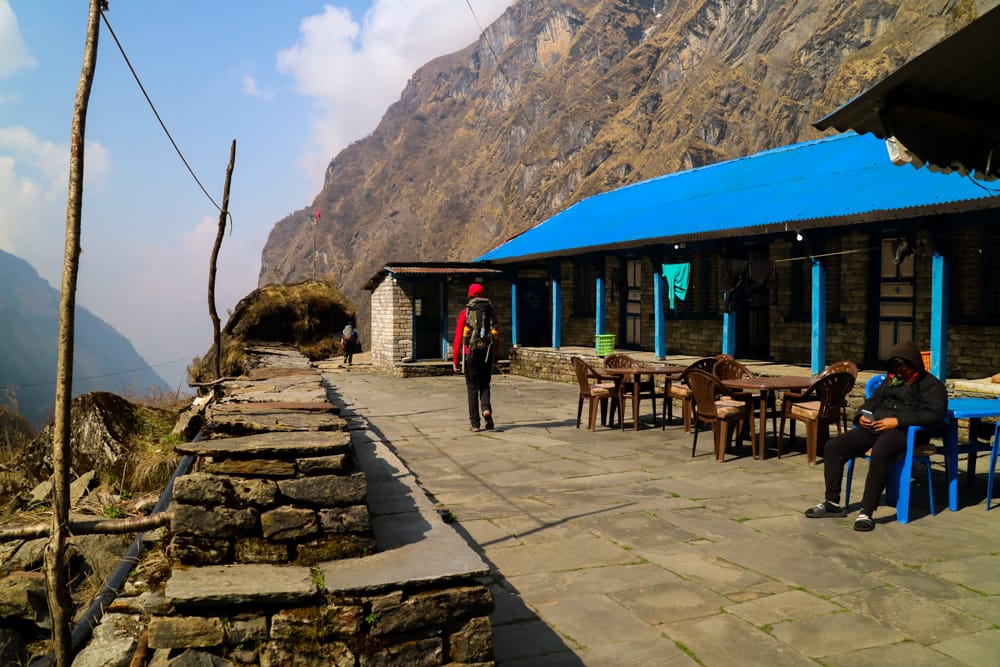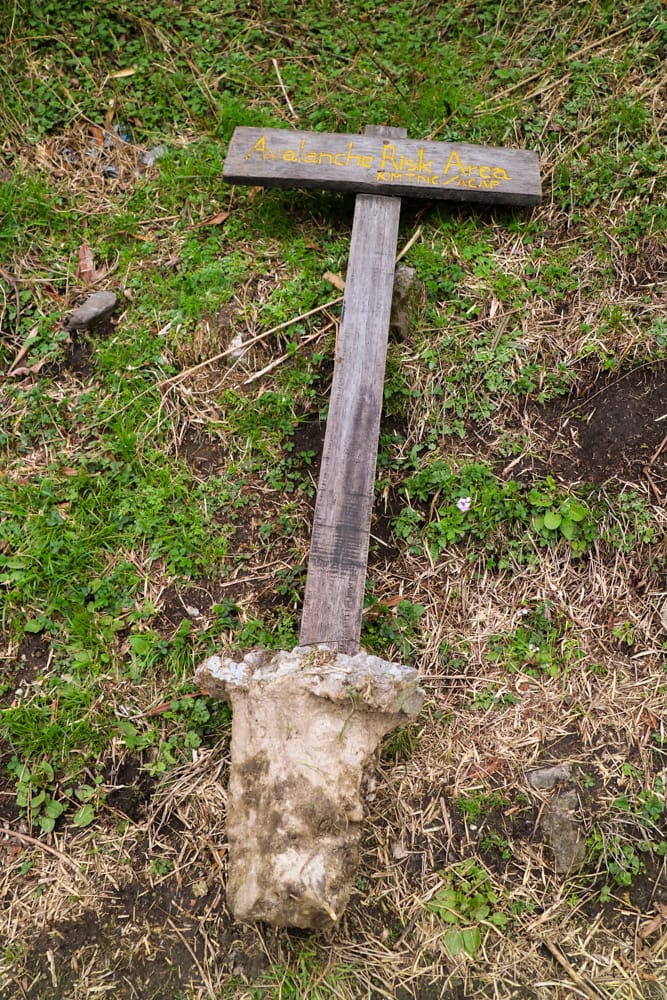 ---
You might also like…