Asking people what the Everest Base Camp Trek difficulty level is will result in hundreds of different answers. Before my trek, I got every answer from, "Honestly, it was so easy. I don't know why anyone says it's hard." to "It was the hardest thing I've done in my life." Here's the thing, difficulty level is a personal thing. Some people can frolic their way to Base Camp while others will struggle a great deal. The funny part is, there's no way to know which one you'll end up being.
I'll break down what makes the Everest Base Camp Trek difficult and you can decide which things you'll be able to handle without a problem and which might cause you problems. Some might catch you by surprise. Most people think that walking for hours is the hardest part, but the walk isn't actually THAT bad. So what makes it so difficult?
---
Getting to the Start
---
For a lot of people, the most difficult part of the Everest Base Camp trek is getting to the starting point. Before I booked my trek, I didn't do that much research on the small details. It wasn't until I was in Nepal and talking to someone who'd just returned that I realized I'd be flying into the "most dangerous airport in the world." This can be a huge deterrent for people who don't like planes. Lucky for me, my flights were smooth. I went to fly into Lukla Airport on a second occasion and wasn't so lucky. I ended up hiring a helicopter to take me after my first flight got stuck in a storm and had to turn back.
Flying to Lukla isn't the only option though. You can take a bus or a jeep to Jiri and hike from there. It will add some days to the trek, but it's a beautiful off-the-beaten path route that avoids the flight all together. You can also charter a helicopter which is much safer and smoother than the small airplanes.
Hours of Walking Each Day
---
I found the amount of walking every day very reasonable. We walked between 4 and 6 hours most days. Some days were longer. The cool thing is that you can choose how long you want to walk as long as you have a flexible schedule. I did Everest Base Camp as a group tour, but I've told other guides in Nepal that I don't want to walk more than 6 hours a day. I get cranky and tired, and I start to complain a lot after six hours. I know that's my limit. I'd rather add an extra day to the itinerary than be a cranky mess. On special days (like the Kala Patar and Gokyo Ri summits) you'll have to wake up early and walk longer, but you don't HAVE to walk longer on other days unless you join a tour group that has a strict schedule to stick to.
---
Going Uphill
---
Going uphill is the most difficult part in my opinion. I spent most of my time living in New York City prior to the Everest Base Camp Trek. We don't have hills in NYC, so going uphill was a challenge for me. My legs just weren't used to it. Luckily, I went up and down a lot of stairs before the trek to help train and that did help. If you can, either go up and down your stairs A LOT or go to a gym and use a stair stepper while carrying your pack.
Pro Tip: If you're going up a steep hill, cut back and forth in a zig zag. It'll take more steps to go up, but it won't be so steep. If you watch guides and porters, you'll notice they rarely go straight uphill. They weave back and forth to keep from exerting too much energy.
---
Being at Altitude
---
Most people struggle with being at altitude. This one is tricky though because there's no way to know how your body will react to it. My body typically handles altitude well. I did experience altitude sickness when ascending too fast on a different trek and it's no joke. The important thing is to drink a ton of water (3-4L a day), take acclimation days (rest days), do acclimation hikes (walk 100m higher than you plan to sleep each night), and walk slow. I mean super slow. Like a snail slow. If you can walk without getting out of breath, you'll acclimate better. The slower you go, the easier the trek is. Make sure you don't join anyone who is in a rush or thinks it's a race. Go your own pace and you'll be fine.
---
Carrying Your Own Pack
---
I don't know about everyone else, but I'm not used to carrying a lot of weight on my back. I had a porter for the Everest Base Camp Trek and it made it so much more enjoyable! I carried my own pack on the Annapurna Circuit and while it was rewarding to do it myself, it was not easy. If you're worried about the Everest Base Camp Trek difficulty, consider investing in a porter. Usually two people can share one porter and they charge $20 a day (which you can split between the two people).
---
Suspension Bridges
---
If you're afraid of heights, then suspension bridges might cause some difficulty for you. I'm terrified of heights. Yes, I know I've gone bungee jumping. That doesn't mean I wasn't about to pee my pants. Also, I was relieved to jump because the bridge was the scariest part for me. Luckily, on the EBC Trek, my group was supportive and literally held my hand while crossing. My advice is to walk in front of your group so you don't get stuck behind people taking photos. Don't look down and keep your eyes on the finish line at the other side.
The Weather
---
One thing I've learned is that weather can make a trip wonderful or it can make you work for it. We had incredible weather when I did the Everest Base Camp Trek, but I did another trek (Mera Peak) not too far away and we got hit with blizzards. Both treks were done in peak season, so it was just luck. Be prepared for all weather and have the proper gear. If you can, have a buffer day in your itinerary so you don't have to walk through a blizzard or heavy rain. Take the day to relax and start back up a day later.
If you're not sure what to pack, check out my EBC Packing List.
---
The Tea Houses
---
I was used to staying in simple accommodations by the time I trekked, but this can be hard on people who are accustomed to a certain level of comfort. You'll be sleeping in a plywood box with no insulation and very thin windows. It's harder to sleep at altitude, and the rough sleeping conditions don't help. Walls are paper thin, and you can hear everything going on in the teahouse. There's no heat in the rooms and often no electricity. The good news is you'll appreciate everything so much more when you return home.
You can read my post on Tea Houses if you want to know more.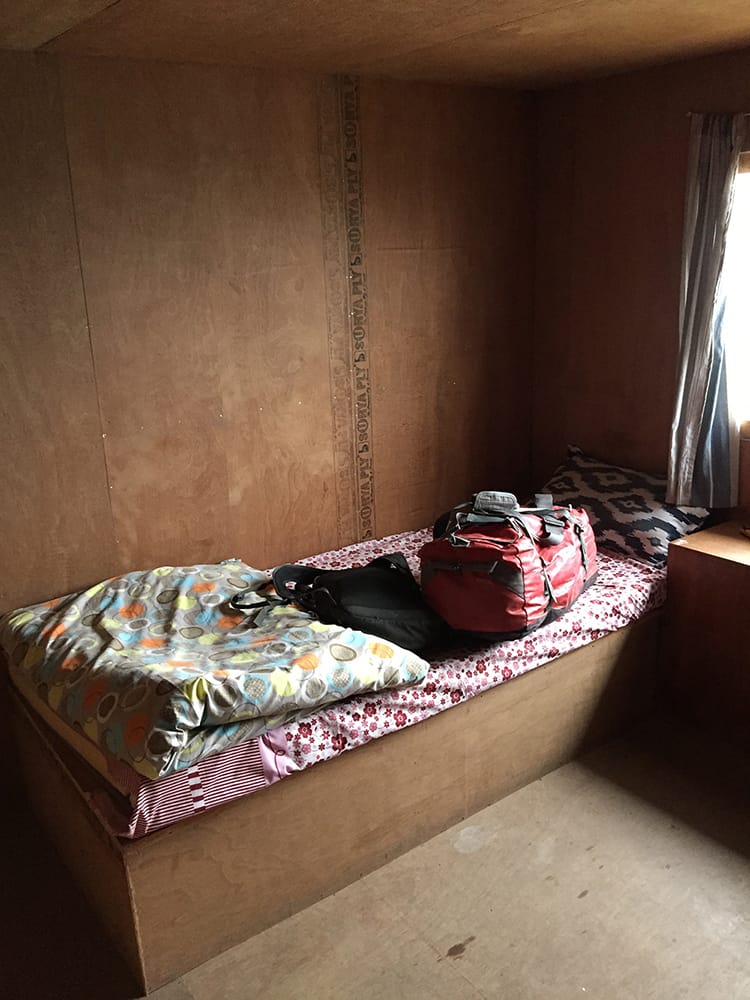 The Toilets
---
Again, if you're used to a certain level of comfort this can be difficult. Teahouses have squat toilets which are sometimes outside the main building. At altitude, you have to pee A LOT (even at night) so going can be an annoyance. Do squats prior to the trip to prepare for the toilets. It'll help your legs feel more stable. On the route, you may have to go behind large boulders as there aren't always toilets available when walking. Everyone else does it, so it's not as awkward as you would think.
Check out my post about the toilets in Nepal.
---
Boredom
---
Sometimes the hardest part of a trek is that you arrive at your teahouse around 1:00pm. Then, you have the rest of the day to twiddle your thumbs. There's no electricity, limited WiFi, etc. I always bring a kindle with a few books downloaded. On one trek, I ended up finishing three books, and I'm a slow reader. Have cards to play with. I learned at least 20 card games from all over the world while trekking to EBC. I recommend "Spoons" since it gets everyone warmed up and is hilarious to watch.
---
The Food
---
I personally love Nepali food, so I don't see this as being a difficulty. I did meet one girl who was struggling though. She had very strict dietary needs (or maybe she was just a picky eater) and was having trouble finding anything she could eat on a menu. She told me she ended up having plain pasta three nights in a row. If you know you're a picky eater or have a dietary restriction, be sure to pack snacks and vitamin supplements. I eat a lot of Nepali food and I still do this. A multi-vitamin is great. I also pack protein bars, fruit/veggie bars, and beef jerky.
---
Travelers Diarrhea
---
About 70% of people who visit Nepal will get travelers' diarrhea. It's hard to avoid since the water isn't potable and hygiene isn't as high as it should be. Make sure to have an antibiotic, activated charcoal, electrolytes and some other basic medicine to make your life easier. Obviously, this can make the Everest Base Camp Trek difficulty level way worse. If you continue to walk without taking a day off, be sure to drink even more than the 3L of water that's recommended. You don't want to get dehydrated at altitude.
---
The Common Cold
---
I got hit with the common cold on the way to Everest Base Camp. This made walking every day 100 times harder. I felt miserable and couldn't breathe through my nose. My throat was sore from the cold air, and I was constantly freezing. My cold ended up turning into pneumonia, and I had to check into the hospital when I got back. Make sure to have cold medicine, throat drops, Vaseline (to keep your nose from getting chapped), and drink lots of fluids. A lot of people catch colds while doing the trek. The cold weather, lack of sleep, close living quarters, and lack of hygiene all make your immune system weak.
---
Thinking Too Far Ahead
---
Most of trekking is mental. I met an amazing couple who were about to call it quits because they didn't know how they could handle 10 more days. Don't ever think about the big picture. It will psych you out. Think about baby steps and small goals. Only think about getting to the next tea stop or lunch break. When you get above 4,000m and it's hard to take just a few steps, think about making it the next five feet. Move slow, breathe steady, and walk your own pace. Don't think too far ahead. Just take everything one step at a time. You can't eat a slice of pizza in one bite. Break it down into manageable bite sized chunks.
Going Too Fast
---
The best way to make the Everest Base Camp Trek more difficult is to make it into a race. Don't run to the finish. Going fast is a great way to get altitude sickness. A guide once told me that most of the people who get altitude sickness are in the best shape because they walk too fast. If you're walking and you're out of breath, you're going too fast. Slow down and enjoy the trip.
Worried about the Everest Base Camp Trek difficulty level? Ask me any questions in the comments!
---
You might also like…