I decided to do the Everest Base Camp Trek with a tour group since I was an inexperienced trekker. Previously, I'd only done three day treks at most, so an eighteen day trek was beyond my level of expertise. Add in the fact that I'd be in a developing country with a danger of altitude sickness, and I was way out of my element. Having done the trek and completed it, I thought it'd be helpful to share the Everest Base Camp trek itinerary with others who may want to try it on their own.
Our group of ten was able to make it through the entire trek without getting altitude sickness while a lot of other groups had members turn back before reaching Everest Base Camp. I met people who did the same trek in twelve days, so this schedule leaves a lot of time for acclimating and is much better suited to people who don't trek as often. Of course, altitude sickness can happen to anyone at any time, and this schedule doesn't guarantee anything.
Note: The places listed are where we slept for the evening. The oxygen concentration is compared to 100% at sea level.
---
Everest Base Camp & Gokyo Overview
---
Duration: 18 days
This trek can be done in a shorter period of time if you cross the pass instead of going down and around.
Difficulty Level: Moderate/Difficult
Highest Altitude: 5,643 m (18,514 feet)
Permits: The Sargarmatha National Park entry fee is 3,390 rupees ($34 USD) and the TIMS is 2,000 rupees ($20 USD)
---
Everest Base Camp Trek Itinerary Map
Note: This map should not be used for navigational purposes as some of the village locations are estimated. This is only meant to be used as a visual aid.
---
Day 1 – Kathmandu
---
1,360 meters (4,461 feet)
Oxygen Concentration 86%
Our trip started in Kathmandu. Since flights out of Lukla are not always guaranteed, you'll want to schedule the earliest flight possible. Therefore, staying over in Kathmandu the night before is key. I'd actually recommend getting here a few days early to explore the area. Since Kathmandu is already at 1,360m, it's an easy way to acclimate a tiny bit if you are coming from sea level. I spent three days there total before the trek.
Day 2 – Phakding
---
2,652 meters (8,700 feet)
Oxygen Concentration 74%
Flights into Lukla are not guaranteed as the weather can change any minute in the Himalaya. Unfortunately, that means you should leave at least a few days at the end of your trek in case your flight gets pushed back. I met a few people who had their flight pushed back three days in a row.
Once you are in Lukla (2800m), you can grab breakfast and watch the planes fly in. It's said to be the most dangerous airport in the world with a mountain on one side and a cliff on the other. The airstrip has a large slope, and watching planes land is pretty exciting. You can check out my post on the flight to Lukla.
Day 2 is an easy day of hiking along the Dudh Kosi River. You get to cross the first few suspension bridges which are rather exciting, especially if a cow or yak is crossing with you. The trek only takes about 3 hours and is on what people call "Nepali flat." Meaning that you go up and down but never really gain much altitude. We spent the night at the Mountain Resort.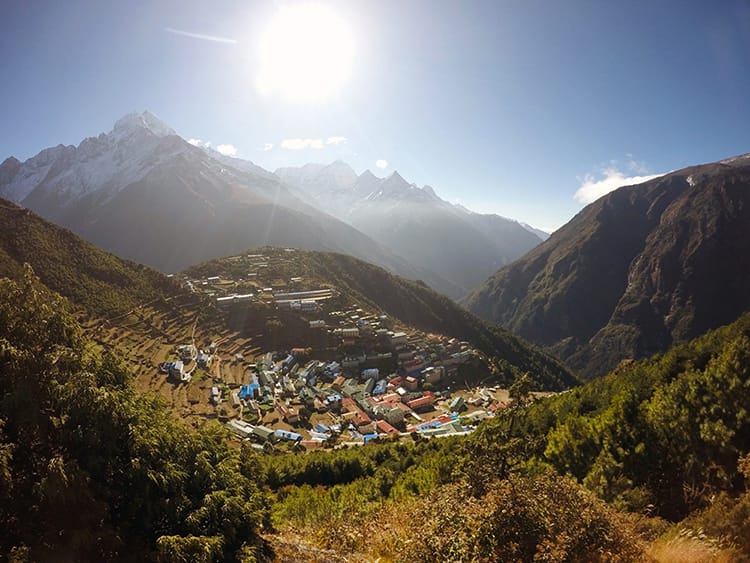 Day 3 – Namche Bazaar
---
3,446 meters (11,305 feet)
Oxygen Concentration 67%
It's a 7 hour hike from Phakding to Namche Bazaar. You get to go over a massive suspension bridges on route. There are a few, but the tallest is 160m high. We stopped in Monjo for lunch, and then headed up a steep incline to reach Namche. The incline on the second half of the trek is a little tougher, but if you take it slow, it's not so bad.
Namche Bazaar is the best place to spend two nights to acclimate. Our guide told us that most of the people who get helicopter evacuated don't spend two nights and end up getting altitude sickness. This is also the last places to buy or hire trekking gear. The small city is really cute and full of coffee shops, stores, and bars. It also has the highest Irish Pub in the world, which I stopped in on the way back down. We stayed at the Camp de Base hotel for two nights.
Day 4 – Namche Bazaar
---
3,446 meters (11,305 feet)
Oxygen Concentration 67%
One of the best ways to acclimate to the altitude is to take walks to a higher altitude, and then, come back down. We took a walk to the National Park Headquarters where you get your first glimpse of Everest. Oddly, it's not the biggest mountain in sight since it's so far away, but it was still worth the view. There's also a small museum, statues, etc. Make sure to go in the morning before the clouds roll in. Sagarmatha National Park is a UNESCO site.
After the National Park Headquarters, we did a short trek north of Namche. At the top was a teahouse (Everest Sherpa Resort) where we had a snack and hot tea before coming back down. The trek takes a few hours to get up and back, but the views from the tea house are really incredible.
While in Namche, I'd recommend taking a hot shower since it gets pretty cold as you gain altitude. It's also a good place to get the outfit you've been wearing the last few days laundered.
Day 5 – Mongla
---
3,970 meters (13,024 feet)
Oxygen Concentration 63%
The morning starts out similar to the acclimation trek on day 4. We passed the Shyanboche Airport where helicopters drop off supplies for porters to carry up the mountain. A good place to stop for lunch is in Khumjung Village. We visited the Hillary School while in town. The total trekking time for the day is about 4 hours. From Mongla, you'll be able to see Phortse across the valley. We stopped there later in the trek on the way to Everest Base Camp, so it was interesting to see where we would be staying in a few nights. After checking into our teahouse (Snowland View Lodge), we did a short one hour trek up one of the small hills nearby to help acclimate for the evening.
Day 6 – Dole
---
4,038 meters (13,248 feet)
Oxygen Concentration 62%
It takes about 4 hours to get from Mongla to Dole. The trek starts out by descending 300m and then you have to work your way back up. Around this time, I could feel the effects of the altitude while walking. My mind was foggy, and I had a hard time concentrating. Over the course of the day, the views are pretty incredible, as you get to see several of the highest mountains in the world including Ama Dablam, Cho Oyo, Gyachung Kang, and Taweche. We stayed at the Alpine Cottage Lodge. After checking in, we took a short trek up one of the nearby hills to help acclimate. My resting heart rate that night was 83 beats per minute.
Day 7 – Machhermo
---
4,465 meters (14,648 feet)
Oxygen Concentration 59%
Day 7 is pretty short with only a 3 hour hike through gradual terrain. You'll notice that there are no more trees or greenery at this altitude. This is also the first day we saw snow. Overall, the day was easy, but the altitude really had an effect. We all moved very slowly, despite the short walking time. After checking into the Lodge at Machhermo, we did an acclimation hike to the base of Kyajo Ri. It took about an hour and a half. My resting heart rate that night was 97 beats per minute.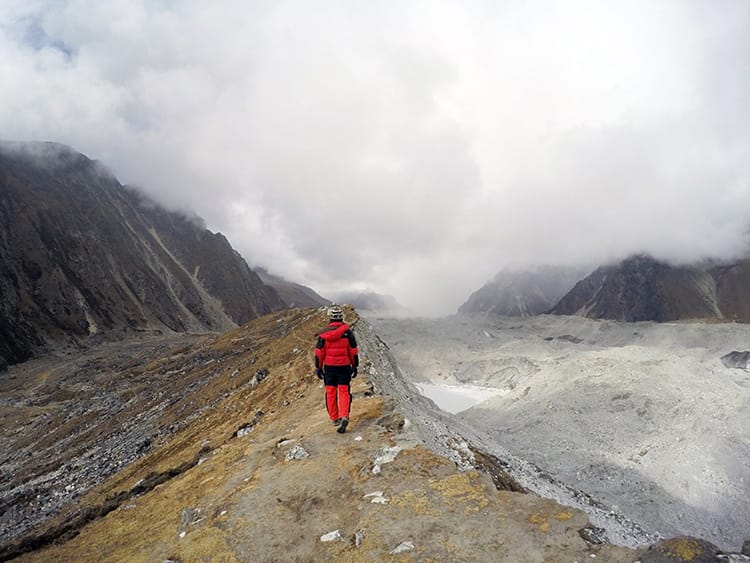 Day 8 – Gokyo
---
4,720 meters (15,485 feet)
Oxygen Concentration 57%
Trekking takes about 3.5 hours on Day 8. The terrain is steep and rocky. The altitude makes everything more difficult. You get to pass two smaller lakes before reaching the coveted Gokyo Lake. The lakes are all beautiful and worth going out of the way for. After lunch we did an acclimating hike up the ridge behind the hotel to get a look at the Ngozumpa Glacier which is the largest in Nepal. To be honest, it wasn't what I pictured a glacier to look like.
Some groups cross the glacier to get to Everest Base Camp via the Cho La Pass, but safety depends a lot on the weather. Our group planned to go back down and around which gave us more time to acclimate. We stayed at the Gokyo Resort while in town. My resting heart rate that night was 95 beats per minute.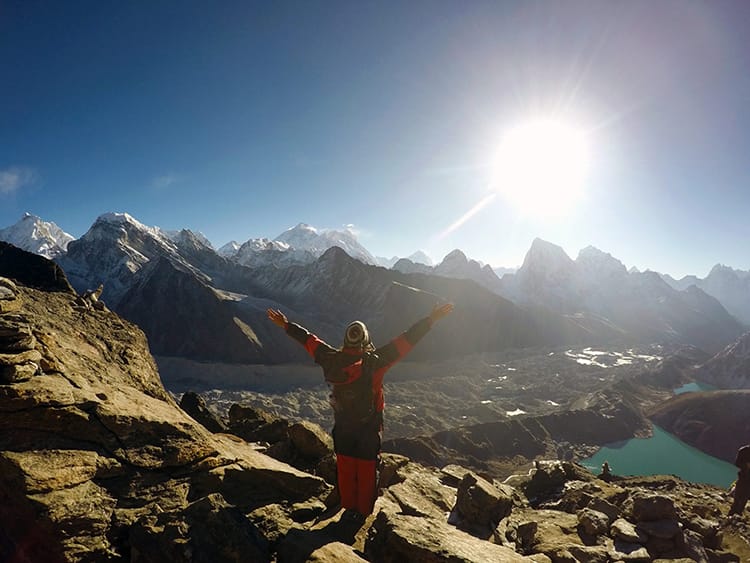 Day 9 – Machhermo
---
4,465 meters (14,648 feet)
Oxygen Concentration 59%
We started day 9 by waking up at 4:00am for a sunrise hike up Gokyo Ri. The trek is extremely steep, but starting it in the dark makes it easier since you can't see how far you have to go. Most people can trek it there and back in a couple of hours. We took our time since the altitude made it difficult to breathe. The views from the top are the best views of the entire trek. You can actually see four peaks over 8000m including Everest (8848m), Cho-Oyo (8153m), Lhotse (8511m) and Makalu (8481m). Trekking before the sun rises is extremely cold, so make sure to wear lots of layers.
After the morning trek, we had breakfast at our teahouse and then descended back to Machhermo. The trek takes less than 2 hours since it's mostly downhill. Your lungs will also start to feel amazing as they fill with oxygen. I got a mini high from going to a lower altitude and found myself singing "I Feel Good" all the way down. Once back in Machhermo, we visited the hospital nearby for an amusing speech on altitude sickness. The doctors were really funny and made an interesting presentation. I'd recommend stopping by since there's not much else to do after lunch.
Day 10 – Phortse
---
3,840 meters (12,598 feet)
Oxygen Concentration 64%
Not many trekkers pass through Phortse so the path there is nearly empty. It takes about 5 hours total, so it's a good idea to stop in Dole for lunch. The trek starts off downhill, but eventually there is a steep incline right before you make it to your stopping point. The village itself is quaint and offers beautiful views. It's also a much needed break from the cold since it's a little warmer at this altitude. I'd recommend taking a hot shower if you can find one and doing some of your laundry. At this point, I began to get a cold. Had I been trekking on my own, I would have spent a second night here to get better.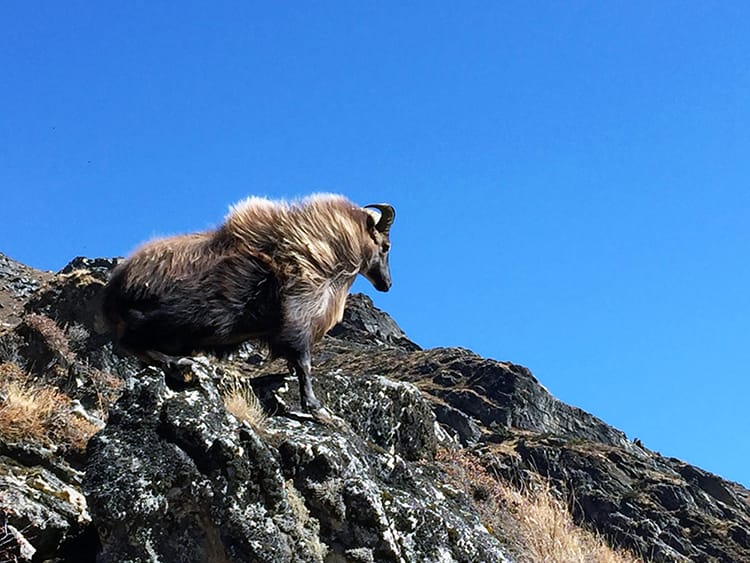 Day 11 – Dingboche
---
4,360 meters (14,304 feet)
Oxygen Concentration 60%
The trek to Dingboche will take approximately 6 hours. We stopped in Pangboche for lunch and checked out the local monastery where a 'yeti scalp' is kept. My group thought it looked more like a coconut shell than a yeti scalp, but apparently it's a big deal to locals. Plus, when else will you get to see an alleged yeti scalp?
Once you arrive at Dingboche, you'll get great views of Ama Dablam and Lhotse. This was one of the hardest days for me since I had a cold and could barely breathe. On the bright side, we got to see a lot of mountain goats including the Alpha who posed for some photos.
At night, I popped out of my room at the Peak 38 View teahouse to use the bathroom. The mountains were lit up by the moon, and there were a million stars in the sky. I stared at them as long as I could before I got really cold. In the morning, I heard a few other people saying how incredible they thought the view was at night too.
If you're interested in a harder trek, you can combine the Everest Base Camp Trek with the Island Peak trek which starts from Dingboche.
Day 12 – Lobuje
---
4,930 meters (16,174 feet)
Oxygen Concentration 56%
To be honest, I don't remember much about day 12 since I was still sick. My notes for the day are even less helpful. We trekked a total of 6 hours. The incline was pretty gradual and most of it was on a wide open trail. After lunch, the terrain became more difficult. There's a large hill, but going slowly and zigzagging your way up makes it feel less difficult. At the top are memorials for people who have passed away on expeditions to Everest. It's a long day that felt even longer with my cold. We spent the night at Alpine Home, which was the warmest tea house we stayed in on the whole trek.
Day 13 – Gorak Shep
---
5,160 meters (16,929 feet)
Oxygen Concentration 54%
Day 13 is one of the longest days. It's a three hour trek to Gorak Shep and another 5 hours to Everest Base Camp and back. The three hours to our teahouse, Snowland, took me longer than planned. The trek there isn't difficult, although it's very crowded, and there is a rocky section which requires some fancy footing.
We arrive around 10:00am but were told to have lunch since we wouldn't get back until 3:00pm or later. Some of us ordered cheese sandwiches to go. The trek to Base Camp (5364m) really isn't that hard, but it's extremely difficult to breathe. We passed someone who had to turn back from altitude sickness when he started throwing up mid trek.
Very few people realize this, but you can't actually see Everest from Everest Base Camp. Weird, I know. We went during the end of the season so no one was trying to summit. This means that Base Camp had no tents set up and was just a rock in the middle of a glacier. That being said, you get to see the Changri Nup Glacier and the notorious Everest Ice Fall (one of the most dangerous sections when trying to summit).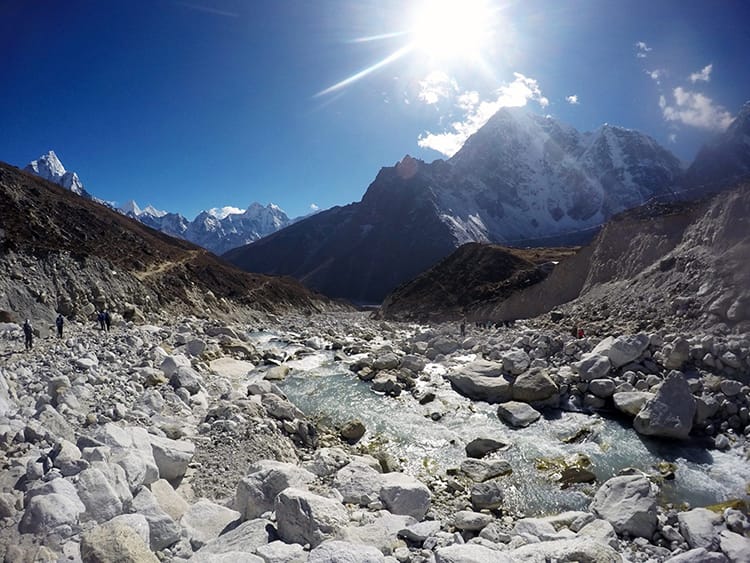 Day 14 – Pheriche
---
4,270 meters (14,009 feet)
Oxygen Concentration 60%
Day 14 is supposed to start at 4:00am with a hike to the top of Kala Patar (5643m). My body had other plans. I woke up unable to breathe in the freezing cold air and had to hop back into my sleeping bag and hide my face just to catch my breath. I couldn't stop coughing and decided there was no way I could do the morning trek. Later, I coughed up blood and was happy with my decision not to push myself earlier. The trek up takes about 1.5 hours and down takes about 45 minutes.
After my group came back from Kala Patar, we had breakfast in Gorak Shep before heading back to Namche Bazaar. The trek down takes about 5 hours and is fairly easy for most people. I struggled the entire way because of my cold, but not everyone had that experience. You can read about what it was like here. We stayed at the Sunrise Guesthouse in Pheriche.
Since I didn't conquer Kala Patar, I highly recommend checking out Erika's Travelventures post about the Kala Patthar Trek.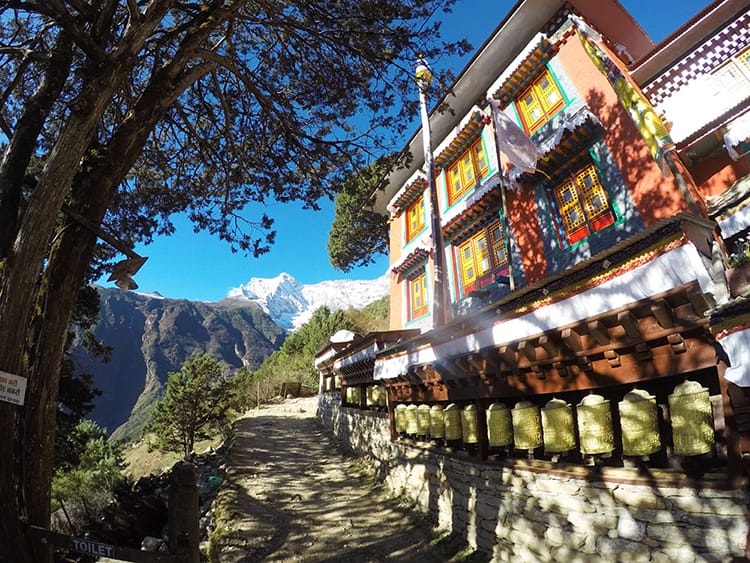 Day 15 – Namche Bazaar
---
3,346 meters (10,977 feet)
Oxygen Concentration 68%
Day 15 is a day of "Nepali flat," where you go up and down continuously. Despite that, it becomes so easy to breathe on the descent that you'll hardly notice the inclines. There are some sections where you start to feel the last two weeks worth of walking in your muscles, but overall, it's not so bad. It's a long day with around 7 hours of trekking. We took a long break at the Thyangboche Monastery. Inside, beautiful brightly colored paintings cover the walls. There's also a bakery with really good coffee nearby.
Eventually, you'll make it back to Namche Bazaar where hot showers and laundry services await you. You'll also be able to get free wifi at the cafes and bars. I recommend stopping by the Irish Pub for a celebratory Bailey's and hot chocolate. This time, we stayed at the Kala Patar Lodge while in town.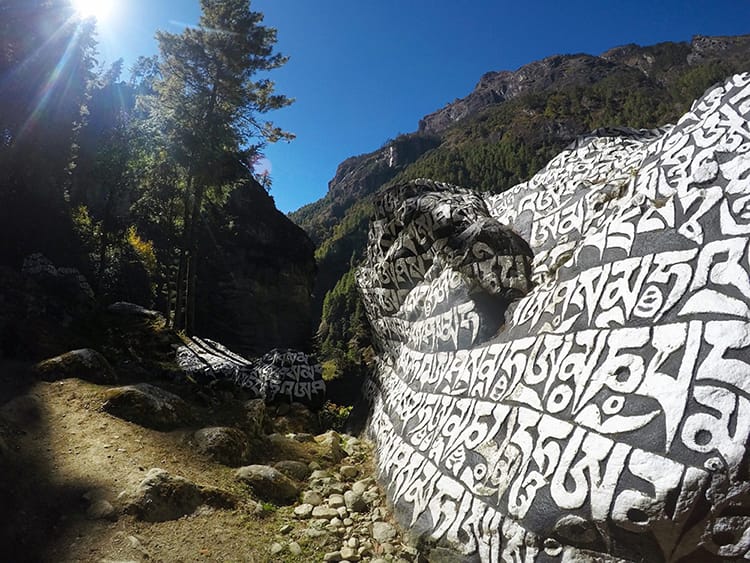 Day 16 – Phakding
---
2,652 meters (8,700 feet)
Oxygen Concentration 74%
The walk to Phakding feels like a breeze after the last few days. You only need to trek for 4 hours to get there. It's mostly downhill with a few uphills mixed in. Overall, you'll feel amazing because you can breathe normally again. We stayed at the Mountain Resort which was the same place we stayed on the way up.
Day 17 – Lukla
---
2,800 meters (9,186 feet)
Oxygen Concentration 72%
Day 17 included 3.5 hours of trekking. It's mostly easy, with some uphill as you approach Lukla. You'll get there early enough that you'll have time to explore. We passed through Lukla quickly on arrival, so it was fun walking around town once we arrived. We spent time in the cafe attached to the pub and burger joint. The coffee there was great, and it had amazing views.
Day 18 – Kathmandu
---
1,360 meters (4,461 feet)
Oxygen Concentration 86%
We flew out of Lukla on the third flight of the day (around 6:30am). Luckily, the weather was clear, and we took off on time and made it back to Kathmandu for breakfast. Make sure to leave a few extra days in your itinerary just in case you aren't able to fly out right away.
---
---
You might also like…