Trekking to Everest Base Camp is daunting to say the least. Every time I thought about what to pack, I felt overwhelmed. While the company I went with provided an Everest Base Camp packing list, I also did extensive research online to ensure I didn't forget anything. For my trek, I did the Gokyo Lake to Everest Base Camp route in November which lasted 17 days total, and I had a porter. Since I was coming from tropical countries, I couldn't bring any gear with me and had to buy everything in Kathmandu. Since then, I've slowly upgraded my gear with quality items. As an avid trekker, I invest in a few high-end items each year.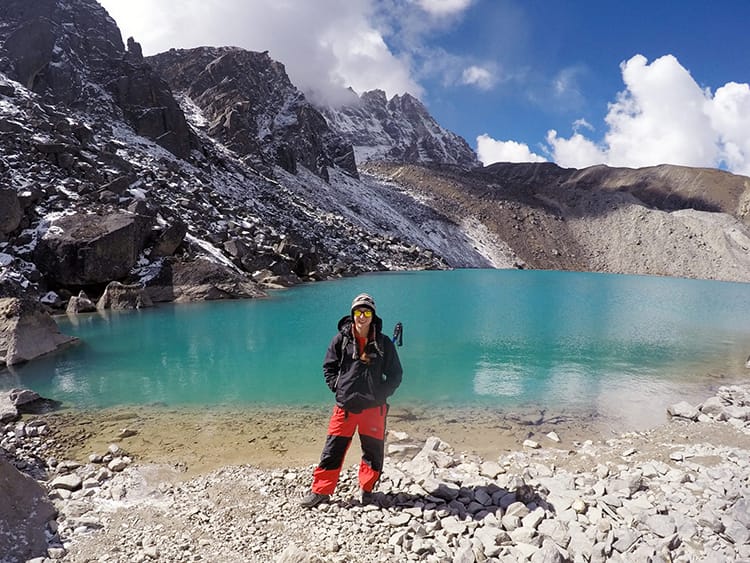 Everest Base Camp Online Packing List
---
I've hand selected each of these items and curated them into my own Everest Base Camp packing list kit. That way you can easily find them all in one place without opening a million search tabs on your browser. Everest Base Camp was my first trek. At the time, I had cheap gear that I purchased in Thamel. I ended up getting really sick with pneumonia. The knock offs I purchased did not keep me warm, and I constantly had chills. Since then, I've invested in much better gear. You can see me wearing these items in more recent photos, however, I am wearing cheap versions in all of my Everest photos. Most of the items below come from Amazon, Eddie Bauer, or REI.
Everest Base Camp Packing List Breakdown
---
Clothing
Down Coat – Before I left, some people told me I wouldn't even need a down coat. I'm glad I didn't listen because there were some nights that were freezing, and I walked around the tea houses wearing mine. We also got snow one day and some pretty freezing winds another. I invested in an Eddie Bauer MicroTherm Coat since then, and I love it. It's super compact and can be zipped down into its own pocket.
Waterproof Jacket – A waterproof jacket is a must. I wore mine most days in the morning and when we were trekking in the shade. It didn't rain on our trip, so luckily I didn't need it for that.
Waterproof ¾ Season Pants – I have a pair of Eddie Bauer Guide Pro Pants which are water-repellent. The best thing about these pants is that they stretch a little which makes going uphill more comfortable. They're also very warm.
Lightweight Trekking Trouser – I've invested in a good pair of lightweight trousers. I have these jogger pants which I can also wear when I'm not trekking. Unlike a lot of trekking trousers, these are actually cute. On hot days, they're super lightweight and comfy. On cool days, I can layer them with leggings and then remove a layer as it gets hotter.
Quick Dry T-Shirts (2 short sleeve, 1 long sleeve) – Quick dry shirts are a must. Some days were so hot that I was sweating, and by the afternoon it'd be freezing. Having wet clothes on is extremely uncomfortable. It also made it easier to wash them along the way.
Thermal Underwear (1 top and 1 bottom) – I definitely splurged on the thermals since I'm always cold. These came in handy at the highest altitudes, especially at night. I'd read that some people get two pairs (one for day and night), but I found one set to be sufficient.
Fleece Jacket – I lived in my fleece jacket. I wore it under my coat on cold days, over my t-shirt on warm days, and to bed. I purchased a really nice fleece because it's one of the items I wear the most while trekking.
1 Yoga Legging – I wasn't sure about bringing yoga leggings but was super happy I did. They are great for layering under trekking trousers in the morning when it's cold and then striping down in the afternoon.
2 Sports Bras – I brought two quick dry sports bras from home which were easy to pack and wash.
4 Pairs of Socks – I brought two pairs of wool ankle socks and two tall pairs. I managed to wash each pair once and kept one pair of ankle socks separate for sleeping. This was in November, so three pairs of short socks and one pairs of tall socks is better for warmer months.
10 Underwear – Doing laundry was harder than I thought. There wasn't always a place to dry clothes, and often we arrived at places just as it got cloudy. While we could hang things by the fireplace in lodges or off our bags during the daytime, underwear were a little trickier. I pack extra underwear to avoid doing laundry every other day.
Pajamas – I used a long sleeve cotton t-shirt as a sleep shirt and loved it. I definitely recommend long sleeves since I wore a fleece over it and was still cold most nights. I slept in my leggings or thermals at night.
Hiking Boots – I had a lightweight hiking boot / sneaker hybrid for this trek and really liked them. Now, I've upgraded to more of a hiking boot than a sneaker, and they're amazing. I do more difficult treks now, so my La Sportiva Boots are great for grip, balance, and ankle support. Whatever you choose, make sure you've broken them in beforehand.
Flip Flops – These are handy for walking around the tea houses or using the toilets at night.
Accessories
Don't Buy Gaiters – I found these to be a waste of money. I never used them once and to be honest I'm not really sure why you'd need them unless you were trekking in really deep snow.
Winter Hat – I lived in my winter hat. In fact, someone in my group said he'd never seen me without it on.
Baseball Cap – I'm not big on baseball caps, but I wore mine a lot on this trek. The sun is strong on the mountain, and a cap really helps keep the sun off your face and out of your eyes. If you want a better quality for sun protection, I recommend a hat with UV protection.
Buff – I'd never owned a buff before, but these are a must. They make it easier to breathe and keep dust out of your face. I wear this buff everywhere.
Fleece Gloves – Warm fleece lined gloves are necessary, especially if you plan to do the sunrise treks.
Polarized UV Sunglasses – The ones I bought in Kathmandu were overpriced and cheaply made, so I recommend buying these before you arrive. I ended up getting these polarized sunglasses for my next trek, and I love them.
Backpack Rain Cover – We had beautiful weather so I only needed this once, but it's a must if your backpack isn't waterproof.
Trekking Poles – Trekking poles are a personal preference. I did the whole trek except for one steep downhill section without poles. Others in my group used them the entire time. Since this trek, I've started to use trekking poles regularly. I bought this pair and they're great for the price!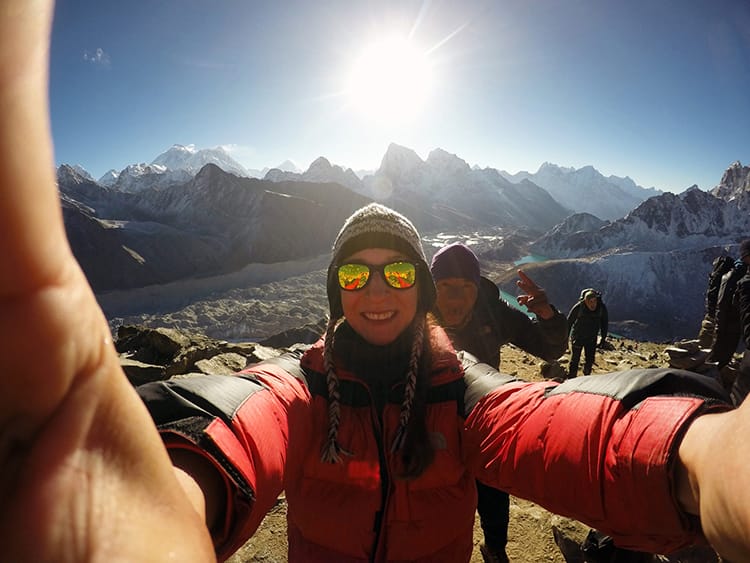 Toiletries
Dental – I brought a toothbrush, toothpaste, and some dental floss.
Shower – I bought individual packets of shampoo and conditioner for 5 rupees each as I went. I also brought a small bar of soap which came in handy for laundry as well. Make sure to bring your own quick dry towel since tea houses won't provide one. On days when it was too cold to shower, I used wet wipes. Baby powder was a nice treat for my feet at the end of each day. It also worked as a dry shampoo on greasy hair days.
Sun Protection – I bought a SPF 50 sports sunscreen which stays on even when you sweat. I also had an SPF 50 lip balm which was handy on really hot days.
Bathroom – You'll need to pack your own toilet paper. I paid 395 rupees ($3.95) for four rolls in Kathmandu. On the mountain, it can cost 500 per roll ($5). You'll also need an antibacterial hand sanitizer. A lot of places don't have soap or running water. I used two travel sized bottles during the trek.
Feminine Hygiene – I'd recommend getting a Blossom Cup. If you don't want to use one then make sure to bring whatever pads/tampons you'll need as they are hard to find and expensive.
Other – I brought fabric softener sheets from home. I put them in with my clean clothes and laundry to make sure everything stayed smelling fresh over the 3 weeks. They definitely made a difference.
Snacks
Tea Bags – Ordering tea in the mountain can be expensive. A cup can range from 50 rupees to 250 rupees. Ordering hot water and bringing your own tea bags or instant coffee is a lot cheaper.
Trail Mix – Definitely have some trail mix with you. This is great for tea breaks, early morning hikes, extra altitude treks in the afternoon, etc. 5 small bags is good.
Granola Bars – A variety pack of granola bars is also great for snacking. I like to bring 5 with me.
Kit Kat Bar (Bag of minis) – This was the best thing I brought. Chocolate on the mountain can be pretty expensive, so bite sized Kit Kats were perfect and lasted my entire trek.
Medicine/First Aid
Diamox – Diamox is medicine for altitude sickness. I spoke with my guide and decided not to take this while ascending. I didn't have any problems, but I was glad I had it with me just in case I needed it.
Cold Medicine – I'm so glad I had cold medicine with me. I got a nasty cold which lasted the entire second half of the trek.
Antibiotics – Luckily, I did not need antibiotics, but I know a few people who did. A few people in our group got travelers diarrhea, and one got food poisoning.
Olive Leaf and Zinc – I brought some immune boosting vitamins in case I got sick. I actually went through my entire stash in two days when I had a cold. I'd definitely pack more next time.
Antiseptic Towelette, Neosporin – I didn't need these, but you never know.
Advil/Tylenol – I brought some pain medication just in case. I didn't need any, but a guy in my group had a terrible headache one day, and I was able to help him out.
Airborne Chewables – I went through these like candies when I was sick. Prior to my cold, I took a couple a day as a vitamin supplement.
Tiger Balm – I didn't use my tiger balm, but it was good to know I had it in case of sore muscles.
Hydration Packets – Ceralyte hydration packets are great. I didn't need mine since I drank 3 liters of water a day, but I'm glad I had them just in case.
Diarrhea Medicine – Again, I didn't need this, but I was happy I had it just in case.
Throat Lozenges – I should have bought two bags. My throat was so dry that I ended up coughing up blood one day. I also woke up several nights coughing and felt awful for my roommates who had to listen. Almost everyone on my trek had a sore throat at least one day.
Knee Braces – Going downhill takes a toll on your knees so having a brace can be handy.
Water Purification Tablets – Water gets more and more expensive the higher you get. 1 liter at the higher altitudes can cost $4, and you need to drink about 3 liters a day. Water tablets are so easy to use and take up no room in your luggage. I bought mine from Trekking Gear (in Kathmandu) for 450 rupees ($4.50)
Bandaids, Athletic Tape, Ace Bandage – These were great in case of an emergency or blisters, but I didn't need to use any during my trip.
Vaseline – I used so much vaseline on my lips and nose to keep them moisturized especially when I had a cold. This was a life saver at higher altitudes.
Sleep/Night Time
Sleeping Bag – I rented a four seasons sleeping bag up to -20 degrees. Other people had lighter ones, but we were all freezing, so I'd go with the warmest one possible. Rented from Hi-Himal Sports Wear International for 80 rupees a day (1600 total or $16.00)
Silk Sleeping Bag Liner – Since I was renting a sleeping bag, I wanted to have a liner as well. It added some extra warmth and was worth the extra cost. Bought from Everest Outdoor Gear's for 650 rupees ($6.50)
Headlamp – A lot of the tea houses work on solar power and sometimes the electricity runs out at night, so you'll need a headlamp to go to the bathroom. We also did sunrise treks which started before it was light outside.
Slippers – I absolutely loved wearing my yak wool slippers around the tea houses at night. They weren't a necessity, but they made my nights more comfortable. Bought from a street vendor for 200 rupees
Eye Mask and Earplugs – I didn't use mine, but the walls are thin in the tea houses so these are helpful for light sleepers.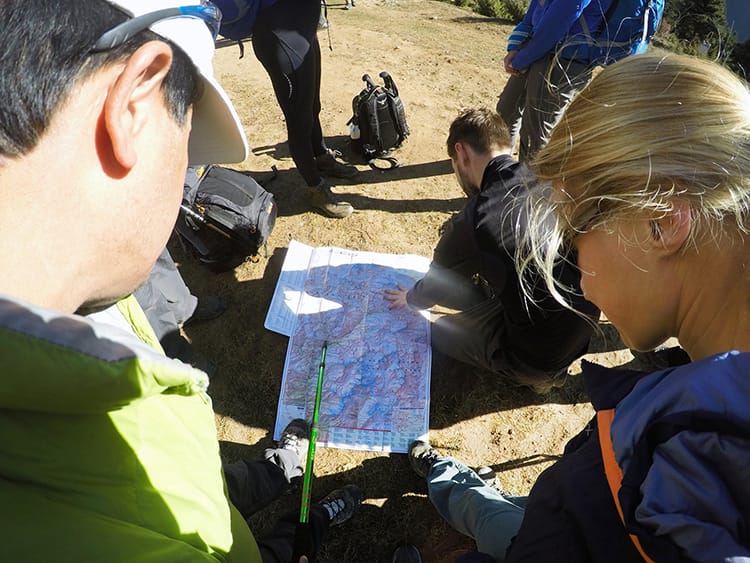 Electronics
Goal Zero Battery Pack – Electricity is expensive on the mountain, so I'd recommend getting a solar panel and powerpack. I only charged my battery pack one time for 300 rupees ($3), but I know some people who paid a lot to charge electronics.
GoPro, Spare Batteries, Charger – I opted to only bring my GoPro instead of my traditional camera. It's small size and battery life made it an obvious choice. I brought two extra fully charged batteries as well. I had to charge each battery one time to last the entire trip.
Cellphone, Charger – I charged my phone three times and paid for WiFi twice. WiFi cost 600 rupees ($6) for 200mb. It was enough to use WhatsApp a few days.
SIM Card – I had Ncell and managed to have service for several days of the trek. At higher altitudes it didn't work. You can get a card for under 1000 ($10) but may need to search for a good deal in Katmandu as some places tried to charge me triple. You can read my post about SIM card options.
Outlet Adapter – This adapter came in handy twice when our room actually had an electrical socket, and we didn't have to pay to charge.
Kindle – I almost didn't bring my Kindle and changed my mind at the last-minute. There is a lot of down time, and I finished two books on the trek. Definitely stock it full of books before leaving because WiFi is expensive.
Audible – Don't like carrying a book or Kindle? Check out audible! You can sign up for a 30-day free trial and get two books free by clicking the banner below! If it's not for you, you can cancel any time.
Other
Passport & Passport Photos – No one ever checked my passport, but I did need passport photos for my permits to enter the park.
Mudder Waterproof Bags – We only had one day where it rained for about 10 minutes which was really lucky. I swear by these bags in case of a downpour. There are times when there is nowhere to take cover, so protecting your electronics, passport, and wallet is important.
Playing Cards – Someone else will always have playing cards, but I'd recommend bringing a pack just in case. We probably played cards for about two hours every night.
Copy of Travel Insurance – Travel Insurance may be required if you are trekking with a tour company. Even if you are trekking alone, it's good to have this in case you need to be helicopter evacuated. I recommend World Nomads since that's what I use and have been very happy with. They cover trekking up to 6,000m in their Explorer Plan. I didn't use my insurance on the mountain, but I had pneumonia on the trek and had to be admitted to a hospital a week after returning. They covered all of my expenses for a two night stay.
I used almost everything I brought with me except a few emergency items. Have any questions about my Everest Base Camp packing list? Leave them in the comments.
---
Printable Everest Base Camp Packing List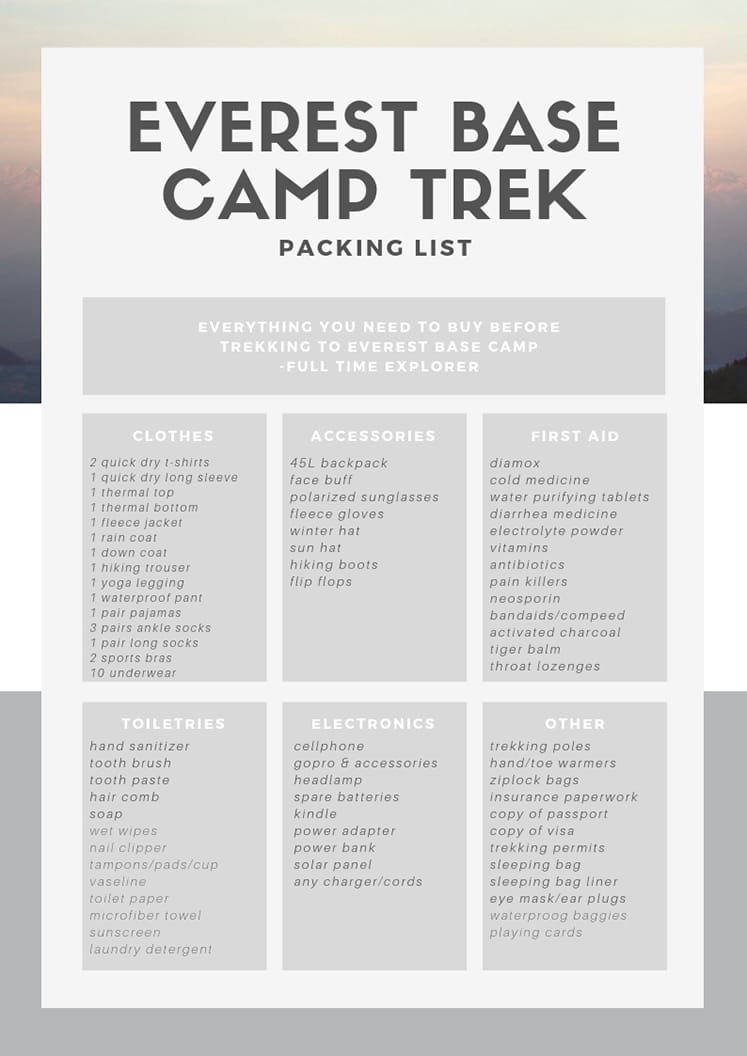 ---
You might also like…