While trekking in Nepal is world-famous, hiking in the country often goes overlooked. Hiking in the Kathmandu Valley is actually one of the best ways to see the Himalaya without having to rough it in the wild, and hiking to Nagarkot from Bhakatpur is a great way to start. After spending a few days in Bhaktapur, we decided to do a small seven-day trek around Kathmandu Valley. The great thing is, each part can be done individually as a day hike. You can take a bus to Bhaktapur to start, and then take a bus back to Kathmandu the following morning from Nagarkot.
There are several ways to hike from Bhaktapur to Nagarkot, but we wanted to include a visit to Changu Narayan Temple which is believed to be the oldest temple in Nepal. The temple is a little out-of-the-way, and therefore, makes this hike feel a bit more like a proper trek because of the length. If you skip Changu Narayan, you'll save a couple of hours of walking. The hike to Changu Narayan took us about 2 hours, but you can also take a bus there. From Changu Narayan to Nagarkot took about 4 ½ hours. We walk at a medium pace and tend to stop a lot for photos and tea. We also gave ourselves a one hour lunch break.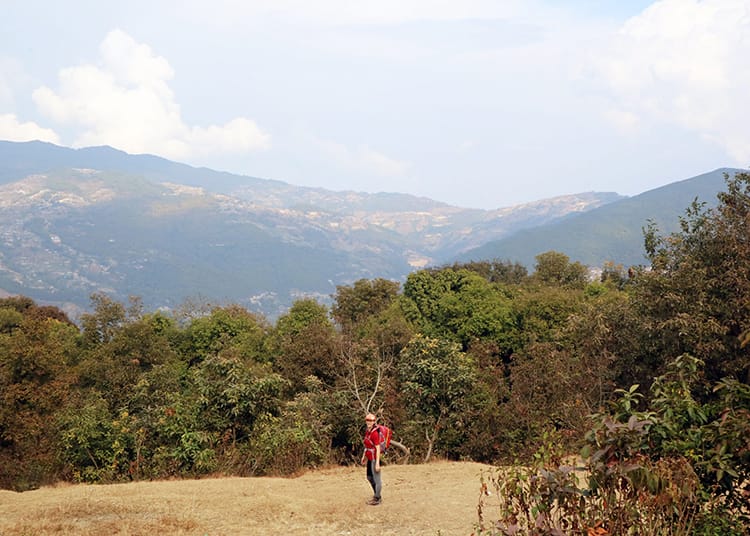 Hiking to Nagarkot Overview
---
Walking Time: 6 Hours at a medium to slow pace.
Total Time: 7.5 hours with lunch and tea breaks
Difficulty Level: Moderate – This is a fairly long hike going mostly uphill. It's not particularly challenging if you're in decent shape. If it's your first time hiking, it may be a little difficult due to the length. If you're an avid trekker, this should be fairly easy.
Before You Go: Download an offline map like maps.me and have your phone fully charged.
---
---
Hotels in Bhaktapur
---
Budget Hotel in Bhaktapur: Nyatapola Guest House ($12 USD per couple) is located in an old Newari building with beautiful wood carvings. Staying here gives some insight into how Nepali people live. The best part of staying here are the owners who are insanely nice, not to mention they make amazing food!
Book on BOOKING.COM | AGODA
Comfort Hotel in Bhaktapur: Peacock Guest House ($50 USD per couple)
Book on BOOKING.COM | AGODA
Luxury Hotel in Bhaktapur: Hotel Heritage ($186 USD per couple)
Book on BOOKING.COM | AGODA
Hotels in Nagarkot
---
Best Budget Hotel: Everest Manla Resort ($31 USD per couple). I normally wouldn't consider $31 to be a budget room, but the $31 got us a large comfortable room with a private bathroom, hot water, limited WiFi, and breakfast included. You can find a $20 room in town, but you won't be able to open your door to a picture perfect view like you can at Everest Manla Resort.
Book on BOOKING.COM | AGODA
Best Mid-Range Hotel: Peaceful Cottage ($50 USD per couple). We went in January, and it was freezing cold. The room had HEAT (a rare thing in Nepal). We had it blasting, and it was totally worth the money. What won me over was the incredible view from the three different balconies. We were able to wake up, walk upstairs, and have one of the best views in Nagarkot proper. It also included free breakfast, had hot showers, and a comfy bead.
Book on BOOKING.COM | AGODA
Best High-End Hotel: Hotel Country Villa ($70 USD – $350 per couple). We stayed here for Valentine's Day one year. The hotel has a lodge like feel and sits at the edge of a steep hill with epic mountain views. Their basic rooms are small and a little dark with wood paneling, but every room here has a beautiful view unlike other hotels in the area. The food at the buffet style dinner was delicious and the bathroom had a wonderfully hot shower.
Book on BOOKING.COM | AGODA
Best Luxury Hotel: Hotel Mystic Mountain ($130 USD – $500 per couple). We stopped here for lunch and asked for a tour. This place is like a mirage in a desert. The staff was insanely friendly. We walked in looking like hell, wearing trekking gear, sweating, and our boots were covered in mud. But, we were welcomed in as if we were dressed to the nines. I love that this place was so beautiful and not at all pretentious. The rooms are luxurious. There's an in ground pool. The views look like they go on forever. And, the restaurant offered delicious food.
Book on BOOKING.COM | AGODA
---
---
Hiking from Bhaktapur to Changu Narayan Directions
We left at 9:15am, however I would recommend leaving at 8:00am since we arrived a little late. Make sure to eat breakfast before leaving and pack a few snacks as there are only a few tea stops on the entire route to Nagarkot. It's best to exit Bhaktapur from the main gate by Durbar Square. From here you'll make a quick right and go down a steep hill to a small temple on the left (Indrayani Temple). Although small, this temple is so beautiful as it has a tree growing through it. Keep the temple on your left and continue straight. Ahead you'll reach the intersection for Nagarkot Road. Turn Right and then at the next road make a left. Now, you should be walking on Mandev Marg.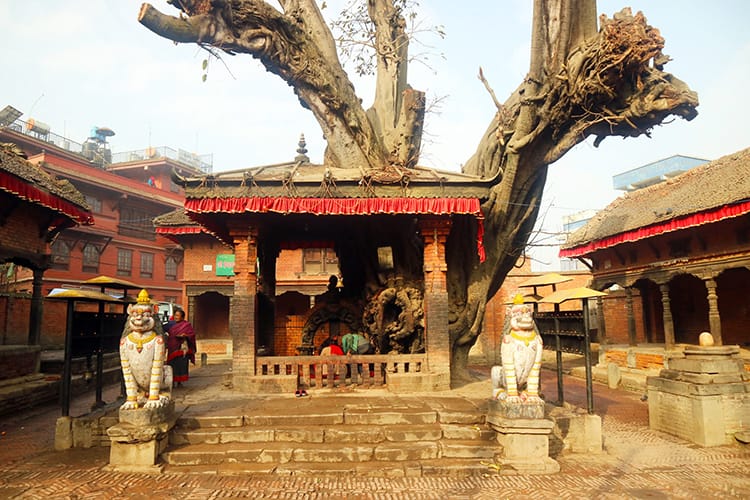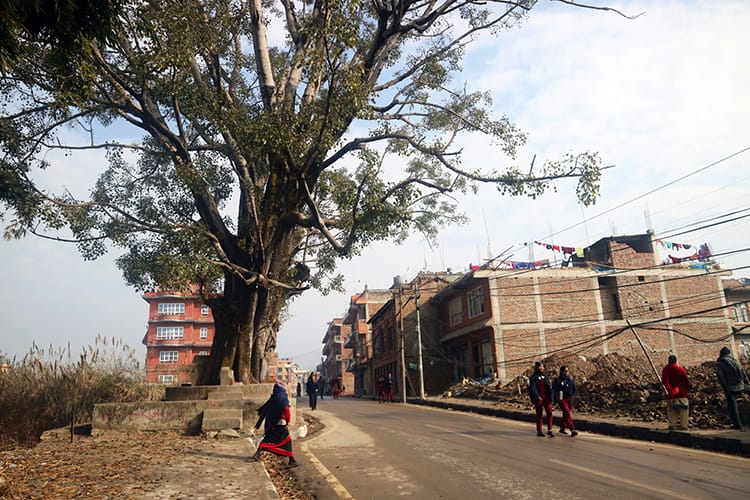 Mandev Marg starts out as a main road, but quickly becomes a small dirt road that's perfect for walking. You'll pass over the Kasan River and from here you'll start to see less buildings and more farms. It's the perfect place to see the outskirts of the city and real Nepali life. In the morning, people will be doing laundry, feeding the cows and goats, etc. We even saw one beautiful old woman walking a chicken on a rope. We were lucky enough to go after it rained at night which means the dust had settled. It is a dirt road and in January (off-season) there wasn't much traffic. I'm not sure if it would be very dusty on a dry day so make sure to bring a dust mask and sunglasses.
About 30 minutes into the walk you'll see a large tree which creates a fork in the road. Here, you'll want to stay to the left. I highly recommend having Google Maps or maps.me downloaded prior to leaving as it gets a little confusing. You'll stay straight on Mandev Marg. If you feel lost, just ask the locals. They were all kind enough to point us in the right direction. The road makes a sharp left and right as it wraps around an S-shaped turn. At the next fork in the road, you'll also go left. On the map, this looks out-of-the-way, and I was concerned we chose a longer route by accident, but there is a shortcut trail that isn't shown on google ahead.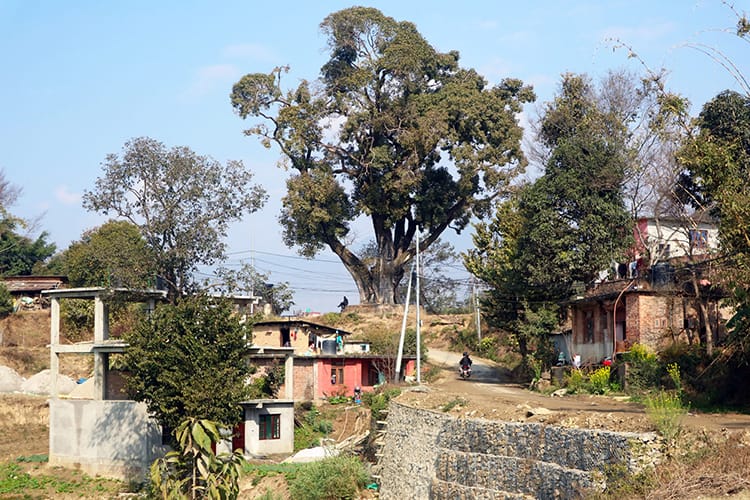 After the fork in the road, you'll make a right (leaving Mandev Marg). You'll follow this road straight for a while until there's a small staircase leaving the road and going straight uphill. Unfortunately, there's no sign. On Google, there's a small café listed as Kalika Cottege right near the stairs. You can continue on the road if you miss it, but it's much longer. The path will take you straight uphill to the temple. Because it's mostly farmland, you will see tons of locals, so don't be afraid to ask them for directions. Everyone was very helpful and nice when we asked. It took us 1 hour and 45 minutes to arrive at the top.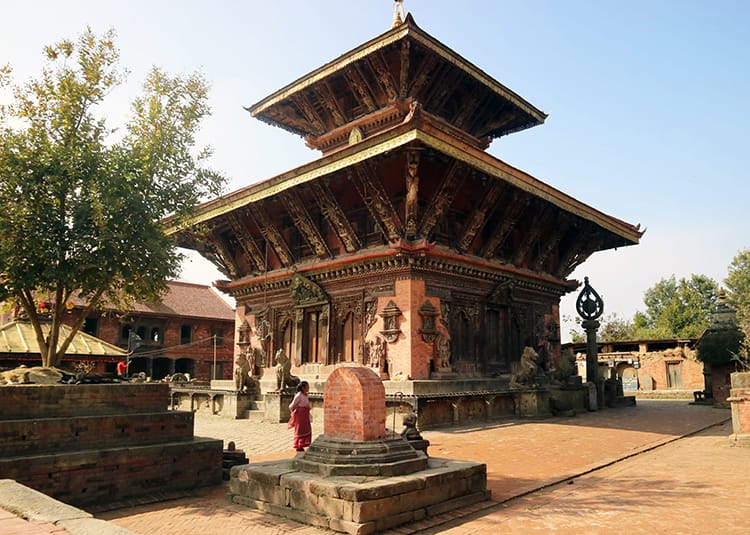 ---
---
Changu Narayan Temple
---
Changu Narayan Temple is known as the oldest temple in Nepal. No one seems to know the exact age, but there is a pillar with an inscription from 464 AD. The small town surrounding it has a few boutique style hotels/homestays as well as restaurants. There are two museums in this tiny town as well. We considered spending a night here, but we arrived around 11am and didn't want to commit a whole day. You can read more about the town and temple in my village guide about Changu Narayan.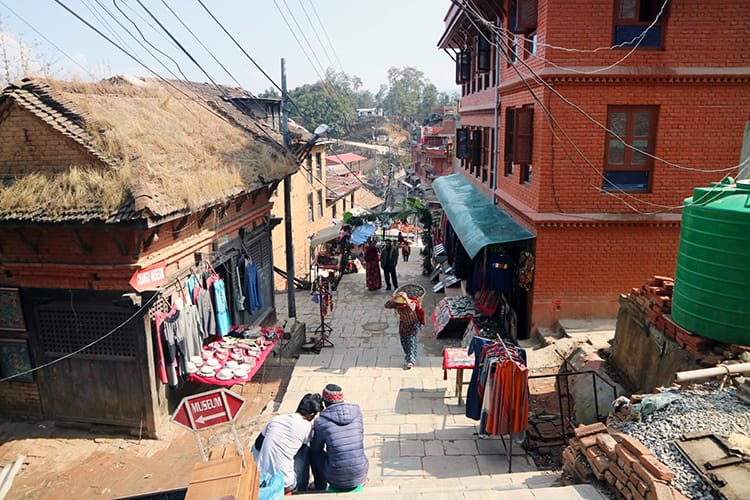 After exploring the temple, we decided to eat lunch at Prakash Fast Food and Coffee Shop. There aren't a lot of places to stop on route to Nagarkot, so having a good lunch here is important. We underestimated the trip and only had noodles, but I'd recommend eating something much more substantial before taking on the next leg of the hike.
---
Changu Narayan to Telkot Directions
---
After eating lunch, we left Changu Narayan around noon. From here, you can exit town to the east where the bus stop is. On the way out, you'll see a couple of forks in the road, but you'll want to stay to the left of them. At the Citizens Bank, there is another fork and you'll go to the right. Just below that fork, you'll see a dirt road going to the left. It's not on Google, but you'll want to follow this trail. The trail reconnects to Telkot-Changu Road which is unmarked in real life, but you can see it on Google maps. This will take you to Telkot village. Here, you can have a tea break and rest before a steep incline uphill. Follow the steep stairs going uphill towards Jalapadevi Temple which is a small ashram.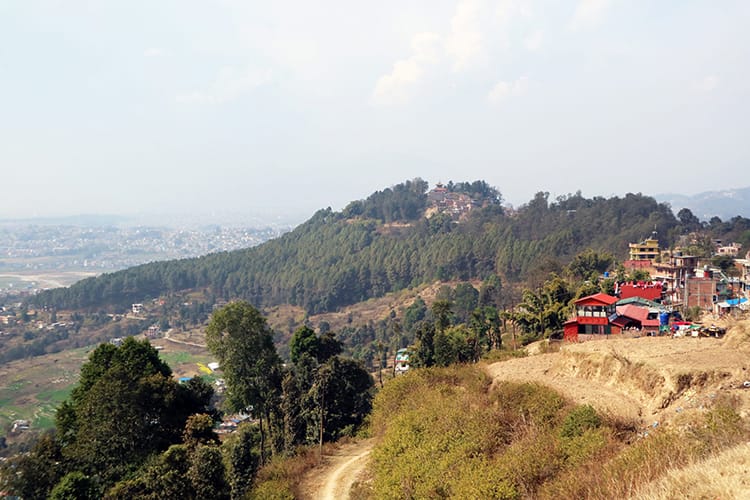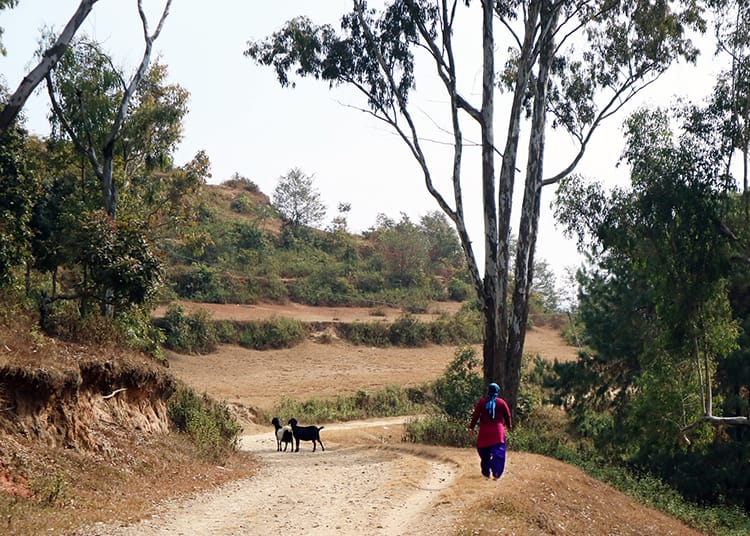 Jalapadevie Temple
---
The Jalapadevie Temple is located at the top of the hill and is broken into a few sections. I couldn't find any information about it online and no one seemed to be there when we arrived except a few locals taking a break from their walks. One of the things I found most interesting about the ashram was an area dedicated to lord Shiva. What was so interesting was that I was told the statues represented his phallus. Although I could see why, I thought this was a joke. After doing some online research, I found that there's a bit of controversy over the topic of Shiva's Linga. Some say, that yes the statue represents lord Shiva's who-ha and therefore, women pray here for fertility reasons. Others say the statues represent his phallus, but not for productive purposes. It represents the creation of the universe and nature.
---
Telkot to Nagarkot Directions
---
Leaving the temple can be a little confusing. No one was around when we arrived, so we had to navigate with our maps. You'll need to find the path located to the left of the large brick homes. It wraps around the rice terraces and is called Bhaktapur-Nagarkot Road on Google. After the ashram, there is a small incline and at the top is a small local teahouse by a big banyan tree. Here we ran into two older women and an older man. They made me laugh with their big smiles and relaxed attitudes. At about 1:00pm they were drinking the local alcohol and babbling about life. "You have to do what makes you happy," said the one woman.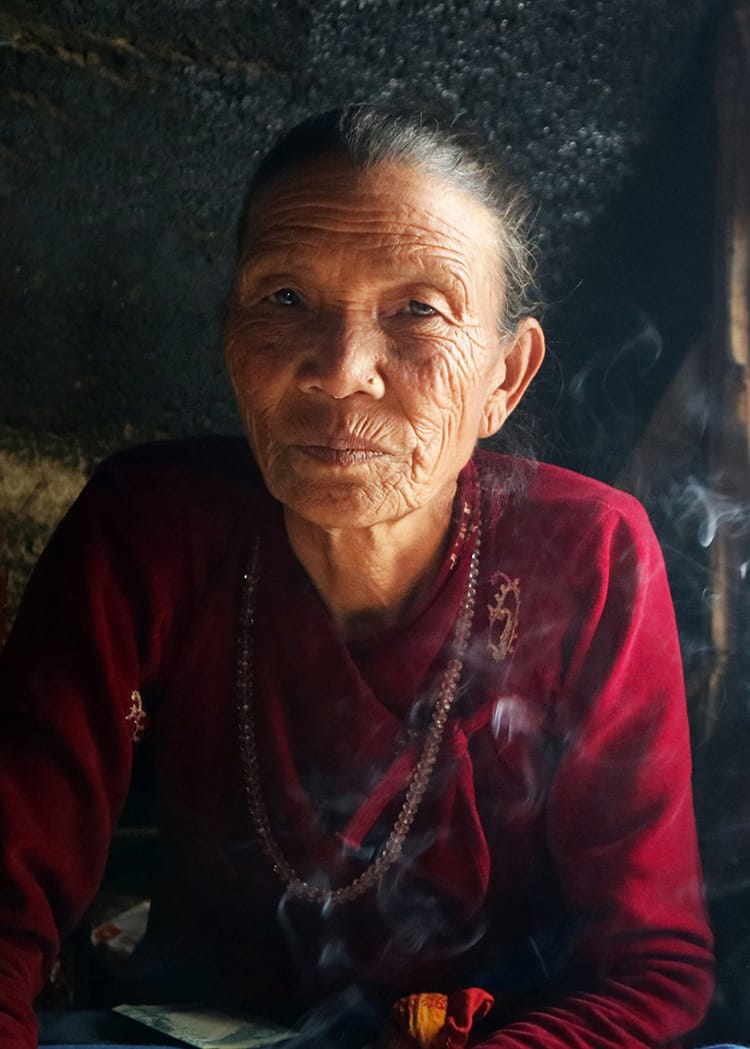 Continue on this path, staying to the left of a couple of forks in the road. This path will bring you back to the main "highway" where buses drive people up to Nagarkot. From here, you can take a few different routes. There's a dirt trekking trail which will take you off the main road. This can be found right before Buddha Peace Park. The park looked beautiful and there is no access from the trail, so if you'd like to see it, you need to stay on the main road a little longer. Otherwise, you can view it from the village above like we did.
The trail takes you up a hill where you can turn right onto Sunrise Hotel Road which runs through small villages located just above the main highway. Before reaching the main highway, you can make a left and follow a trekking trail. When we asked locals, they told us to follow the main road. At this point, we were very hungry and tired and the sun was starting to dip behind the hills making it very cold. The locals told us the trekking route might take longer even though it's more direct. If you have time, it'd be more scenic to take that route, but it's probably a bit steeper than the road which wraps around gradually.
At the end of the main road is Nagarkot. There's a small entrance fee of 340 rupees ($3.50 USD) to enter, but you can stay as long as you like once you pay. Some hotels are located directly in town, however, the best view is another 15 to 20-minute walk around the turn. We arrived to our hotel by 4:45pm and pretty much collapsed out of fatigue. Although people call this a "hike" I actually found it comparable to a day of trekking. If you are not accustomed to walking very far, I'd recommend staying in Changu Narayan for the night and making it a two-day hike. In addition, some of the hotels are located outside of Nagarkot up to another 45 minutes away, so check the distance carefully and take that into account when planning.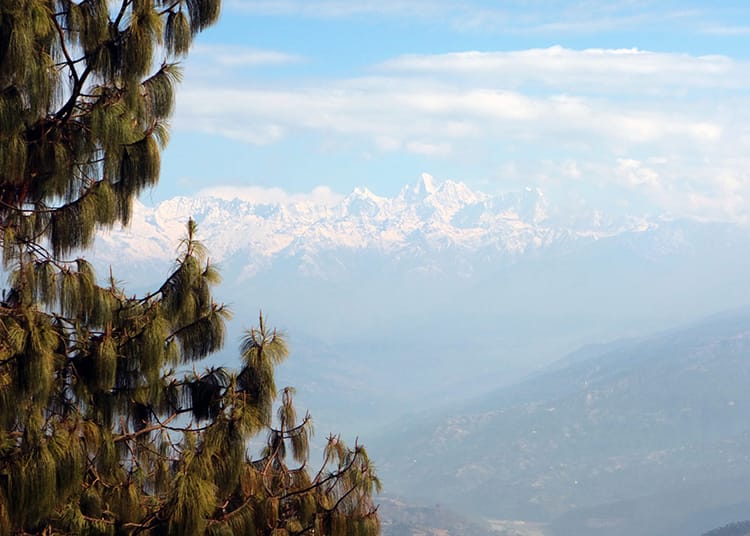 ---
You might also like…