After spending an entire year in Kathmandu, you can imagine how much we wanted to get out and explore. With so few options, we have really started to dig even deeper into the areas surrounding the Kathmandu Valley. I always felt like we'd seen so much of the city, yet it never disappoints with an infinite list of things to do. Anyone who says you can see Kathmandu in a day is mad, or clearly doesn't know where to look. This week's adventure led us to Nagi Gompa Monastery which is located in Shivapuri National Park.
A Short History of Nagi Gompa Monastery
---
Nagi Gompa is a monastery set in the hills of Shivapuri National Park just outside of Kathmandu. This monastery is a school for Buddhist nuns who wish to learn to free their minds. In the early 1960's, the monastery was given to Tulku Urgyen Rinpoche who was born in Eastern Tibet in the 1920's. He was recognized as a reincarnation of one of the 25 original students of the original Rinpoche (known as the second Buddha). He spent 33 years in Nagi Gompa and founded six other monasteries in Nepal. In 2015, the monastery was damaged by the earthquake and has since been rebuilt.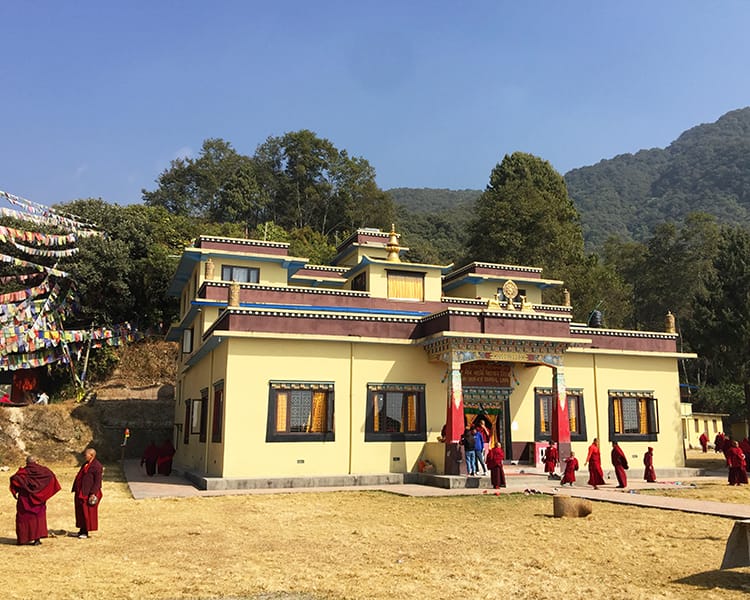 Who Would Enjoy Visiting Nagi Gompa Monastery
---
While I think that most people would enjoy the hike and visiting the monastery, I would only recommend this place for locals. Unfortunately, the fees to enter Shivapuri National Park are high for foreigners. If you plan to spend the entire day or do an overnight in the park, it's worth it. But, this is a rather short hike and I felt it wasn't worth the high price tag overall.
---
---
Shivapuri National Park Entry Fees
---
Hiking
Nepali Citizens – 100 rupees
SAARC Citizens – 600 rupees
Foreigners – 1000 rupees per person (about $10 USD) plus 1000 rupees per group for a required guide
Cycling
Nepali Citizens – 20 rupees extra
SAARC Citizens – 50 rupees extra
Foreigners – 150 rupees (about $1.50 USD) extra
***Required Guide – The reason I don't recommend this hike to foreigners is that a guide is required for all foreigners entering the park. The guides at the guidepost charge 1,000 rupees to go to Nagi Gompa if you take 2-3 hours. If you go over that time, then you will need to pay more. If you have a large group then this isn't a big deal, but if you are the only foreigner in your group it costs almost $20 to enter the park for a 2-3 hour hike. To me, this was way too expensive for this specific hike.
---
How to Get to Nagi Gompa
---
The start of this hike is at the Shivapuri Nagarjun National Park Gate just north of Shiva Mandir (the Sleeping Vishnu) in Budhanilkantha. It's very easy to take a taxi or Pathao (the Uber of Nepal) here to start your hike. From here, you can follow the dirt road to the monastery or take the shortcuts which cut through the woods and feel a little more like a proper hiking route.
---
---
Hiking Time
---
This hike takes about 1.5 – 2 hours up and back. It is beautiful at the top and I recommend having a snack or picnic there. I'd plan to leave an extra hour for hanging out near the monastery. Overall, I would budget 3 – 3.5 hours to do the hike.
---
Nagi Gompa Hike Difficulty Level
---
In my opinion, this hike is easy and is great for beginners as well as kids. You can choose to stay on the road which has a modest incline all the way up. Those who are more adventurous can choose to take the shortcuts which go straight uphill through the woods on a small hiking path. Those who want to visit but are unable to walk can take a vehicle to the top.
If you are looking for a more difficult hike near Kathmandu, I'd recommend the Champa Devi Hike or the Jamacho Hike.
---
---
What to Pack
---
Make sure to bring water with you as well as a few snacks. There is a small tea shop at the monastery but there are no restaurants at the top. If you need to stock up ahead of time, you can grab everything you need next to the Sleeping Vishnu Temple in Budhanilkantha.
---
Nagi Gompa Monastery Hike Photos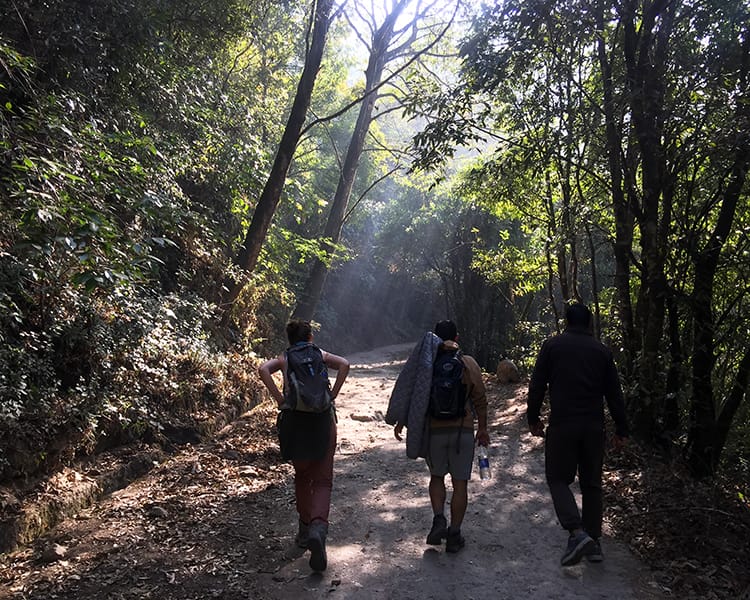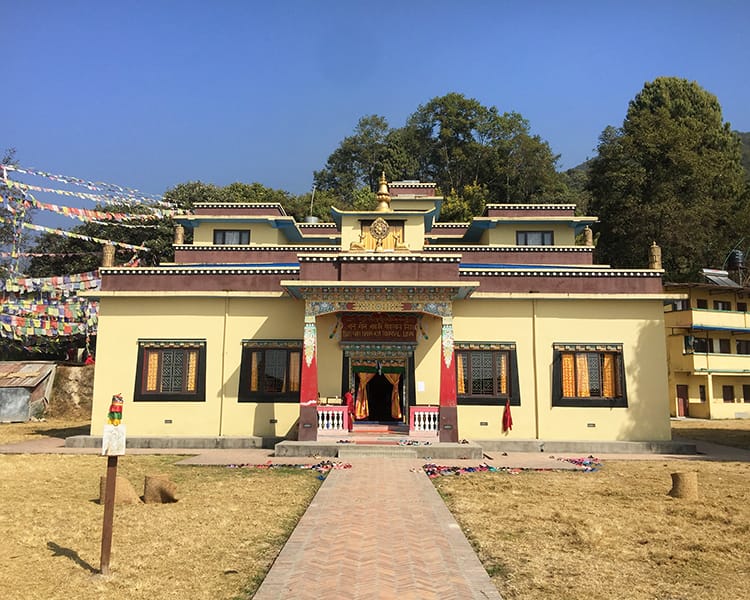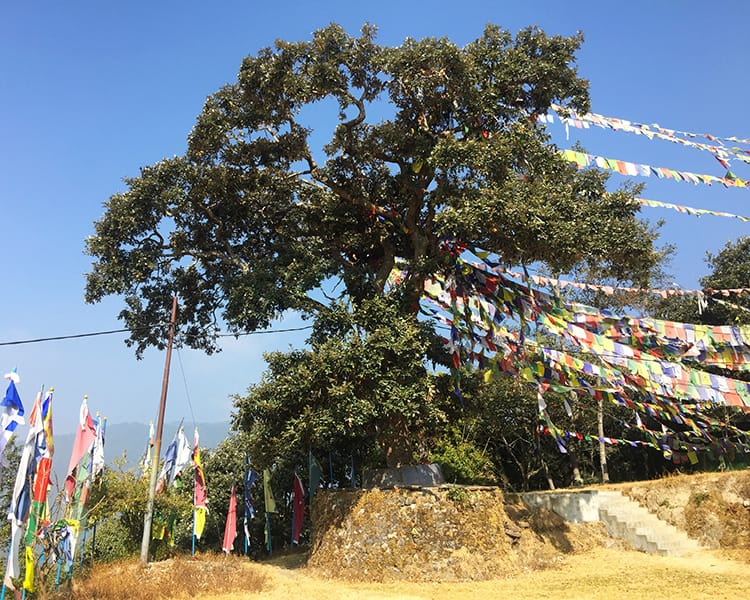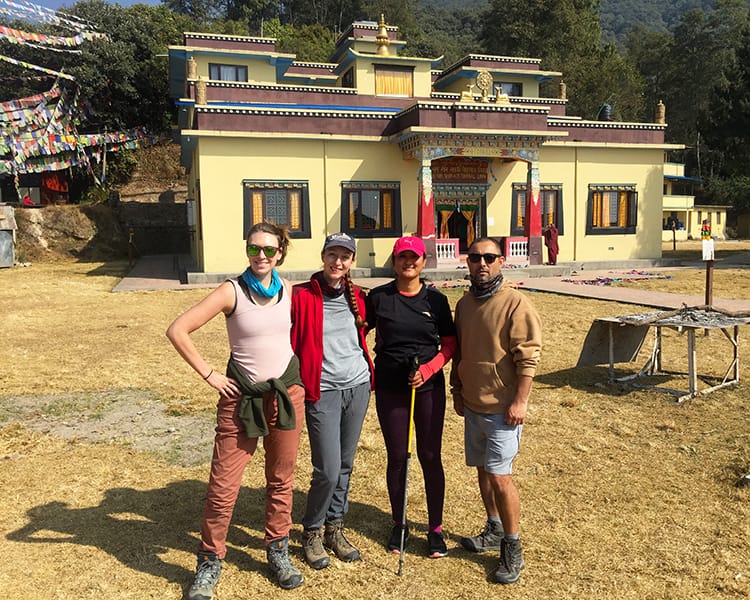 ---
You might also like…