One of the hardest things about traveling in Nepal is figuring out public transportation. We recently completed the Tsho Rolpa Trek in Gaurishankar Conservation Area, and one of the things we had to figure out was how to get from Kathmandu to Singati by bus. Luckily, it wasn't too difficult to navigate, but there are some things to know in advance.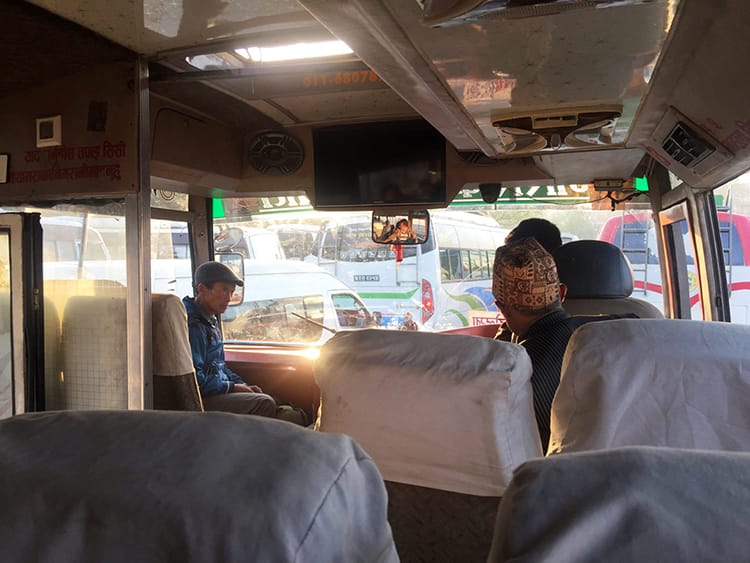 What Time Does the Bus from Kathmandu to Singati Leave?
---
It seems the bus leaves at a few different times, but I recommend the 6:30am bus. This will help avoid traffic on the roads. You should arrive to Singati around 2pm. If you plan to start your trek the same day, it's another 45 minutes to Chhetchhet and 2 hours to walk to Simigaun.
---
How Much Does it Cost?
---
We took the bus a little further to Bigu Gompa which is another 2 hours and it cost 825 rupees ($8.25 USD) per person. So, it should be less than 800 rupees to get to Singati.
---
Buying Tickets in Advance
---
You can purchase your tickets in advance at the Ratna Bus Park in Kathmandu. I recommend buying them in advance because this is a local bus which means that not everyone is guaranteed a seat. It's an 8 hour bumpy bus ride at best, so you definitely want to be seated. The ticket counter is a little hard to find, but if you're coming from the entrance closest to Thamel, it will be on the left side of the buses in a small stand. You can ask a few of the locals where to buy tickets once you're in the bus park. You only need to get tickets about one day in advance.
---
---
Where to Sit
---
When you buy your ticket, make sure to ask for a seat near the front of the bus. The seats in the back are not as good because the back wheels tend to make everything feel bumpier. If you get motion sickness, it will be a rough ride from the back.
---
What to Pack
---
Your large bag will be placed under the bus which gets dirty, so if you have a large garbage bag to put it in, that's helpful. You'll want to keep a bag with snacks and possibly pack a lunch. It's also a good idea to bring a water bottle. Our bus stopped once for tea and once for lunch. It stopped two additional times for bathroom breaks. The lunch stops are at local highway restaurants so packing a lunch is a good idea for anyone who might not want to risk eating highway food.
I recommend having a dust mask with you because the roads are extremely dusty, and there's no air conditioning. Since the windows are left open, you'll be inhaling a lot of dust on the way.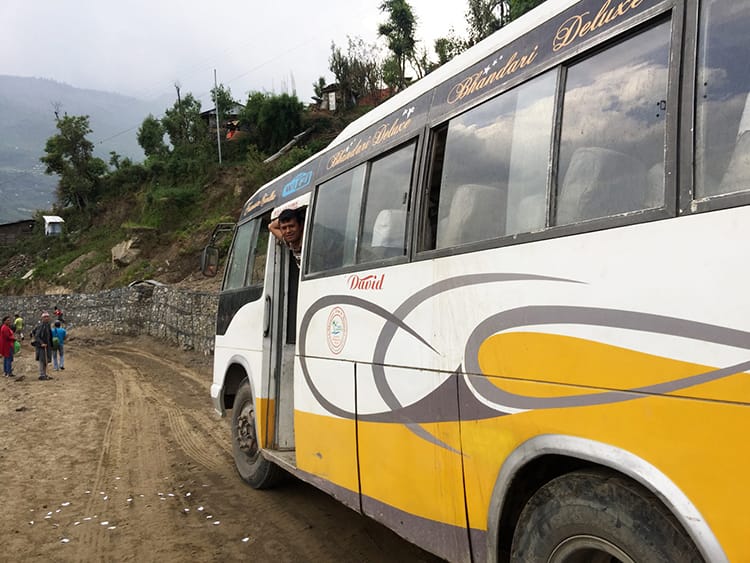 Getting off for Breaks
---
Make sure to ask the driver how long you have for each break. Unfortunately, local buses are known to start driving away before everyone gets back on them. If you're traveling solo, keep in touch with the guy who collects money and keeps track of everyone.
---
---
Gaurishankar Conservation Area Permit
---
You need a permit to enter the Gaurishankar Conservation Area. There is a checkpoint right as you enter Singati. It's best to have your permit in advance as the bus won't wait very long at the checkpoint. You can buy the permit in Kathmandu at the Nepal Tourism Board Office. The GCAP permit costs 3000 rupees (about $30 USD).
---
Breaking up the Journey in Charikot
---
I recommend breaking up the journey if you have time. It's a long and bumpy ride. Singati is not the nicest place to spend the night, so I would stop in Charikot for the night. Then get an early bus the next morning. We arrived in Charikot at 12pm which was about 5.5 hours from Kathmandu. Singati is only an additional two hours from there, and the road is paved after Charikot.
---
Hotels in Charikot
---
You might also like…