One of the things that is so confusing about traveling in Nepal, is understanding how to get from one place to another. I'm not sure why there isn't a bus map or schedule at this point, but it isn't nearly as hard to navigate as one would think. Despite that, there are some things to know about taking a tourist bus from Kathmandu to Chitwan. Here's the low down…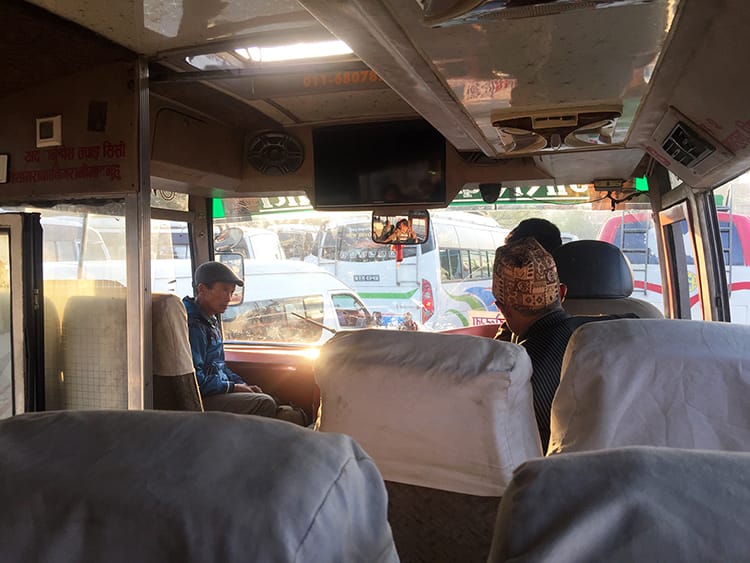 How long does the bus from Kathmandu to Chitwan take?
---
Asking how long something takes in Nepal is an open ended question. Tour bus operators will tell you it takes 5 hours. Other travelers will tell you 7. Someone who has had a bad experience will say 9. It all depends on the day of the week, the month, and the weather.
During tourist season, the roads are packed with traffic, and there's only one major road connecting the west to central Nepal. This road also goes to Pokhara for the first half so traffic can be insane. I once took a bus and got all the way to the outskirts of Kathmandu in record time only to be stuck in stand still traffic for 2 hours upon entering the city.
My friends took a 6-hour bus ride during monsoon season and it ended up taking 24 hours because of road closures! In Nepal, you just never know. Hope for 6 hours but be prepared for 9.
---
How much does the bus cost?
---
The bus costs 700 – 900 rupees (about $7 – $9 USD), however different bus lines may charge different amounts depending on what they offer. For instance, some have AC, some don't. Some include food, some don't.
---
---
When does the bus leave Kathmandu?
---
All of the tourist buses leave at 7:00am. I recommend getting there at 6:30am so that you have time to find your bus. There are a lot of buses, so it may take you a while to locate the correct one.
---
Where to get the bus in Kathmandu
---
The tourist buses all line up in front of Ratna Bus Park between the bus park and Thamel. This is along Kanti Path road. If you're coming from Thamel, it's about a 10-minute walk, but the bus line is very long. You basically have to show your ticket to a bunch of bus operators and they'll keep pointing further down the line until you get there, so leave some extra time.
---
Buying tickets in Thamel, at the bus station, or online
---
I almost always suggest buying tickets from the service provider, but in this case it's better to buy them in advance from a tour company in Thamel or online. If you buy it ahead of time, you can request a window seat on the right side which has better views. It's also typically cheaper. The guys who sell tickets outside of the bus often raise the prices as the bus fills up.
You can book bus tickets to Chitwan online to save time and to avoid negotiating or being ripped off. This is also helpful in peak season when the buses fill up quickly.
Where does the bus drop you off in Chitwan?
---
The tourist bus will drop you off about a 5 minute walk from Sauraha which is the main area for hotels near Chitwan. Most hotels are in this area with the exception of the high end hotels that sit in the jungle and cost over $300 a night. The first time I got to Sauraha, I paid a tuk-tuk to drive me to town and it costs 300 rupees or $3. I didn't realize it was so close. When I left, I walked there which was easy if you don't have rolling luggage.
---
---
The Tourist Bus
---
I highly recommend the tourist bus. It's only a few more dollars than the local bus and it's much nicer. The drivers drive a little better as they know tourists aren't used to the crazy roads in Nepal. They stop for a few toilet breaks and they stop at one of the nicer highway restaurants for lunch. They also count people on the bus before driving away (something the local bus doesn't bother to do). Plus, it's a nice way to meet fellow travelers.
On a side note, a few people have told me that they get angry that the tourist bus charges less for locals. That's untrue. My fiancé pays the same amount I do whether we take a local bus or a tourist bus. Some locals pay less because they get off the bus halfway there, so it costs less.
---
The Local Bus
---
The local bus is interesting. I recommend everyone to take local transportation at least once because it gives a unique insight into the culture. That being said, I wouldn't take the local bus to Chitwan.
The local bus is notorious for being dangerous since the drivers are more reckless. It's often overcrowded and uncomfortable with very little shocks to deal with bumps. The A/C rarely works. Worst of all, when they stop, they don't check to see that everyone is back on the bus. So, if you're traveling solo it can be anxiety inducing when you see the bus pulling away without you.
The other issue with the local bus is that it doesn't go straight to Sauraha which is the small town with most of the nice hotels right next to Chitwan National Park. It drops you in the city center and then you have to take a second bus. So, it ends up costing the same as the tourist bus, but you have to figure out how to transfer which can be very confusing.
---
Deluxe, VIP & VVIP?
---
There are deluxe, VIP and VVIP buses that go to Pokhara, however this service isn't offered for Chitwan anymore. If you want a VIP experience, it's best to hire a private vehicle.
---
The Night Bus
---
I took the night bus to Chitwan one time and vowed never ever to do it again. Yes, it's a way to save time and a little money on a hotel, but that's the only benefit. I almost never get car sick. I honestly felt so ill I almost couldn't get back on the bus after our first stop. There are no streetlights on the road, so you can't see which way it winds and turns. The bus is constantly weaving around turns too fast. It's impossible to sleep because it's so bumpy. I should mention that the night bus is usually a local bus and not a tourist bus, so it's well worn. It's an experience I don't plan to have again.
Because this bus is a local bus, it only stops on the main highway. So it's likely you'll be dropped off on the side of the highway around 4am when no hotels are open. You'd then have to hope and pray that a taxi is there to take you to Sauraha or you'd have to wait in the dark for the buses to run there. It's really not ideal.
---
Is the Kathmandu to Chitwan bus safe?
---
This is an interesting question. By American standards, no. By Nepal standards, absolutely. The thing to remember is that the bus drivers drive this route every single day. They know it like the back of their hand. The driving style in Nepal is wild, but there is a method behind the madness. While it may look like your driver is passing a truck on a blind turn, the truth is that the truck in front of him has seen that the road is clear and has turned on his blinker to notify the bus that he can pass. Yes, it is dangerous, but 99% of the time it all works out.
If you get terrible motion sickness or are a backseat driver who hates giving up control, you may want to consider flying to Chitwan by plane.
---
---
Tips for a good journey…
---
Food
The tourist buses leave early in the morning, so you can ask your hotel in Kathmandu to pack breakfast to go. Since so many people take the tourist bus, this is common. Usually, I get a hard-boiled egg, cheese toast, and some kind of fruit along with a juice or water. Then, I pack several snacks in case it ends up taking 9 hours. I like to bring granola, fruit, etc.
The buses will stop at a local highway restaurant for lunch. It is usually buffet style, so I stick to fried rice or fried noodles. I avoid any meat or any uncooked items like cucumber. If the place is really sketchy, I just eat plain white rice. I love local food. I will eat in dingy restaurants. My standards are not super high. But, I've heard of so many tourists and locals getting food poisoning from highway restaurants, so I'm always careful around them.
Bathrooms
Bus stop bathrooms are not great. Make sure to have toilet paper and hand sanitizer with you. If you don't know how to use a squat toilet, you can read my post on Nepal bathrooms. The bus usually stops two times for bathroom breaks as well as the lunch break.
Entertainment
These rides can be long. I recommend having music downloaded, a movie on your phone, or an audio book. You can click the banner below for a free trial of Audible which lets you download two books for free.
Have your phone fully charged and bring a power bank as well. Trust me, it helps the time fly if you have some options.
Is there anything I didn't answer above? Leave a comment if you still have questions!
---
You might also like…