Over a year ago, I visited Chitwan National Park in monsoon season. I wanted to do the Chitwan jungle safari but mother nature had other plans. It rained for days straight and the rivers were so flooded that we couldn't get into the national park. When I found out my mom would be in Nepal with me, I knew I wanted to try to do the safari again. With the perfect excuse to go, we set off to see some of the famous wild animals in Chitwan National Park. Here's everything you need to know to plan your trip.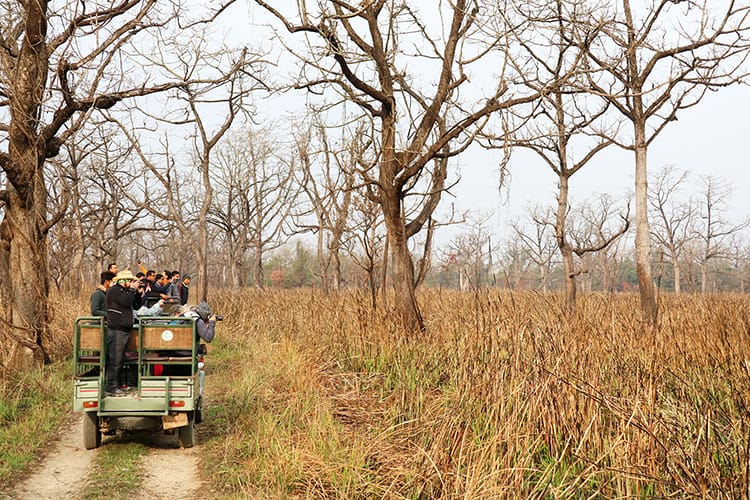 The best time to visit Chitwan National Park
---
It's best to visit Chitwan National Park in the dry season which is typically December through March. In the winter (Dec, Jan, Feb) it may be a little cold with heavy fogs in the morning. In February they burn the tall elephant grass in the jungle so that it can regrow. March is considered a good time to see the endangered animals in the park, however its peak season so you may see a lot more jeeps going through the park which could scare the animals away. We went towards the end of February. The weather was nice. There were no crowds. We did see a one horned rhino, gharial crocodile, and ghar. We didn't see a tiger, but that's not guaranteed any time of year.
---
How to get to Chitwan National Park
---
You can access Chitwan by road from Kathmandu, Pokhara or Lumbini. Tourist buses go from each of these points. It takes about 6-8 hours depending on traffic from Pokhara and Kathmandu while Lumbini is a bit closer. You can read my guide on taking the bus from Kathmandu to Chitwan. You can also fly into the Bharatpur Airport if you are on a time crunch. Buses cost around $8-$10 USD and you can book them online along with car service.
---
Where to stay
---
Extravagant Luxury: The ultimate luxury accommodation in Chitwan is Meghauli Serai Chitwan National Park. It sits along the river and has an amazing infinity pool. With rooms ranging from $300 – $1000 a night, there's no expense spared on your comfort.
Book on BOOKING.COM | AGODA
Luxury: Barahi Jungle Lodge is perfect for those with a good budget who want to enjoy all the luxuries Nepal has to offer. Situated on the river, it has an incredible pool, traditional rooms and a natural vibe that will make you feel at one with nature. Prices range from $200 – $350 USD
Book on BOOKING.COM | AGODA
Ethical: Tiger Tops Elephant Camp is the perfect option for those who want an ethical stay in Chitwan. They rescue elephants and have an elephant experience that doesn't include riding the elephants or doing anything harmful to them. A night at the camp, which is like glamping costs between $100 and $120 per person. The nice thing is that you know the money is going towards care for the retired elephants.
Book on BOOKING.COM | AGODA
Comfort: If you want to travel in style without going over the top then Chitwan Paradise is a great option. Rooms range from $50 – $100 USD. Rooms are simple but clean, and there's a lovely pool on the grounds.
Book on BOOKING.COM
Budget: Chitwan offers a lot of budget friendly accommodations. If you want a cheap but private room, then I recommend Wild Horizons Guest House which has rooms ranging from $12-$20. They all have a private bathroom and include breakfast. We stayed there for two nights and really enjoyed our stay. It's very close to town and sunset point.
Book on BOOKING.COM | AGODA
Elephant, Walking or Jeep Safari?
---
Elephant Safari
There are three main options for the jungle safari in Chitwan. I advise against the elephant safari as it is extremely cruel to the animals. If you'd like to learn more about how to see elephants in Chitwan in an ethical way where the elephants are not tortured, you can read my post on visiting elephants in Chitwan. If you are unaware of how elephants are trained, I recommend researching it before choosing this option. Elephants are taken at a young age and are tortured for weeks to a month until the trainer has broken the animals. After the elephant has been broken, they begin to train it for riding. From then on it is tightly chained and kept in a small shelter unless it is being used for a ride. It's beyond cruel.
Walking Safari
The walking safari is a great budget friendly option since you don't need to pay for a jeep. You do need two guides (required by law) and an entry permit. I enjoyed our one hour walk in the jungle, but half of our group was stressed out and uneasy about it. We heard an elephant in the distance and it didn't sound happy. The area is famous for Ronaldo the elephant who has killed about 50 people. This freaked everyone out so we headed back out of the jungle. The noise turned out to be one of the elephants at the breeding center giving birth. The benefit of walking is that you are quieter than a car and are more likely to see rare animals up close.
Jeep Safari
The jeep safari is a great option for anyone. It requires little walking, is comfortable, and allows you to cover a lot of area quickly. We were able to see a greater one horned rhino, a wild boar, peacocks (doing a mating dance), crocodiles, monkeys, ghar, as well as a ton of exotic birds. The downfall is that the jeeps make noise and you have to stick to the well-traveled road. This makes it much harder to see animals like a tiger.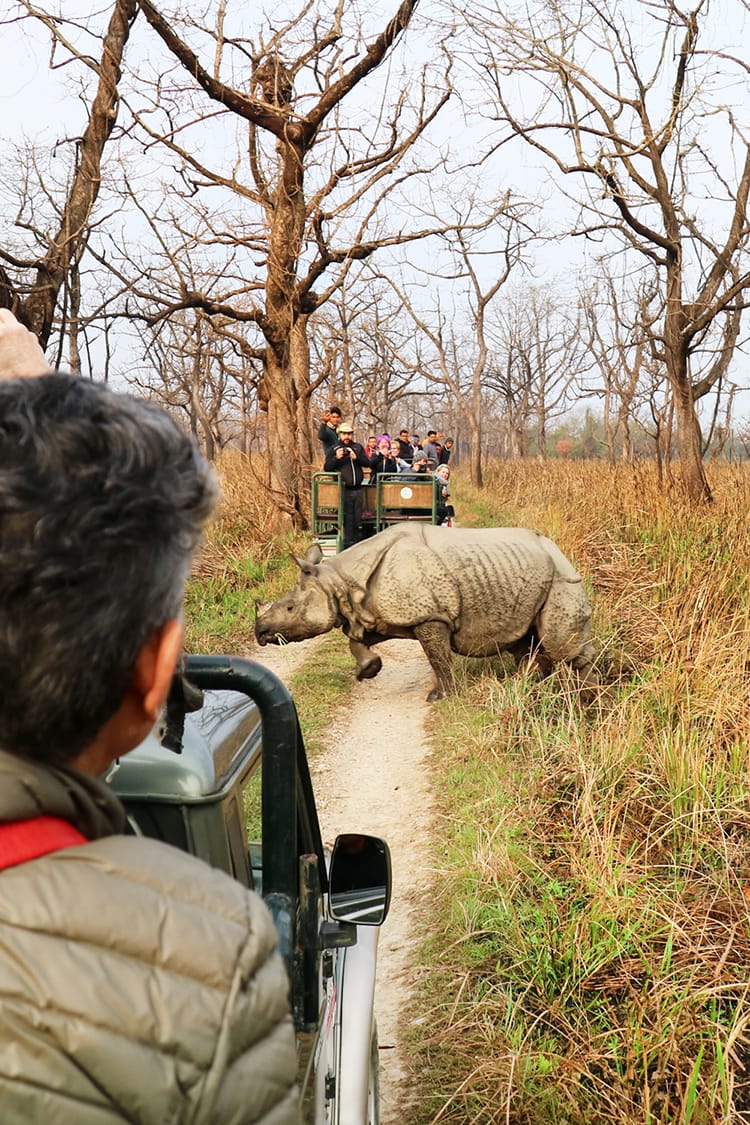 Half Day, Full Day or Multiple Days?
---
Half Day Safari
We opted for a half day because it was economical and we were only in Chitwan for one day. We wanted to experience a few different things rather than spending the entire day on safari. I liked this option because I tend to get bored easily. I'd rather try a few things and see less animals than sit still waiting for a tiger. The half day tour is typically 4 hours long.
Full Day Safari
The full day Chitwan jungle safari is a great option for people who are eager to see specific animals. Technically, we did a full day in the park between the safari, canoeing, and hiking which was nice and allowed us to see a lot. A full day jeep safari seemed like too much for me. Basically, the jeep will stop and wait for animals whereas on the half day trip, you drive unless you see something. You only stop if you spot an animal.
Multiple Day Safari
If you really really want to see a tiger, then you'll likely need to a do a multiple day safari. Even then, it is not guaranteed. I would get bored on a jeep for that long, but a walking safari that was multiple days could be cool. Make sure to ask about the overnight in the jungle where you sleep at a camp inside Chitwan rather than leaving and staying at a hotel overnight.
---
Picking a Tour Company
---
On my first visit to Chitwan National Park, I went to every tour operator I could find in town. It took a few hours and by the end, I'd narrowed it down from 50 to 2. While every tour operator told me what I should do, only two listened to what I wanted and offered interesting options for good prices. The rest tried to push the most expensive option my way with little consideration about what I was asking for. I ended up going with Wildlife Encounters the first time, and was happy to hire them again on my second visit. I highly recommend them. They are a small family owned business run by great people who care about their clients.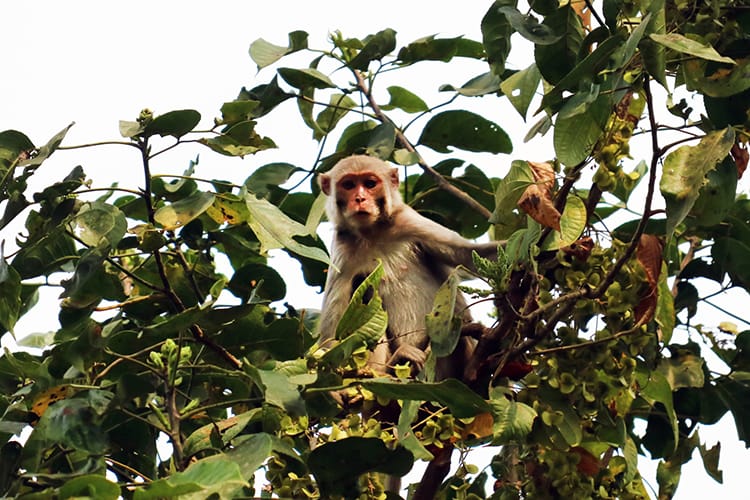 Chitwan National Park Entry Fee
---
For foreigners, the park permit costs 2,000 rupees per person (a little less than $20 USD each). For local Nepalese, it costs 150 rupees per person.
---
Chitwan National Park Safari Cost
---
Prices vary a lot based on the company you choose to go with, what the tour includes, and how many people are on the tour. We were a group of 5. For a half day private jeep tour (4 hours), canoeing (30 mins), and a jungle walk (2 hours) we paid about $60 USD each including everything except the tips and food. The permit to Chitwan National Park is about $20 USD each, so the jeep, guides, etc. only cost about $30 USD per person. If you join another group instead of a private tour, you can save some money (about $11 USD each) as you are splitting the price of the jeep more ways. If you go with less people, it will cost more. Fancier tours or full day jeep tours may cost closer to $100 per person depending on the tour.
---
Who should you tip and how much…
---
Typically, you'll have one main guide who is with you the entire day. This guide should get 10% of the trip total. We had an assistant guide (on the walk) and a jeep driver (in the park) who each got 5%. We also gave the man who rowed our canoe a small tip. All in, we tipped about $50 USD between 5 of us for the entire day (about $10 USD each).
Want to know more? Check out my post about tipping in Nepal.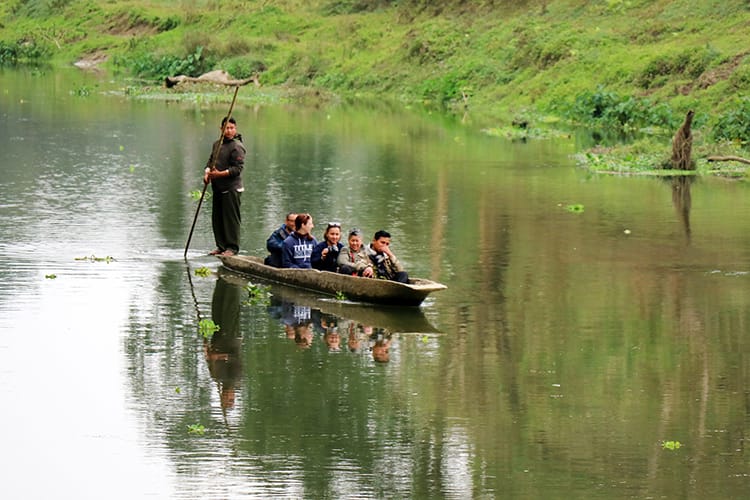 What to wear on a Chitwan Jungle Safari…
---
It's important to wear colors that can camouflage into your surroundings. Avoid bright colors like red, white, yellow, etc. Choose blacks, browns, grays, tan. This is for two reasons. One, you don't want an animal to see you and get scared and run away. Two, you don't want an animal to see you and attack. It's best if you blend in.
If you plan to leave early in the morning before the sun rises or in the winter, you'll want to wear a lot of layers. The jeeps are open and when they are on the move it gets windy and cold. A wind breaker and a warm hat are a must. During monsoon it can rain for days. Make sure to have a really good raincoat. Even with a raincoat you may get soaked. Always have sunscreen with you as the sun can get very hot in the afternoon. I prefer a solid sunscreen which can be packed in a carryon. A sun hat is also a good idea. I also recommend a natural bug spray in the warmer months.
---
What to bring with you on a safari…
---
You'll want to have a bottle of water per person, sunscreen, bug repellent, and a camera with a good zoom lens. You can ask your guide to bring binoculars as well. A lot of times the animals are far away and hard to see.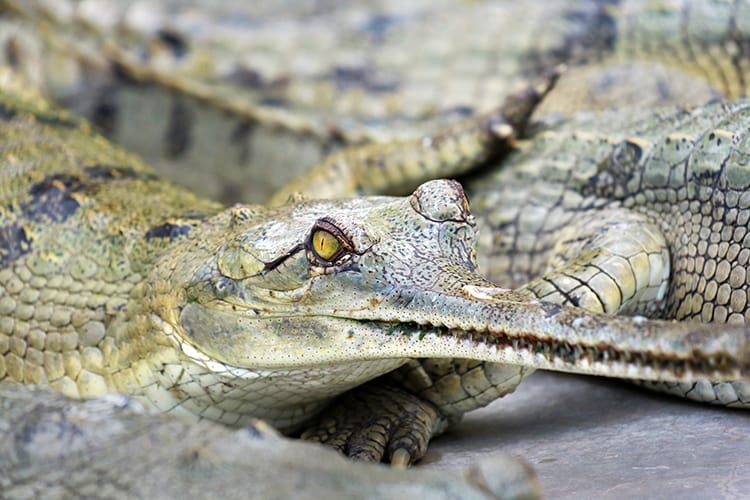 Additional activities in the park
---
Gharial Crocodile Breeding Center
During the safari, you can stop at the Gharial Breeding Center which is working hard to breed endangered crocodiles. My only complaint about the center is that no one is there to give you a proper tour and answer questions. Other than that, it was a unique and interesting experience. You can see the crocodiles at all different stages up close. I love this part of the park because these crocs will be released back into the park when they are old enough.
Elephant Breeding Center
I have mixed feelings about the Elephant Breeding Center. It's important to know that these elephants are not being bred to be released into the wild. They are bred and then trained. The males are used to patrol the park. If you look at the cup half full, this effort is said to be the reason that there are no poachers in Chitwan. The females are used to breed more elephants. What I hate is that they are all tightly chained. The male elephants are kept standing where they can't even step more than a foot in any direction. To me it's barbaric, so I have decided not to visit the center or support it.
Canoeing
Canoeing is an amazing way to see crocodiles and birds up close in a beautiful and peaceful setting. The canoes are a bit adventurous as they are hand carved out of a single tree and are very wobbly. I decided not to take my good camera in case we flipped over. It was an amazing experience. The ride lasts about 30 mins. Most people go on the main river, but our tour company recommended a less traveled river which was more beautiful. I recommend going on the Budi Rapti River.
---
Flora & Fauna
---
Want to know more about what you'll see on a Chitwan jungle safari? I've written an Ultimate Guide to Chitwan National Park which tells you everything you need to know about the wildlife inside the park including the endangered animals you can see!
---
You might also like…