Chitwan National Park was declared Nepal's first National Park in 1973. Since then, it's become one of the top sites in the world to spot the famous Bengal Tiger and Greater One-Horned Rhino. It's also a popular part of the tourism route that runs through Nepal. According to the Nepal Tourism Board, it's one of the most visited National Parks in the country, second only to Shivapuri National Park (just outside of Kathmandu). Chitwan is the perfect place to see wildlife and experience Tharu culture which is prevalent in the area. Due to its unique ecosystem, Chitwan National Park was declared a UNESCO World Heritage Site in 1984. Here's everything you need to know before visiting.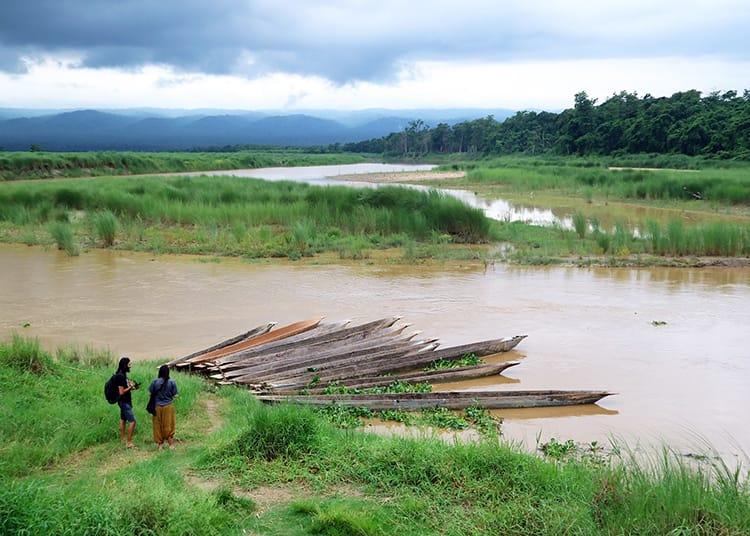 Chitwan National Park Fees
---
Foreigners: 2000 rupees (about $18 USD)
Children Under 10: Free
Nepali/Local: 150 rupees
SAARC: 1000 rupees
Entry permits are non-transferable, non-refundable, and are only good for a single entry into the park.
---
How to get to Chitwan National Park
---
From Kathmandu:
Chitwan National Park is a major tourist destination in Nepal, so it's easy to get there. You can take a tourist bus from Kathmandu (located on the street just before Ratna Bus Park). You can book in advance or you can walk up the row and ask which bus is going to Chitwan. It should cost around 700-1000 rupees ($7-$10 USD). The bus ride takes about 8 hours. You can read my guide on how to take the tourist bus from Kathmandu to Chitwan for more info.
From Pokhara:
You can easily take a bus from Pokhara. I'd recommend making a stop in Bandipur for an overnight if you have the time. You can book a ticket for the tourist bus from most hotels or any tour company in town. Depending on the road conditions, this should take no longer than 8 hours. It should really take closer to 6 hours, but buses in Nepal are notorious for running behind. The bus shouldn't cost more than 800-1000 rupees ($8-$10 USD).
From Lumbini:
Buses are also available from Lumbini. It can be a little more difficult to find a tourist bus from here depending on the time of year. If you can't get a tourist bus, local buses run regularly. They are considered more dangerous and less comfortable. They are cheaper though and generally cost around 300-400 ($3-$4 USD) rupees.
Buy Tickets in Advance
You can easily buy tickets online in advance for buses and private cars/SUV's. This is really helpful so that you can avoid negotiating or getting ripped off. It will also save you time if you don't want to find a tour company to buy tickets from.
---
Best Time to Visit Chitwan National Park
---
While most people flock to Nepal in peak season to go trekking in the mountains, the best time to visit Chitwan National Park is in the off season months of December, January, February, and March. This is when Nepal receives the least rainfall which means that most animals come to the river to drink in the mornings. Knowing where animals will be makes it a lot easier to spot them. Not to mention, these months offer the nicest weather in Chitwan which can easily hit temperatures above 100F (38C) throughout the rest of the year. In the winter, it can be cold in the mornings with heavy fog some days. Locals also burn the elephant grass during the winter, so going at the end of February or beginning or March is usually preferred.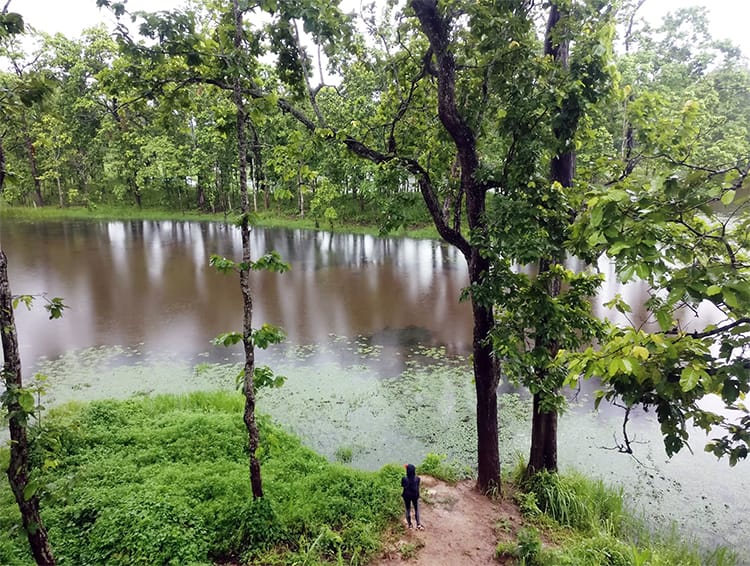 Nature & Wildlife
---
Flora: 68 different types of grass including elephant grass, the palash tree, and silk cotton tree.
Fish: 120 species
Amphibians & Reptiles: 55 species including the Asian Rock Python, Gharial Crocodile, Mugger Crocodile, and Golden Monitor Lizard
Birds: 546 species including the Bengal Florican, Lesser Florican, Giant Hornbill, Black Stork, White Rumped Vulture, and White Stork
Mammals: 68 species including the Greater One-Horned Rhino, Royal Bengal Tiger, Gangetic Dolphin, Gaur Bison, Wild Elephant, Four-Horned Antelope, Pangolin, and Sloth Bear
Number of Individual Animals in the Park
(according to the Department of National Parks and Wildlife Conservation in Nepal)
Greater One-Horned Rhinos: 503
Bengal Tigers: 125
Gaur Bison: 321
Gharial Crocodile: 72
---
Chitwan National Park Facts
---
Elevation: 450-2,600ft (140-800m)
Climate Zones: Sub-tropical
Total Area: 932 square kilometers
Major Land Cover Type: 80% Tropical & Sub-Tropical and 12% Grasslands
Lakes: Tamor Tal, Lami Tal, Devi Tal
Rivers: Narayani, Rapti, Reu
Major Ethnic Groups: Tharu, Brahmin, Chhetri, Kumal, Gurung, Bote, Tamang
Economic Activities: Agriculture, Poultry Farming, Animal Husbandry, Tourism, Foreign Employment, Micro Enterprises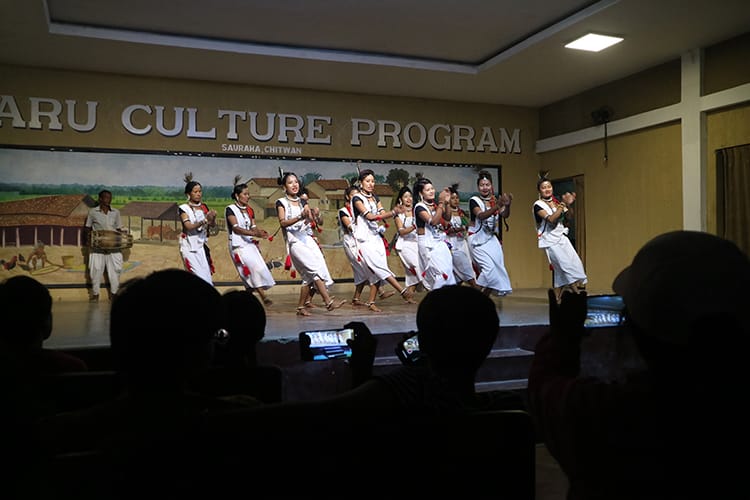 Things to do in Chitwan National Park
---
Visitor's Center at Sauraha
Start your trip off in Sauraha with a stop at the visitor's center. Here, you can collect information about the wildlife found in the park and about the conservation programs.
Chitwan Safari by Jeep
Taking a jeep safari is one of the most popular ways to see Chitwan National Park. The park has the second largest population of greater one-horned rhinos in the entire world. It's also home to more than 125 Bengal tigers. Traveling by jeep is one of the safest ways to see the park, however it does limit you a bit for wildlife spotting as the noise of the jeep can scare away animals.
Check out my post on Chitwan Jungle Safari options and everything you need to know before going.
Chitwan Safari by Foot
The most adventurous way to see Chitwan National Park is by walking. Two guides are required for those entering the park, so it's best to hire a knowledgeable guide who speaks English and knows facts about the animals. You also want someone who can walk you through all of the safety procedures prior to setting foot inside the park.
Bird Watching
Chitwan is home to more than 6% of the worlds bird species which makes it an incredible place to go bird watching. From September to November and February to April, migratory birds can be seen in the park in addition to the birds that reside there.
20,000 Lakes
20,000 Lakes is the name of the buffer zone surrounding Chitwan National Park. The buffer zone does not require the park entrance fee, so it is a good option for those on a really tight budget. That being said, you are less likely to see wild animals there. I've been told it's very popular for bird watching and for spotting gharial crocodiles. Our guide showed us footage of a Bengal tiger crossing the road, so it's not impossible to spot a tiger there.
Tharu Cultural Dance
The Tharu Cultural Dance takes place every evening in Sauraha. It is a bit touristy, but it's cool to see the different stick dances that the Tharu people perform throughout the year at festivals. My favorite dance sounded like rain and thunder.
Gharial Crocodile Breeding Center
This breeding center focuses on breeding the endangered species and releasing them back into the wild. You can see the process from egg to full sized crocodile up close. The breeding center is inside the National Park and is typically included in the Jeep safari as one of the stops.
Tharu Village Tour
I've seen the "village tour" listed on a lot of websites, but it's easy to just go to nearby villages by yourself and experience the culture. We played with kids and stopped for a local lunch. We got to interact with people in an authentic way. I feel that signing up for village tours generally has a fake feel to it. Go out and see the villages and talk to people. Locals are very friendly and love sharing their culture. You don't have to do the tour to see what life is like.
Canoeing
You can go canoeing down the rivers that run through the park. This can take between 30-45 minutes. The first time I went the river had flooded and was unsafe. On my second visit, I was able to do the canoe ride. It is an adventure as you are in a small hand carved wooden canoe. This is particularly good for bird watching and crocodile sightings making it all the more nerve racking.
The Vulture Restaurant/Breeding Center
The Vulture Restaurant might not be on everyone's to see list, but it's an interesting project. Five different species of vulture found in Chitwan are endangered after a 99% population decrease in 20 years! A drug used in cattle is the cause since vultures eat the cows after they die. The Vulture Restaurant acts as a safe place for vultures to get uncontaminated meat. Sick and old cows are sold to the restaurant where they live out the rest of their lives until they die of natural causes. They are then fed to the vultures to help with repopulation efforts.
Bicycling Sauraha
Bicycling around Sauraha is a great way to see the villages and surrounding areas. Most tourists stay in the little tourist town but just 10 minutes in any direction you can see how Tharu people live. It's a beautiful way to see rice paddies, farms, and the local lifestyle. It's a great budget option since renting a bicycle is only a few dollars a day.
Tharu Cultural Museum
As stated above, Tharu is the major ethnic group in the area. Nepal is home to over 125 different ethnic groups and Chitwan is a great place to learn about this one. You can visit the Tharu Museum to see traditional Tharu dress, what a Tharu home looks like, and more.
Sunset Point
Sunset point is a beautiful spot just outside the main area of Sauraha. It overlooks the river where you can sometimes see animals grazing and coming for a drink or swim in the evening. There are a handful of cute restaurants along the water where you can have dinner and a drink and enjoy the sunset.
Barahsinghe Brewery
One of the newest things to do near Chitwan is visit the Barahsinghe Brewery which offers a 30 minute tour around the brewery along with a tasting of beer straight from the tank. They'll even give you some snacks. The tour costs 500 rupees (about $5.00 USD) and is perfect for beer enthusiasts who would like to try some Nepali beer.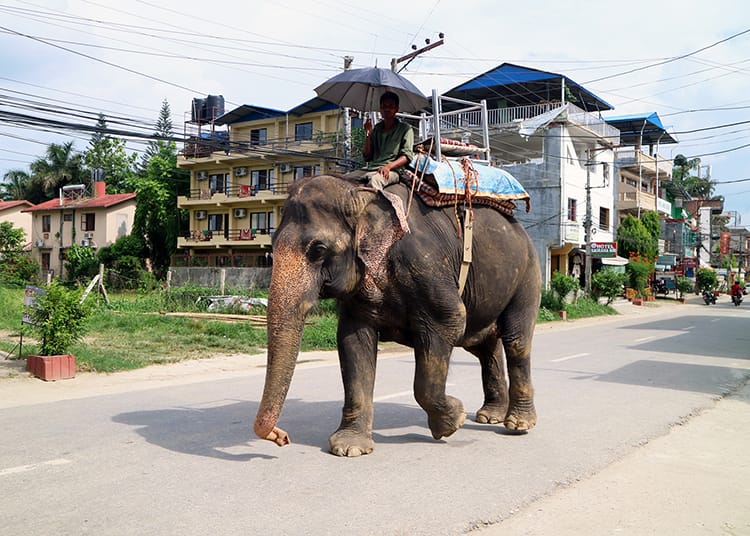 Elephant Tourism: What to Try & What to Avoid
---
Elephant Tourism is a tough subject in Nepal. I try to see things from everyone's point of view instead of just jumping to conclusions. I spoke with some locals and they explained the situation to me. Elephants in the area are used to patrol the forest. They can get to areas where people can't go on foot and where no jeep can reach. Chitwan National Park has an outstanding recording of low poaching rates, and they attribute this to elephant patrolling. This has helped the rhino and tiger population grow. I understand this, and in this case, I feel that the riding of elephants is okay. I don't love it, but I can see why it's done and that another solution has not been found.
As far as tourism though, I do not agree with using elephants simply for our delight or for a photo op. Here are some specifics that I feel people should know before visiting.
Elephant Happy Hour
Elephant Happy Hour is the only elephant tourism that I recommend as of this time. You can meet with elephants, feed them some yummy fruit, and watch them be elephants. You can also volunteer at SU4E. They are working hard to show locals that there is an ethical way to make money off of the elephants that they have invested so much money in. Read about my experience visiting SU4E in this post about ethical alternatives to elephant riding.
Elephant Breeding Center
There is an Elephant Breeding Center in Chitwan. At first, I was so excited about this conservation effort since Asian Elephants could use a boost in population. I was later told that these elephants are not raised to be released into the wild. They are either used for tourism or for patrolling the park. The animals are chained and are in no way free. I therefore do not recommend supporting this place. If the elephants were being released into the wild to grow the population then I would have a different opinion. I don't consider raising captive animals as helping with conservation efforts.
Bathing with Elephants
I've bathed and swam with elephants in Cambodia and Thailand. They were eco-friendly ways to see elephants up close. The animals had been rescued from tourism and were not able to be released into the wild. They were brought to sanctuaries where they could roam freely. No one rides them (not even the mahout/trainer).
In Chitwan, it's different. These are trained animals and a mahout/trainer is standing on the elephants back with a metal prod that he pokes into the elephant so it obeys. You hop on the elephants back for a few photos and the trainer makes him splash you. I do not recommend doing this.
As long as people participate in getting on elephants, you are encouraging the training of elephants. Every time someone posts a photo on an elephant's back, you are promoting this to the world. Elephants are tortured in order to perform these tricks. They isolate them for over a week and beat them into submission, all so that you can take a photo for Instagram. If you really love elephants, you would never demand it to be tortured.
Elephant Safari
As mentioned above, elephants are tortured in order to be ridden. There is no "okay" time to ride an elephant. I'm sure the owners told you they treat their elephants with respect, but that owner has also spent a TON of money on an elephant. They bought it, had it trained, fed it, paid its vet bills. They need to make money off of it. As long as we ride elephants, we encourage this to continue. If people stop, they will find a better alternative. There are jeep and walking safaris in the park. There's absolutely no reason to ride one.
Tuskers
When I went to see the "Tuskers" I was really disturbed. The elephants looked distressed. They were chained and couldn't even take a step more than 6 inches from where they stood. I've been told male elephants are dangerous. They've looked for an alternative but the last time they let them roam, one broke through the wall and killed a female elephant. These are the elephants used to patrol. When we arrived, I got out of the car, saw the horrible conditions and refused to go for a tour. I got back in the car and we left. I didn't want to encourage what they were doing at all. I feel they need to find a better alternative for how to keep the elephants rather than chained tightly.
---
Where to Eat in Sauraha
---
Art Cafe – Our hotel happened to be just around the corner from the Art Cafe. I'de read good reviews online and immediately recognized it as we walked by. It's one of the more upscale looking places, but it's still very reasonably priced. We tried the fried chicken burger and some of their snacks. Everything was really good. It seems they have a small kitchen, so you might have to wait a while for your food.
The Greasy Spoon – The Greasy Spoon was another place I'd read about online. We took our family there one night, and I have to say I was pleasantly surprised. I thought the decor might be the only reason people liked the place, but the food was really good too. They probably have the best pizza in town.
Nature View Restaurant and Bar – Located right on the river, this is the best place to watch the sunset with a drink. The food here is okay, but I wouldn't rave about it. Come for the view, the sunset, drinks, and animal watching.
Chitwan National Park Hotels
Extravagant Luxury: The ultimate luxury accommodation in Chitwan is Meghauli Serai Chitwan National Park. It sits along the river and has an amazing infinity pool. With rooms ranging from $300 – $1000 a night, there's no expense spared on your comfort.
Book on BOOKING.COM | AGODA
Luxury: Barahi Jungle Lodge is perfect for those with a good budget who want to enjoy all the luxuries Nepal has to offer. Situated on the river, it has an incredible pool, traditional rooms and a natural vibe that will make you feel at one with nature. Prices range from $200 – $350 USD
Book on BOOKING.COM | AGODA
Ethical: Tiger Tops Elephant Camp is the perfect option for those who want an ethical stay in Chitwan. They rescue elephants and have an elephant experience that doesn't include riding the elephants or doing anything harmful to them. A night at the camp, which is like glamping costs between $100 and $120 per person. The nice thing is that you know the money is going towards care for the retired elephants.
Book on BOOKING.COM | AGODA
Comfort: If you want to travel in style without going over the top then Green Park Chitwan is a great option. Rooms range from $50 – $100 USD. We stayed here during a family trip to Chitwan. It's located far enough away from town to be quiet, but close enough that you can get there when you need to. The best part of this hotel is the pool which was amazing when we went in April because it was insanely hot outside.
Book on BOOKING.COM
Standard: Chitwan Village Resort doesn't boast luxury, but it's a beautiful boutique hotel located within walking distance of town. It's down a quiet side street and feels like a small oasis. The staff and owners are really friendly. We spent two days here, and for the price it's a fantastic choice. Rooms are around $25-$40 per night depending on if you want A/C.
Book on BOOKING.COM
Budget: Chitwan offers a lot of budget friendly accommodations. If you want a cheap but private room, then I recommend Wild Horizons Guest House which has rooms ranging from $12-$20. They all have a private bathroom and include breakfast. We stayed there for two nights and really enjoyed our stay. It's very close to town and sunset point.
Book on BOOKING.COM | AGODA
---
You might also like…