Winter in Nepal seems to be a time of year that few tourists visit. Probably because no one really knows what to expect. Although I complain about the cold constantly in the winter, it has a few benefits. Peak season in Nepal only has a small window including October, November, March, and April. But that doesn't mean you shouldn't visit Nepal in the winter. Here's the pros and cons from someone who has spent every month in the country.
---
When is Winter in Nepal?
---
Winter typically starts in December and ends in February. January is the coldest month of the year with an average temperature of 35-64 F (2-16 C)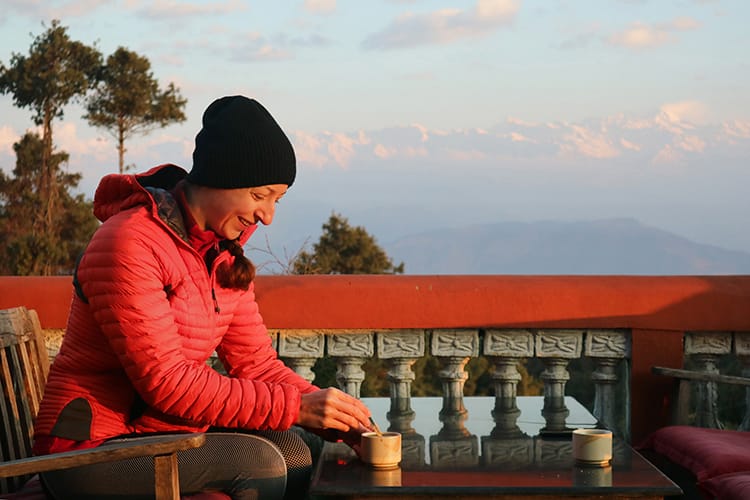 Cons of Winter in Nepal
---
It's Cold
Well let's start with the obvious. Winter is cold. Yup, I said it. Here's the thing… a lot of places in Nepal do not have heat. I live in Myrtle Beach half the year, and oddly, it has a similar temperature to Kathmandu in the winter. I'm rarely cold in Myrtle Beach because we have heat. We have heat in cars and in homes and in stores. There's no heat in Nepal. Actually, that's not true. If you have a good budget you can get a very cozy heated room in a very nice hotel. But, if you're on a budget like me and you stay in dorms, homestays, or a local apartment, you'll probably be freezing allllll the time. I feel like the most common words that come out of my mouth in Nepal in winter are "I'm cold."
Limited High Altitude Trekking
Due to high volumes of snow, white out conditions, and blizzards, it can be very hard to trek in Nepal in the winter. I wouldn't recommend it, nor would I do it myself. Even if you do plan to trek in winter, your plans may get canceled since the government closes certain parts of trails when the conditions are bad. If you plan to trek in the winter, please don't be stupid. Hire a guide who knows what they're doing.
Avalanches
With the cold comes the snow, and with too much snow comes avalanches. I was lucky to see one from far enough away that I was safe, but close enough to know that I never want to be too close. Avalanches are beautiful and terrifying. Luckily, they only happen in the mountains. In America, it's a popular belief that all of Nepal gets snow, but it's much like the U.S. as far as having several different climates. It doesn't snow in Kathmandu, Pokhara, Lumbini, or Chitwan.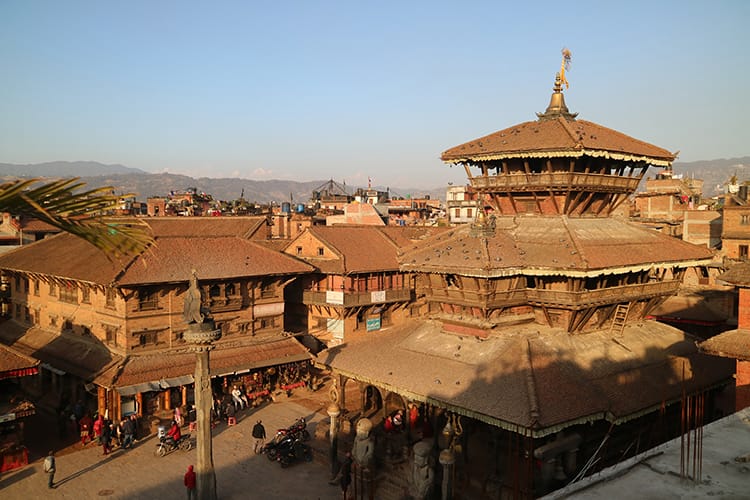 Pros of Winter in Nepal
---
Amazing Wildlife
Winter is the best time of the year to see wildlife in Nepal. Areas like Chitwan National Park and Bardia National Park receive very little rain in the winter. No rain means that the animals have to come to the river to drink. The local guides track the animals and know where they're most likely to hang out, so it's much easier to see a Bengal Tiger or Greater One-Horned Rhino during the winter. I foolishly went in monsoon season, so I'm really looking forward to doing a safari this winter!
Exploring the Terai
I tend to avoid the Terai like the plague most months. The Terai includes popular areas like Lumbini, Chitwan National Park, and Bardia National Park. Most of the year, it's so hot that you don't even want to take the energy to blink. In the winter, it's absolutely beautiful. This is the best time to go explore the birthplace of Buddha and see the many temples of Lumbini. You can do wildlife safaris in the national parks, go kayaking, or go bird watching. Just because trekking trails are difficult doesn't mean that there's nothing to do.
No Crowds
The best part of winter is that there are no crowds. The tourist hub of Kathmandu is called Thamel (think Times Square in New York but less obnoxious). Even Thamel is void of tourists in the winter. I've gone weeks without seeing another foreigner. It's such a great time to see the country and get a real local vibe. Winter, in my opinion, is the best time to see the country in an authentic way.
Clear Skies
Winter is known for beautiful clear skies. For some reason, the smog that seems to settle around Nepal disappears in the winter. The air feels cleaner and fresher. Sunrises are stunning, and there's rarely clouds or rain. It's amazing if you're willing to put up with the cold. And did I mention, I have pics of the Himalayas from Kathmandu! Before spending a winter in Nepal, I had no idea you could see the mountains from the city center. They were always behind clouds. I went up to my fiancés roof to do the laundry (which I'd done tons of times before) and bam! There they were.
Perfect Photography
Most of my favorite photos were taken between the end of November and the end of January. There are so few people around and the views are magnificent. During peak season, you have to wake up early to get to places before the crowds. I visited Bhaktapur in January and even in the middle of the day, my photos of the most popular temple have no one in them. It's so nice to be able to take photos without cropping people out of them.
Low Altitude Trekking
Low altitude trekking is great in winter. The temperature during the day isn't too hot so it's comfortable to walk around without sweating. It still gets cold at night, but lower altitude treks usually have nicer accommodations with an option for rooms with heat. The cool thing is that you won't see any other tourists. We did the Kathmandu Valley Trek in January and only saw a handful of other tourists even though we passed through cities on the way.
---
You might also like…