I hadn't even heard of the Khopra Danda Trek until my husband mentioned it while we planned a trip to Pokhara. It seemed to be one of the newer routes in the Annapurna Conservation area that hadn't gone mainstream yet, and that made it even more exciting. Due to some scheduling conflicts, we had to go at the end of September and we got hit with a longer monsoon than usual. Despite the harsh walking conditions, Khopra turned out to be a bit of a paradise in the mountains.
When we were just an hour away, we found ourselves walking through gorgeous fields of wildflowers. Something I'd never seen in the mountains of Nepal before. Locals believe that the gods reside in the mountains, and I have to say, if that's true, then Khopra Danda is where they come to laugh and dance.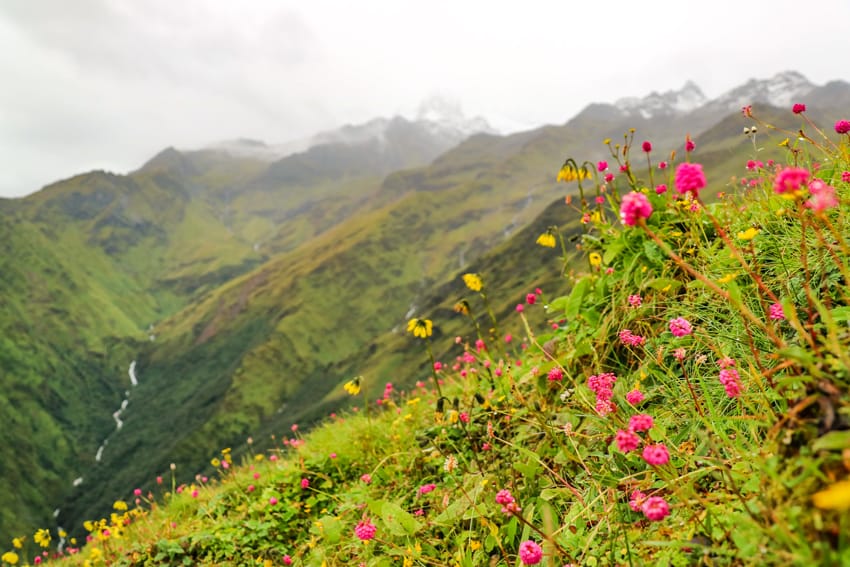 Brief History of Khopra Danda, Nepal
---
Khopra Danda is a hilltop station with epic views of the Himalaya. There isn't an actual village there, and the only lodge in the area was started just 12 years ago, so the area doesn't have a long history. It's a popular destination for locals during the festival of Janai Purnima. It's believed that if you go to the lake and make a wish, the wish will come true. This makes it popular for pilgrimages.
The local teahouse is run by the community which gives it a fun friendly vibe. When we went, it was full of shepherds taking their yaks and sheep out to graze in the mountains. Despite the village only having one building, it still has a local vibe rather than the commercial feeling of other villages built for tourism.
---
Khopra Danda Village Guide
---
Major ethnicity:
Major Religion:
Hindu
Language:
Nepali and Magar
Khopra Danda Altitude:
3,660 m (12,007 feet)
Oxygen Concentration:
65% oxygen compared to 100% at sea level.
Best Time of Year to Visit:
Locals agree that October and early November are the best time for a clear view, with March and April being second best. We went in the second half of September which I do not recommend. We got stuck in torrential downpours and were attacked by leeches on the way to Upper Chistibung and Khopra Danda.
Location:
Khopra Danda is located northwest of the city of Pokhara and southwest of the Annapurna Mountain range. It's located inside the Annapurna Conservation Area and can only be reached by foot.
How to get there:
There are several ways to get to Khopra Danda. The fastest is to take a jeep to Gharkholagaon (just south of Tatopani) and then walk for two days to Khopra Danda. The more common route is to combine the Poon Hill Trek up to Ghorepani and then walk two more days up to Khopra Danda via Upper Chistibung.
Entry Permit:
Since Khopra Danda is within the Annapurna Conservation Area, you are required to get an ACAP permit which costs 3,000 rupees (about $26.00 USD). It can be purchased in Kathmandu or Pokhara at the Nepal Tourism Board office.
NTC or Ncell service:
No cell service
What to Eat:
The locals recommend ordering dal baht. The dal is made with local beans which makes it special. They also recommend trying Tibetan bread which is often served with breakfast and tastes like a fried dough. Although they had limited ingredients, we really enjoyed the food here. It was fresh, tasty, and made from locally grown items. The gentleman who was in charge of the kitchen was a very talented cook.
---
Things to do in Khopra Danda
---
Khayer Lake: Khayer Lake is one of the main attractions near Khopra Danda. Unfortunately, when we went, we were hit with constant rain. We tried to wait it out for two days, but it never let up and we were unable to walk safely to the lake due to strong winds. Typically, it takes 4 to 5 hours to walk to the lake and 3 hours to walk back. It's a famous pilgrimage during Janai Purnima. The lake is related to the temple located in the middle of Phewa Lake in Pokhara. There is a small Hindu temple called Rani Matta near Khayer Lake. It's believed that if you go to the lake and make a wish, the wish will come true.
Other Lakes: While Khayer Lake is the most popular, the locals informed me that there are several beautiful lakes in the area which they hope to develop better trekking routes to. Kali Bhara, Gosainbhara, and Kelteko Tal are all located about 1-2 hours off the route towards Khayer Lake. Each goes in a different direction, but the locals at the teahouse can draw you a map.
Wildlife: Animals that can be seen in the area include the sloth bear, Himalayan goat, leopard, danfe, munal, pheasants, crows, red fox, and the mountain mouse. We were able to spot an adorable mountain mouse as well as some deer on our trek.
---
Khopra Danda Teahouses
---
Types of accommodation:
Teahouse
Number of accommodations:
There is only one teahouse in the area and it is run by the community. The lodge has been there for 12 years and is run by local people from the village below. They are currently working on expanding it.
Our choice:
Khopra Community Lodge
Price of a Room:
600 rupees (about $6 USD)
Price of Veg Dal Baht:
500 rupees (about $5 USD)
Electricity:
Electricity is available and it's free to charge a device if they have enough power.
Toilet Situation:
The teahouse has shared squat toilets. There are four toilets available. They are located inside the main hallway near the rooms, so you don't need to go outside to get to them.
Shower:
There is no shower, however buckets of hot water are available for 200 rupees ($2.00 USD)
Wifi:
Wifi is available on days when there is solar power.
---
Khopra Danda, Nepal Photography
---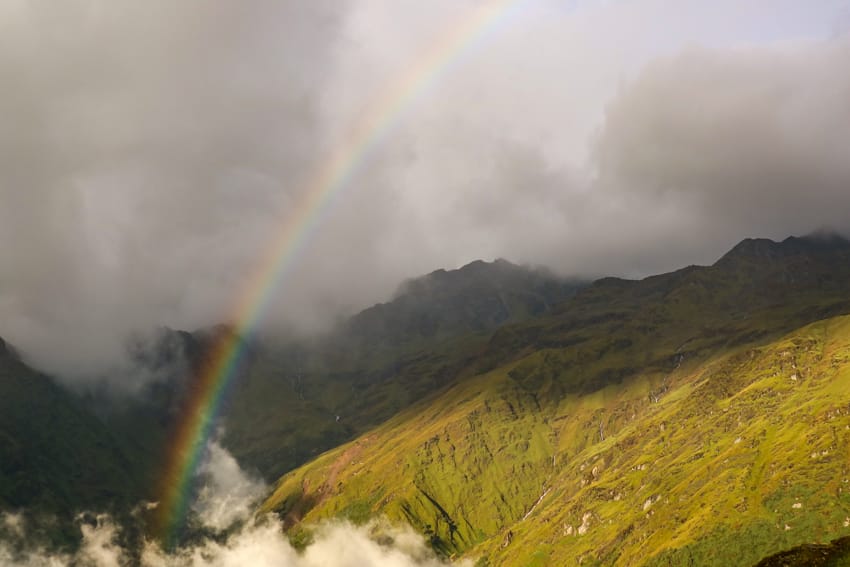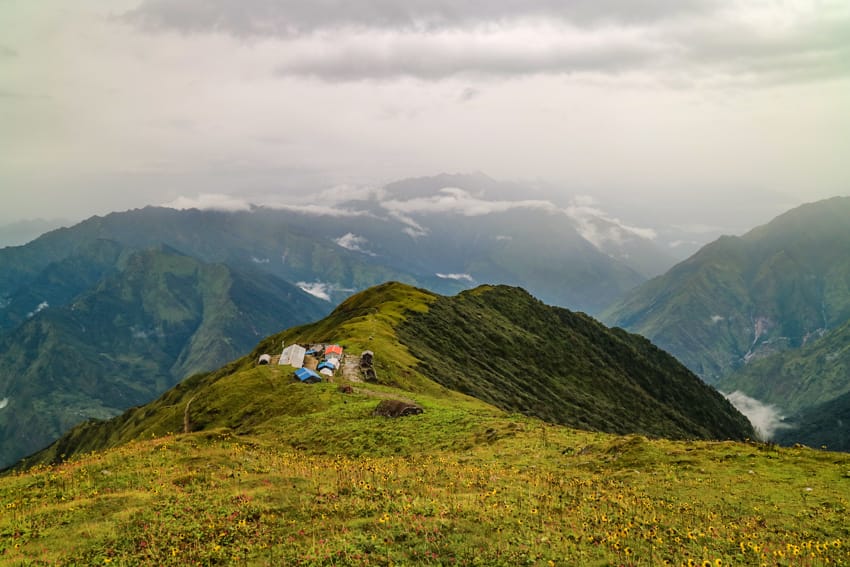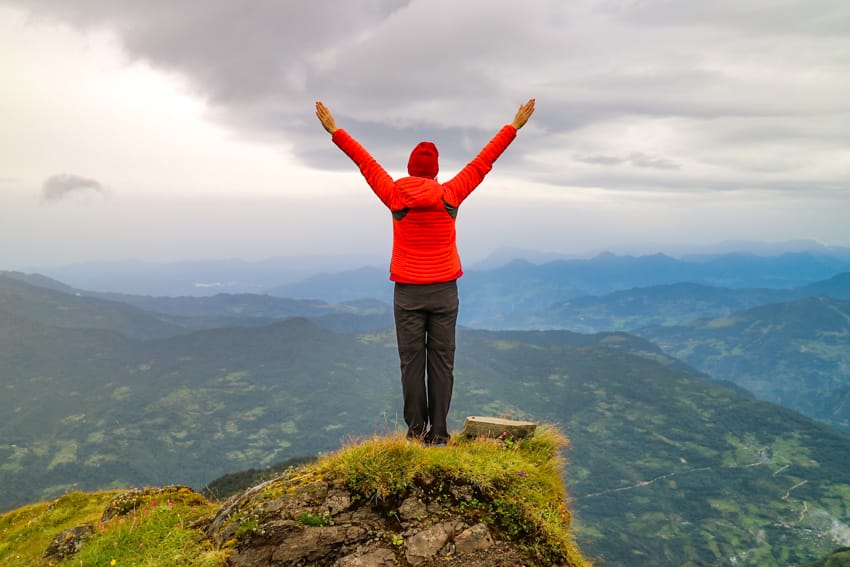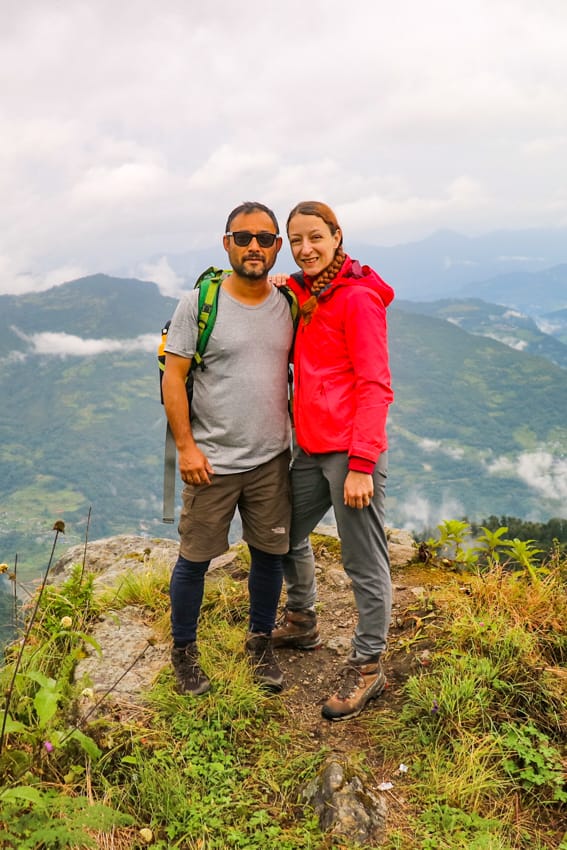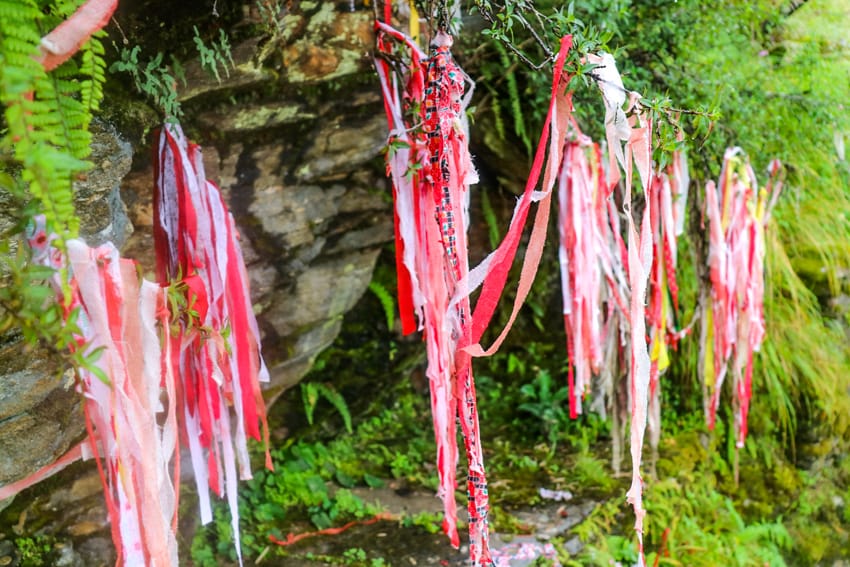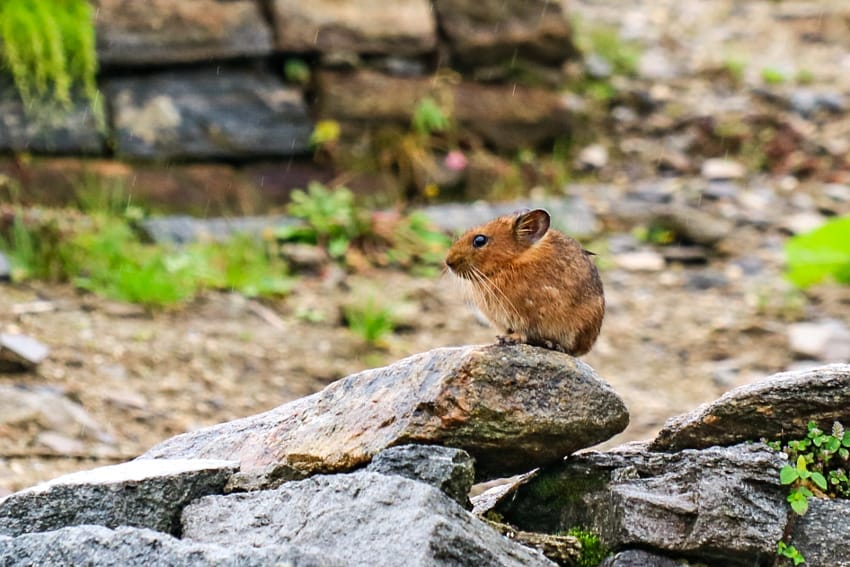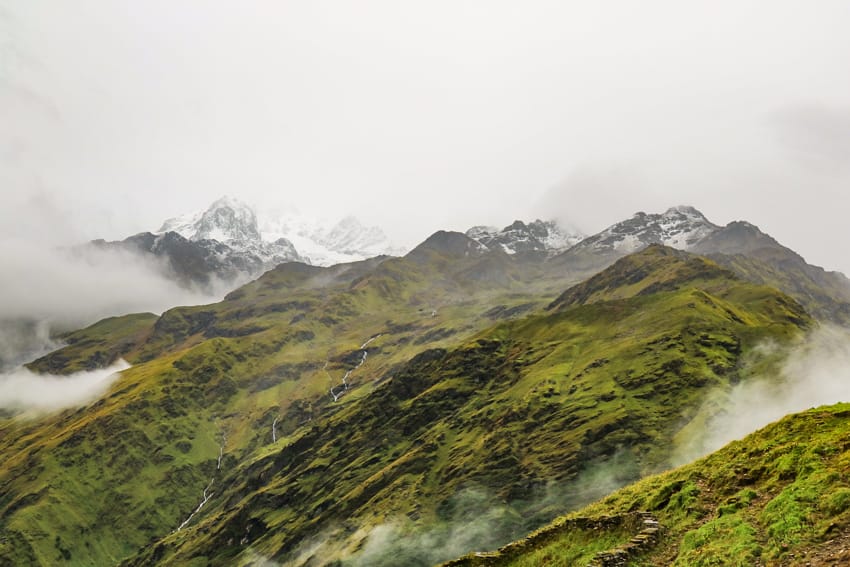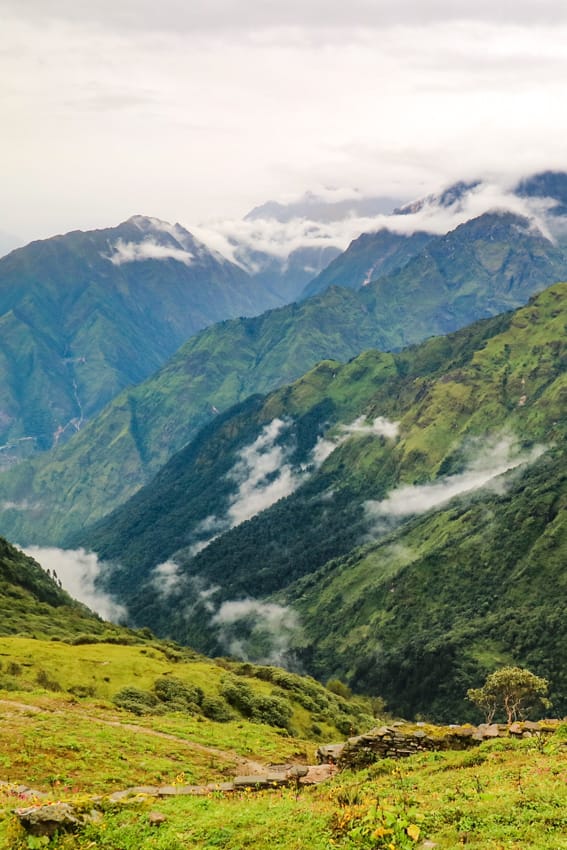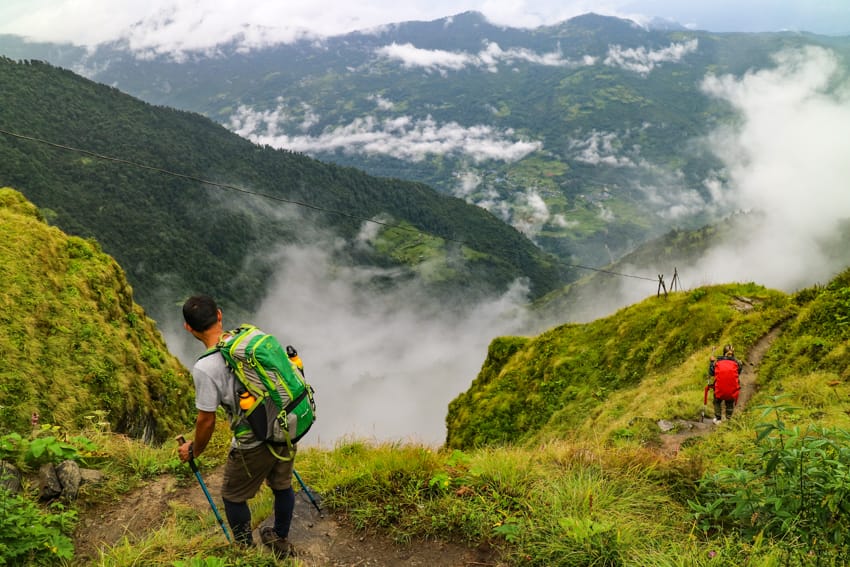 ---
You might also like…