I've had the absolute pleasure of experiencing Magar culture at its finest. On a trip into theJajarkot District of Nepal, which is rarely visited by tourists, I got to witness several incredible traditions and festival dances. The Magar people are warm, inviting and eager to share their culture with others. Recently, I did the Poon Hill Trek and was once again reminded of how wonderful the Magar caste in Nepal is. Here's what I've learned…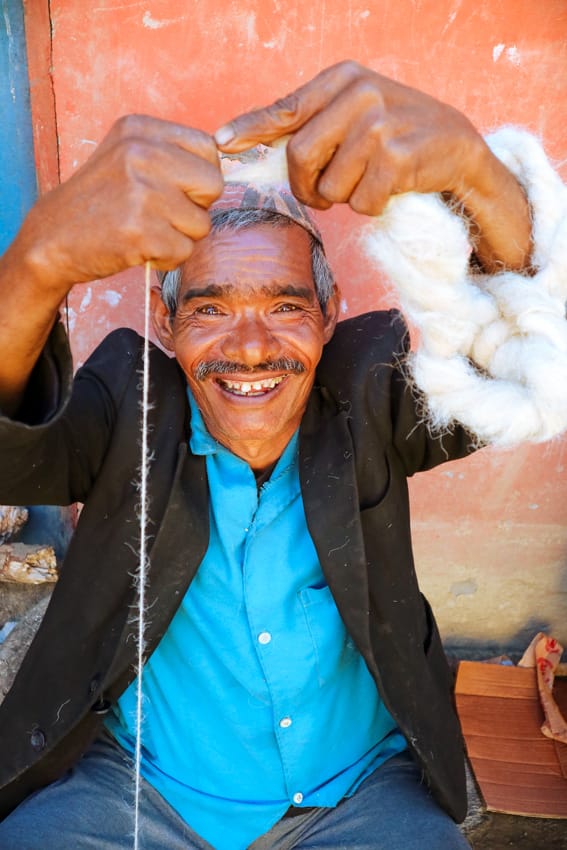 Who are Magar people and where did they originate?
According to People of Nepal, the Magars have Mongoloid features and have always been in close contact with the Indo-Aryan speaking people. They are similar in ethnicity to the Khas and Thakuris and most of their settlements are in the western and far western regions of Nepal including the Himalaya mountains.
Where do they live in Nepal?
While Magar people live all over Nepal these days, they still have a major presence in the mid and western regions of Nepal including the Annapurna region andJajarkot District down towards Palpa and the Terai including Lumbini (Buddha's birthplace).
What is the Magar caste famous for?
Pun is a surname of the Magar caste, so most foreigners visiting Nepal may know the Magar caste for developing the Poon Hill Trek which is one of the most trekked routes in all of Nepal. Those doing the trek will likely be staying in a teahouse owned by Magars. Magars are also well known for fighting as Gorkhas in the British Military. They are known for being strong and hardworking and helped the first king of Nepal unite the country.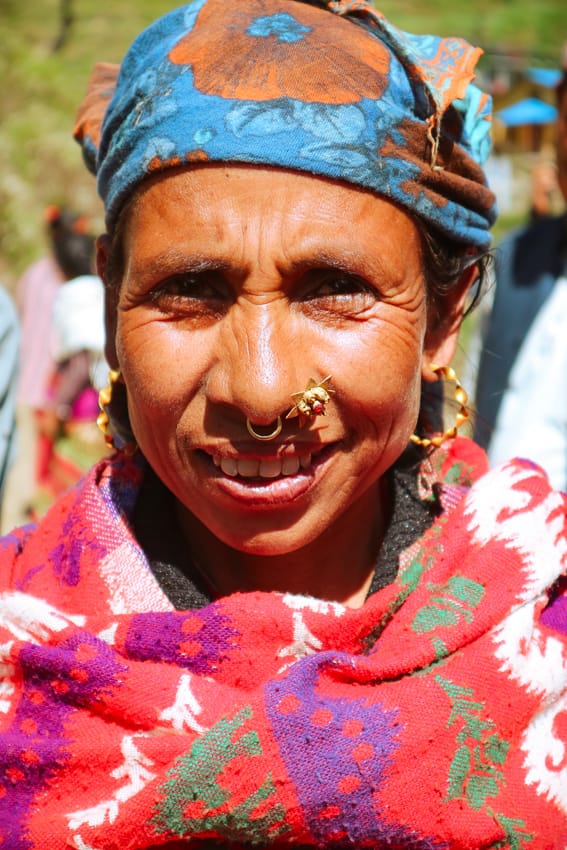 What religions are they?
Magars were originally Bon which means that they worshipped nature. These days, Magars are more likely to be Hindu while some (those living in the mountains) may be Buddhist. Many Magars have a Brahmin priest and practice similar traditions as the Chhetries whom are part of the Hindu caste system.
What language do they speak?
Magars have their own language (Magar) which is a Tibeto-Burman type of language. Many Magars can also speak Tibetan and almost all Magars speak Nepali as a first or second language. Today, many can also speak excellent English. It's not uncommon to find people in Nepal who speak three to four languages.
What festivals are unique to Magar culture?
The Maghe Sankranti festival is unique to the Tharu and Magar people. This is considered the end of the winter solstice. On this day, Magars celebrate by taking a ritual bath (usually in a holy river). They also eat yams on this day.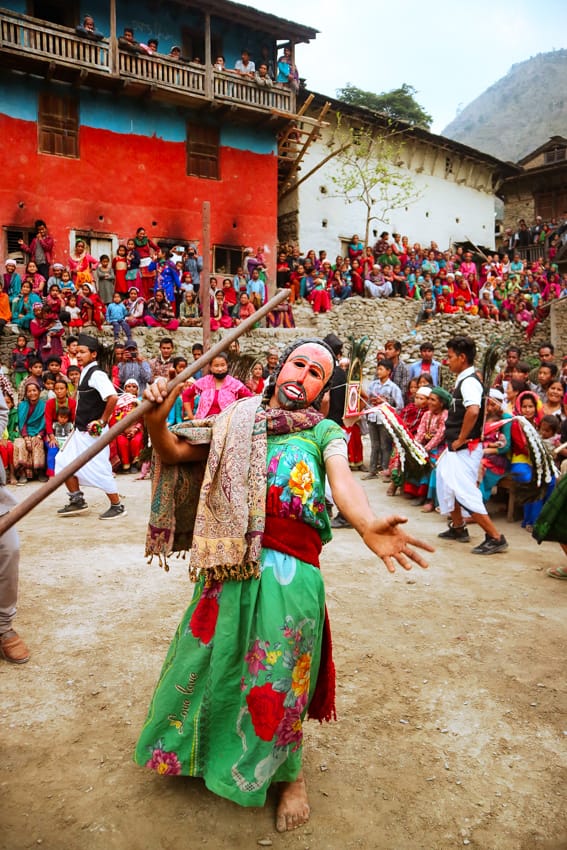 What Magar food should everyone try?
Magars are fond of boiled yams (especially during festival season), curd (yogurt) and dhido. Dhido is an interesting substitute for rice. It's made by boiling water and adding flour to it slowly. It ends up being a kind of wet dough which is eaten with the typical sides of dal bhat like lentil soup, curries, and spicy pickles.
Are there stereotypes about Magar people?
Magars are considered to be brave and hard-working people. They're also considered honest and friendly. I can say from experience that Magars are some of the friendliest people I've ever met. One of the best moments I've ever had traveling was celebrating with the Magar community inJajarkot. You can read about it in my blog post titled A Hundred Warm Welcomes in Kaina Bazaar.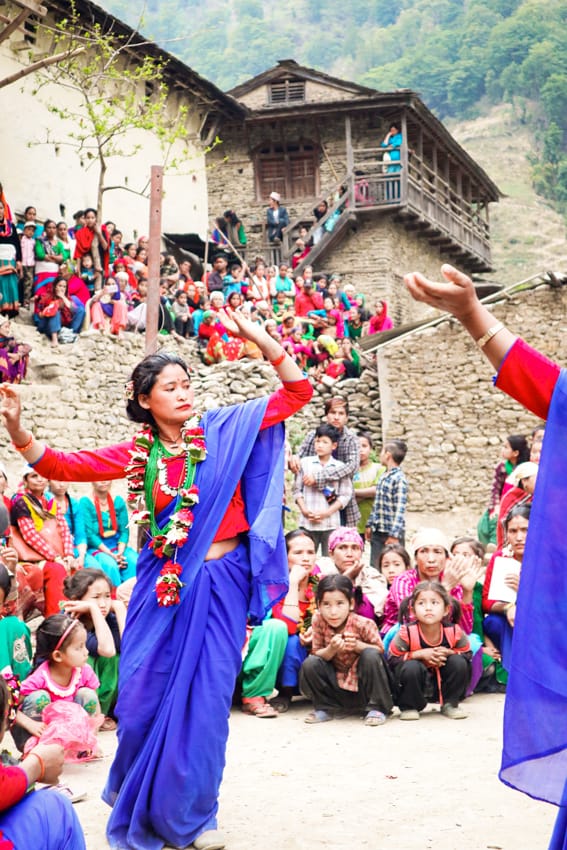 What are Magar songs like?
The best way to experience Magar music is to hear it…
What does a Magar cultural dance look like?
While this dance may look simple, I can assure you there is more foot work going on than it appears. I was asked to join in this circular dance and everyone had a good laugh as I fumbled through the steps. It's also worth noting that the women had ankle bracelets that jingled, and they twisted their feet just perfectly to have it make the sound on each step.
Famous and noteworthy Magars
Nirmal Puja (Nims dai) is currently the most popular Magar worldwide. He holds several Guinness World Records for mountaineering including the fastest time to summit the 14 highest peaks in the world and the first winter ascent of K2. He's more recently known for the Netflix documentary 14 Peaks.
Major Tek Bahadur Pun is another famous Magar. He helped develop the Poon Hill Trek. You can see a memorial gate for him as you enter Ghorepani and a view tower at the top of the hill which was built in his name. Locals of the village call Tek Bahadur Pun a "visionary" for knowing the potential the area had for tourism. We spoke to the owner of the hotel we stayed in, and he had a lot of respect for the Major and what he has done for the area.
What is the best way to experience Magar culture as a tourist?
Experiencing Magar culture as a tourist is easy as they are happy to share their culture with others. One way is to do the Poon Hill Trek. Villages like Ghorepani are predominantly Magar, so it would be easy to choose a teahouse where you can experience the culture. The Khopra Danda Trek is another great option as it runs through the village of Paudwar. In Paudwar, you can visit the Magar Museum, stay with a Magar family in a local teahouse, and learn about the history of the village.
If you're into off-the-beaten-path adventures, you can get in touch with FarXplorer which runs trips into theJajarkot District. That's how I experienced Magar culture the first time and it's as authentic as you can get.
---
You might also like…