Kyanjin Gompa, Nepal is one of the cooler villages we've stayed in while trekking. Usually, the only thing to do is rest after a long day of walking, but in Kyanjin there are tons of great things to do and lots of side treks to choose from depending on the difficulty level you'd like. From technical peak climbing to short walks, there's something for everyone. And, did I mention the yak cheese? Even the food here is unique with its own specialty items.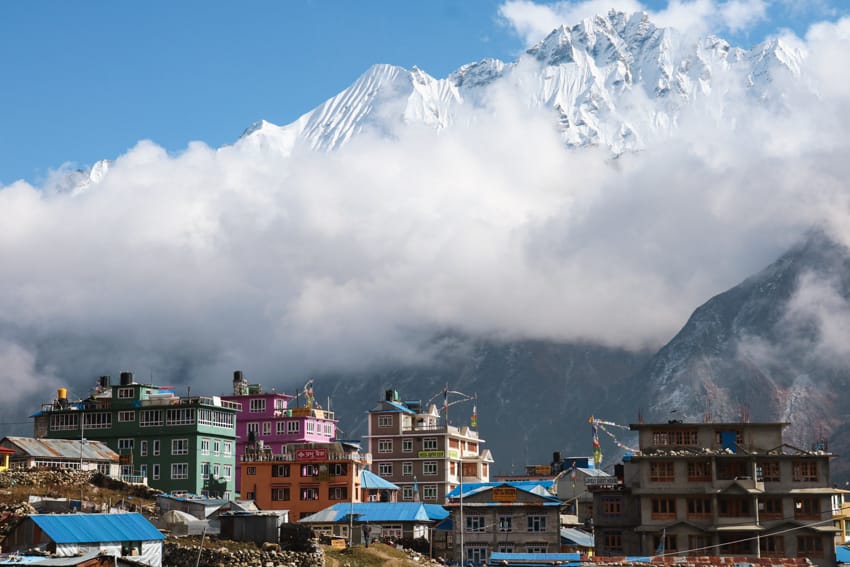 Brief History of Kyanjin Gompa, Nepal
---
The name Kyanjin comes from a local myth that Kyanjin Gompa (monastery) was built on a rock that looked like camel ribs. Kyan means "camel" and jin means "ribs." It's believed that the Gompa is about 280-300 years old. The people who live in this area are Tibetan and came over from Tibet years earlier. The locals are working on putting together a history of the area because they realized most of what they know is myths and folklore. They hope to have the history published as a book in a few years.
Trekking began in the area about 60 years ago (circa 1961) with camping. Later, around 1981, the first tea houses were built. The owner of the Panorama Hotel told us how he had a hotel in the village Lama Hotel in 1988 and back then dal bhat cost only 27 rupees (about 25 cents). In order to get yak milk to the villages, they would transport it in yak intestines because they had no jars or bags at the time. It was fun listening to his stories of what life was like back then.
---
Kyanjin Gompa Village Guide
---
Major ethnicity:
Lama Tamang
Major Religion:
Buddhism
Language:
Tibetan and Nepali
Kyanjin Gompa Altitude:
3,830 m (12,565 feet)
Oxygen Concentration:
64% compared to 100% at sea level
Best Time of Year to Visit:
If your priority is clear views, then the best time to visit Kyanjin Gompa or the Langtang Valley is in October and November. However, if you want to see beautiful flowers blooming in the area and have slightly warmer weather, then you should visit in March and April which is the second best time for views of the mountains.
Location:
Kyanjin Gompa is located inside of Langtang National Park. It's a three day walk from the closest major highway and is located just south of Tibet and the Langtang Mountain Range.
How to get to Kyanjin Gompa:
The easiest way to get to Kyanjin, Nepal is to take a jeep from Kathmandu to Syabrubesi. From there, you do the Langtang trek which takes about three days of walking to reach Kyanjin Gompa.
Entry Permit:
An entry permit is required for foreigners which costs 3,000 rupees ($26 USD). Permits can be purchased at the Nepal Tourism Board office in Kathmandu.
NTC or Ncell service:
NTC has 3G or 4G service. Ncell has no service in this area.
---
What to Eat in Kyanjin, Nepal
---
This area is known for a few specialty items besides the typical dal bhat. For instance, the people grow buckwheat in the area, therefore fresh buckwheat bread is popular. There is also a yak cheese factory in Kyanjin, and the village is full of yaks running around. Some popular things to try include yak cheese (which you can buy to take back with you), yak milk, yak curd (yogurt), and yak butter. Tibetan bread is also great to try. Many trekking routes offer a fried version, however in Kyanjin, they make the authentic version which is like a thick chapati. We even tried cutting it in half and stuffing it with cheese like a Tibetan style grilled yak cheese sandwich. Yum!
Interesting drinks to try include fresh sea buckthorn juice which is packed with vitamin C. You can also try Tibetan butter tea, which I personally do not like, but is extremely popular among those who enjoy a salty cup of tea.
Two things that I hadn't tried before were Tingmo and Rhildu soup. Tingmo is a piece of soft steamed bread (it reminded me of an Italian garlic knot) served with a curry to dip it in. Rhildu was described as a potato dumpling soup which was very garlicky and delicious. I would recommend trying both in the area.
---
Things to do in Kyanjin Gompa
---
Kyanjin Yak Cheese Factory
One of the most popular things to do in the area is visit the Kyanjin Cheese Factory which is famous in Nepal. Even in Kathmandu, we buy Kyanjin yak cheese. You can see a little bit of the cheese making process and buy a chunk to eat on the spot or to bring back with you.
Kyanjin Gompa
Right next to the cheese factory is Kyanjin Gompa. We heard mixed things about the Gompa (Buddhist monastery), some claiming it's 700 years old. Turns out, it's closer to 280-300 years old which is still incredible considering the massive destruction earthquakes had on this area. Behind the monastery is a home for the elderly. The people who live there lost their families in the earthquake and the villagers help to care for them and feed them. You can donate if you'd like to help. What I found strange was that the villagers take turns opening the monastery rather than monks, nuns, or a lama. So it feels a bit deserted when you visit.
Kyanjin Ri
Most people who do the Langtang Trek attempt to climb up one of the nearby hills. Kyanjin Ri is the most popular choice. The interesting thing is that there is a Kyanjin Ri I, II, and III. Kyanjin Ri I (also known as Lower Kyanjin Ri on maps.me) is about 4,300m (14,100 feet). There was some confusion about Kyanjin Ri II and III. We visited both and maps.me says "Kyanjin Ri" is 4,615m (15,150 feet). Our physical map, which is several years old, says 4,400m and websites selling the tour to Kyanjin Ri say it's 4,773m. Locals also claimed it was 4,800m. Honestly, we have no idea which one is right. After walking it, it was clear that there were several hills along the ridge and each one looked to be a different height. The full Kyanjin Ri hike takes about 4.5 hours up and down while the lower viewpoint only takes about 3 hours.
Tsergo Ri (Cherko Ri)
Tsergo Ri is slightly higher than Kyanjin Ri and was covered in snow when we went. We opted not to do this route because it was slippery and it takes 8-9 hours up and back with nowhere to stop along the way for food. We met some people who did it the day before we got there and they said the views were incredible. My friends have also done this route and enjoyed it. I preferred Kyanjin Ri because we could be back by lunch time, however Tsergo Ri has a better view and is more of an adventure. Make sure to pack crampons and lunch if you choose this route.
7 Lakes
We visited Kyanjin Ri in the morning and decided to go see the "7 Lakes" in the afternoon since not everyone in our group joined the morning hike. 7 Lakes is more like 7 ponds, but it's still beautiful. These small lakes naturally form off the river. It takes about 2 hours total (there and back). The hike is very easy compared to Kyanjin Ri and Tsergo Ri. This is a good option for those who don't want to climb up the hills nearby. If you go in the morning before the wind picks up, you can get great photos of the water reflecting the mountains.
Yak Watching
Kyanjin is a great place to watch yak roam around. During the earthquake in 2015, many people passed away leaving their yaks ownerless. These yaks can survive by grazing on grass nearby and need little care. Years have passed since the earthquake and the yaks have reproduced. Now, there are tons of yaks roaming free around Langtang. These big creatures are a bit cheeky and mischievous and are hilarious to watch. Just don't try to approach them. They are cute, but they will also charge at you if you upset them.
Hydro Power Plant, Lake, and Glacier Viewpoint
Kyanjin has a hydro power plant. You'll pass over the pipes on your way into the village, however, you can also take a walk uphill to see the manmade lake that feeds into the hydro power plant. We were able to see this from Kyanjin Ri, so we opted not to walk that way, but this hike is easier than hiking to the two hills nearby as it's not as steep. After the lake, you can continue on a bit further so that you can get a closer look at one of the glaciers.
Ice Climbing on Glaciers
Many mountain climbers come to the area to practice ice climbing on the nearby glaciers. There are two main glaciers in the area and locals informed me that it's a popular spot for Japanese mountaineers. Climbing glaciers is no joke, so if you'd like to do this, you'll need to book it with a respected mountaineering company that knows the area well.
Yala Peak
If you'd like to climb a small peak, Yala Peak is a popular one in the area. This requires some basic skills, a mountaineering guide, and a special permit which needs to be arranged in advance. Yala Peak reaches 5,732m (18,805 feet). It is one of the easier peaks to climb in the Himalaya, but does require a few technical skills. You can climb it in one intense day or two days with an overnight at Base Camp.
Langshisa Ri
Langshisa Ri reaches 6,427m (21,085 feet) and is a technical climbing peak. Langshisha Peak is 5 days out of the way from Kyanjin Gompa and requires camping, a mountaineering guide, and a special permit that needs to be arranged in advance. This is an actual expedition in the Himalayas and is good for those beginning their journey into serious mountain climbing. Langshisa literally translates to "Place where the ox died" as it's rumored that an ox died on this peak.
Kangja La – Pass to Helambu
Some people go straight from Kyanjin Gompa to the Helambu Trek. We could see the "route" from Kyanjin Ri and I've got to be honest. It looked intense. At one point, it seemed like the only way up was over a giant wall of ice. This route requires a guide and camping and will be much more intense than the normal Helambu Trek.
---
Kyanjin Gompa Hotels & Teahouses
---
Types of accommodation:
Teahouses and basic hotels
Number of accommodations:
There are about 40 different lodges in Kyanjin, Nepal
Our choice:
Nayakhanga Peak Guest House or Panorama Guest House. We chose to stay at Panorama Guest House because it had attached bathrooms with a toilet, sink, and hot shower in the rooms. Later, we visited Nayakhanga Peak Guest House for breakfast and they had great food. I'd recommend both of these options.
Price of a Room:
750 rupees (about $7.50 USD) for a double, 1000 rupees (about $10 USD) for a triple
Price of Veg Dal Bhat:
525 rupees (about $5 USD)
Electricity:
There was electricity, however if you want to charge a phone or device it's 300 rupees ($3 USD).
Toilet Situation:
The bedrooms had attached bathrooms with a western toilet. There was a squat toilet available near the restaurant. The bathrooms were very clean.
Shower:
Hot showers are available in the rooms, but you need to ask the owner to turn on the hot water in advance.
Wifi:
Wifi was available by buying a card. You get 1GB for 300 rupees.
---
Kyanjin Gompa, Nepal Photography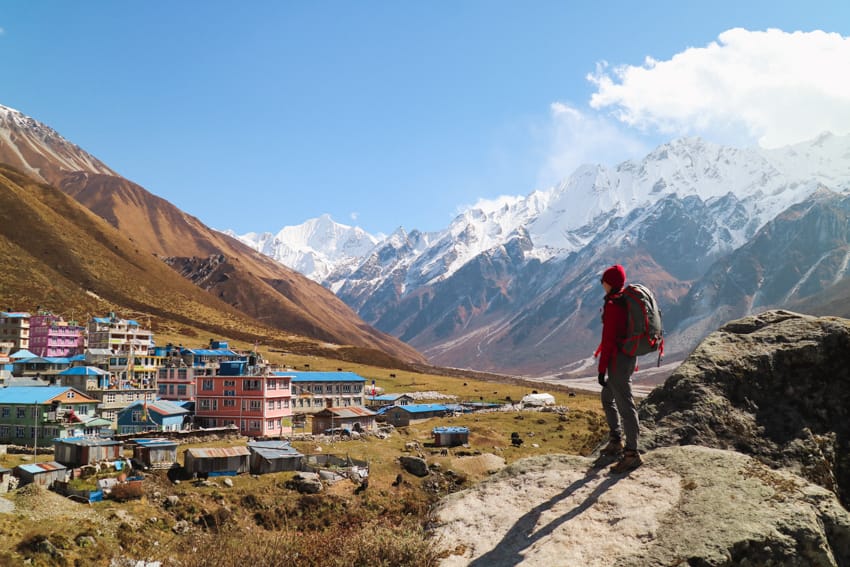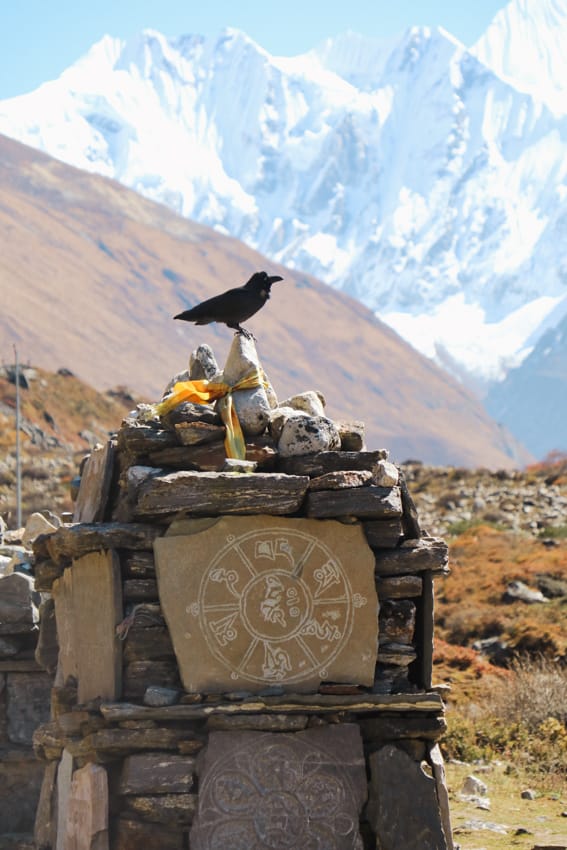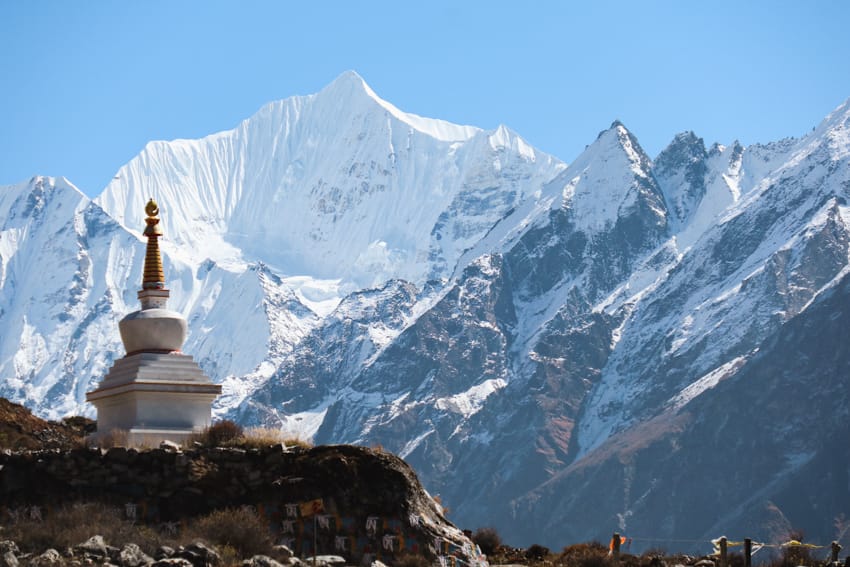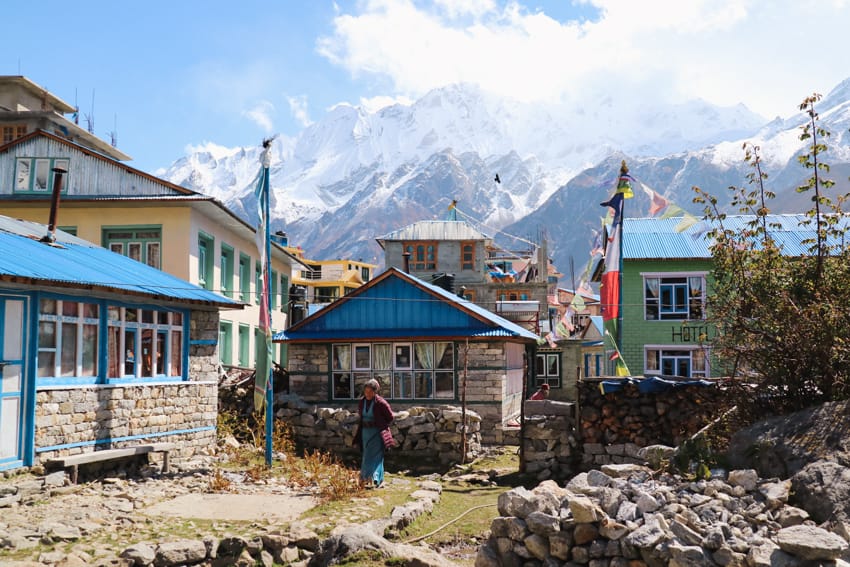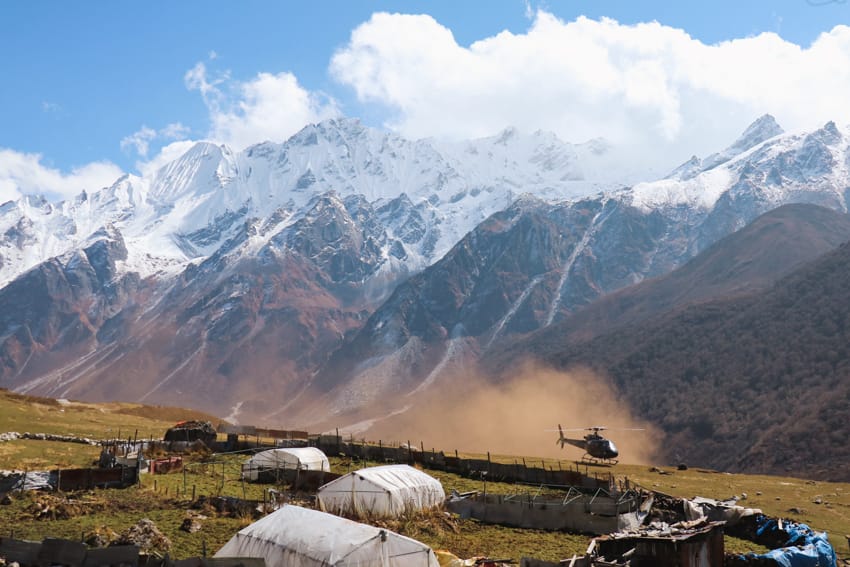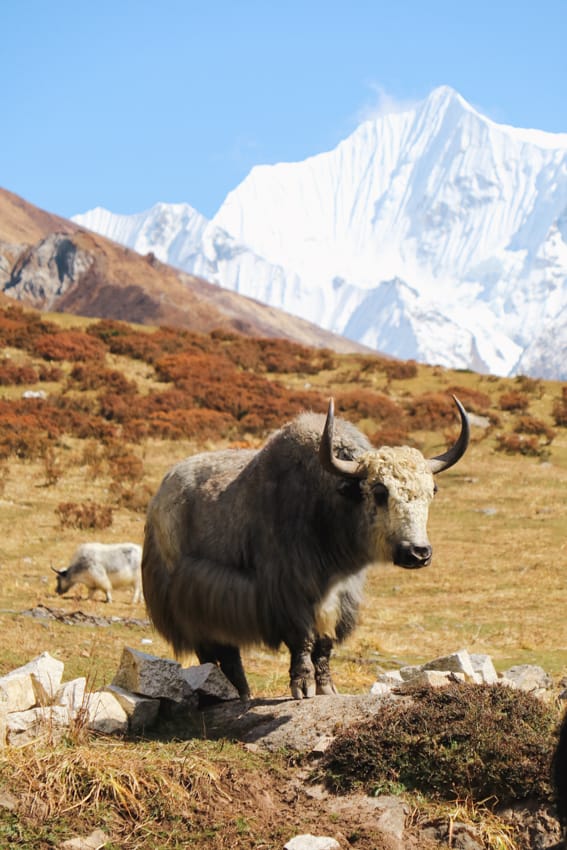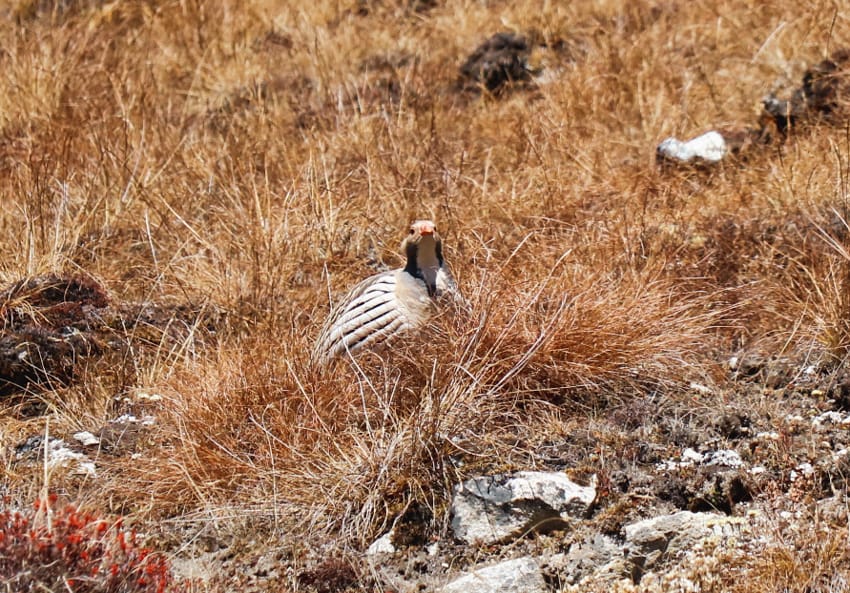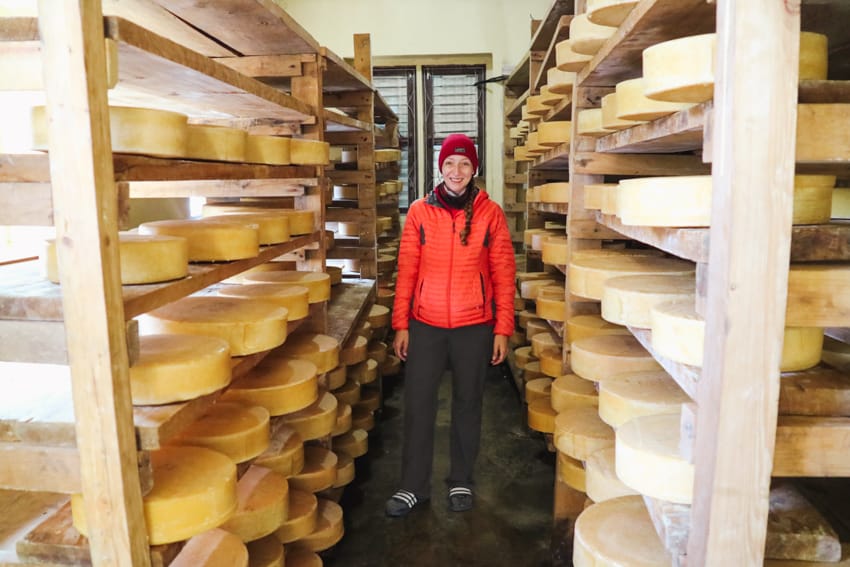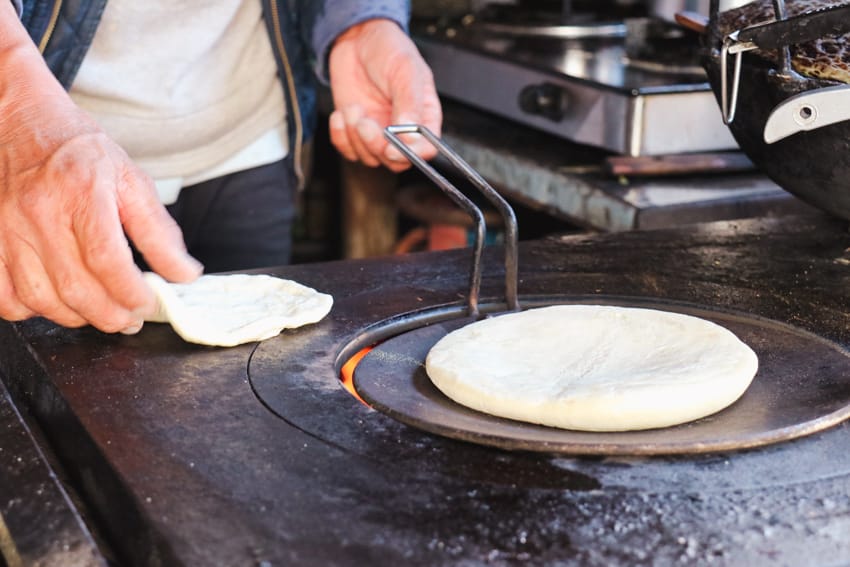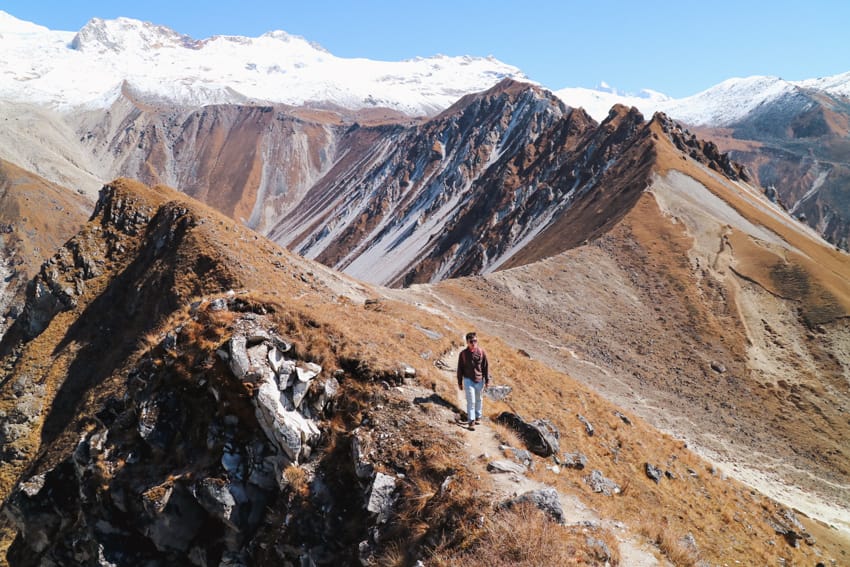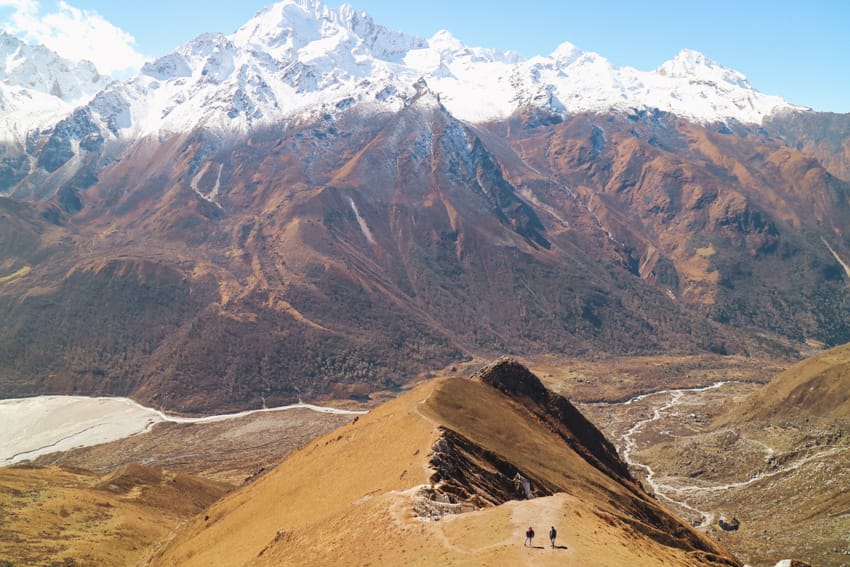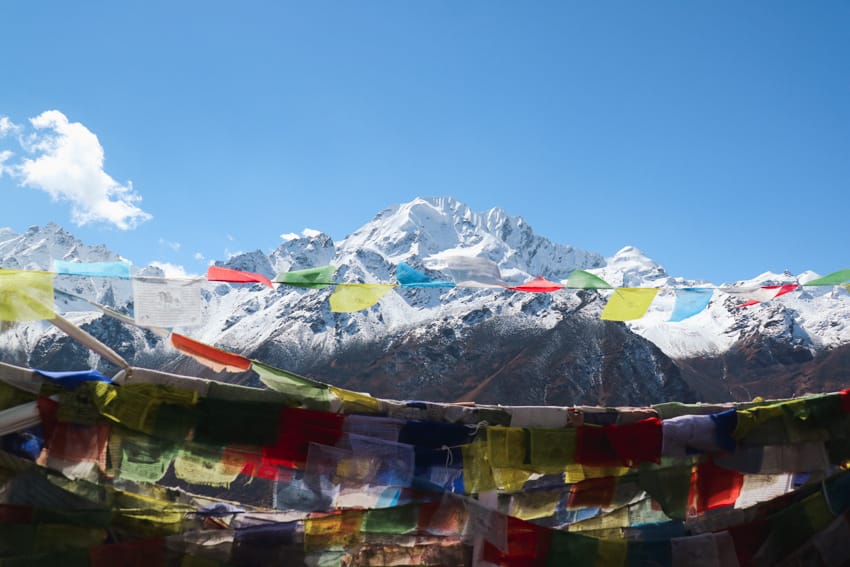 ---
You might also like…