Seeing yaks in Nepal is one of the highlights for trekkers visiting the country. Yaks are known to live above an altitude of 3,000m (9,850 ft). They have large lungs and the ability to transport oxygen through their blood at a higher level making high altitude a comfortable habitat. At lower altitudes, they suffer from heat exhaustion because they have a thick layer of fat and lack a normal amount of sweat glands. Therefore, most people haven't seen a yak before going trekking in the Himalayas.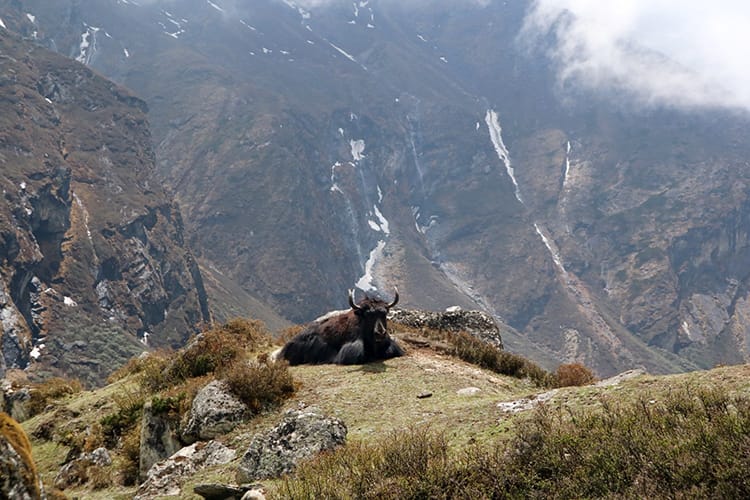 The Rolwaling Valley Sanctuary
---
Domesticated yaks are used to transport goods up the mountainous regions of the Himalaya where there is no access to roads. Locals use their droppings to fuel fires since wood is scarce above 4,000m (13,000 ft). Their milk is turned into butter and cheese. Yak wool is popular for scarves, sweaters, and hats because of its warmth and its resistance to odor. And, yaks are sometimes killed for their meat. Especially on tourist trails where foreigners demand it. Since very few animals can survive at a high altitude, most meat has to be helicoptered in making yak an ideal choice.
Most tourists only get to experience yak in this habitat. They see them walking up and down the trekking trails carrying large loads. I'd always seen yaks as mean creatures. In the Everest Region, you'll often hear a yak bell ring and then see the beasts plummeting down the trail at you going full speed as a herder behind him yells and throws rocks. They have little regard for anything in their path, and you'll often hear tour guides yelling "safe side" to instruct their trekkers to get away from any cliffs as they run past.
But here's the thing. Yaks are peaceful animals. If you see them grazing in a field, they're slow moving gentle creatures. Despite their giant size (ranging from 500-1300lbs), they mostly just want to eat grass and lay around. I never realized this until I did the Tsho Rolpa Trek and saw free yaks in Rolwaling Valley.
About 10 years ago (around 2009), Guru Rinpoche held a meeting to discuss the killing of animals within Rolwaling Valley. The valley is made up mostly of Sherpas who are Buddhist. One of the Buddhist principles is that you cannot kill. Guru Rinpoche saw that locals were killing animals to feed trekkers who came camping in the area and felt it was disrespectful. Rolwaling Valley is part of the Gaurishankar Conservation Area and Gaurishankar Himal is considered one of the most sacred mountains in the entire country. Even the time zone of Nepal is based on its peak.
Guru Rinpoche passed a law that put a ban on killing anything within the area. Those caught buying or selling meat will receive a $500 fine. That's roughly three months' salary for the average Nepalese.
About 5 years ago (around 2014), he rescued 108 yaks and brought them to the valley to live their lives in peace. Since then, the yaks have reproduced. I'd guess there's over 200 yaks in the valley now. The animals are completely free and only die of natural causes. I asked the locals and they don't even milk the animals. They do however use yak dung to fuel fires which help prevent deforestation in the area.
In Rolwaling Valley, you'll also see herds of cows and sheep. Cows roam free as they do in all of Nepal. It's illegal to kill a cow in the country due to the belief that cows are gods. The sheep are free and their poop is used as potato fertilizer.
If you go to Rolwaling Valley in May, you'll get to see the baby yak which are absolutely adorable. Yak can live to be around 20 years old. The babies can walk within minutes of being born and look like tiny furry cows. One was prancing across a field and didn't notice me. I took a photo that looks like it's flying. Once it realized I wasn't a yak, it ran back to its family.
Although yaks are mostly peaceful, it's important not to approach them or get too close. The yak have been roaming free for five years and some of them were born free which means that they are not used to human contact. It's best to watch them from afar and have a good zoom lens if you want to get close up photos.
Rolwaling Valley is by far the best place to see yaks in Nepal. It's amazing to watch them in their natural environment. There's something very heartwarming about watching the babies run free with their families. The route to get there is well cared for despite being so off-the-beaten path. There's a beautiful holy lake (Tsho Rolpa) in the area which is worth visiting. Witnessing free yak in Rolwaling Valley was truly incredible.
---
Photos of Yaks in Nepal's Rolwaling Valley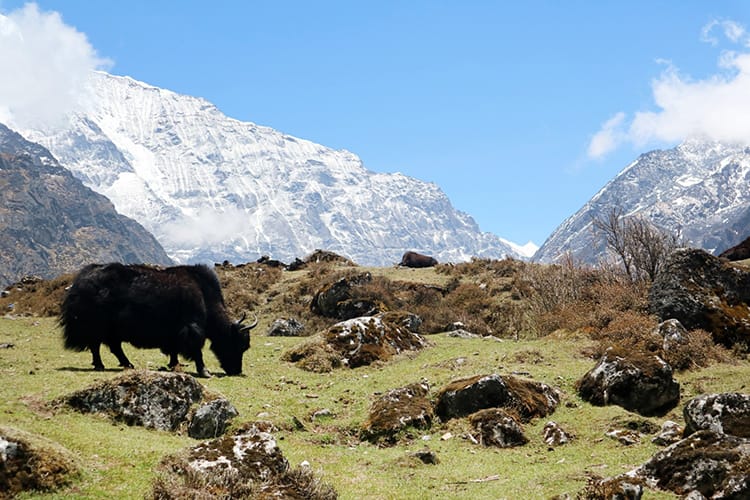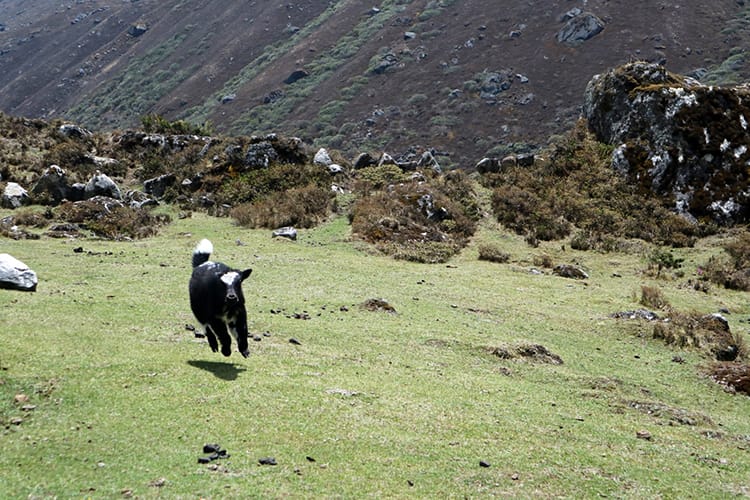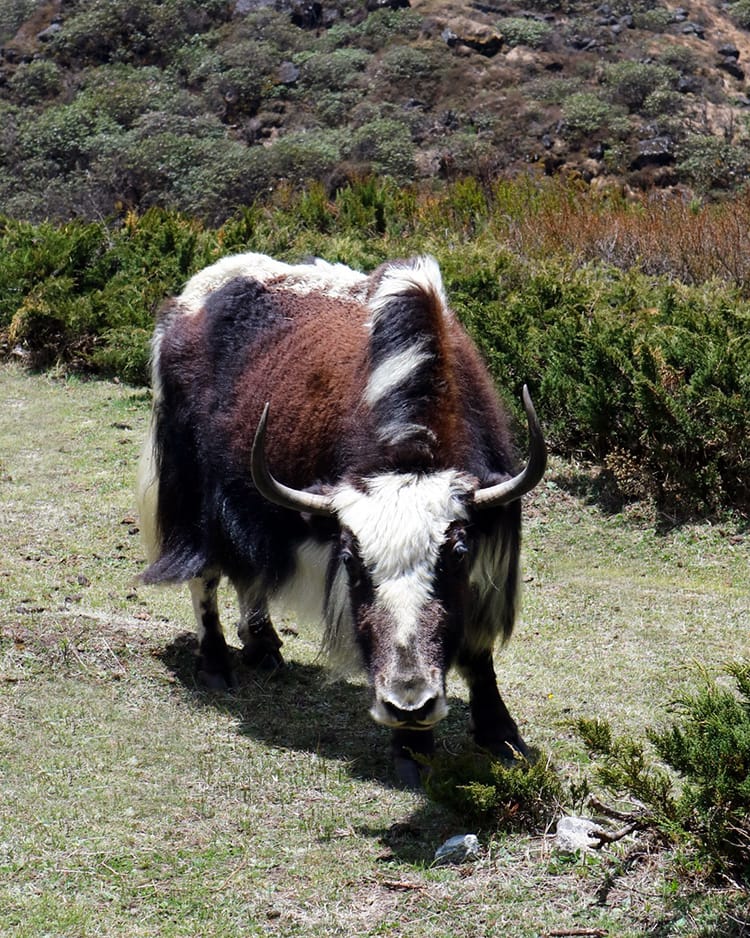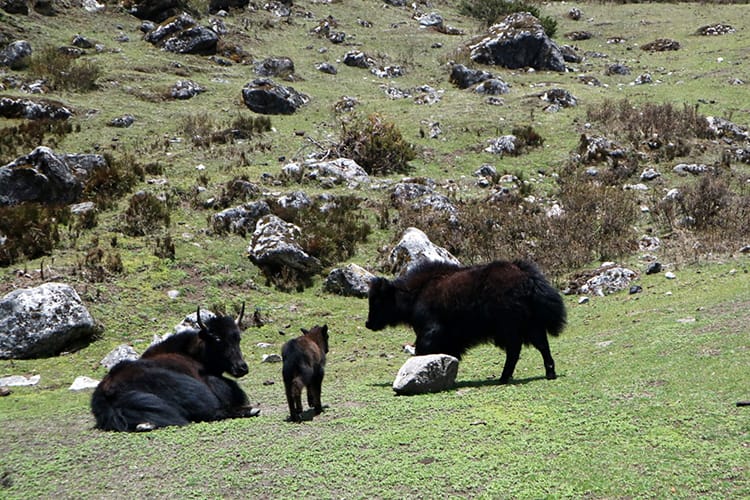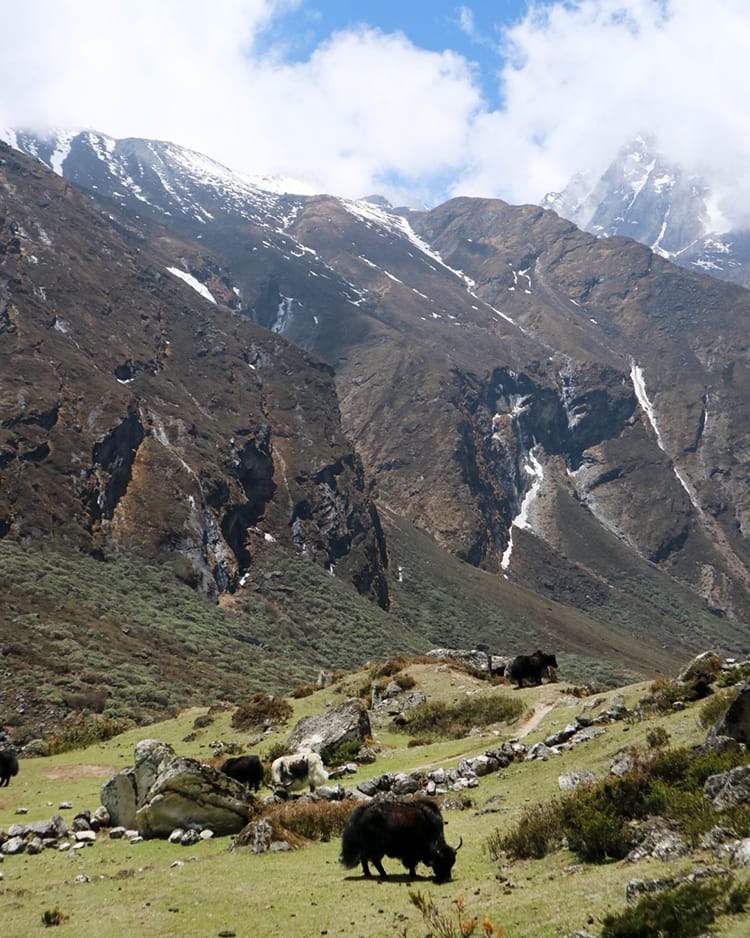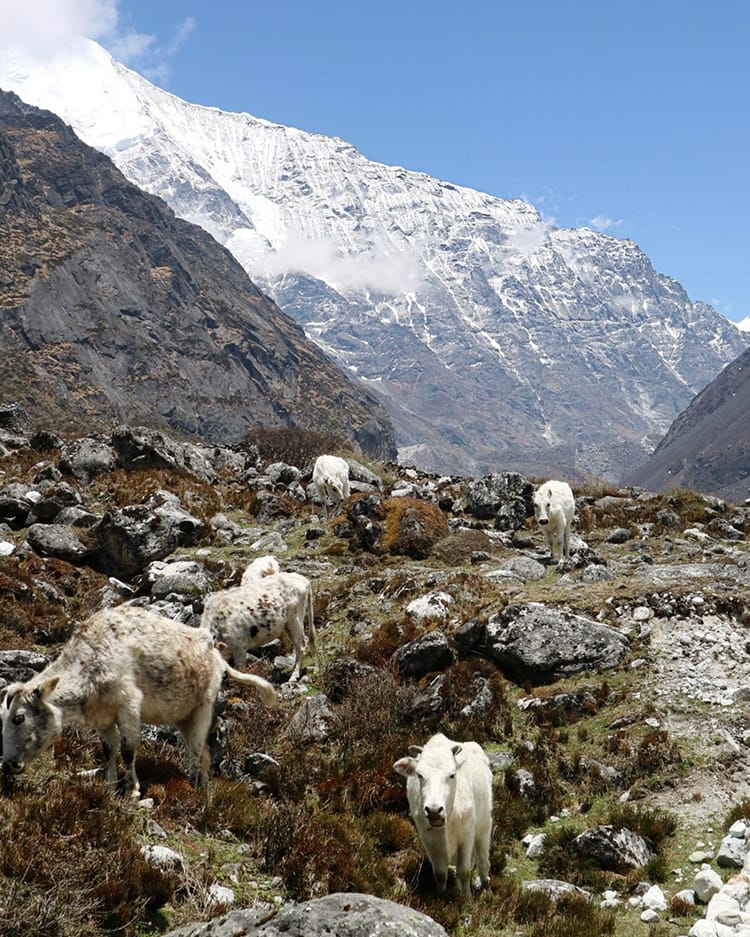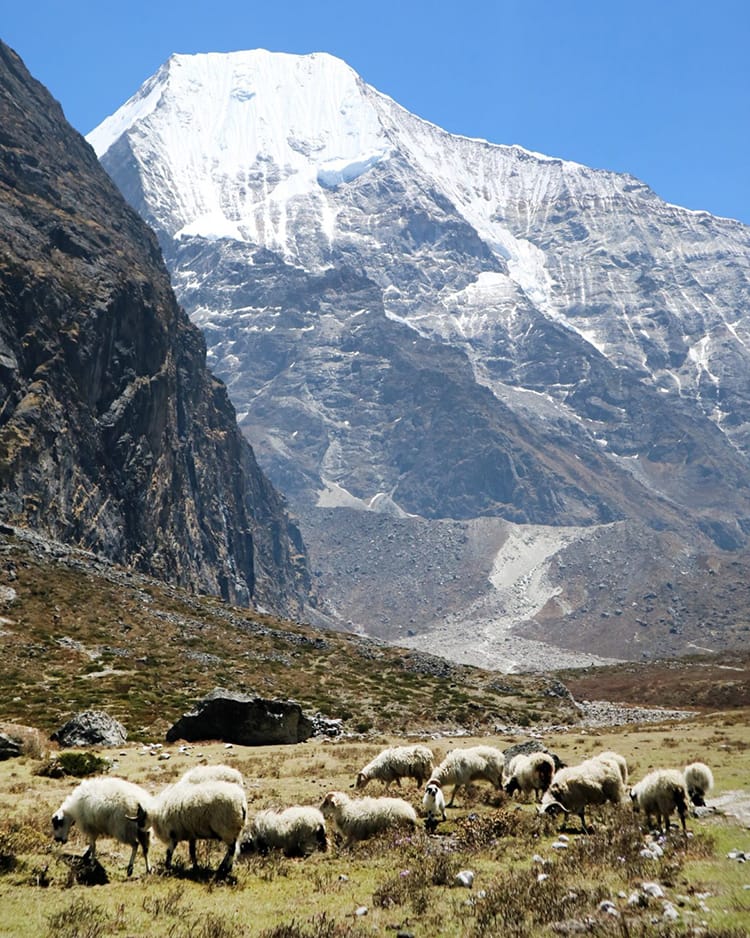 ---
You might also like…