This Mardi Himal Trek Cost breakdown includes the pricing for 5 days of trekking. It also includes the jeep transport needed to get to the starting point from Pokhara and to return to Pokhara from the end point as well as the ACAP trekking permit. This is the price of items if you were to go alone with a single occupancy room. If you are two people sharing, the costs will be slightly less, as you can split the room and transport charges. This Mardi Himal Trek budget does not include the cost of hotels in Pokhara on the day you return as that can range from $5 to $500 depending on your comfort level.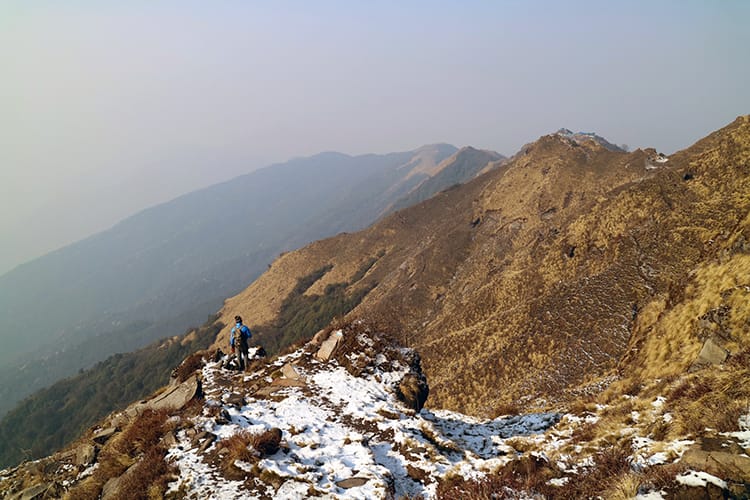 5 Day Itinerary
---
We chose to do the five day Mardi Himal Trek. We had been told that it can be done in three or four days, but the people we spoke with described it as "brutal." We also heard that six or seven days was too long. Therefore, we settled on a five day itinerary. We had a few first time trekkers with us. I found this itinerary to be easy enough for beginners, but not so easy that it was boring for those with more experience.
Day 1 – Pokhara to Kande (by car) to Pittam Deurali
Day 2 – Pittam Deurali to Low Camp
Day 3 – Low Camp to High Camp
Day 4 – High Camp to Base Camp (sunrise trek) and back to Low Camp
Day 5 – Low Camp to Sidhing (then to Pokhara by jeep)
---
---
Mardi Himal Trek Cost Per Day
---
All these prices are based on a single occupancy. If you share a room, vehicle, porter, guide etc., the prices will decrease. These are the average prices for each category over a five day period.
Breakfast $5.36 – I am a big fan of large breakfasts, therefore, I usually order the set breakfast which comes with bread, eggs, hash browns, and a coffee. This ends up being on the expensive side, but is cheaper than ordering items individually. A set breakfast cost between 500 and 700 rupees (about $5 – $7 USD).
Lunch $5.09 – We almost always ate vegetable dal bhat. The prices ranged from $5 to $7 depending on how far into the trek we were. I found this to be more expensive than other treks where dal bhat is only $3. I also ordered tea with lunch some days.
Dinner $5.40 – Again, we almost always had vegetable dal bhat. It's filling, healthy, and comes with free refills. It's my favorite trekking meal in Nepal. I usually just drink water with dinner, but sometimes I had a cup of tea.
Tea Breaks $2.51 – Drinks can be a little expensive on trekking trails in Nepal, especially if there is a water shortage. We carried our own water purification tablets, but when it was cold, we ordered tea or boiled water. We love stopping for tea breaks while walking, so each day we had some tea and snacks on route.
Accommodations $5.13 – The teahouses in this area charge between 500 and 700 rupees per room (even if two people share). Some places charge extra if there is an attached bath which I feel is worth the upgrade. If you are sharing a room with someone, you can cut this cost in half. Note: Please DO NOT ask for a free room. This is highly damaging to the local economy and is an awful trend among backpackers.
Transportation $14.53 – We took a private jeep to Kande which is the starting point of the trek. This cost 2000 rupees. We had five people with us and split the cost five ways. The road was perfectly paved, so you don't need a jeep and may be able to hire a car for cheaper. On the way back, we hired the same jeep to pick us up from upper Sidhing which I don't recommend. It cost 6500 rupees and was an awful bumpy ride along cliffs. I recommend walking to lower Sidhing (45 mins downhill) and getting a jeep from there. We split the jeep five ways making it only 1,300 rupees each. You can also hire a local jeep which charges 1,000 rupees per person, but they tend to crowd too many people into the jeep. Overall, we each only spent $3.07 per day on transport (since we split the cost), but if you are traveling solo, it's much more expensive.
Permits $5.13 – The ACAP permit costs 3000 rupees per person. You can purchase it in Kathmandu at the Nepal Tourism Board Office. You do not need a TIMS card for this trek.
Average Price Per Day – $43.28
Optional Mardi Himal Trek Costs
This is the price per day.
Porter $20.00 – Two members of our group wanted a porter. Porters can carry between 15 – 18 kg each. If you don't take too much stuff with you, two people should be able to share one porter. Porters charge around 2000 rupees per day (about $17 USD). This price does not include a tip. 10% is the minimum expectation, but most people give at least $3 a day.
Guide $30.00 – We did not take a guide on this trek as we are experienced trekkers who have been to much higher altitudes and on more difficult treks in Nepal. If you are inexperienced, I recommend taking a guide. Guides charge 3000 rupees per day per group. This does not include tip. Again, 10% is the minimum expectation, but most people give at least $5 a day. If you have a group, a guide can be rather cheap. For instance, if you have five people, it will only cost you each $6 USD a day including tip.
---
---
Mardi Himal Trek Cost Over 5 Days
---
Breakfast – $21.45 – this does not include the first day because we had a free breakfast at our hotel
Lunch – $25.47
Dinner – $27.01
Snacks – $12.56
Accommodations – $20.51 – This does not include the fifth night as we returned to Pokhara. Hotels there vary greatly in price. We spent $30 for one night in Pokhara at Hotel Middle Path & Spa which I highly recommend.
Transportation – $72.65 – We hired private vehicles. If you take public transport or share the cost, it will be much cheaper.
Permits – $25.64
Extra Costs
Porter – $100 (including tip)
Guide – $150 (including tip)
---
---
Mardi Himal Trek Cost Total
---
Overall, the trek cost $205.30 USD per person on a single occupancy rate. My husband and I spent $150 each ($300 for both of us) since we shared a room and split the transport five ways.
This total includes the price of food, accommodation, permits, and transport over the five day period. It does not include breakfast the first day (ours was included with our hotel room in Pokhara). Nor does it include dinner or the cost of our hotel on the fifth night as we ate dinner and slept in Pokhara. We stayed at Hotel Middle Path & Spa which was about $30 per night, and we ate at Fresh Elements which cost about $8 per person.
Mardi Himal Trek Cost – $205.30
Mardi Himal Trek Cost with Porter – $305.30
Mardi Himal Trek Cost with Guide – $355.30
Mardi Himal Trek Cost with Porter and Guide – $455.30
---
How Much Money Should You Carry on the Mardi Himal Trek?
---
Overall, I recommend carrying no less than $300 per person with you while trekking. There are no ATMs on the route, so you don't want to run out of cash. If you have a porter, carry $400. If you have a guide, carry $450. If you have a guide and a porter, carry $550.
To be honest, we hadn't traveled in over a year, so we were not very mindful of our normal budget of $30 a day per person. We could have spent much less if we wanted to, but we ordered whatever we wanted and only looked at the prices afterward to document it. We had large breakfasts every day along with dal bhat for lunch and dinner. Overall, if you are willing to carry your own bag, the Mardi Himal Trek is very inexpensive and can be done on a small budget.
---
You might also like…