The Mardi Himal Base Camp Trek is a five day trek through the south of the Annapurna Conservation Area. The trek starts at 1,770 m and goes up to 4,500 m which allows you to see a range of different terrains from lush jungle to snowy peaks. Packing light is important if you'll be carrying your own bag, and I consider everything in my bag carefully. I had everything I needed for our trek and didn't bring anything unnecessary. Here's what you'll want to pack for your trek.
Note: We went on the Mardi Himal Base Camp Trek in April when it's normally warm, but we got hit with snow and cold weather, so this list is also good for those going in colder months like October and November.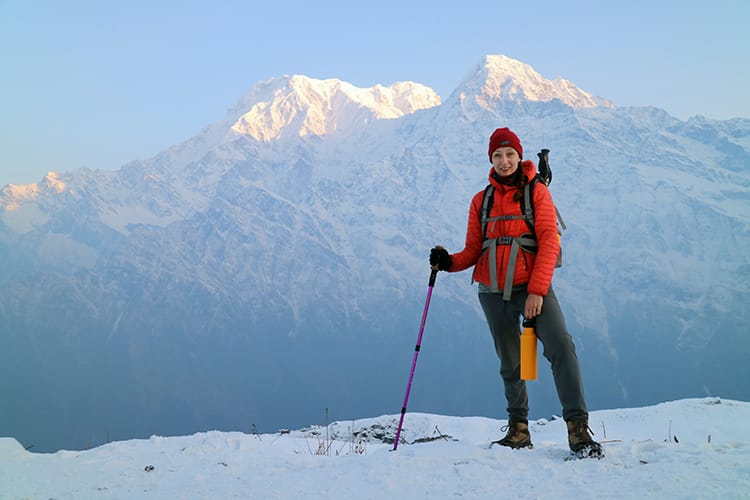 Mardi Himal Base Camp Trek Online List
---
I'll mention a bunch of items in this post, so I've compiled them into an easy to navigate list. This Mardi Himal Base Camp Trek packing kit helps you easily find everything online without opening a lot of tabs on your browser. Feel free to click the links to see more details on the exact items and brands that I carry. Most of the items are from Amazon, REI, or Eddie Bauer as that's where I shop and those are the companies I like best.
Mardi Himal Base Camp Trek Packing List
---
Backpacks and Bags
40L Backpack – I have a 40L backpack that can be expanded but 40L was more than enough space for this trek. I find that the bigger the bag, the more stuff you bring that you don't really need. I highly recommend my Eddie Bauer Alchemist Backpack which is waterproof.
Waterproof Bags – I always tell everyone to carry a few waterproof bags. If you can't find them, you can always bring some ziplock bags for safe measure. If it starts to downpour, you can quickly throw your phone and camera in them for extra protection.
Packing Cubes – Most trekking bags are top loaders. This makes it insanely hard to pack because if something is on the bottom, you have to take everything else out to get to it. Therefore, I have to have packing cubes to keep my sanity. I've also got my husband hooked on these now.
Plastic Bag for Laundry – A simple plastic grocery store bag is perfect for this since it's light and takes up no space.
Clothing and Accessories
Down Coat – I'm obsessed with my Eddie Bauer microtherm coat. It's insanely lightweight and folds down to almost nothing. When it's in my bag, it's barely noticeable, but it's really warm! I've seen people wearing coats 10 times thicker than mine and complaining about the cold while I'm nice and cozy in my tiny jacket.
Fleece Jacket – I prefer a full zip fleece so that I can wear it unzipped and zipped. Pullovers are not as versatile. This usually gets used at tea breaks because when we stop walking I get a chill from having a sweaty back. I also wear it at night when I go to bed and I wore it as a layer on the day we went to Base Camp before sunrise.
Raincoat / Poncho – I have an actual raincoat which maybe isn't necessary. You can pack a lightweight poncho as well. I like my raincoat though because it also protects against cold wind which a poncho does not.
Long Sleeve Quick Dry Shirt – I change into my long sleeve shirt as soon as we get to our tea house for the night. The only time I wear it during trekking is on the day you wake up before the sunrise. On that day, I wear almost all the clothes on this list.
2 Quick Dry T-shirts – Two shirts is plenty for this trek. I wore one shirt the first two days and the other shirt the last three days and it was completely fine. You could probably even get away with wearing just one shirt as long as you do wet wipe showers and wear a good amount of deodorant.
Lightweight Trekking Pants – One lightweight trekking pant is enough for this route. On the Base Camp sunrise trek, I wore my thermals underneath them and was perfectly cozy.
1 Legging – Leggings aren't entirely necessary, but I did wear them to bed at lower altitudes, and then I wore them as pants the last day. For men, you may want to pack a second pair of lightweight trekking pants.
5 Underwear – I hate doing laundry when I trek because you honestly never know the weather. It was rainy and cold almost every evening when we went, so drying laundry was not an option. While you can hang some items by the fire at night, you can't hang your undies there, so better to pack a pair for each day.
2 Short Hiking Socks – I wear one pair of socks while trekking and keep the other separate for wearing around the teahouse and sleeping in. That way my daytime hiking socks can dry at night.
1 Pair of Long Hiking Socks – Long hiking socks are good for the nights at altitude and the day you go to Base Camp. Note, you shouldn't layer socks when you are cold, it actually makes you colder. So, bringing extra socks won't help. If your toes often get cold, consider bringing toe warmers.
2 Sports Bras – Two sports bras are good because if one gets sweaty, you can change when you get to tea houses. More than two isn't necessary.
Thermals – I opted to only take thermal pants to save room and weight in my bag. I wish I'd taken the matching top because we had cold weather. Thermals are good for wearing around the tea houses at night, sleeping in, and wearing to Base Camp.
Hiking Boots – I recommend a good quality hiking boot with ankle support. I'm obsessed with my La Sportiva boots which have been tried and true since I got them. They're worth the investment if you go trekking or hiking a lot. I like to use Nikwax on my boots once a year for waterproofing. You don't need to carry it with you, but make sure to reapply it once in a while to ensure your boots are properly waterproofed.
Flip Flops – A pair of extremely lightweight flip flops are nice to have but not necessary. As soon as I get to a teahouse, I slip these on to let my feet breathe. Even if it's cold, I wear them around with socks on. It also makes going to the bathroom at night easier, so you don't have to lace up your trekking boots.
Summer Hat – The sun is strong at altitude, so have a baseball cap or sun hat.
Winter Hat – I wear a winter hat at the tea houses at night and it's a must have on the day you go to Base Camp.
Gloves – I like thin gloves. I have a pair of silk glove liners that I love. I find thicker gloves are less effective for me, but other people may want something a little thicker.
Ankle or Knee Support – The downhill sections of this trail are steep and hard on the knees. I have knee and ankle problems and having a support wrapping for them made my trip back much more enjoyable.
Buff – Buffs are great for trekking as opposed to wearing a bulky scarf. I like the lightweight ones that you can easily breathe through.
Sunglasses – I accidentally left my sunglasses at Low Camp which was a major faux pas. You need sunglasses for the trip to Base Camp because you may have snow up there. At altitude, the sun is strong and when it reflects off the snow it can cause snow blindness.
Crampons – Since we got hit with snow, crampons were a lifesaver. They were a last minute purchase after hearing other trekkers say they got snow in April. People who didn't have crampons were slipping and sliding while we easily ran down hill.
Toiletries
Hand Sanitizer – There isn't always soap available, so hand sanitizer is a great backup.
Roll of Toilet Paper – Toilet paper isn't provided at tea houses, so you should bring your own.
Feminine Hygiene – It's extremely difficult to find tampons anywhere in Nepal, so you should bring them with you. Pads are available in Nepal but are hard to locate on trekking routes.
Wet Wipes – This area can sometimes have water shortages, so showers aren't always available. Wet wipe showers are great in a pinch.
Tooth Care – Bring a travel sized toothbrush and toothpaste.
Hair Care – I bring a lightweight comb to avoid carrying a heavy brush. If you plan to shower, bring tiny packets of shampoo to avoid carrying a bottle.
Quick Dry Towel – If you plan to shower, a quick dry towel is necessary. I did wet wipe showers and didn't use my towel at all, so next time I'd leave it behind.
Sunscreen – The sun is strong at altitude. Even if you usually don't sunburn, make sure to apply sunscreen each morning.
Deodorant – I buy a tiny travel sized deodorant to avoid any extra weight in my bag.
Vaseline – A mini bottle of Vaseline is great for your lips and nose. Regular lip balm doesn't work for me on treks.
Medication & First Aid
Antibiotics – I always carry one emergency round of antibiotics in case someone gets really bad food poisoning. Ask your doctor when it's appropriate to use it.
Diarrhea Medicine – Traveler's diarrhea is very common in Nepal, so I take anti-diarrhea medicine with me everywhere.
Vitamins – I bring a few tabs of vitamin C, B, olive leaf, zinc and echinacea for immune support so that I don't get sick. I also bring electrolyte powder in case someone gets dehydrated.
Activated Charcoal – Activated charcoal is good for food poisoning, but it can also negate some prescription drugs, so check with a doctor before using it.
Prescription Drugs – Bring anything you need with you as there are no pharmacies on the trek.
Cold Medicine – Someone always gets a cold while trekking, so make sure to bring some daytime and nighttime cold medicine. Note, you shouldn't use nighttime cold medicine at higher altitudes as it may affect your breathing which is already strained at altitude. Two people in our group came down with minor colds on this trek. I also throw a handful of cough drops in my bag just in case.
Tylenol/Advil – I don't usually use Advil, but I always carry some with me in case of an emergency.
Basic First Aid – Bring some basic first aid items like Band-Aids, Neosporin, gauze, etc.
Water Purification Tablets – Water purification tablets allow you to drink the local water safely. Since water isn't filtered, it's important to use these. You should drink 3 liters of water a day, so having at least 15 tabs minimum is a must.
Diamox – This trek doesn't go very high in altitude, but we carried 6 tabs of Diamox in case of an emergency. This is a medication used to avoid altitude sickness. I've done 6 high altitude treks and only needed to use it one time.
Electronics
Camera & Charger – I have a Canon EOS M3 which is lightweight but takes a nice photo.
Phone & Charger – There is cell service and places to charge a phone along the route.
SIM Card – You can read my post on SIM Cards in Nepal, but I recommend an NTC SIM for this trek.
Maps.me Download – I always have a backup plan and Maps.me will tell you the trekking route while offline. It's very accurate and when our group split up, we were able to use it to get to the next location.
Head Lamp – A head torch is important for using the toilet at night and for the early morning climb to Base camp.
Kindle – I love reading my Kindle when trekking. It's lighter than a book and has backlighting, so I don't need to wear a head torch while reading. Plus, the battery lasts a long time.
Audible – Don't like carrying a book or Kindle? Check out audible! You can sign up for a 30-day free trial and get two books free by clicking the banner below! If it's not for you, you can cancel any time.
Snacks
Protein Bars – I couldn't find protein bars in Kathmandu, so I carried trail mix. I'd recommend bringing one bar for each day.
Chocolate Bars – Sometimes you just need a little sugar boost. I brought one KitKat bar for each day of the trek.
Other Items Needed for the Mardi Himal Base Camp Trek
Map of the Area – I always carry a paper map of the route, but it's not necessary. I just like to see everything in front of me with the altitudes marked. You can buy a Mardi Himal Base Camp Trek map in Kathmandu or Pokhara for about $4 USD.
Water Bottle – Bring a refillable water bottle that can hold hot or cold water. At altitude, you'll likely want to purchase boiled water as it's too cold to drink cold water. Bottled water has been banned in the Annapurna Conservation Area, so you can't buy it on route.
Money (in small denominations) – I recommend bringing at least $300 per person. Try to get some smaller bills as carrying all 1,000 notes makes it difficult for the teahouse owners. You can read my Mardi Himal Trek Cost blog post for more info.
Entry Permit – Carry your entry permit with you at all times as there are checkpoints on the way. You'll need an ACAP permit to do the Mardi Himal Base Camp Trek.
Trekking Poles – I don't use trekking poles going uphill, but they are extremely useful going downhill. I usually only use one, but I bring two just in case.
Copy of Passport/Visa – Always have a copy of your passport and visa just in case.
Trekking Insurance – I use World Nomads for all of my treks in Nepal. That way, if you need an emergency evacuation via helicopter, you don't have to worry about the bill later. Keep a copy of your insurance with you while trekking.
You can check out my post on trekking insurance which talks about the time I got pneumonia at Everest Base Camp!
---
You might also like…