I ran across the street in the downpour of rain. Within seconds my entire outfit was soaked. My friends and I all looked at each other and laughed while everyone in the bar was dry. The rain pounded the roof so loud, you almost couldn't hear the live band. If we were going to be stuck in the bar, we might as well make the most of it. After a couple of beers, a local man sat down, and I was introduced. I'd been wanting to go paragliding in Nepal and as chances would have it, he was a tandem paraglider. Next thing I knew, I was signed up to go paragliding in two days. Not something I'd usually sign up for in a local bar.
The next morning my phone rang. "Want to go today? Second flight is available." To be honest, I was just sitting there doing nothing, so my answer was yes. After an exciting drive up the mountain, we arrived at the take off location. Parachutes danced in the air as people literally ran off the mountainside. A small wooohooo coming from the distance each time someone became airborne. Above us was a rainbow of bright colors circling like birds of prey.
---
Paragliding in Nepal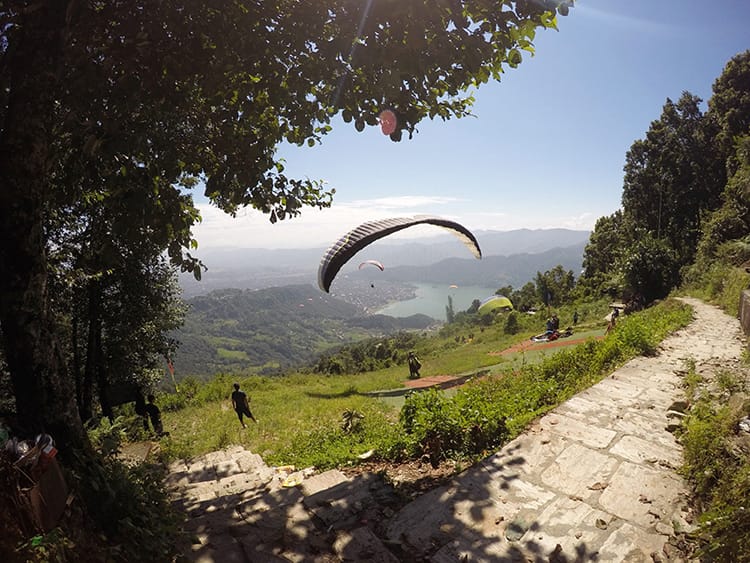 We sat and waited for our turn which came quickly. My harness was strapped to me and then Deepok said I was ready. I looked down and the harness felt like it wasn't even attached. It was basically a seat that hung from my shoulders, so naturally I started to freak out. "This is it?" I asked, but Deepok just smiled and continued to work on his own. The girl next to me seemed to be having the same reaction. Surely there should be something secured tightly around my waist. I took a deep breath and tried to accept it for what it was. Clearly, they do this everyday, so the "harness" must be safe.
We lined up with the chute attached and then we waited. Standing there felt like an eternity. I was supposed to take a few steps, stand still, and then run on demand. It sounded so easy, but I'd seen a few people before me mess it up. Clearly their nerves getting the better of them. But we just stood there unmoving. "Why?" you might ask. Because there was no wind. A key component to paragliding.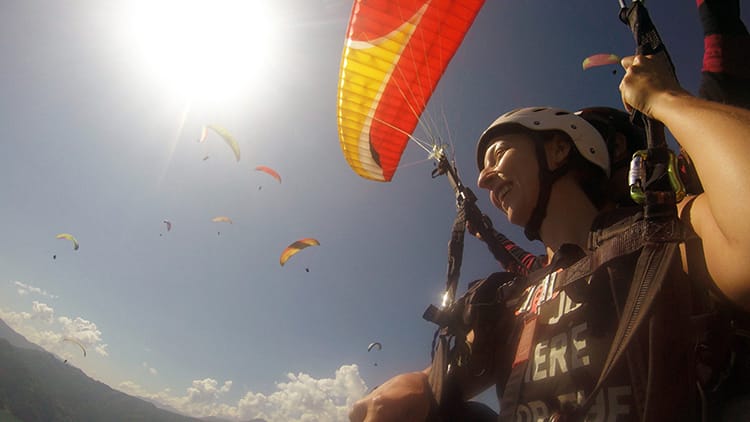 I felt a rustle on my face, and my heart began to pound. The tiny breeze quickly died down and my heart rate went back to normal. We waited longer. The breeze picked up, and eventually, it felt like a gust of wind. I could feel Deepok moving behind me and knew this was it. "Walk, Walk, Walk. Stop. Stay. Okay. Run, Run, Run, Run!" My feet began to move while my brain took a back seat. The fact that I was running off the mountainside escaped me when suddenly there was no more ground beneath me. My body jerked into the harness which thank god, felt tight and secure all of a sudden. Slowly, the ground moved further away as we raced toward the sky.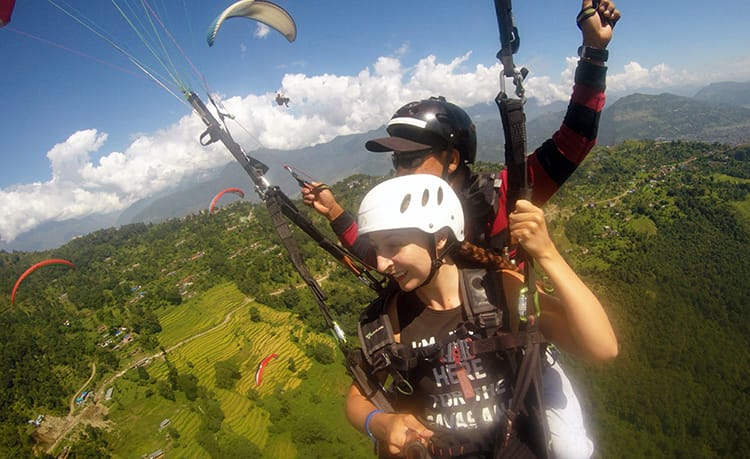 Sitting in the air was a bizarre sensation. I could feel the chute jerking in the wind above me as we tried to climb higher and higher, circling in the traffic. From the ground the parachutes look like chaos, but from up above you could see a pattern like a highway. Still the feeling of being so high up and only attached to strings was unsettling. If there's one thing I've learned this month, it's that I like my adrenaline fast. Somehow bungy jumping was a joy, while things like scuba left me riddled with anxiety.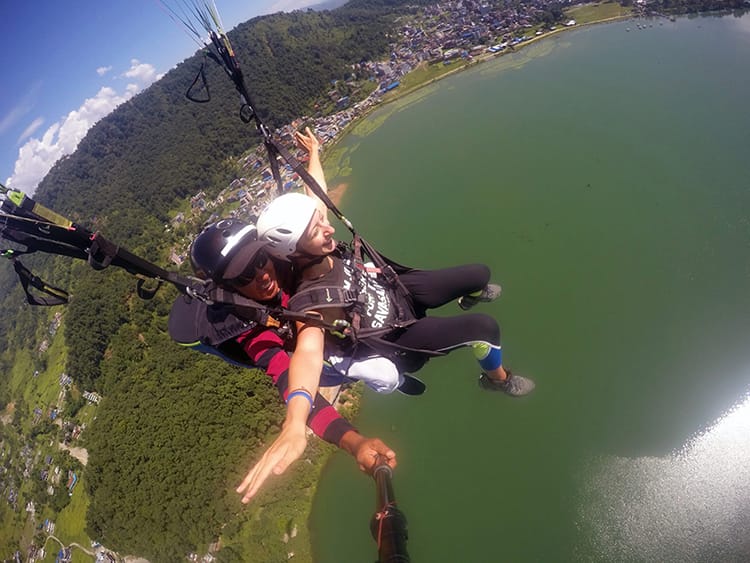 The closer we got to the ground though, the more I enjoyed the ride. Once we were halfway lowered down and in between some of the mountains, I felt like a bird. The wind blew softly and the chute was steady. We glided over the lake and headed toward the landing spot. I hadn't been instructed how to land and suddenly Deepok yelled, "Stand up!" My mind drew a blank because how do you stand up in the air. "Stand up?" I asked. He repeated it back to me, and as the ground got closer I straightened my legs. We landed so perfectly that I felt like someone gently placed me on the ground.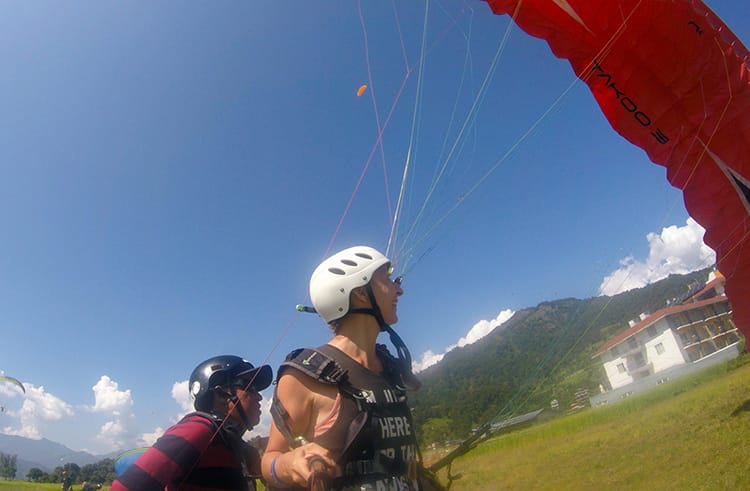 Nepal has been pushing me to do extraordinary things ever since I stepped off the plane. I think bungee jumping within my first 48 hours here really set the tone of my trip. The whole country is a giant playground for adrenaline junkies, or in my case people who sign up for things without really thinking about it.
Everyone I met told me paragliding in Nepal wasn't really scary. Truth be told, I thought it was both scarier than bungee jumping and at the same time not as scary. The amount of time spent in the sky gave me anxiety, but it didn't have the terrifying aspect of looking over the edge of a 525 foot drop. Regardless of being scared, I really enjoyed my flight and the incredible views it offered.
Have questions about paragliding in Nepal? Ask me in the comments!
---
My Top Picks for Hotels in Pokhara
---
Budget Hotel
Forest Lake Backpacker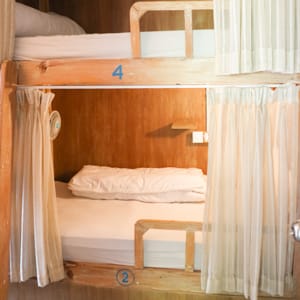 $12 a night – Located on the quiet northern side of Lakeside, this hostel has everything you need including lockers, outlets near the bed, privacy curtains, individual reading lights and more. I stayed here for an entire month and loved it!
Comfort Hotel
Hotel Middle Path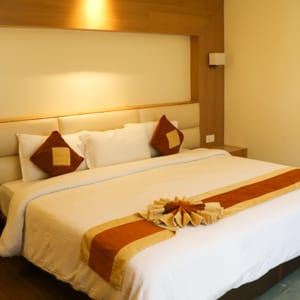 $50 a night – This is my go to hotel when I visit Pokhara. There's an on site pool, large clean rooms, a beautiful garden, a spa, and very friendly staff. It's located in the heart of Lakeside close to all my favorite restaurants. I can't recommend it enough!
Luxury Hotel
The Pavilions Himalaya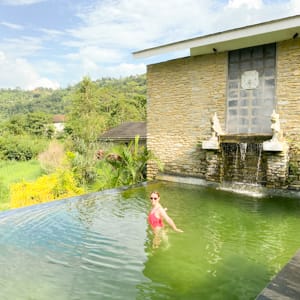 $200 a night – If you want luxury, The Pavilions is the place to be. Visiting here feels like an escape into a private paradise. I felt so relaxed during out stay and can't wait to go back. The hotel is sustainable without compromising luxury!
---
You might also like…