At 6,000 feet long, with a 2,000 foot vertical drop, and a speed of 75 miles per hour, this zipline sounds absolutely terrifying, or thrilling depending on how you look at it. Going ziplining has been on my bucket list for the longest time. When it came down to it though, I decided to go paragliding instead. For $80 I could paraglide for a half hour, and the Zip Flyer in Pokhara cost $68 for a mere two minutes. As a budget traveler, it was an easy choice. The thing is, paragliding wasn't as thrilling as I hoped. On my second time in Pokhara, I knew I had to try the zipline.
Ironically, the start of the Zip Flyer is located really close to the paragliding takeoff in Pokhara. It seems like Nepal has thought of almost every way possible to get down from Sarangkot. You can hike, drive, paraglide, or zip your way down this little mountain. I had actually managed to do all of the above while visiting Nepal.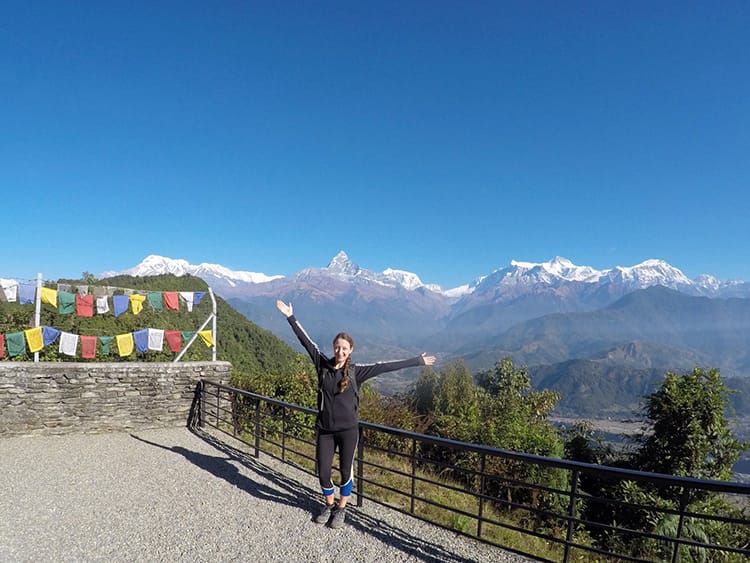 Arriving at the Zip Flyer in Pokhara
---
The journey to HighGround Adventures includes a bumpy ride in a mini van. On a clear morning, you can see all of Pokhara, Lake Phewa, and the coveted Annapurna Range. The drive is beautiful despite the winding turns and giant potholes. You get out of the car in what feels like the middle of nowhere, but as soon as you enter the main gate, you know you're somewhere special.
The zipline is set up at the top of Sarangkot with views stretching into the distance. I recommend going in the morning before 10am when clouds typically start to roll in. There's a large terrace where you can wait and relax all while trying not to look at the giant machinery to your right. Its massive size hard to ignore.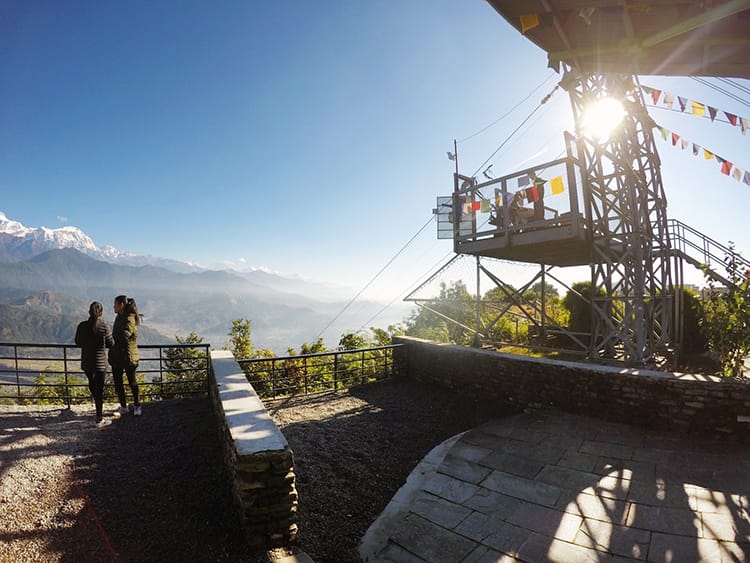 Since we were the first group in the morning, we needed to wait for the test ride to be complete. I couldn't help but laugh at the possibility of that being a job. We watched as two men strapped into the harnesses and took off down the mountain. The incline was so steep that they immediately disappeared. By the time we could spot them again, they were smaller than ants and felt a million miles away.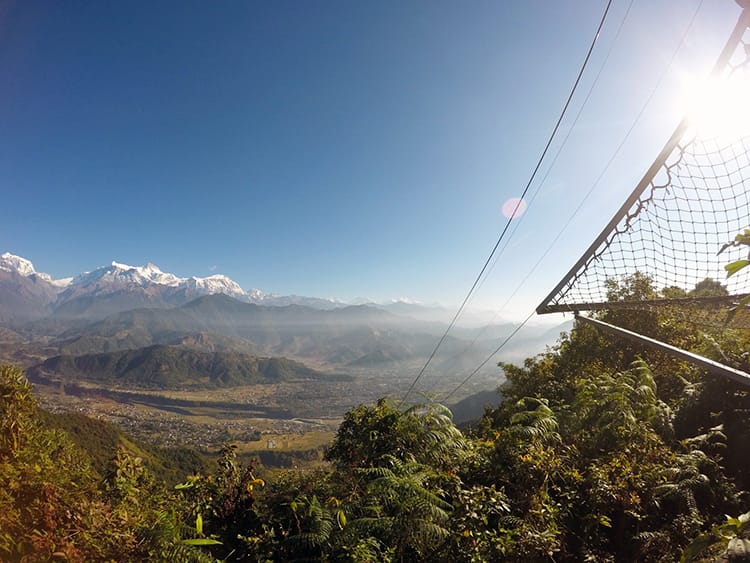 Getting ready for take off…
---
Quicker than I'd expected, we were called up to the platform. My friend Lizi and I got strapped into our harnesses. The harness was a seat, kind of like when I went paragliding. It felt loose and baggy. My mind began to race at the possibility of falling out. Luckily, this time there was one tight strap around my waist (unlike my paragliding harness). I asked repeatedly if it was tight enough while my instructor assured me he'd put it on correctly.
We were instructed to put our legs against a gate to prop ourselves up. There I was sitting down, legs spread, with only a metal door between me and a 2,000 foot drop. For some reason, my heart wasn't racing, but my stomach felt like I was going to be sick. Someone would open the gate for me, and I'd have no choice but to go. Not having to do anything gave me some small form of comfort. In bungee jumping, I had to mentally prepare myself to jump. In paragliding, I had to run off the mountain. Here, I just had to sit and pray.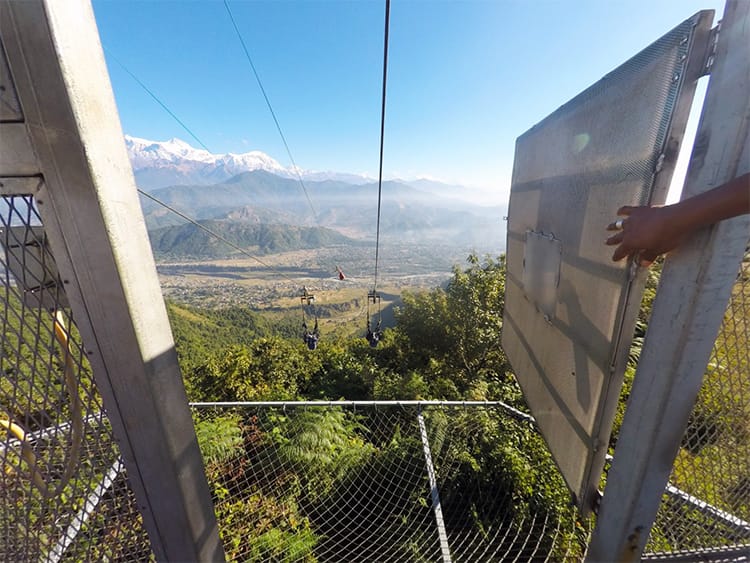 Safety first…
---
My instructions included a few major points. "1. Lean back and keep your feet apart, otherwise you might stop and get stuck." I was reassured this was rare. "2. If you slow down, pull the left cord hard to go faster. 3. don't stick your tongue out at the end. There's an abrupt stop, and you could bite your tongue." I'm guessing this is emphasized only because it's happened before. Gross. "4. If a white flag waves at the end, you're going too fast and need to pull the right cord hard to slow down."
For some reason, all of that feels like a lot of information. I'm absolutely terrified that I'll be like a dog in a car and automatically stick my tongue out and loose it. They ask if we're ready, and a very meek sound comes out of my mouth. They take that as a yes and begin to count down from five. The doors pop open and on the other side is just sky. I lean back, and I start to fly forward through the gate and down the mountainside just over the trees.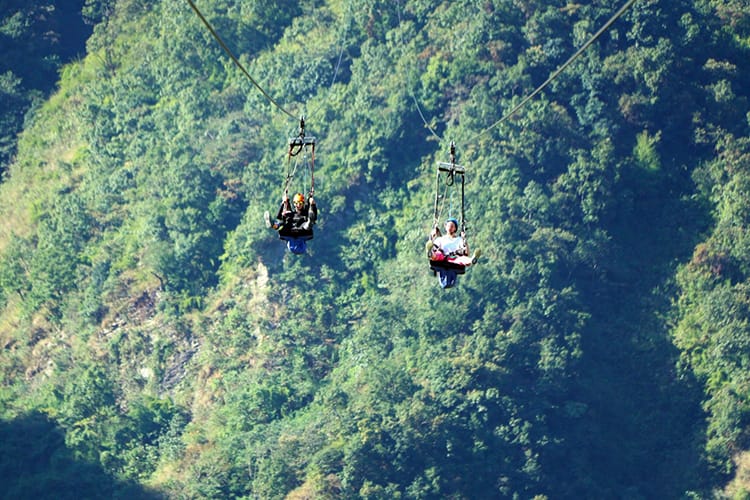 Time to Fly!
---
I start out screaming at the fear of the unknown, but we really aren't moving that fast. In fact, it's kind of lovely. I look around and take in the views. I even dare to look straight down at my feet. What I thought would make my heart race is actually really relaxing. The views are incredible and the wind hitting my face in the sunlight feels amazing. It's actually the smoothest form of transportation I've taken in months.
As we approach the end, I see a flag waving. It's yellow. Wait, what color was my flag and what color was Lizi's? I reach for the handle, but I see another guy waving frantically what looks like a "no." Yellow must not be my flag. I close my teeth tight, making sure that there's absolutely no way my tongue will fly out. We fly in towards the end, and my seat flies forward with momentum as a screech sounds from above. As I slow down, my seat levels back out and a photographer takes my photo from the ground.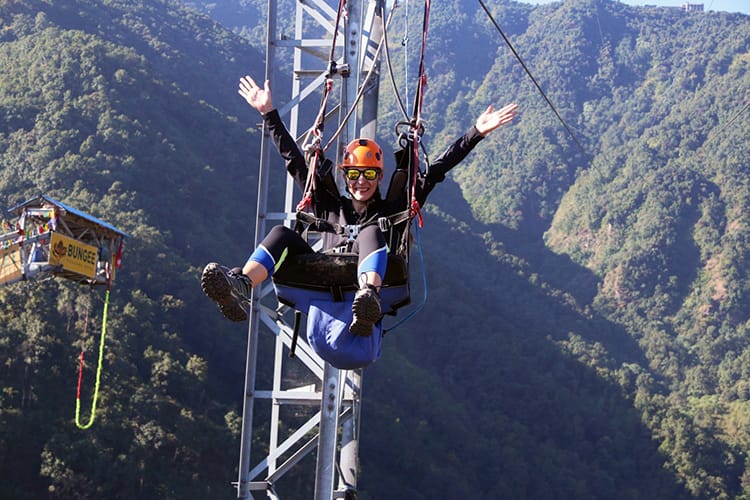 Was the Zip Flyer in Pokhara worth it?
---
Ziplining at the tallest, longest, and steepest zipline in the world was fun, but to be honest I didn't feel like it was really worth $68. The ride lasted less than two minutes and wasn't as crazy and exciting as I thought it'd be. That being said, if you want a little bit of a thrill without being terrified, it's a great option.
2019 Update: This zipline was said to be the tallest, longest, and steepest zipline in the world when I visited, however other ziplines have been built since then. It no longer holds the title of longest or fastest. I'm not sure about steepest. Prices have also oddly decreased since I went and it appears to only be about $40 USD now.
Would you go ziplining? What about at the tallest, longest, and steepest zipline?
Check out my post for a 7 Day Adventure Sport Itinerary in Nepal
---
My Top Picks for Hotels in Pokhara
---
Budget Hotel
Forest Lake Backpacker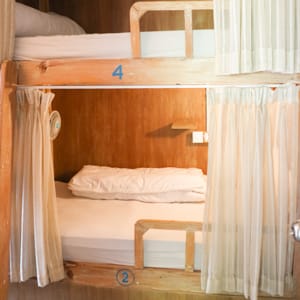 $12 a night – Located on the quiet northern side of Lakeside, this hostel has everything you need including lockers, outlets near the bed, privacy curtains, individual reading lights and more. I stayed here for an entire month and loved it!
Comfort Hotel
Hotel Middle Path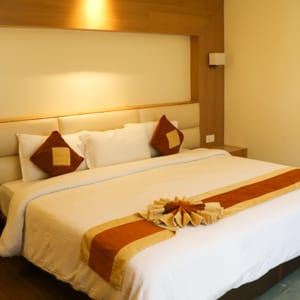 $50 a night – This is my go to hotel when I visit Pokhara. There's an on site pool, large clean rooms, a beautiful garden, a spa, and very friendly staff. It's located in the heart of Lakeside close to all my favorite restaurants. I can't recommend it enough!
Luxury Hotel
The Pavilions Himalaya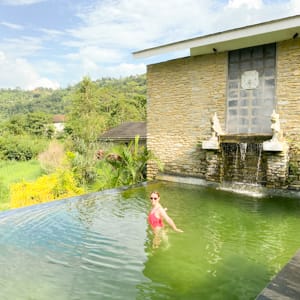 $200 a night – If you want luxury, The Pavilions is the place to be. Visiting here feels like an escape into a private paradise. I felt so relaxed during out stay and can't wait to go back. The hotel is sustainable without compromising luxury!
---
You might also like…