Nepal seems to be one of those countries that never runs out of beauty. Just when you think it can't get any better, it does. I'm lucky enough to have a local friend who was willing to show me what he referred to as "pure Nepal." We'd be heading into the Annapurna Conservation Area, but we'd be on a route that few people touristed. The location was a surprise, so when we arrived at Tangting Village I was absolutely blown away. This tiny little town sits perched on the side of a mountain and overlooks the Himalayas including Annapurna II, Annapurna IV, and Lamjung.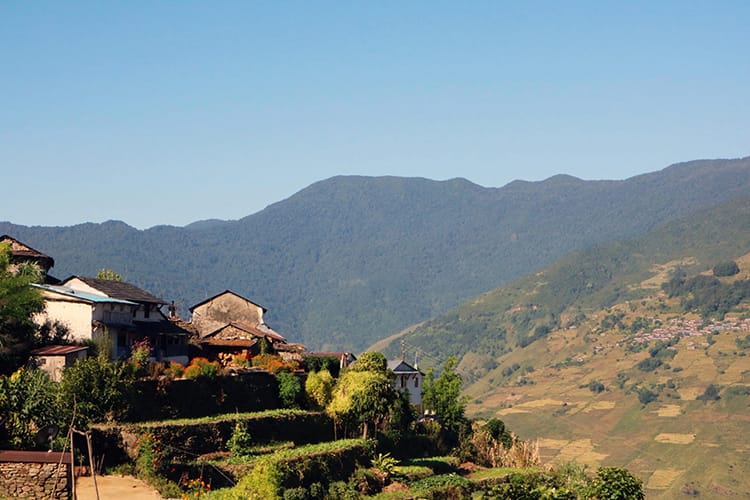 When we arrived, I was the only tourist in the entire town. Later, four other trekkers would pass through on their way to Sikles. It seems most people just stop at the guesthouse for a night, sleep, and leave the next morning without actually seeing the village. We decided to spend three days and two nights during Tihar, a Nepali festival. I wanted to see village life and what Nepal is really like. Getting away from the main cities and well traveled Annapurna Circuit would give me some insight into how locals really live.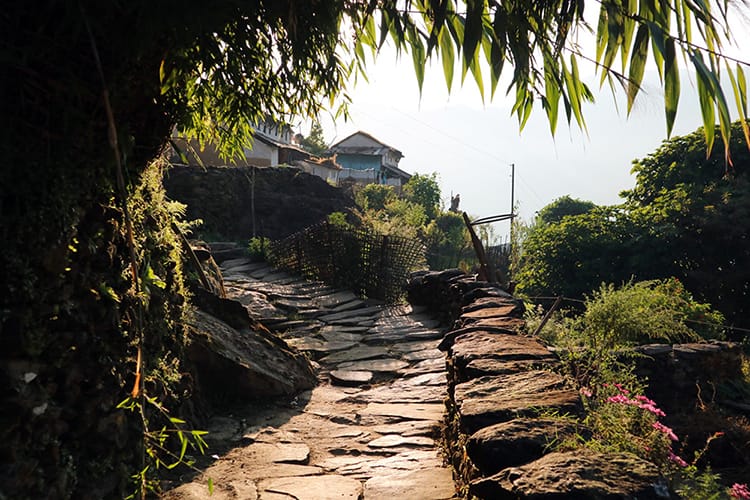 Tangting Village
---
We were greeted by the guesthouse owners who made us chai and lunch. The Tangting Guest House is the only guesthouse and restaurant in the entire village. I got to practice my Nepali with the owners, and then we set out to explore. Since the road to Tangting is new, there are no vehicles. The "streets", which are more like sidewalks, are made of large stones giving them a whimsical European feel. The homes have beautiful gardens full of flowers and organic vegetables. In the evenings, kids play in the yards while the grownups finish laying grains out to dry in the sun. Village life is simple yet full of beauty.
---
---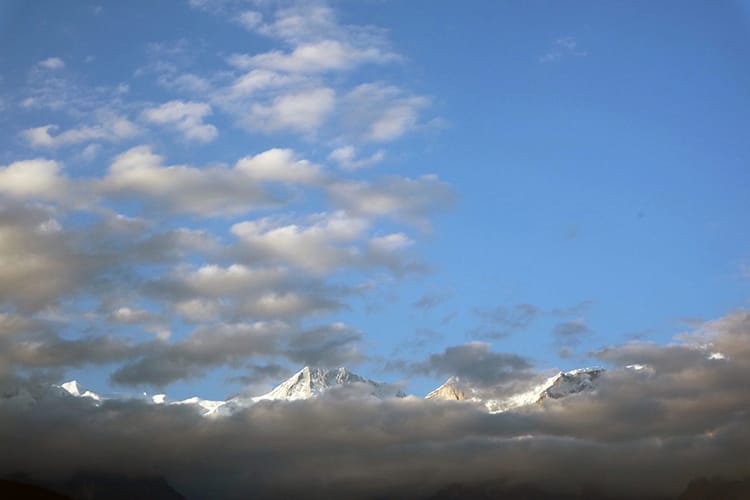 Watching Shooting Stars
---
After settling in and having chai at some of the villagers homes, we headed back to the restaurant for dinner. We watched the sun set while pink hues overtook the mountains. Once the sun was down, the small town still didn't disappoint. We laid down in our yard and looked up at the sky. I pointed out an airplane as a light shot by above us, but my friend insisted it was a shooting star and that no airplanes go over that area. We watched longer and saw several more. After much debate (because who sees 5 shooting stars in one night?), I looked more closely and realized they were in fact shooting stars. No airplanes would be moving that fast that high up in the sky. The next day I saw a news story saying there had been a meteor shower. How lucky were we?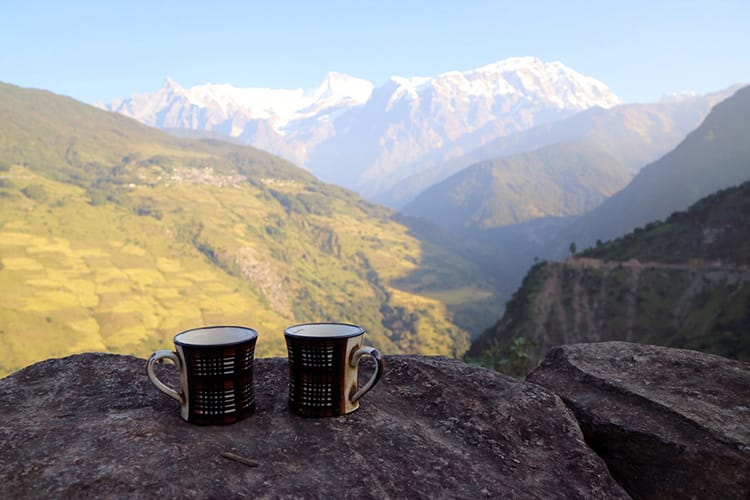 Seeing Village Life
---
In the morning we woke to a "Namaste" in the yard. Baba (a respectful term used for older men) had brought us a thermos of fresh chai to start our day. We sipped the hot tea in the yard, overlooking the mountains in the crisp morning light. The views before 10am are always the best since the sky is clearest. I swear, I felt like I was standing in the middle of a postcard. After breakfast, we decided to go for a long walk down the road beyond the town. I took about a thousand photos it was so beautiful, but I'll only share a few so I don't bore you.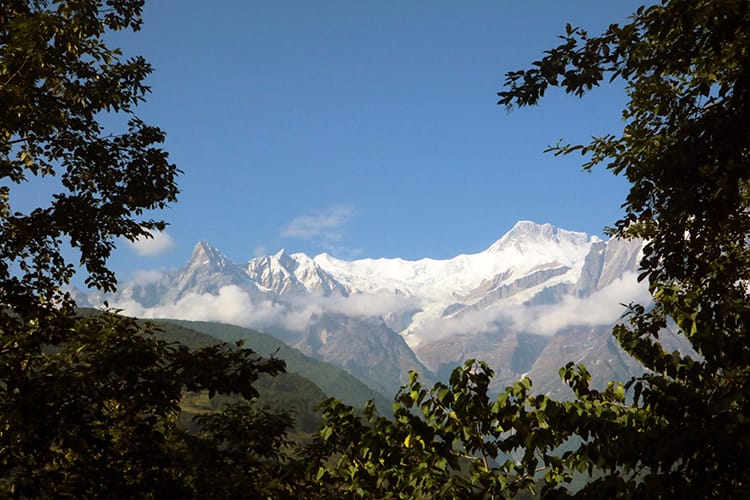 Collecting Grain with Villagers
---
After 20 minutes, we stumbled upon some villagers working in a rice field. One field can harvest enough rice to feed the family for an entire year. Two men and a woman were cutting down the rice, drying it in the sun, and then rolling the grains off of the plant by twisting it between their feet while their daughter played in the leftover stalks.
I asked if I could help which made them laugh. I think they were a little surprised that I wanted to get my hands dirty. They happily showed me how it was done and let me give it a try. It was so much harder than it looked. I twisted the plants between my feet rather ungracefully and got a large portion of the rice off, but one of the men still had to go over it a second time to ensure the stalks were clean.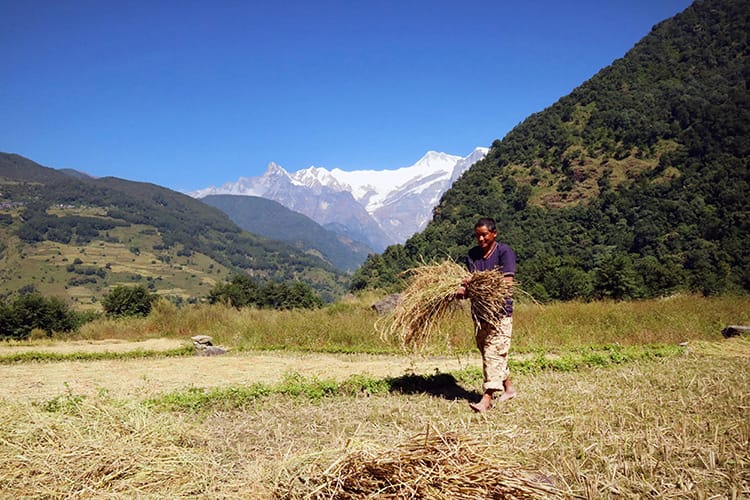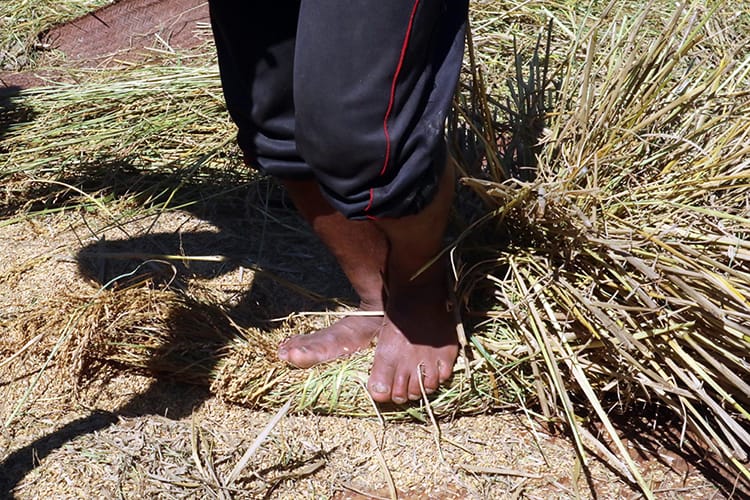 Watching Avalanches from Afar
---
We said our goodbyes to the family and found a beautiful rock to sit on. It was next to some grave stones, which sounds weird, but it was extremely peaceful. I sat looking at the mountain, overwhelmed by it's beauty. I was told if we were lucky, we'd spot an avalanche. We must have been really lucky, because within a few hours, we were able to see three in the distance coming down from the glacier. The snow looked like a white river spilling down from the mountain from afar.
---
---
Buffalo or Ox? Who Can Tell?
---
On the way back to town, we ran into an old man with a cane who was looking for six missing buffalo. I had seen one earlier while we were sitting on the rock enjoying the sunshine. My friend agreed on having seen one and pointed Baba in the correct direction. A half hour later, we saw Baba coming back sans buffalo. The man was waving his arms and very animated. He laughed while talking in Nepali, and then continued to walk past us. Once he was out of hearing range, my friend turned to me and said, "That was an ox, not a buffalo." We both burst out laughing. Supposedly, Baba had had a good sense of humor and forgave my mistake. To be honest, I still can't tell the difference.
---
Spending Time in the Kitchen
---
Once back at the restaurant in Tangting, we ran into a few of my friends old pals from back when he was a trekking guide. They let me practice my Nepali and taught me a few new words. At the same time, they practiced their English and hinted at the fact that I should come back and help teach in the local school. While the boys caught up with each other, I took a look around. The guesthouse owner was butchering some meat out on the patio. I asked if I could watch as he made buffalo jerky and explained the process to me. Since cows are gods here, buffalo is the substitute for beef.
---
Having a Camp Fire Sing Along
---
A few beers and one sunset later, we all headed back to our guesthouse where we built a huge bonfire. A guitar was passed around while anyone with musical talent took a turn playing. I made sure to pass the guitar on when it came in my direction. It seems every Nepali I've met can play at least one song, so they egged me on to join in. I had to convince them that I really have no idea how to play ANY songs on a guitar.
---
---
Hanging Prayer Flags with a Monk
---
At breakfast the next morning, a monk was in the restaurant chanting, and someone explained that he was installing a prayer flag to warn off evil spirits. While people are awake during the day, the evil spirits stay at bay, but at night when everyone is asleep, they come out to stir up trouble. The flag would act as a barrier to keep their guests safe in the evenings. We watched as the monk performed the different traditions and then raised the colorful flag in front of the property.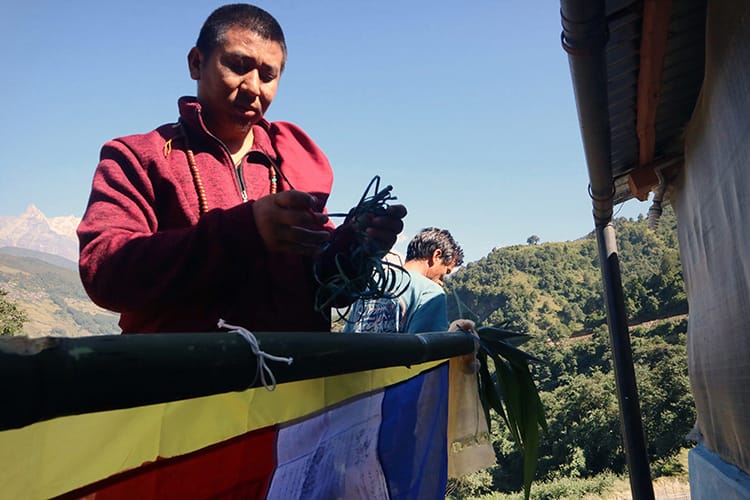 Playing Dress Up in Tangting Village
---
After eating, I was treated to a very special surprise. I would be dressed up in traditional Gurung clothing (the caste of the village). The woman dressing me spoke very little English and my Nepali is more than just basic, but still we giggled as she dressed me up. I felt like a life size Barbie being wrapped in layers of cloth. Once I was properly styled, I walked around the village. All of the older women stopped to tell me I looked beautiful which made me blush.
---
Saying Goodbye
---
When it was time to go, we were given beautiful fresh cut malas (garland necklaces) and tika (the red dot on the forhead) which represents good luck and marks celebration. We said our goodbyes, and I was told to come back in the future. The invitation was sincere, and I had a feeling I'd be back one day. Our stay in Tangting really was a look into pure Nepal. I got a better sense of the Nepali culture in three days in Tangting village, then I did in my entire month thus far.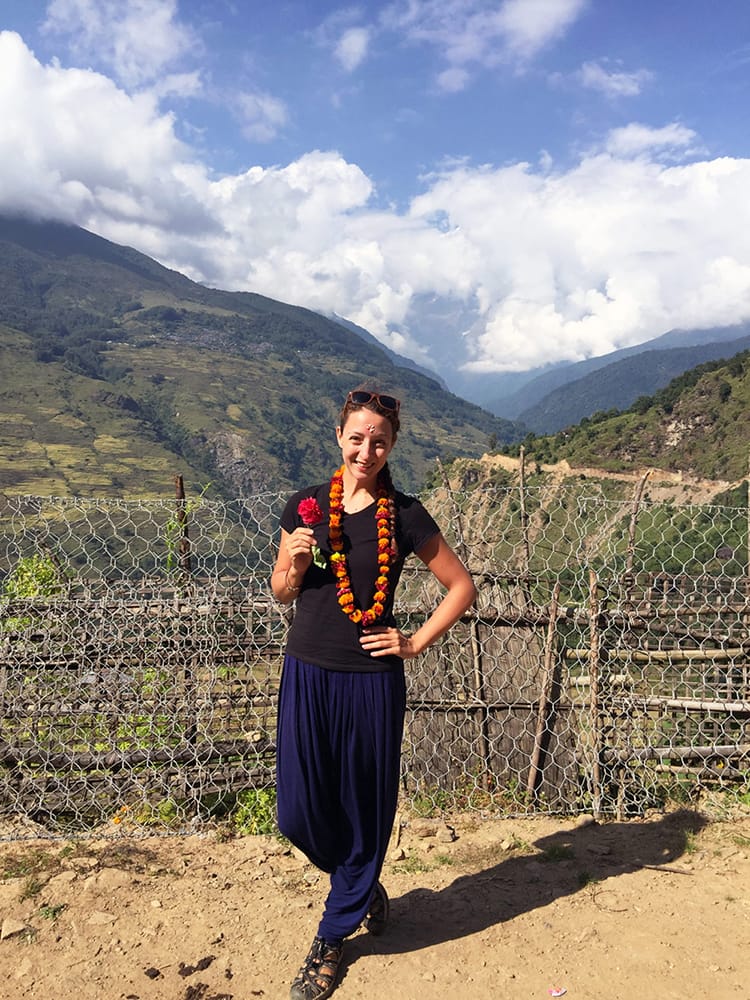 Have you ever felt like you got a sneak peek into a culture? Tell me all about it in the comments!
---
You might also like…