Aloo Saag is a popular dish in the mountainous regions of Nepal. It's considered a "working man's meal" because it's high in protein, but also fairly inexpensive. When served over rice, you are able to have a filling and nutritious dish. Aloo Saag is popular in the hills surrounding the Himalaya , however this aloo saag recipe comes from my mother-in-law who was born and raised in Kathmandu, Nepal.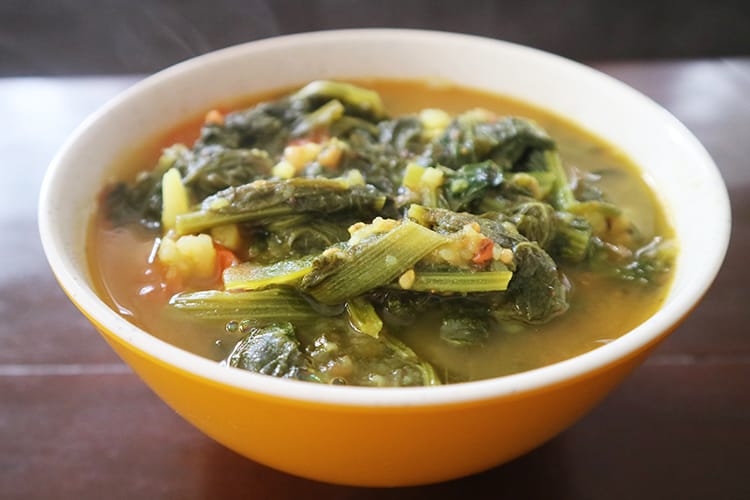 What do you need to make this Aloo Saag Recipe?
---
There aren't too many ingredients in this recipe, however a few of them may be difficult to locate in your local supermarket depending on where you live. Below, I've created a list of the major ingredients used to make Nepali food that are available on Amazon. Note: not all items listed below are needed for this recipe.
How to serve Aloo Saag…
---
Aloo Saag is often used as a substitute to dal (lentil soup). The typical dish in Nepal is called dal baht which consists of rice, lentil soup, a vegetable curry, spinach, and sometimes other items. Aloo Saag is considered a working man's meal because it has the potatoes and spinach in one dish, so you don't need as many side dishes. It's also high in protein. Since it has a gravy, it acts like a soup and is served over rice. Potatoes are inexpensive as is rice, so just adding a little spinach for a green makes this an affordable and hearty meal.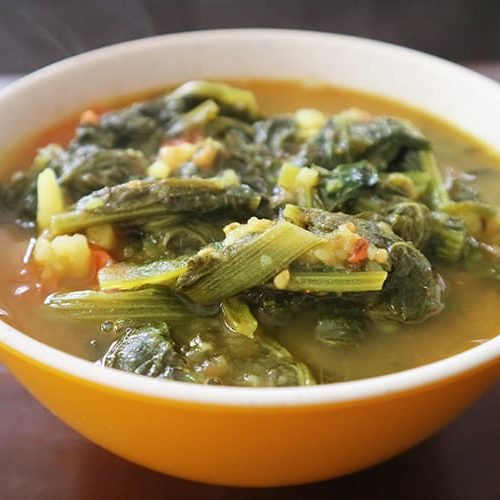 Nepali Aloo Saag Recipe
This simple to make one pot meal is often served over rice and is popular in the Himalaya.
Ingredients
3

tbsp

mustard oil

small pinch

fenugreek seeds

large pinch

thyme seeds

small pinch

hing

1

whole dried red chili

2

small potatoes

(2-3" each)

1

tsp

tumeric

8

oz

spinach

(can add more if you like)

2

cups

water

1

tsp

salt

2

small tomatoes

(plum size)
Instructions
Prep
In a small bowl, combine fenugreek, thyme seeds, and hing.

Remove the stem from the dried red chili but keep the rest whole.

Cut the potatoes into ½ inch cubes.

Cut the spinach into strips (around ½ inch wide). If you are using baby spinach, you don't need to cut them up.

Cut the tomatoes into eighths.
Cooking
Add 3 tbsp of mustard seed oil to a wok or nonstick fry pan. Heat the oil on medium high heat.

Once hot, add the fenugreek, thyme seeds, and hing. Let the fenugreek get light brown and add the whole chili. Fry until the fenugreek turns dark brown.

Add the two potatoes (be careful of the oil spraying) and mix them in the oil. Then add the turmeric. Fry for 3 minutes with the lid on and stir occasionally.

Add the spinach and fry for 2 minutes (uncovered) while stirring regularly.

Add two cups of water and the salt. Put the lid on and let boil for 10 minutes.

Add the tomatoes. Continue to boil with the lid on for 4 minutes.

Using the back of a large metal spoon/cooking utensil mush the potatoes and the tomatoes. They should begin to dissolve into the sauce.

If the water has evaporated, you can add half a cup more, however if it still has enough liquid to be soupy, then it's not necessary to add any extra. Turn the heat down to low and simmer with the lid on for 6 minutes.

Turn off the heat and let sit for 3 minutes before serving.
Photos of Nepali Aloo Saag Cooking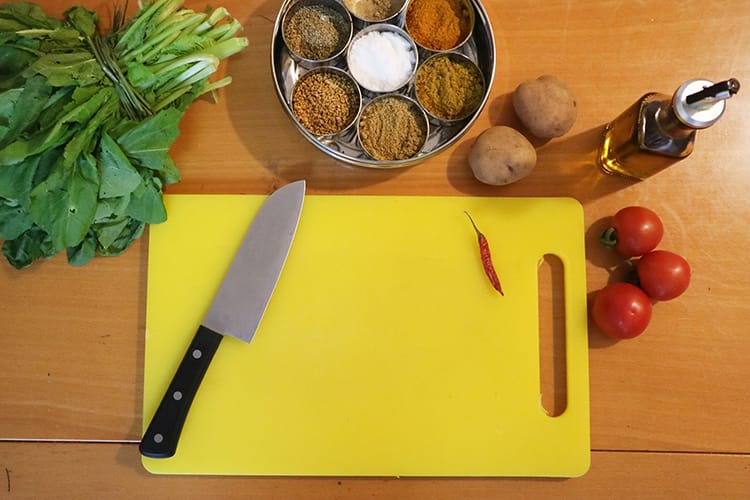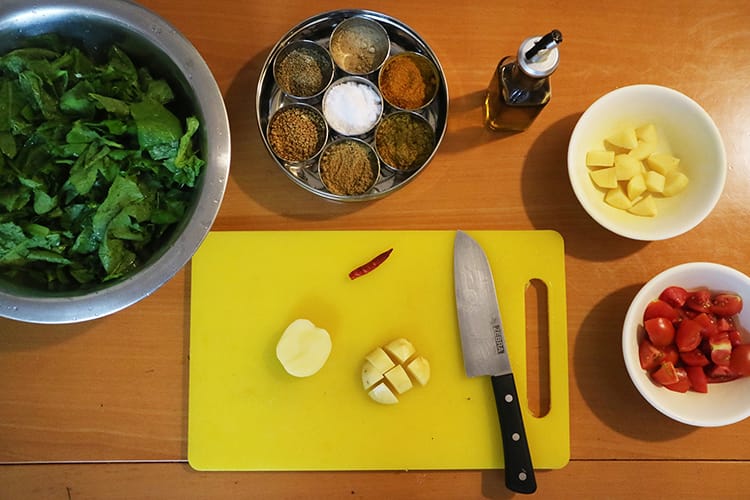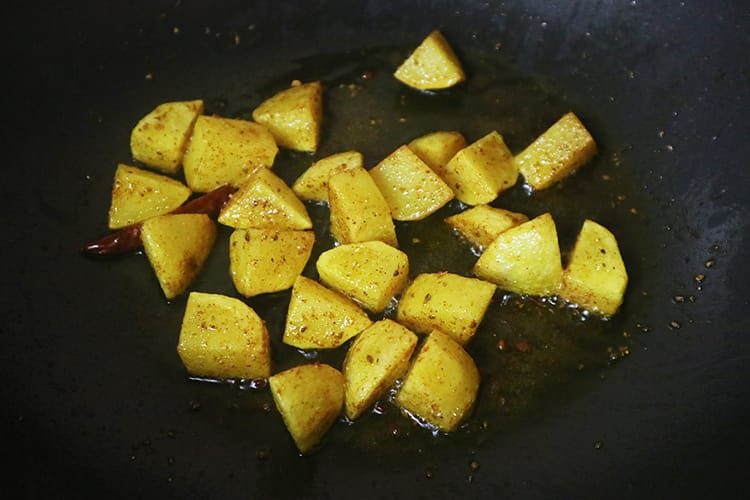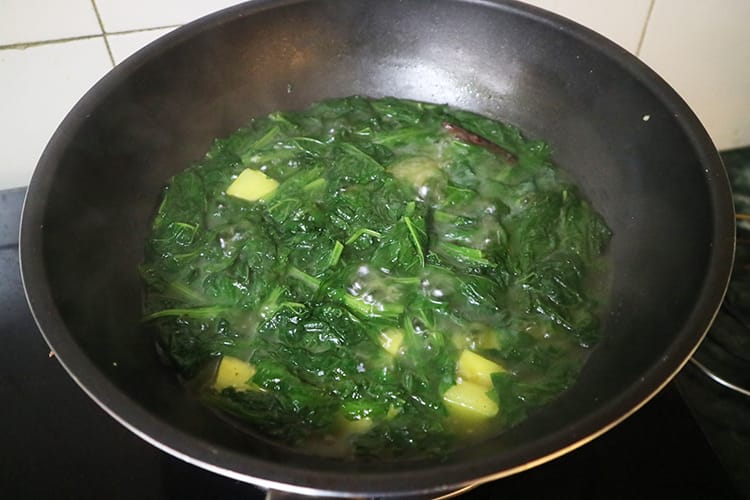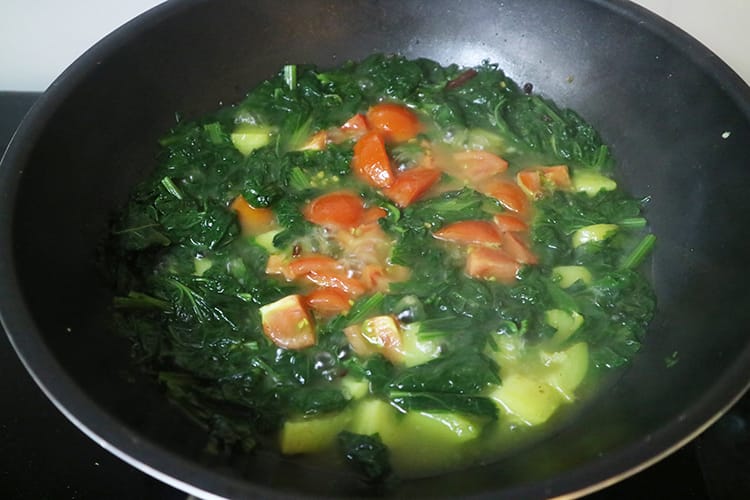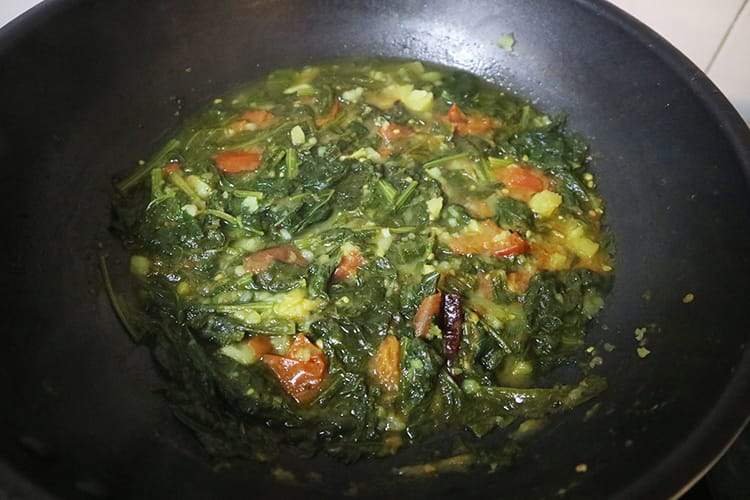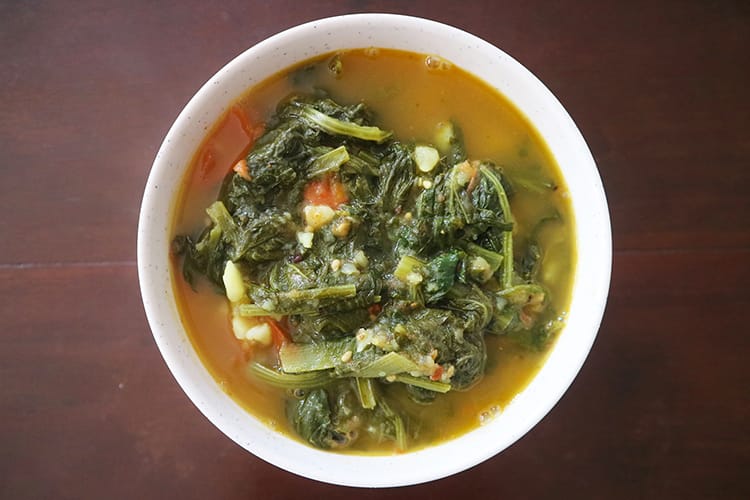 ---
You might also like…