The boat hits a wave, and suddenly, we're airborne. Everyone gasps in unison, grasping for whatever they can hold onto. The boat tips to the right, and finally, lands back on the water evening itself out. We all brace ourselves for the next wave, and when it comes, it's even bigger than the last. This is not what I signed up for. I look at my mom, who hates the water, and she looks miserable. We'd expected a nice calm boat ride to some shallow water when we signed up to go snorkeling in Nusa Lembongan. We had not anticipated flying through the ocean on a tiny boat. We hit another wave, projecting the boat even higher into the air. Oh my god.
---
Snorkeling in Manta Bay
---
We start to slow down, and I can see other boats bobbing up and down in the distance. As we get closer, I realize (to my horror) that people are in the water. We've arrived at the coveted Manta Bay where we are supposed to jump in and see manta ray. All I see are giant waves and boats bouncing dangerously close to the swimmers. I've never snorkeled before. Every photo I've ever seen is of people in crystal clear water just floating calmly while looking down. This looked like a scene from a perfect storm. I'm actually scared to get in, and I can feel my chest tightening.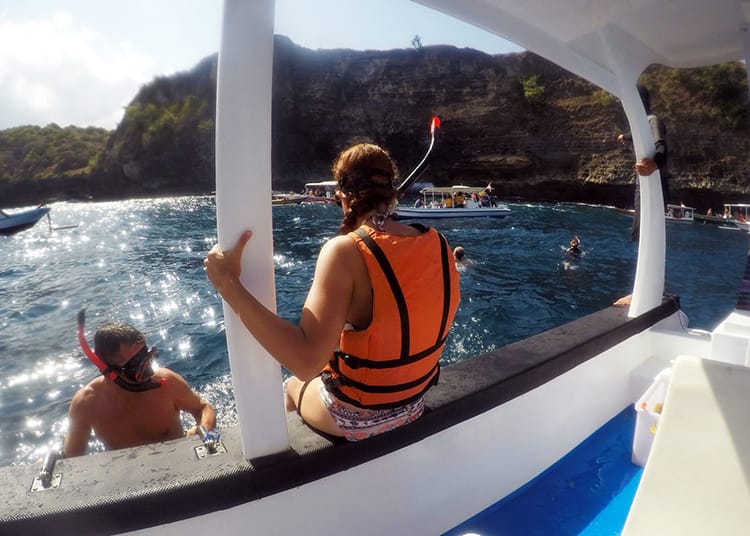 A few seasoned snorkelers jumped in while others looked more tentative. The longer I sat on the boat, the more nauseous I felt. Maybe it was better to be in the water. A really sweet Dutch woman told me to try and promised to stay by my side. She didn't want me to regret not going. I threw on my gear and sat on the edge feeling sick to my stomach. I slowly lowered myself in, and then the boat rocked me forward dumping me into the water.
A wave lifted me up several feet and deposited me back down. I tried to swim away from the boat, but the waves kept pushing it closer. I felt like it would surely overtake me. I put my face in the water and for one second I could see, but then my tube filled with water. A giant wave pushed the boat toward me, and too quickly, I was surrounded. At least three boats began closing me in on all sides; bobbing violently in my direction. My pulse began to race, my heart pounded, and I felt like I was going to throw up. My thoughts become so erratic that I'm not even sure what I was afraid of. Drowning? Getting hit by a boat? Not being able to breathe?
My entire body tensed as if the wave washing over me brought with it a dose of extreme anxiety. I tried to take a deep slow meditative breath, but my mask prevented me from breathing through my nose. I'm suffocating. The thought grew in my mind like a plague, and I started to hyperventilate. I forget how to breathe through the mouthpiece and had to spit it out. Another wave overtook me, and I got a mouthful of ocean water. I tried to swim back to the boat, but it was flying up and down, and it felt like I'd be crushed. I grabbed on but didn't know how to climb the ladder with my flippers. I couldn't get out of the water fast enough.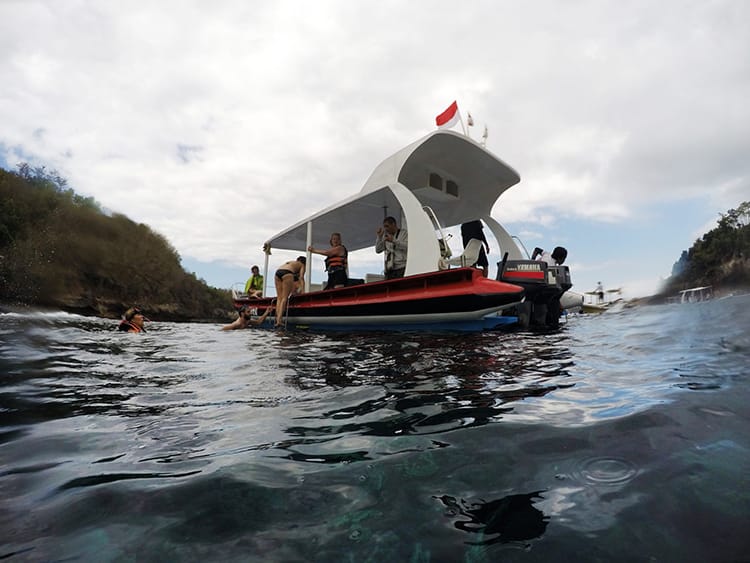 Once onboard, I sat down trying to relax (unsuccessfully) as I waited in the boat for the others to join. People started to come back after having seen manta rays. Once everyone was on the boat, I was ready to go. Our boat was thrashing back and forth so much that I began to feel sick to my stomach. I rarely get nauseous, but sitting in one place and getting pounded with waves was making my stomach churn. We remained sitting there, and no one knew why. Is someone still in the water? Is someone missing?
We all look around. Turns out, our captain was looking for more manta in case we didn't have enough. I just wanted to move. I wanted to get out of that spot and I could feel the anxiety building inside me. Our guide says, "Is it ok if we move to next point?" Almost everyone on the boat says, "YES" a little too quickly and a little too harsh. We all laughed, and I realized other people weren't enjoying this either.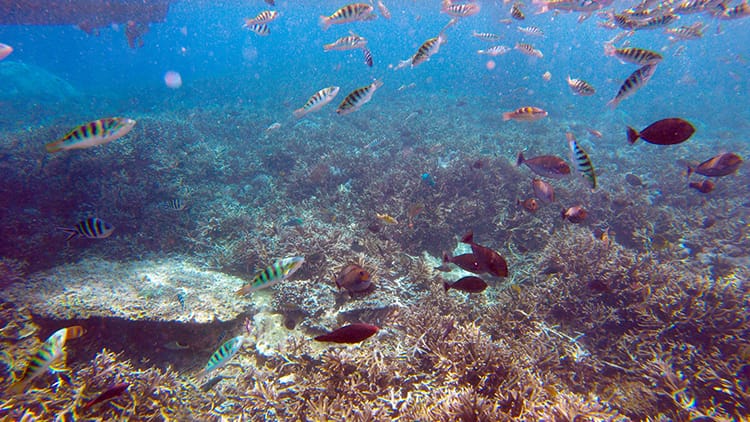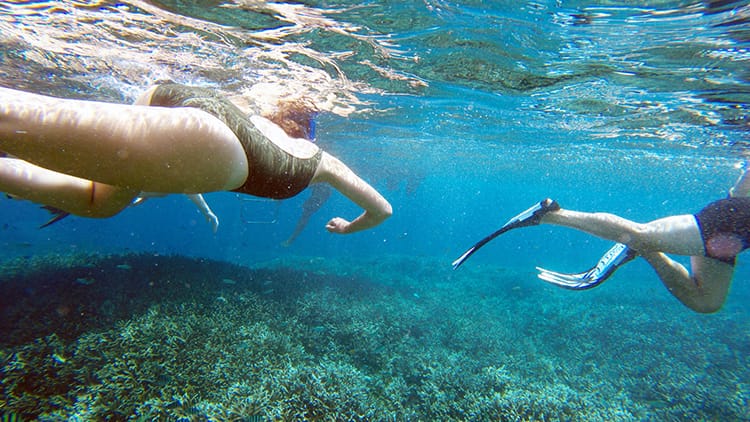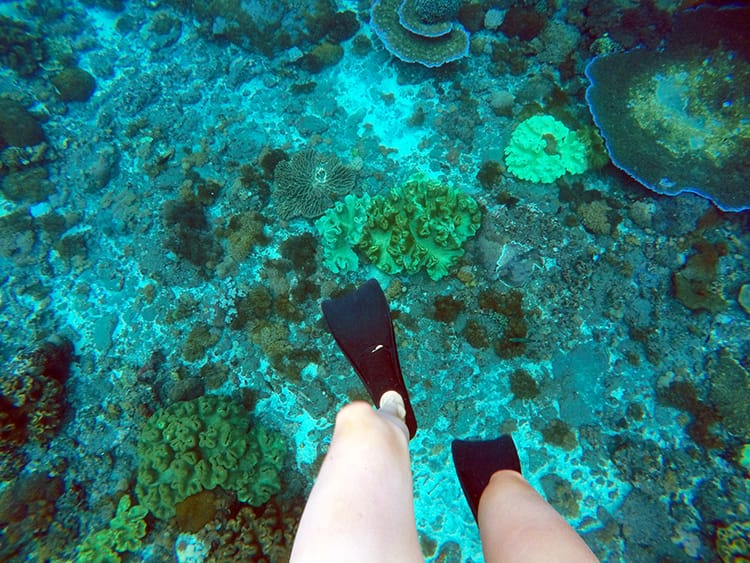 Snorkeling in Crystal Bay
---
We headed back the way we came, bouncing over waves like a rollercoaster., except now, they didn't feel nearly as extreme. I was so scared moments ago, that this felt like a breeze. We turned in between two of the islands, and the water calmed down. Thank god. We pulled up to a quiet bay (Crystal Bay) and the water was crystal clear while waves rolled in gently toward the beach. This was what I signed up for. We all hopped in, and I put my face in the water and tried to breathe. My life vest kept me floating like a buoy on top of the gentle waves, and I figured out how to swim with the flippers. Suddenly, I was moving effortlessly through the water.
I decide to stay still, and my body slowly turned toward the shore. The waves began to push me forward, rolling under my body. I floated over the ocean floor watching the world below. The fish barely registering that I was there. It's the closest I've ever come to flying. The sensation caused me to smile and the previous hour of absolute madness literally washed away. Fish swam so close that I could reach out and touch them. Different types of coral surrounded me, their fingerlike limbs rippling in unison. Schools of fish floated past, some bright blue, some pink, some grey, but all stunningly beautiful. Every second was utter perfection.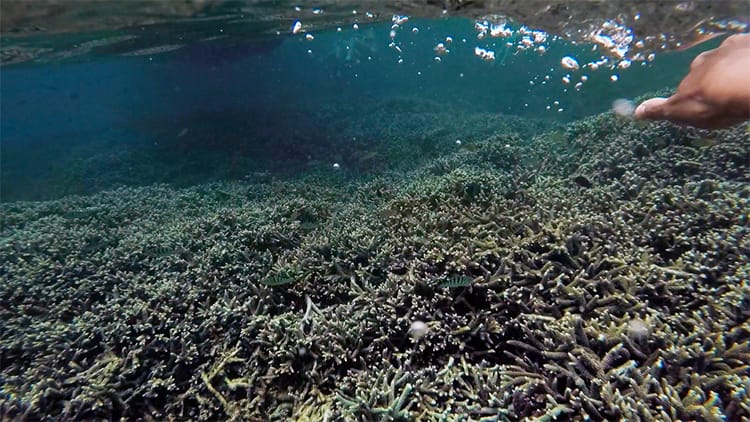 Snorkeling in Mangrove Point
---
We moved onto the third location. This time, I was the first one in the water. This area is known for it's beautiful coral. I lowered myself down and realized I was touching the bottom. It was extremely shallow. Why didn't we start here and work our way up to open water snorkeling? Some of the formations were huge, and they were all a beautiful shade of pink with small fish floating between the rough edges.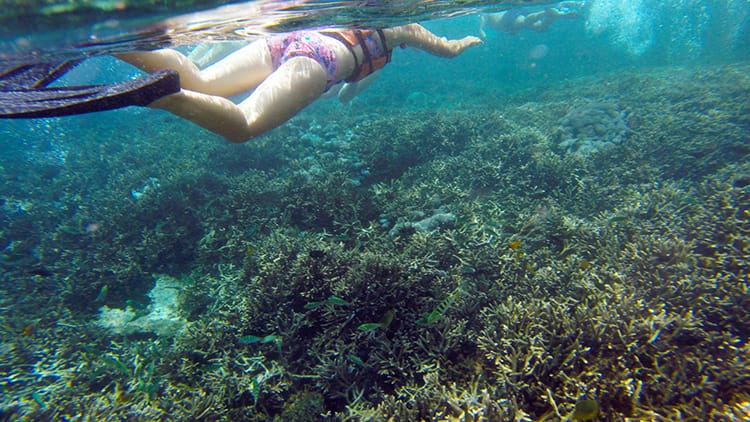 My Dutch friend tapped me on the shoulder and told me to follow her. We looked down, and there was a fish about four feet long and super thin. He had giant eyes and sat quietly at the bottom. I got as close as I could with my life jacket pulling me up. This area has some bad currents and I realized I was having a hard time swimming in specific directions. Even as I laid still, I was being pulled different ways. I lifted up my head, and the water looked perfectly still, yet underneath there was a battle pulling me all over.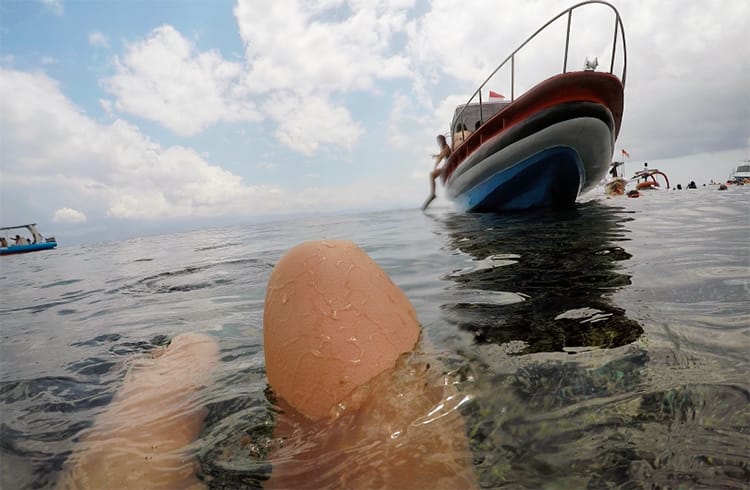 Instead of looking straight down, I tried to look ahead at the people near me. A school of fish surrounded one group as they fed them. Every time a wave came, they all flowed to the right and then as the wave passed they all moved slowly back to the left. Humans and fish, unknowingly, floating and bobbing back and forth in the same pattern. It was extremely calming watching them move back and forth with each other. All too soon, it was time to head back to land.
Planning to go snorkeling in Nusa Lembongan? Would you get in the waters at Manta Bay?
---
You might also like…