Despite being a tiny island off the coast of Bali, there are tons of things to do on Nusa Lembongan. From yoga to SCUBA diving, this island has it all! At first, Nusa Lembongan felt like a mystery to me. My only plan while there was to go to the beach. Beyond that, I really wasn't sure what the island offered, and I found it hard to find information online. It seemed most people only visited the island for a day trip. Leave it to me to spend two weeks in a place that most people deemed a quick stop.
Not only is this little island perfect for beach bums, it's great for adventurers as well. Water sports come in all forms here. And did I mention that it's not completely overrun by tourists? It's only shown up on tourists radar in the last few years, making it the perfect island oasis with a never ending list of things to do and see.
---
Things to do in Nusa Lembongan Map
---
Get Splashed by Devil's Tear
---
My favorite things to do on Nusa Lembongan was visiting Devil's Tear. This place draws in the biggest crowd, and it was the only time I felt like I was on a touristy island. The main section had a ton of people on it all waiting to take the same photo with the wind in their hair and the waves crashing behind them. Oddly, the part where everyone was lined up, wasn't the prettiest.
I walked along the entire cliff, which was fairly long and found some incredible places with very few people. I wanted a good photo, so I sat and waited for a big wave to come. It was calming and peaceful watching the waves roll in and come crashing down.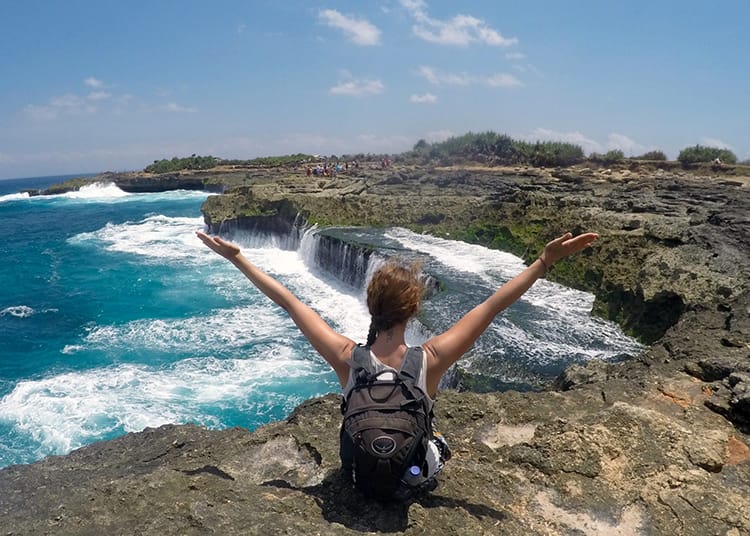 Rent a Motorbike
---
If you've ever considered renting a motorbike in Indonesia, this is really the best place to learn. There's very little traffic on the island, most of which is other bikes. There's one main paved road that goes around Nusa Lembongan and is fairly easy to follow. The only bad part is some of the roads are windy and narrow which can be scary when someone is coming the other direction. There is also one section that is very steep. We paid $5.25 USD (70.000 IDR) to rent one bike for the day.
If you're not comfortable driving, I got a motorbike and driver for 200.000 IDR ($15.00 USD) another day. I probably could have negotiated the price down, but I thought that was fair for an entire day of hopping around the island. He even took me to a secret beach near Mushroom Beach that was really beautiful.
---
Go on a Mangrove Tour
---
We took a drive to Mangrove Beach without any real expectations. As soon as we arrived, every single person we passed offered us a mangrove tour. It seemed a little overpriced, but I was able to negotiate it down to $3.75 USD (50.000 IDR) each for a half hour ride in one of the boats. We mostly wanted a break from our motorbike and the sun, but it ended up being really lovely. Make sure to go at low tide to get the full mangrove experience.
Go Snorkeling
---
Experienced divers who went on our tour said this was as beautiful as diving in Egypt, Thailand, etc. It's supposedly one of the best places to dive in the world. You can read this post about our snorkeling experience on Nusa Lembongan. We paid $11.25 (150.000 IDR) each for a half-day trip including hotel pickup, the boat ride, three snorkel locations, and all equipment. The water was a bit rough when we went so I would be sure to check the weather prior to booking. Overall, it was amazingly beautiful and the coral we saw was exquisite.
Get Certified to SCUBA
---
Nusa Lembongan seems to be the new Koh Tao. This is one of the cheapest places in the world to get PADI certified for SCUBA. The area is known for the giant mola mola fish and manta rays. Getting PADI certified will run you about $280 at Dive Concepts. If you're already certified, you're sure to see some incredible wildlife in this area. You can read this blog about how I failed my PADI course on the island. Despite failing, swimming with manta ray was a magical experiene that I wouldn't trade for anything.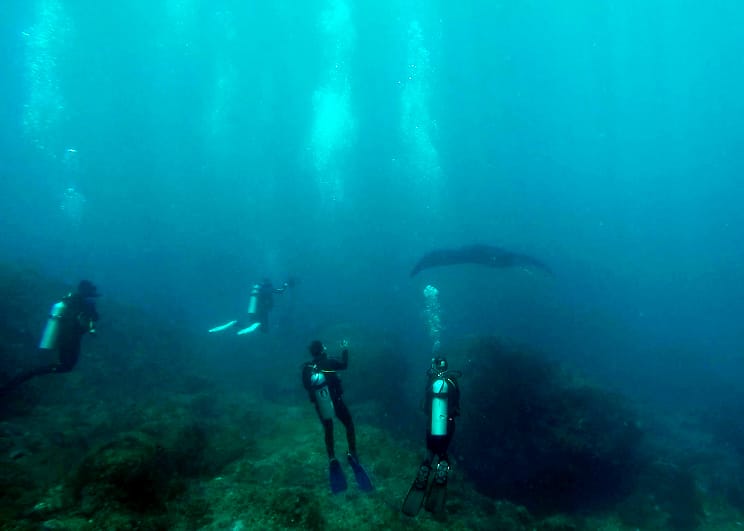 Try a Famous Smoothie Bowl
---
This one might seem weird, but I've been seeing pictures of these beautiful smoothie bowls on Instagram for years! The only time I've seen them on a menu they just seem too expensive to try. On Nusa Lembongan, you can try a smoothie bowl for under $4. Pictured is a Willy Wonka bowl from Ginger & Jamu. Not only was it delicious, it was also super healthy. If you'd like more suggestions on places to eat, check out my favorite restaurants on Nusa Lembongan.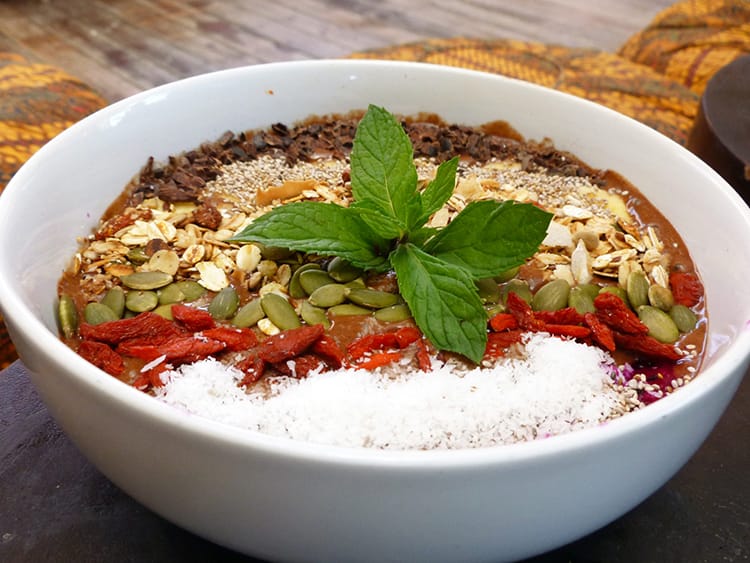 See Sunset Point
---
Unfortunately, I did not get to see Sunset Point at sunset. I had a driver take me around, and my tour ended at 4:00pm. That being said, it was a beautiful spot even during the day. The road to get there was super bumpy and had some major potholes, so be careful if you are driving back at night. There was almost no one there during the day. I actually think it'd be a great place to have a romantic picnic and feel like the island is all yours.
Be a Beach Bum
---
I'm pretty sure there's no better place to be a beach bum. The beaches on Nusa Lembongan are beautiful and aren't overcrowded. There are so few tourists, that you sometimes have a whole restaurant to yourself. On Jungut Batu Beach, the restaurants have lounge chairs and beanbag chairs along the water. Simply buy a drink, and enjoy your seat the rest of the day. Here's a list of the Best Beaches on Nusa Lembongan.
Get an Exotic Massage
---
Asia is the best place to try out exotic massages, and Bali is no exception. We got traditional one-hour Balinese massages for 125.000 IDR ($9.25 USD) each. A Balinese massage uses a combination of stretches, acupressure, reflexology, and deep tissue massage. It's kind of like a Swedish massage with a little Thai massage thrown in. I highly recommend the lovely ladies at Wakame Spa.
---
See Panorama Point
---
If you've rented a motorbike or you're doing an island tour, make sure to stop at Panorama Point. We stopped after seeing a few people pull over. Honestly, I needed a break from the massive hill it's located on. The bike we were on didn't have great brakes, and it was making me a nervous wreck going downhill. This was the perfect place to stop and catch our breath. The view looks over Nusa Lembongan and over to Mt. Agung on Bali's mainland.
Go Over Yellow Bridge
---
The Yellow Bridge connects Nusa Lembongan to Nusa Ceningan. Its neighboring island is worth a day trip if you can drive a motorbike. If not, you'll have to walk at least 1 mile to get to some of the major sites. Yellow Bridge isn't anything particularly special, unless you are driving a motorbike in which case it's a bit of an adventure. I was hopeful that no one would be coming the other direction as we went up the ramp. It's fairly narrow, and I only felt comfortable driving in the center. Of course, another bike came down as I was going up. I slowed down and lost momentum causing us to loose balance and tip. We survived to tell the tale, and now my mom and I always joke about the time we crashed a motorbike in Bali.
Visit Blue Lagoon (Nusa Ceningan)
---
If you make it to Yellow Bridge and wish to go a bit further, head to the Blue Lagoon. There's a restaurant near there that has a pool, a zipline, and food. Go around lunchtime to make the trip worth it. If you don't plan to hang out on Ceningan, it's a bit of a drive (on a very bumpy road), and the only thing to do is take in the view, take a few photos and move on. That being said, it is stunningly gorgeous!
Go Paddle Boarding
---
You can rent a paddle board at a few different places on the island. I saw them the most on Jungut Batu Beach and Mangrove Beach. If you go at low tide, the water is shallow and calm, making it easy for beginners. We saw a few people trying to go at other times of the day unsuccessfully. Renting the board for an hour will cost you 100.000 IDR ($7.50 USD).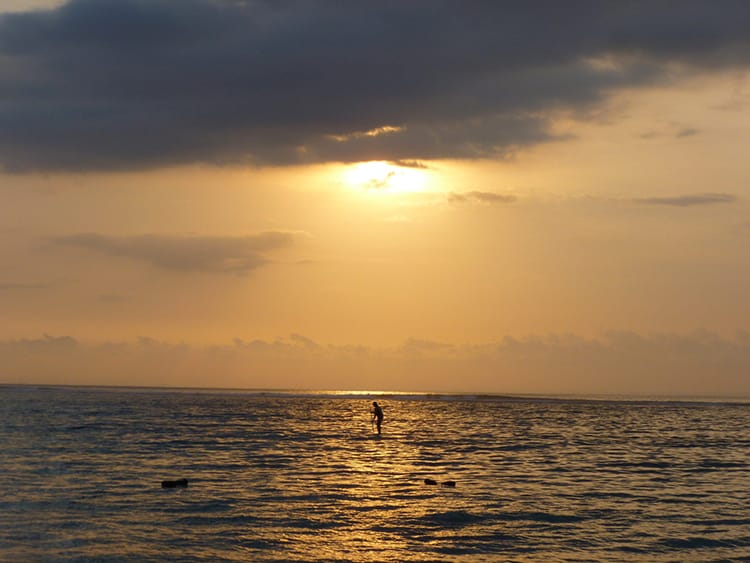 Watch Seaweed Farmers in Action
---
I'd read about the seaweed farmers prior to visiting and thought it would be really cool to watch. I went to several areas where they were supposed to be located at low tide and never saw anyone. When I asked a local, he simply said "all done." I think the only time to see them is when the tide is low in the morning before the sun gets too hot. I would recommend asking your hotel or homestay about the best times beforehand.
---
Get Flexible in a Yoga Class
---
Yoga was one of the few things on this island that I found overpriced. A single class will run between 100.000 and 150.000 IDR (around $10 USD). If you are on the island for a week, buying a package of classes will get you a better discount. I decided to skip classes since there were so many other things I wanted to try first.
Take Surf Lessons
---
I once took a surf lesson in Maine and was absolutely terrible. On this trip, I tried my hand at snorkeling and SCUBA diving, so I took a pass on surf lessons. There were a lot of different schools on the island, so if surfing has been a long overdue dream of yours, this is certainly a gorgeous place to check out.
---
Go Sea Kayaking
---
Some of the resorts offer free kayaking to their guests. If you aren't staying at a resort, a sea kayak will cost about 100.000 IDR an hour ($7.50 USD). The best place to go is Jungut Batu Beach at low tide. The water is only a few feet deep for a few hundred feet, making it the perfect place if you're a beginner.
---
Take a Day Trip to Nusa Penida
---
Unfortunately, visiting Nusa Lembongan's neighboring island was out of my budget. For 1.200.000 IDR ($90.00 USD) you can get an island tour including hotel pickup, a boat ride, and a car with a driver. They take you to all the major hot spots on Nusa Penida and then return you back home. The price is per car/boat meaning if you have four people it's only 300.000 IDR each for the day.
To learn more about Nusa Penida, check out this post about Beautiful Attractions on Nusa Penida
---
Did I Mention be a Beach Bum?
---
Oh, I did? Well, there's so many incredible beaches on the island that it makes sense to relax on a few of them. If you're not sure which one to visit, check out my list of the Best Beaches on Nusa Lembongan. I personally liked Jungut Batu Beach best since it was the most centrally located and had so many great restaurants.
---
Have a Drink and Watch the Sunset
---
On our last night, we went to Blue Corner at sunset and ordered a liter of sangria. The sangria was delicious (and strong) and the sunset was spectacular. In fact, we saw several great sunsets in our two weeks there. A liter of sangria cost 160.000 IDR ($12 USD). If you'd like something a little different, try the local liquor called Arak. We tried a shot of it, but were told it's best with honey and lime.
Did I leave anything out? Tell me your favorite part of the island in the comments! Have any questions? Don't be shy.
Nusa Lembongan Hotels & Accommodations
---
You might also like…