My mom and I decided to visit Nusa Lembongan after looking at a map of Bali for hours. We originally confused the small island with one of the Gili's, but once we realized it was a different place we began to do some research. There was little information out there about the island since it's an up and coming tourist destination, but the pictures we found were enough to have us sold. We really had no idea what we would find in the way of restaurants when we got here, but I can tell you there are tons of places to eat. We spent most of our two weeks on the main beach (Jungut Batu) trying almost every restaurant in town. We usually spent between $2 and $6 each per meal. So, what are the best restaurants in Nusa Lembongan?
---
Lemongrass
---
Best for Seafood
Lemongrass happened to be a few buildings down from our homestay and quickly became our favorite. The first night we had the prawn burger, which is a stroke of genius. It was so amazing that I planned to eat it several times before leaving. Another night we tried the seafood combination plate and the fried calamari, which again blew us away. We gave the lasagna a try as well, but I didn't love it. Therefore, this is the best restaurant on Nusa Lembongan for seafood.
The wifi here is fast and they offer live music some nights, however, my favorite part was the comfy couches. Since there were only two of us, the couch opposite was empty. The first night, a really sweet girl joined us and we had a blast talking to her. The second night two Aussi's sat down and had us laughing so hard we nearly cried. I really enjoyed the atmosphere of this place, the food, and the people we met.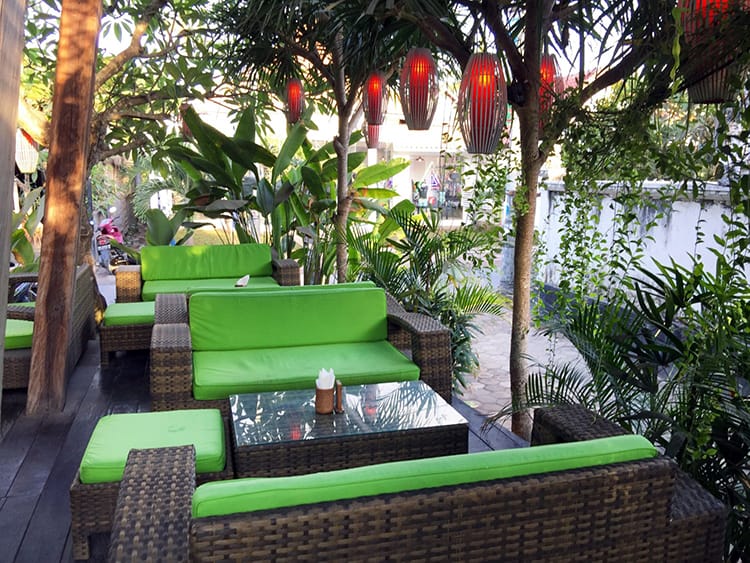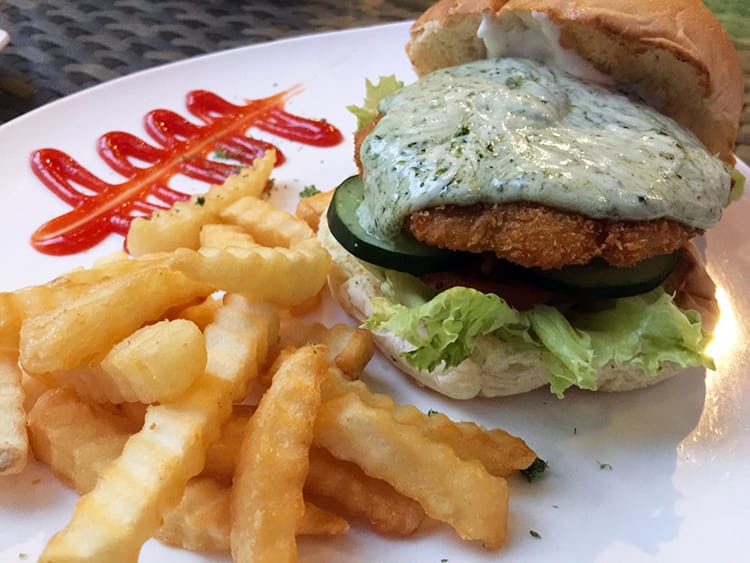 Blue Corner
---
Best for Relaxing on the Beach
One day, we were desperate for a place to sit with an umbrella. We figured we'd pop into one of the places that offered drinks and buy one each in exchange for some chairs and relief from the sun. After sitting down, no one even bothered us to order. We ended up staying for hours until lunch and got the fried rice and a happy yogi wrap. The rice was good but a little spicy, and the wrap was really fresh and delicious.
Another day we went to Blue Corner for breakfast and the granola bowl was perfect for a light healthy meal. It was filled with fresh fruit and ginger cashew granola. The restaurant is right on the ocean with amazing views. There are a ton of beanbag chairs, wifi, and umbrellas for shade. Go at sunset and order the sangria for a relaxed evening.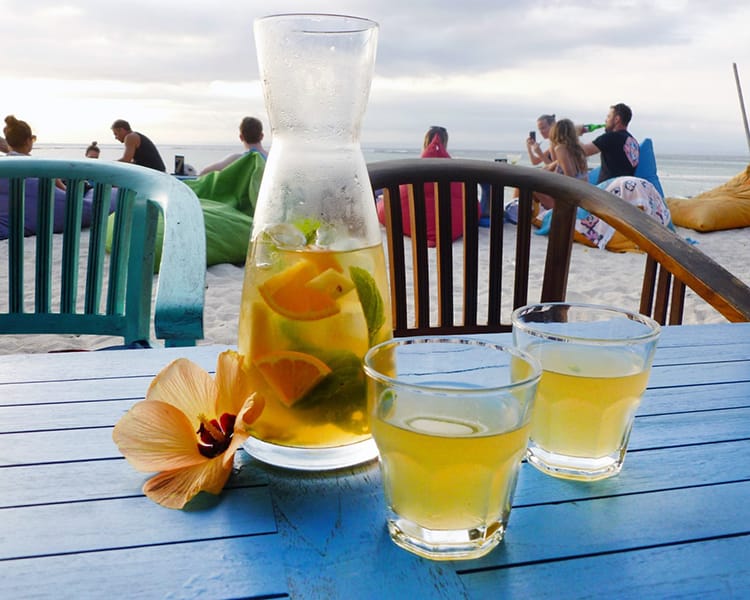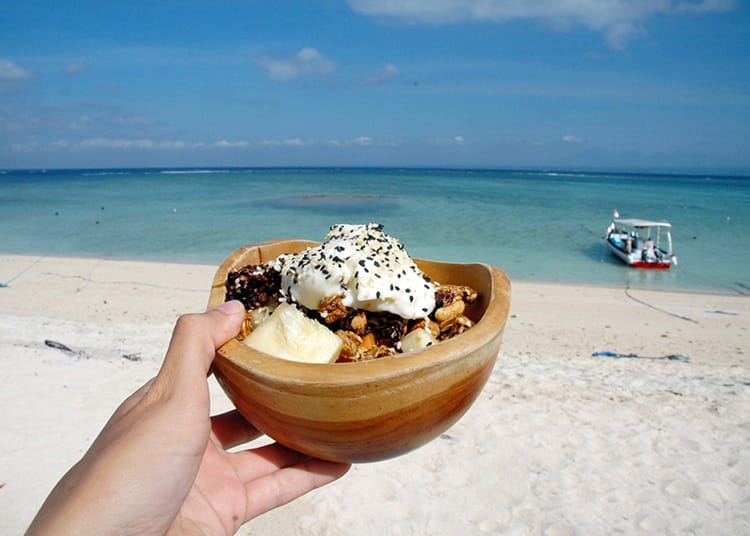 Pepita
---
Best Bakery & Cafe
Since our homestay's wifi was pretty terrible, we found ourselves catching up on emails and work at Pepita. We grabbed some breakfast to go before we went snorkeling. The cheese puffs and croissants are really good and baked fresh. We went back to take advantage of their wifi a few times and had coffee, smoothies, and lunch. I highly recommend the hot chocolate coffee and cappuccino.
The best part of this place is it feels like a café back home. There's A/C, lots of comfy chairs, and great coffee. It's the perfect place to whip out your laptop and get down to business.
Ginger & Jamu
---
Best for Organic and Health Food
This place is located right on the beach with spectacular views. The entire menu is sourced locally, and it's organic making it the best organic restaurant on Nusa Lembongan. Everything here sounds super healthy and somehow mouth watering at the same time. We tried the famous smoothie bowls (Pink Panther & Willy Wonka) and a banana, coconut, dark chocolate pancake. Both were amazing! They also offer live music some nights, paddle board rentals, and yoga classes. The vibe is very bohemian and chill which I adored.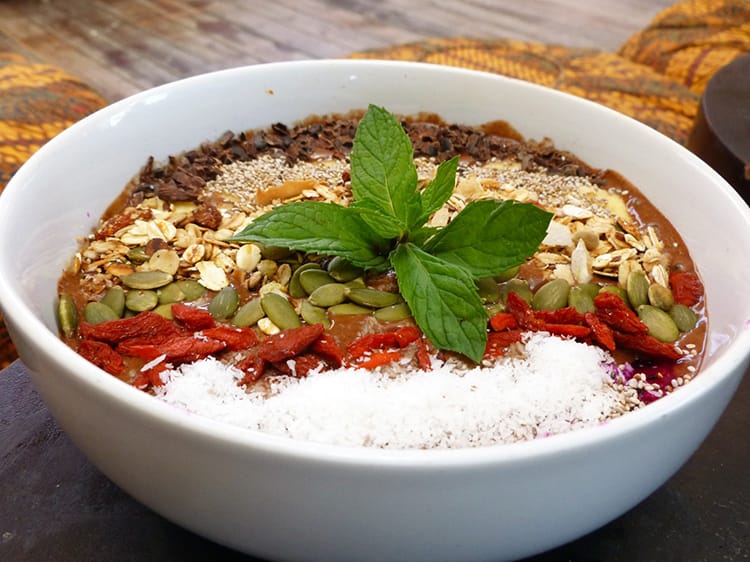 Pondok Arsa Santhi
---
Best for Cheap Breakfasts
After eating overpriced breakfasts on the beach every day, we finally decided to try a few places without a view. We ended up at Pondok Arsa Santhi, which offers large breakfasts for a fraction of the price. I ordered a fruit salad and yogurt pancake, which was tasty. My mom ordered the Aussi breakfast, which included eggs, french toast, bacon, mushrooms, hash browns, fruit, a glass of watermelon juice, and a pot of coffee. You definitely get your moneys worth here without compromising on taste. We ended up going back and I ordered the banana porridge. It was really creamy and very filling for only 20.000 IDR ($1.50).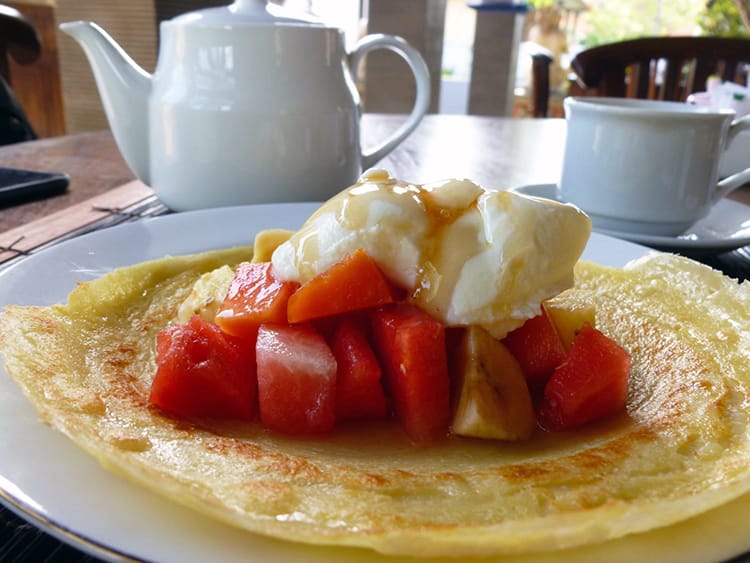 Pondok Baruna Warung
---
Best for Cheap 'East Meets West'
This cute restaurant's atmosphere is what initially pulled me in. After taking a quick look at the menu, I realized it's one of the few places I'd seen that offered Bali's famous tempe. I'd been craving a tempe or tofu burger and both were on the menu. On the other hand, my mom was craving fried rice and the famous Nasi Goreng was also available. Not only that, but they were only 45.000 IDR each ($3.40).
The only downfall of this place is that the food takes a long time. We were both pretty hungry after a light lunch, but the wait was worth it. You could tell everything was made extremely fresh. The tofu burger was one of the best I've had and the fried rice was amazing as well. We didn't love the chicken satay, but otherwise both dishes were perfect.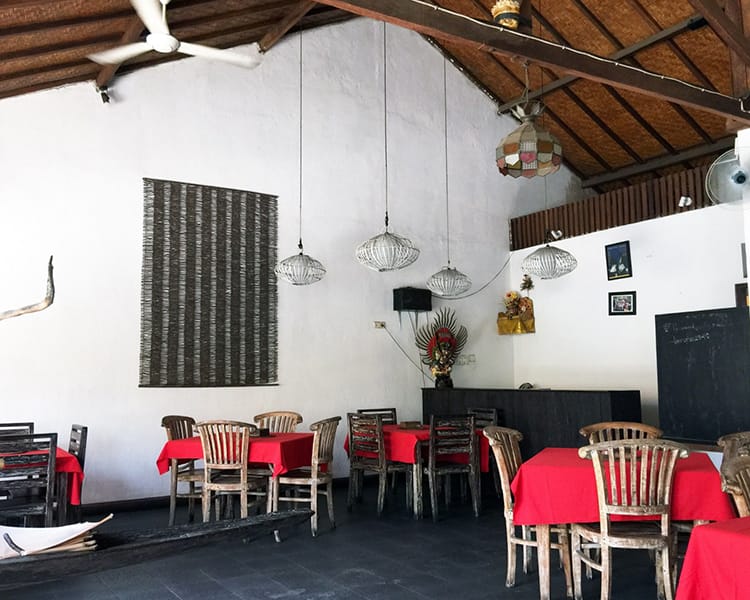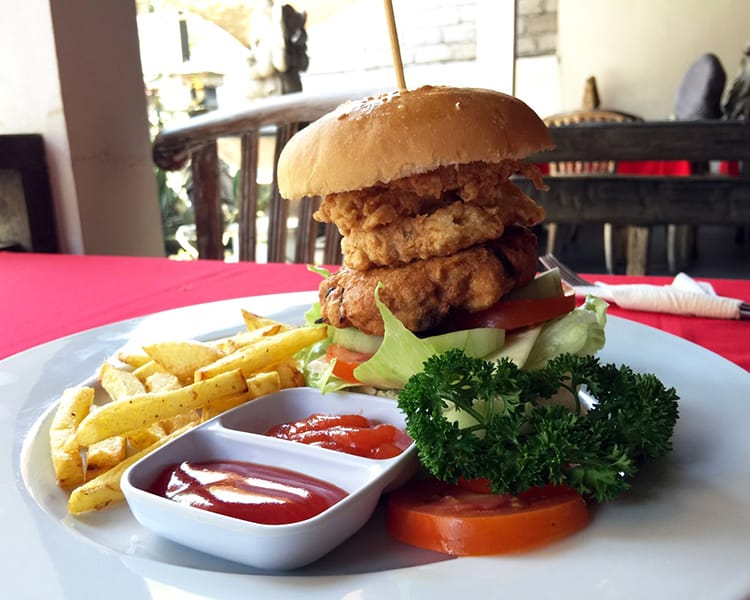 Wahyu Warung
---
Best for Cheap Small Plates
After switching homestays, we ended up across the street from Wahyu. We went there for breakfast a few days. I loved their pancakes, ginger tea, and musli. We also went for lunch two days and dinner another day. We ordered spring rolls, calamari, a margarita pizza, sautéed veggies and chicken, shrimp cocktail, and a jaffle. This place is so cheap that it's easy to order a bunch of plates to share. If you can't decide on one thing and want a tapas kind of feel, this is the place to go. One night we got two pots of tea, two appetizers, and a main course for 90.000 IDR! That's less than $7.00.
Tigerlillys
---
Best Ambience
I'd read about Tigerlillys online but we kept forgetting to go there. On our last day on the island, we decided to grab breakfast there, and I'm glad we did. Entering the restaurant feels like you are entering a jungle oasis. The pool fountain sounds like a small waterfall in the distance while the open pavilion feels more like a secret retreat from the real world than anything else. Everything has a chill vibe. It's what I would want my entire backyard to look like if I had a backyard.
But wait, the ambience isn't all that's amazing. The food here was excellent as well. My mom ordered the vegetable omelette which was full of fresh veggies and came with exotic black rice toast. I opted for a chia seed pudding which was by far the prettiest thing I've ever eaten. On top of that, I decided to get a decadent hot chocolate. They aren't using the word decadent lightly. My hot cocoa was so thick, you could eat it with a spoon. It was as though someone melted an entire dark chocolate bar into a cup. It was the best hot cocoa I've ever had.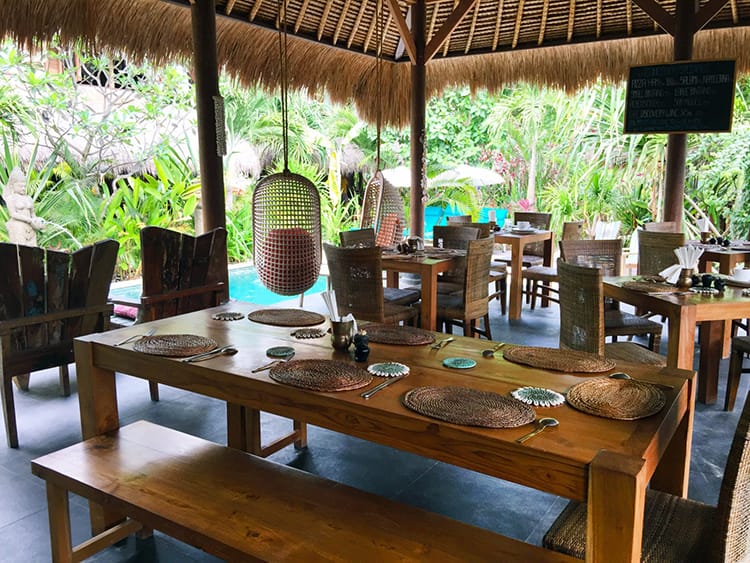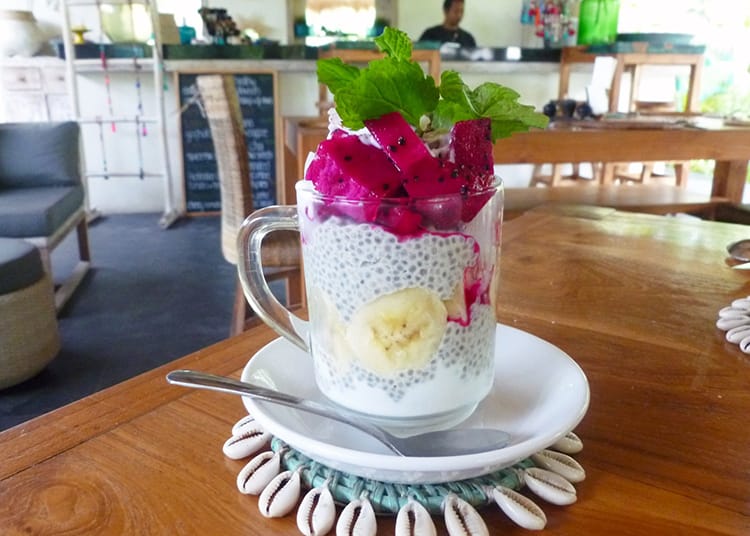 Looking for a hotel on Nusa Lembongan?
---
You might also like…