Whenever I told someone I was going to Bali, they'd say the beaches were kind of meh, and that I should just head to the Gili's. But, I felt like everyone who didn't like Bali had been to the wrong places. *cough* Kuta *cough* Now, I know I was right. Off the coast of Bali lies the small island of Nusa Lembongan. Most people don't even realize it's there, but by some chance, my mom and I stumbled upon it. I can honestly describe Nusa Lembongan as paradise. Still considered Bali, it has some of the best beaches and diving in the world. Whether you're looking to snorkel, scuba, sunbathe, swim or just chill, this island is a mecca for relaxation and water sports. The big question is, what are the best beaches in Nusa Lembongan and which should you go to first?
---
Best Beaches in Nusa Lembongan Map
---
Mushroom Bay – Best for Swimming
---
Mushroom Bay is the best beach in Nusa Lembongan for swimming. This one appeared to be the most beachy beach. Yeah, I know that sounds weird, but I swear the sand is amazingly soft. The views are incredible. The water is a perfect turquoise. It literally looks like a postcard. There are quite a few boats in the water, but there is plenty of room to swim. I've been told it's also excellent for snorkeling.
There were a couple of restaurants along the water, but they are high up above the beach, not right on the sand. Therefore, there weren't really any lounge chairs or beanbag chairs on the beach to sit and relax. There also weren't any umbrellas offering relief from the sun.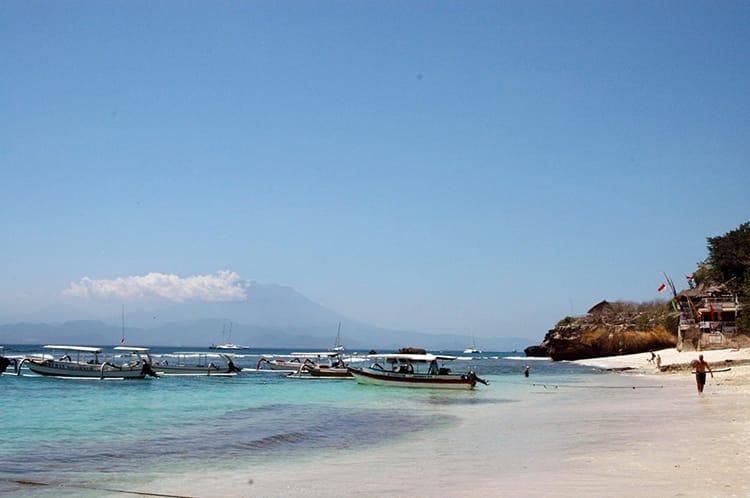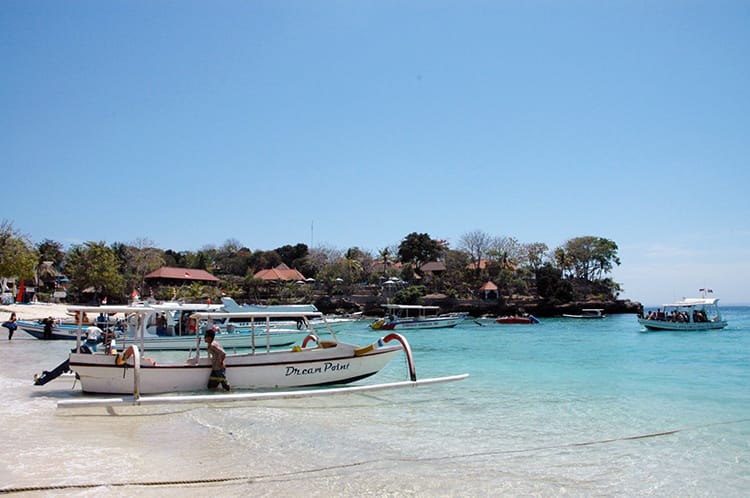 Secret (Mushroom) Beach – Best for Peace & Quiet
---
A local took me to a secret beach. At first, I thought it was Tamarind Beach which I'd seen listed on my map. I saw a sign for Tamarind, but we turned to the left instead of following the signs. I'd been to Mushroom Bay two days earlier, and it wasn't that beach either. Regardless, when I asked my guide, he called this Mushroom Beach.
I walked down a rather steep path, through some jungle, and then there was the most spectacular beach of them all. It had soft sand and only ten other people on it. Some were snorkeling while others just sunbathed. It was so peaceful and quiet. Those who were there, didn't know what the beach was called. Some didn't even know how to find their way back to the road. It was like an island oasis meant only for those lucky enough to stumble upon it.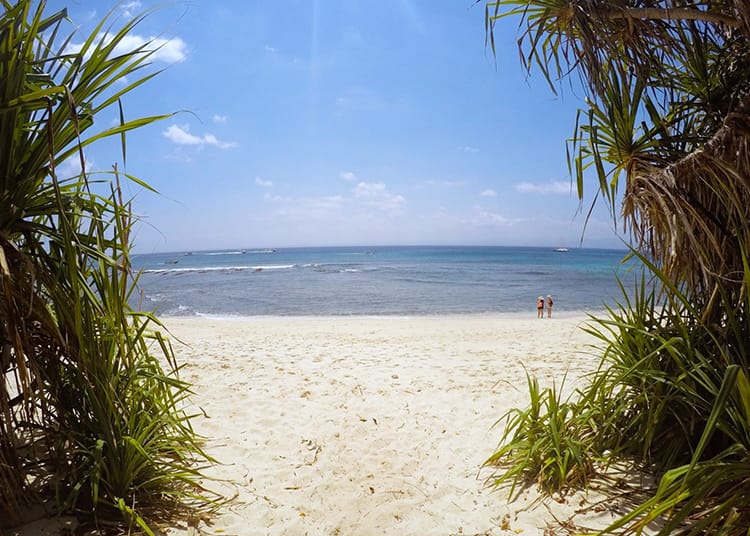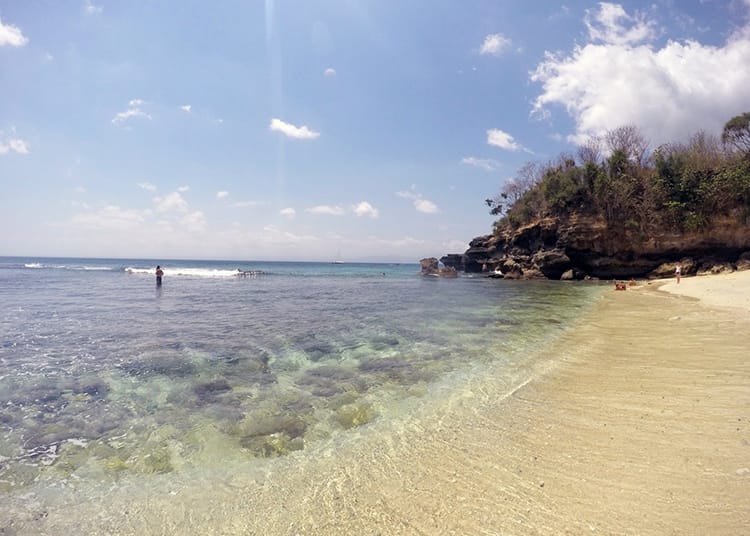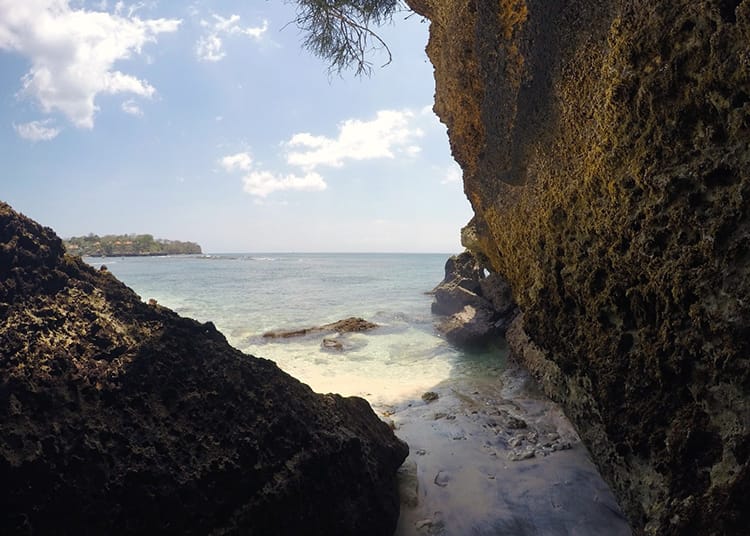 Jungut Batu Beach – Best for Sunbathing
---
Jungut Batu Beach, or the Main Beach, is the longest beach on the island and the best beach on Nusa Lembongan for sunbathing. It's also the most touristed. Considering how we visited just as high season was ending, the beach was still empty. We never once saw a restaurant full or that many people around at all.
On the south side of the beach, you'll see the harbor where most of the ferries come in and out. The north side is quiet and only has snorkeling/diving tour boats in the water. At low tide, you can see for miles along the sand. This is not a great beach for swimming as there is a lot of coral making it difficult to walk out into the water.
I'd recommend this as the place to sit, soak up some sun, eat, and drink. There are tons of restaurants along the water. Most are affordable, offering meals between $3 and $10. The views are spectacular and the water is crystal clear. Most of the restaurants offer lounge chairs and umbrellas where you can sit and sunbathe all day as long as you order something.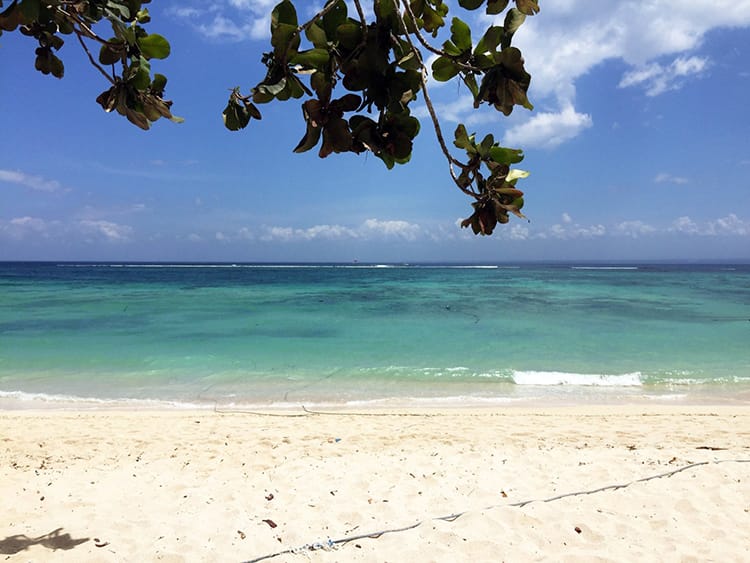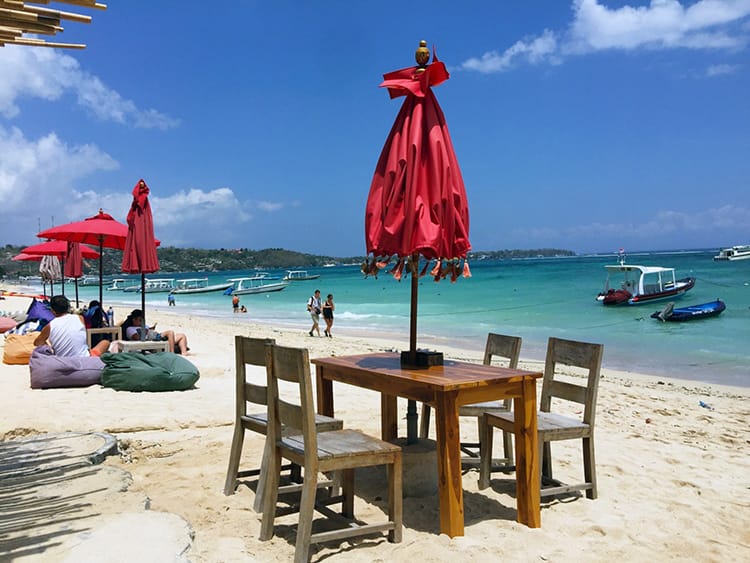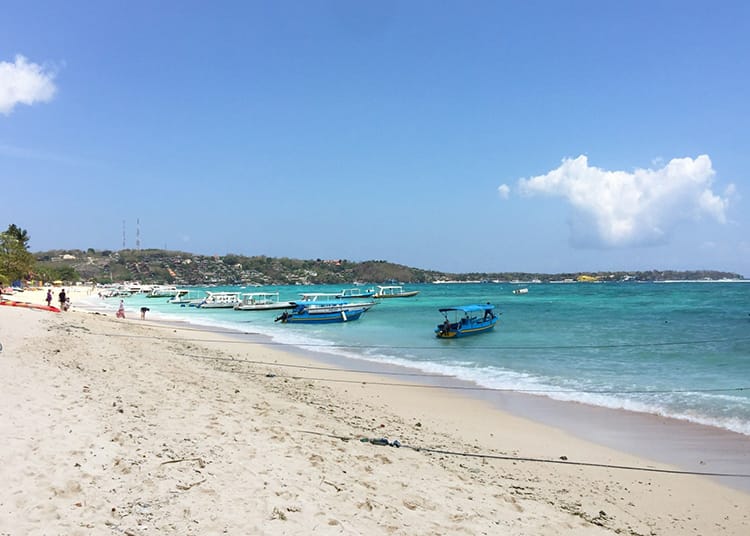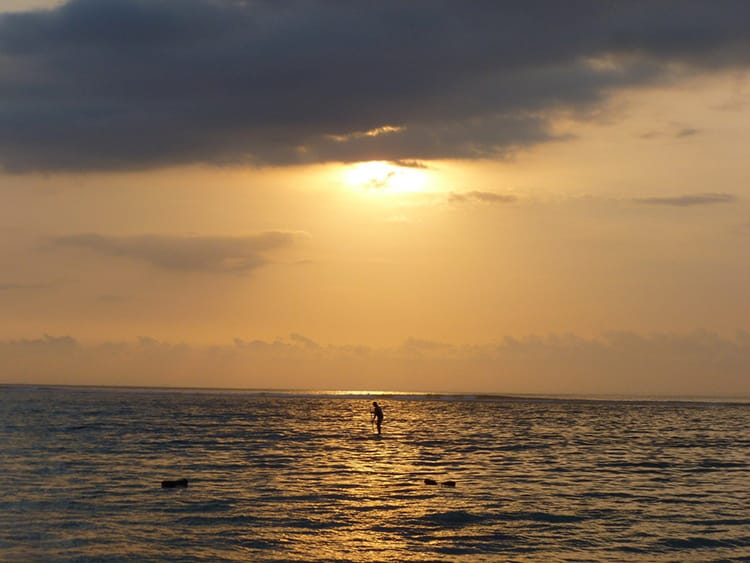 Mangrove Beach – Best for Snorkeling
---
Mangrove Beach is a bit off the beaten path. There aren't that many places to stay nearby, so it will require you to either take a bit of a walk or rent a bike to visit. Once there, you'll find it's worth the trip. The beach is lovely, with trees growing out of the sand. There's a spectacular view of Mount Agung on Bali's mainland in the distance. There are several restaurants along the water, which are worth checking out.
When you arrive, you'll be offered snorkeling and mangrove tours every five seconds. We had snorkeled here a previous day as part of a half-day trip. The area is known for it's amazing coral. It's super shallow making it a good place for beginners. Just be careful of the undercurrent, which pulled me in multiple directions. It wasn't too bad, but it did make it hard to swim in a straight line.
I'd also recommend a mangrove tour. We paid 100.000 for two of us ($7.50) for a 25-minute boat ride through the mangroves. It was actually really lovely and relaxing. It was also a much-needed break from the hot sun. Our boat driver told us it's best to go at low tide, otherwise you can't really see the roots of the trees.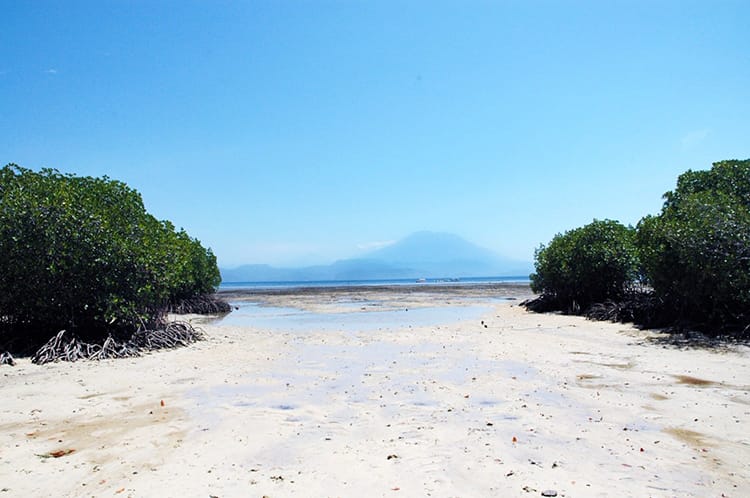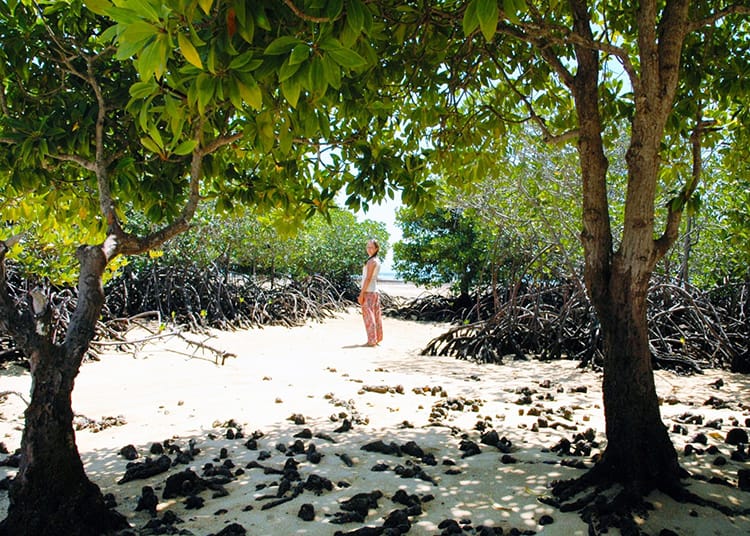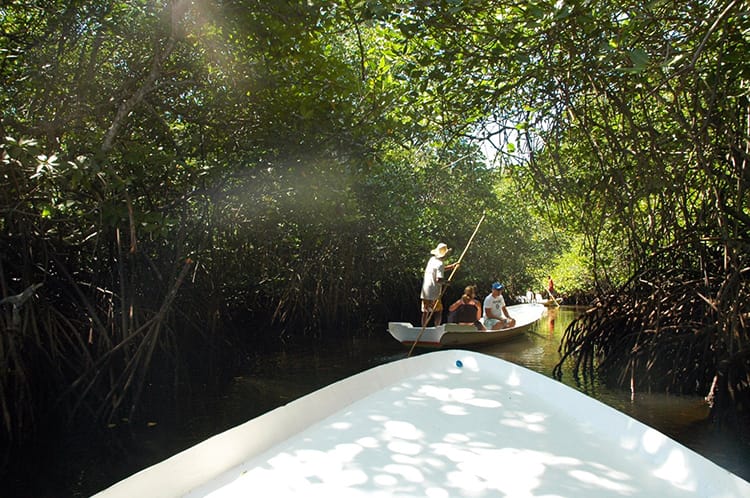 ---
---
Dream Beach – Best for Picture Perfect Photos
---
Dream Beach, although small is really stunning making it the best beach on Nusa Lembongan for taking photos. The strong currents and large waves make it difficult for swimming, so you don't see too many people in the water. Here the sand is soft, making it the perfect place to lay on the beach with a towel and watch the waves roll in. I only noticed one restaurant, although it's decks do offer a spectacular view.
If you get tired of the near perfect scenery, you can head to Devil's Tear which is within walking distance. I took a nice walk along the cliffs while most people stayed in one very crowded spot. I had to laugh as 20 or so tourists were all lined up trying to take artful Instagram photos. You can get some incredible photos of the waves hitting the cliffs if you just walk a bit further than everyone else. Just be careful to watch your step on the uneven ground.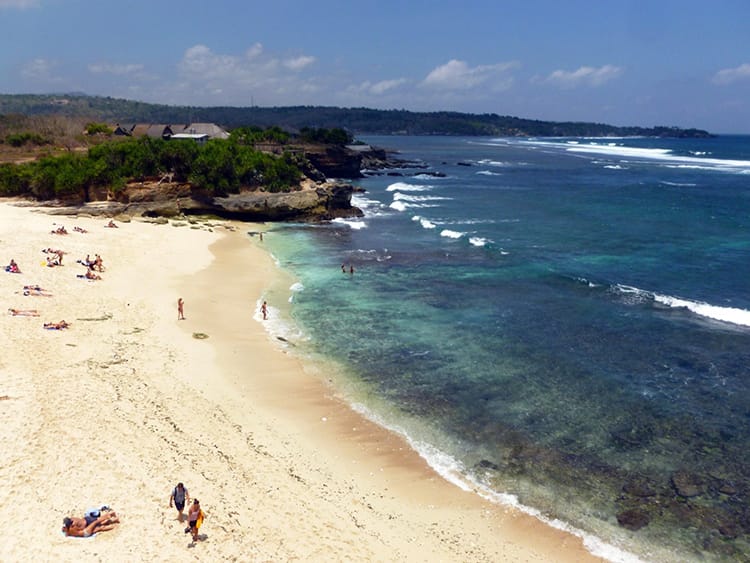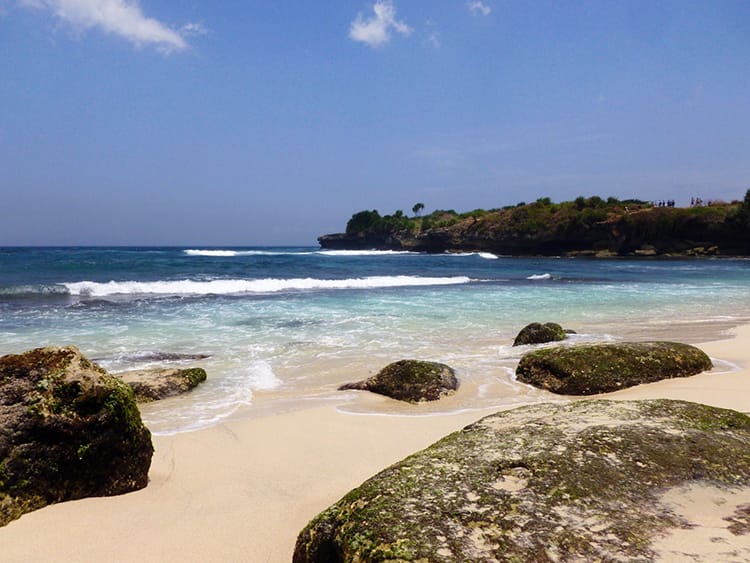 Places I didn't go…
---
Sunset Beach
I saw Sunset Point and Sunset Bay, but nowhere was there a beach. Sunset Beach is labeled on maps, and I've seen photos, so I'm not really sure how I missed it. My only guess is that it's hard to find at high tide? Regardless, I would recommend seeing Sunset Point and Sunset Bay.
Secret Beach (Nusa Ceningan)
After having a minor motorbike accident, I decided to pay a local to take me around for a day. Secret Beach is located on the neighboring island of Nusa Ceningan. I had told my driver I wanted to go there, but he flew past the road and said "No, not worth seeing." I tried to explain that as a blogger, I needed to see it and decide for myself, but he insisted I listen to the locals. He would take me to a better "Secret Beach" which I've labeled above as "Secret Mushroom Beach."
Diamond Beach (Nusa Penida)
Nusa Penida is a neighboring island that is known for beautiful untouched beaches. One of the most popular is the stunning Diamond Beach. If you have the time, it's best to spend a couple of days on Nusa Penida that way you can explore the entire island and relax there.
Which beach would you want to visit first? If you've been to Nusa Lembongan, which was your favorite?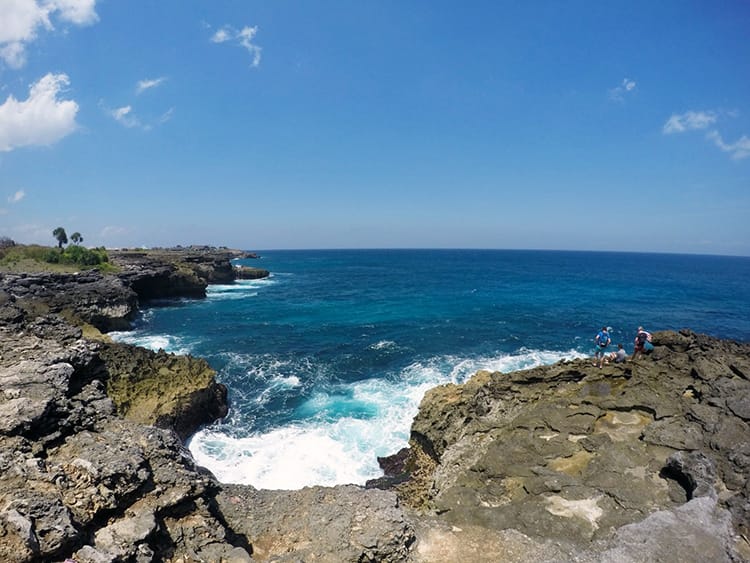 Need to find a hotel near your ideal beach?
---
You might also like…