Whenever I travel to a new country, I always take a cooking class. It's become a tradition, and I love that it's a souvenir I can take home and share with everyone. This year, I have experimented with all of the recipes I learned during my travels. I'm lucky I have family and friends who are willing to try my dishes, and later, they often ask for the recipes. My sister was always convinced that she couldn't have Thai food because she's allergic to peanuts, and she was surprised to find out that my recipe doesn't contain peanuts. It is recommended to crush some up and add them on top as garnish at the end. But there is none cooked into the recipe. I truly believe that one of the best ways to understand a culture is to experience its cuisine, so I wanted to share my peanut free Pad Thai recipe here so that others can enjoy it as well.
Jump to Recipe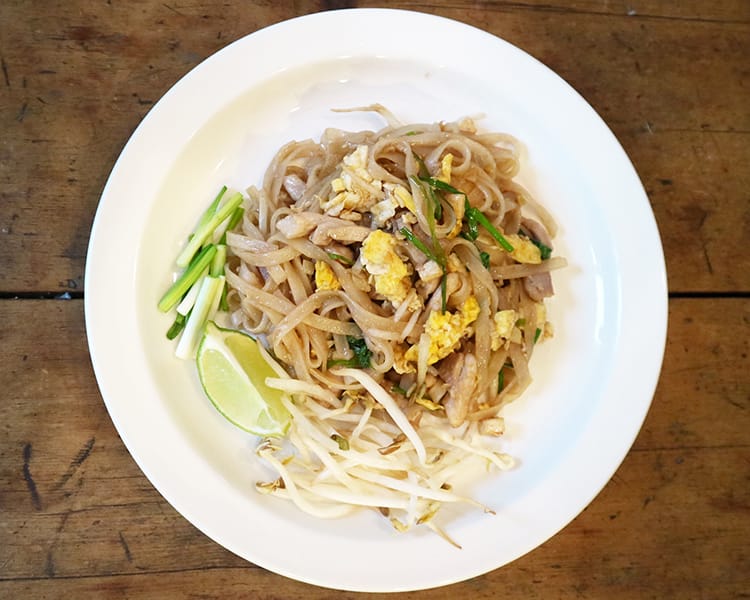 Pad Thai Variations & Options
---
Peanut Free Pad Thai
This dish can be made several ways. If you are allergic to peanuts, simply don't add them as garnish. My sister's peanut allergy extends to soy, so you should remove the tofu if this is the case. I've made it this way, and it still tastes amazing without the tofu or peanuts. You can even smash up cashews on top if you want that crunch.
Vegetarian Pad Thai
I don't eat meat as often as I used to, so this recipe can be made into a vegetarian variation. You can replace the chicken stock with water and replace the chicken with more tofu. I prefer fish, and I have made this recipe with shrimp. If you choose to use shrimp, I'd recommend not adding the shrimp paste as it gets a little too fishy.
Shrimp Pad Thai
If you're a wimp like me, you may not be able to handle spice. In the cooking class in Thailand, they recommend a ton of chili flakes. I cried when I ate it. Now, I only put in a little bit, but it's not necessary to add any. Those who like a kick can try the Thai version which has a teaspoon of chili. It's even hot for those who love spicy food.
If you have any questions, feel free to ask in the comments and I hope you enjoy this authentic peanut free Pad Thai recipe!
---
Peanut Free Pad Thai Cooking Photos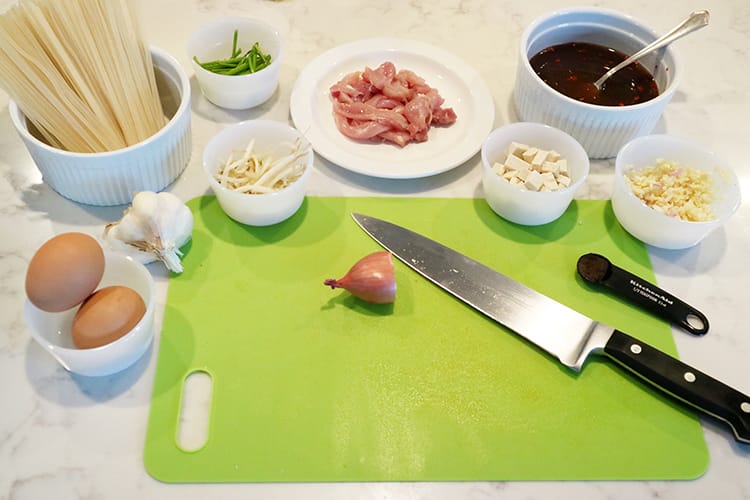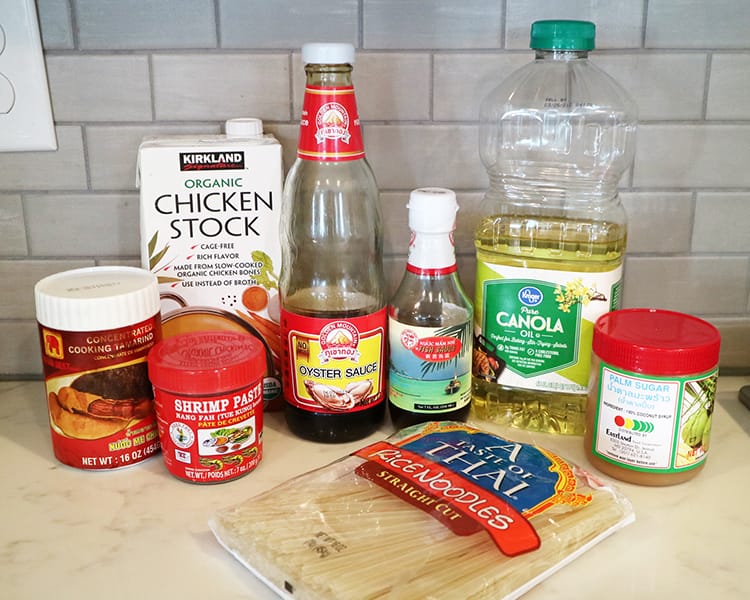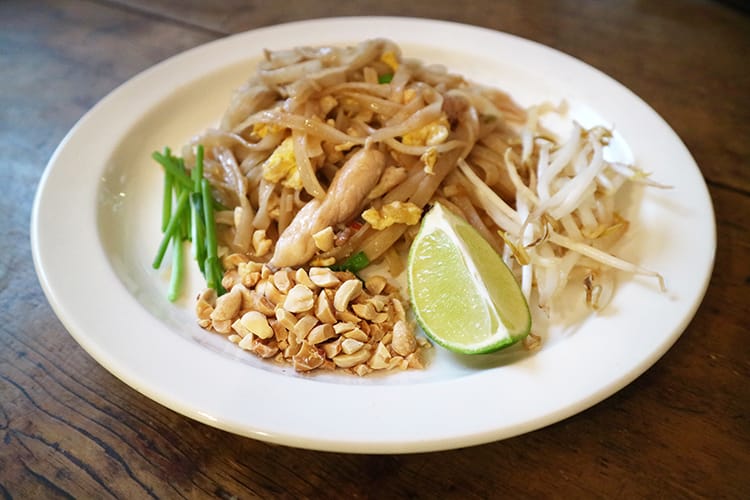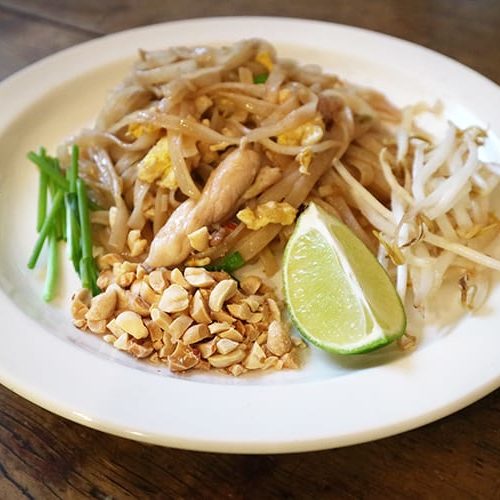 Chicken Pad Thai
An authentic Pad Thai recipe from Thailand which can be tailored to be vegetarian or peanut free!
Ingredients
Pad Thai Noodles
60

ml

Canola Oil

40

g

Firm Tofu

(diced in 1 cm cubes)

10

g

Shallot

(minced)

4

Cloves

Garlic

(minced)

100

g

Boneless Chicken Thigh Meat

(sliced into small strips)

2

Eggs

200

g

Fresh or Rehydrated Dried Rice Noodles

20

g

Bean Sprouts

4

Scallions

(cut into 2 inch pieces)

20

g

Pickled Radish

(optional)

½

tsp

Red Shrimp Paste

(optional)
Pad Thai Sauce
0-1

tsp

Red Chili Flakes

(based on taste)

2

tbsp

Oyster Sauce

1

tbsp

Fish Sauce

2

tbsp

Tamarind Paste

3

tsp

Palm Sugar

120

ml

Chicken Stock
Garnish
¼

cup

Crushed Peanuts

(optional)

Red Pepper Flakes

(optional)

Scallions

Bean Sprouts

Lime
Instructions
Prep
Prep everything above prior to starting. Thai food cooks quickly so there won't be time to do it once you start.

Combine the Pad Thai sauce ingredients into a bowl and mix them together. Decide how much chili you want to add based on your preference. In Thailand, they use 1 tsp for this recipe. I cried when I ate it. Now, I choose to use 1 dried chili which I remove the seeds from. You do not have to use any chili if you don't want.

If you cannot find fresh Pad Thai noodles, then you can rehydrate them by soaking them in warm water for 25 minutes prior to starting. Make sure to strain the water out before you begin to cook.

Put everything in bowls next to the stove. When you begin to cook, things will move quickly, and it's good to have it near you.
Cooking Instructions
In a wok (or sauté pan) add the vegetable oil over medium-high heat. Once it's hot and shimmering, add the tofu and fry it until it's a little crispy.

Once the tofu is crispy, add the minced shallots and garlic. Fry it until it is fragrant while being careful not to burn the garlic.

Once fragrant, add the chicken and stir until it's fully cooked.

If you are great at using a wok, you can push everything to one side so it is off of the heat. When you add the new ingredients, they should not be combined with the old ones. If you aren't a pro with a wok, I recommend having a spare bowl next to your work station. You can put what you've cooked into the bowl and add it back in later.

Crack the eggs into the bottom of the wok and scramble lightly. Once cooked, use your spoon to break it into smaller pieces. Once the pieces are a little crispy on the edges, push the egg to the side of the pan with the chicken and tofu (or into your separate bowl).

Pour the Pad Thai sauce into the bottom of the wok. The sauce will begin to boil in a few seconds. Continue to keep the already cooked items separate.

Once the sauce begins to boil, add the rehydrated rice noodles. Stir them in the sauce quickly and add the pickled radish (optional) and shrimp paste (optional).

Stir until the noodles are translucent and cooked.

Once cooked, add the already cooked ingredients that were set to the side and stir them in for 1 minute.

Turn off the heat, and toss in the bean sprouts and scallions. Continue stirring for a few seconds.

Serve your Pad Thai on a plate. You can add peanuts for garnish if you like, but it's not necessary. You can also add some fresh scallions, bean sprouts, red chili, a slice of lime, and raw sugar.
Notes
Vegetarian Variation
Substitute chicken stock with water and chicken with extra tofu
For Larger Servings
If you add more chicken, you'll need to compensate with more Pad Thai sauce.
Doubling or tripling this recipe is difficult as the items need space to cook in the wok. It's better to do a few small batches then to attempt one large batch.
---
You might also like…