Tirkhedhunga, Nepal is a popular stop on the Ghorepani Poon Hill Trek. The village began to cater to tourists in the 1970's when the Poon Hill Trek started. Since then, the village has developed with teahouses and restaurants. Now, a road goes past Tirkhedhunga, so not everyone stops there. However, the road sometimes washes out in monsoon due to landslides, and it isn't always accessible by car. Here's what you need to know about Tirkhedhunga village.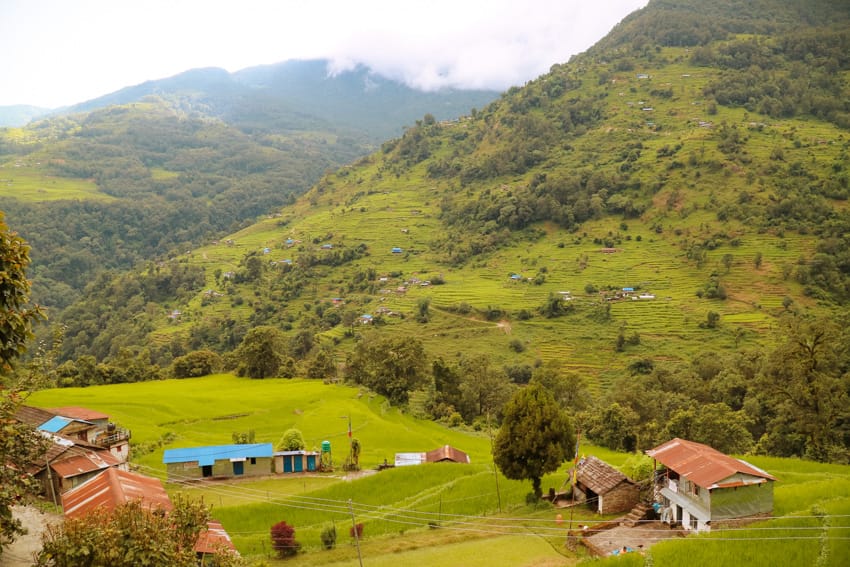 Brief History of Tirkhedhunga, Nepal
---
The village of Tirkhedhunga is over 200 years old! The route became popular for trekking in the 1970's when a local developed Poon Hill as a trekking destination. Since then, the town has catered to tourists. There are several teahouses and restaurants in the area making it an easy place to stop for a meal or spend the night. What I love about this village is that it maintained its original vibe. Many villages in Nepal were created for tourism, but you can tell this one was here long before tourists. It has a homey feel rather than the commercial vibe of other villages.
---
Tirkhedhunga, Nepal Village Guide
---
Major ethnicity:
Gurung and Thakali
Major Religion:
Buddhism
Language:
Gurung, Thakali, and Nepali
Tirkhedhunga Altitude:
1,540 m (5,052 feet)
Oxygen Concentration:
84% compared to 100% at sea level
Best Time of Year to Visit:
It's best to visit in October, November, March or April during peak trekking season when the weather is nice and you have the best chance at seeing the mountains.
Location:
47 km (29 miles) north of the city of Pokhara. Tirkhedhunga is located within the Annapurna Conservation Area south of the Himalaya.
How to get there:
To get to Tirkhedhunga, you'll need to drive for about an hour and then walk for 3.5 hours. If the road is clear, you can drive all the way to Tirkhedhunga, however there are often landslides blocking the route.
Entry Permit:
The Annapurna Conservation Area requires an ACAP permit which costs 3,000 rupees (about $26.00 USD).
NTC service:
4G – 4 bars
Ncell Service:
4G – 2 bars
What to Eat:
When in Nepal, do as the Nepalese do. In Nepal, the main dish is known as dal baht and that is what is recommended by the locals in the area. It consists of rice, dal, vegetable curry, meat curry, spinach, and a spicy pickle.
Things to do in Tirkhedhunga
There is a waterfall located near Tirkhedhunga and those who wish to visit the old Gurung Village can walk about a half hour uphill to see the original buildings.
---
Tirkhedhunga Teahouses
---
Types of accommodation:
In the area, there are teahouses which are basic accommodations.
Number of accommodations:
There are 10 teahouses in the area.
Our choice:
Laxmi Guest House & Restaurant
Price of a Room:
300 rupees for a single and 500 rupees for a double occupancy ($3.00 to $5.00 USD)
Price of Veg Dal Baht:
500 rupees ($5.00 USD)
Electricity:
There is electricity. It costs 100 rupees ($1.00 USD) to charge a phone or camera.
Toilet Situation:
There is a shared western toilet located on the same floor of the rooms, but the entrance is outside.
Shower:
There is a shower available with hot water. It costs 150 rupees per shower ($1.50 USD)
Wifi:
Wifi is available for 100 rupees ($1.00 USD)
---
Tirkhedhunga, Nepal Photography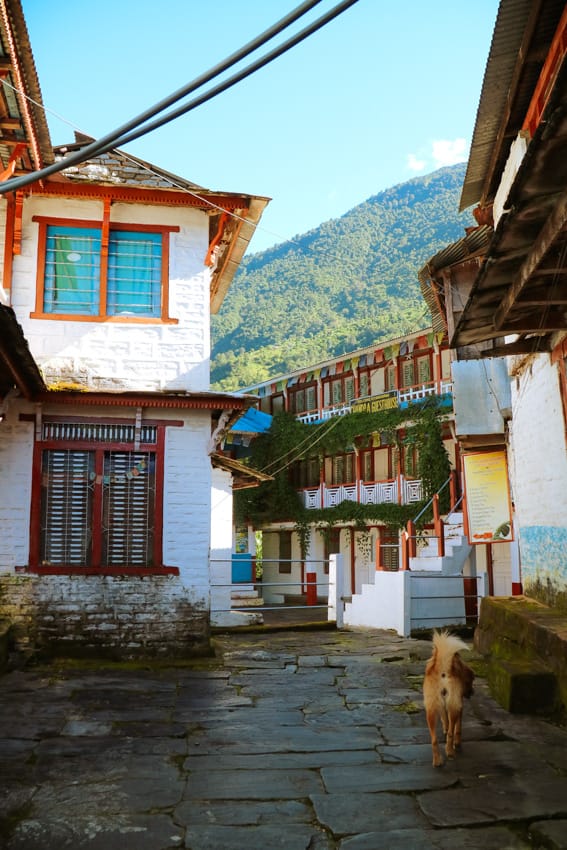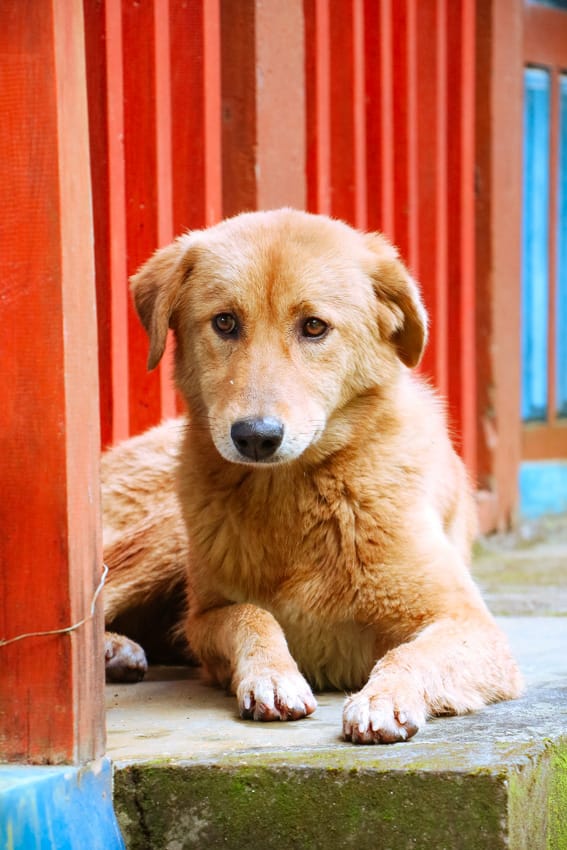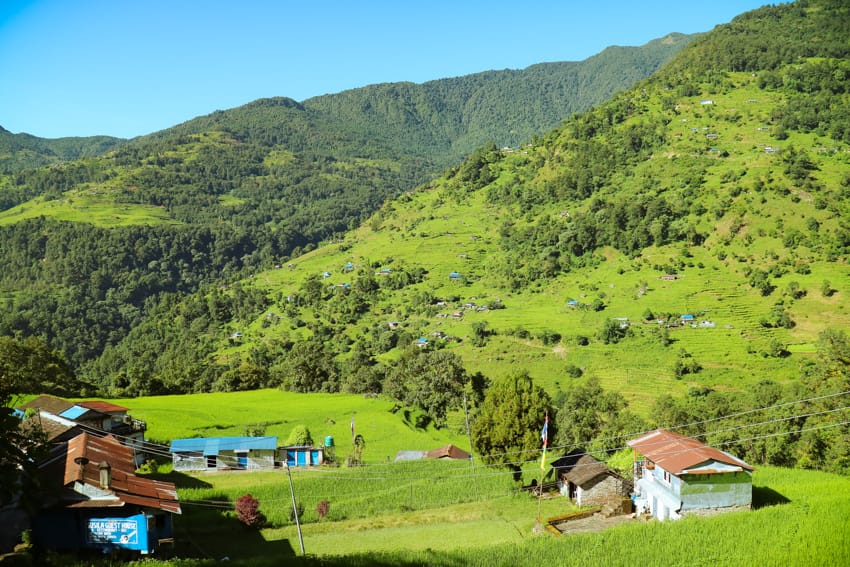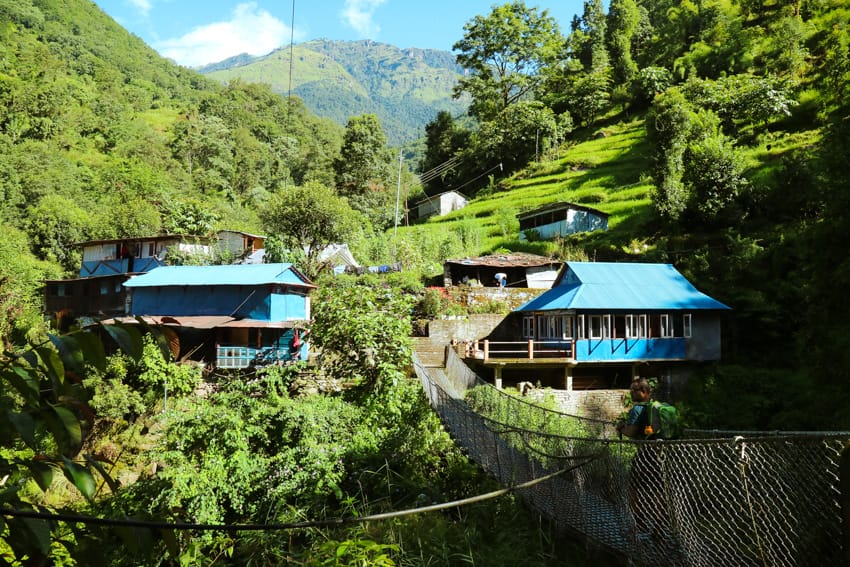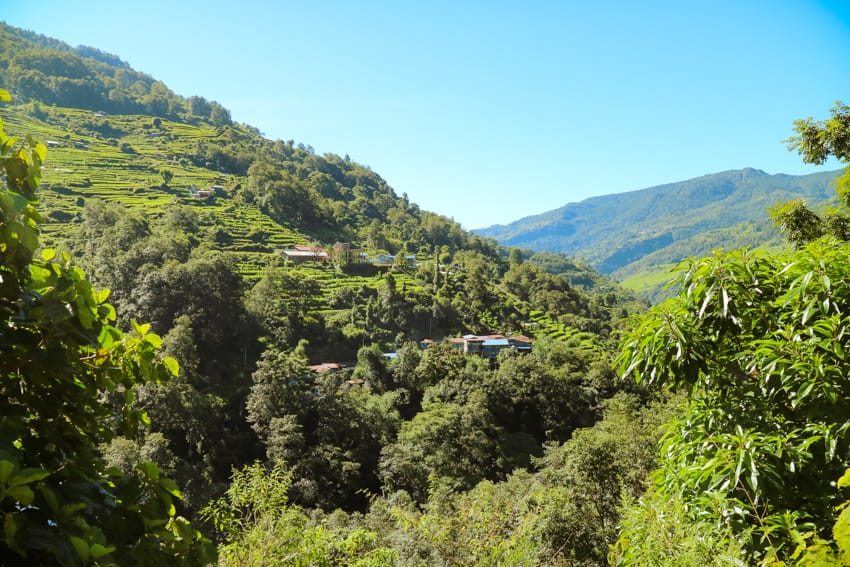 ---
You might also like…