Kathmandu has quickly become my second home. Having spent weeks at a time there over the course of several months, I've had the chance to really explore the city. However, I realize not everyone will be able to spend months in Kathmandu, and frankly, most might not want to. Having visited all of the top sites, and some lesser known ones, it seemed fitting to put together the ultimate Kathmandu itinerary including two days worth of options. Below you'll find a schedule of what to see and where to eat. If you'll be in Kathmandu for longer, I'd recommend breaking this down into four days. Although it can be done, it's a lot to squeeze into just 48 hours.
---
Day 1 – Kathmandu Itinerary
---
I'd recommend making day one into a walking tour. Make sure to buy a mask on the streets of Thamel before heading out so that you don't breathe in the dust or pollution. Walking is a great way to see extra sights along the way like the smaller temples that aren't listed below. It's also a great way to save money. Please note: I've picked touristy restaurants for food because your stomach will need time to adjust if you've just arrived. If you've been in Nepal for a while and want to do this tour, feel free to drop a comment, and I'll recommend more authentic/local places.
Himalayan Java for Breakfast
Himalayan Java is a local coffee chain which has some of the best coffee in Nepal. Most people who visit the country will be headed off to go trekking, so I recommend taking advantage of the delicious coffee before you are subjected to drinking overpriced instant Nescafé for weeks. They also have an assortment of breakfast and bakery items. I'd highly recommend the croissant with egg and cheese. If you want to splurge and like your coffee sweet, get a honey latte.
Garden of Dreams
The Garden of Dreams was once a private garden. Later, it was opened to the public and restored to its original glory. It's one of the most beautiful places in Kathmandu and gives you a little escape from the notorious dust. There's a small exhibit inside which shows the transformation of the property over time. There's also a very fancy restaurant located inside. This is a popular place for young couples to go on dates.
Narayanhity Palace Museum
The Palace Museum is a less visited attraction. It's infamous for being the scene of the massacre of the royal family. It's a very interesting story that happened fairly recently. The short version is that one of the princes was angry that he couldn't marry the woman he loved, so he got high and shot the majority of the royal family one night at dinner. Besides the insane story, the palace is an interesting juxtaposition to other royal palaces around the world. Having been built in the sixties, the design is very mod.
Mezze by Roadhouse for Lunch
Mezze was frequented by Prince Harry when he visited Kathmandu, and is therefore a popular restaurant among tourists and locals. They have a menu which features popular western dishes like pizza, nachos, and salads. While many people try to eat all the local food they can, I highly recommend ordering things you won't be able to get on the trekking trail. After trekking, I'm always desperate for fresh vegetables, so I spend most of my time in Kathmandu ordering salads and fruits.
Palace Street
While places like Thamel cater to tourists, the locals shop on Palace Street. It's the perfect place to buy clothes. Although it's not super cheap, you can find some really cool things. From saris and sun dresses to workout clothes, you can find almost anything here. Don't be afraid to get off the main road and go up random staircases. Most of the good stores are upstairs in what looks like outdoor malls.
Ratna Park
Ratna Park is a small garden that is popular among locals. When I went, I was the only foreigner. I love going there and people watching as locals hang out, play, and do homework. It's a great spot to witness everyday life in Kathmandu. I also like to go there to just read a book if I don't feel like going to the Garden of Dreams.
Ason Market
Ason Market is my favorite place in Kathmandu. It's where locals go to buy everything. You can get a teapot, a mousetrap, soap, wedding jewelry, prayer flags, and a suit all in one place. Best of all, you can get incredible spices for cheap including Himalayan sea salt and saffron. Make sure to buy the ones that are labeled so you don't have any issues with customs at the airport. Get a local SIM card before you head out, that way you can get completely lost down little alley ways and still find your way back on Google Maps.
Janakpur Dahi Lassi Bhandar
This little local drink stall makes the best lassi I've ever had. No exaggeration. I bring everyone I meet in Kathmandu here because it's that good. There's almost always a mob of locals drinking them out front which ensures their authenticity. I stop here every single time I pass by (sometimes twice in one day). I highly recommend buying the large which is only $0.70.
Durbar Square
Durbar Square is a historic area in Kathmandu that has been roped off and preserved. There was some earthquake damage, but the rebuilding process has done a lot to restore the buildings to their original beauty. I love walking through in the evenings when the temples are lit up and have candles glowing nearby. Usually, it's free entry after 5 or 6pm. However, during the day it's $10.00 per person. It's definitely worth seeing though since the Newari caste is famous for it's intricate carving style, and this is a prime example of their architecture.
Freak Street
Freak Street is just outside of Durbar Square and has an array or tourist shops, restaurants, and hostels. It's an interesting place to walk around and buy souvenirs. It's also a great place to people watch. As you can imagine, it's where "freaks" used to hang out. I've come to find that "freaks" actually means people with tattoos or piercings and hippies. When westerners first began to visit Nepal, this was where they all stayed, and their interesting appearance created the name "freak street."
Sarangi for Dinner
I highly recommend grabbing dinner at Sarangi in Thamel. It's one of my favorite restaurants, and I frequent it regularly. They serve a mix of Mexican food along with Indian and Nepali cuisine. That sounds like a strange combo but everything is always fresh and cooked to perfection. All profits from the restaurant go to help a caste of local musicians who are struggling to keep their traditions and heritage alive. The word "sarangi" is actually the name for a popular Nepali instrument. I recommend eating the dal baht (which is a tad spicy) or the quesadilla.
Tranquility Spa
After a long day, get yourself a massage at Tranquility Spa. I usually opt for the ayurvedic massage which uses infused oils and is meant to relieve stress. This type of massage is popular in India and Nepal where natural healing is still used. Massages here are negotiable depending on how busy they are and the time of year. In off season, a one-hour massage is $18, while in peak season you will have to pay a lot more.
Buddha Bar
After being massaged into oblivion, I recommend checking out Buddha Bar. It's a laid back bar with dim lighting. They offer a full menu, drinks and hookah. Most of my Nepali friends say it's one of their favorite places to chill in the evenings, so you'll see it's got a lot of locals who love it too. Some days there's a wait for a table, but if you're lucky, you can join another seated group and make new friends.

Day 2 – Kathmandu Itinerary
---
While day two can be done on foot, it would be exhausting and hard to do in one day. Therefore, I recommend hiring a taxi for this part of the Kathmandu itinerary, or at least between the larger stops. You can also download the Tootle app (think Uber for motorbikes). My local friends use it because it's cheap, but it is risky since you will be on a stranger's motorbike without a helmet. The places below are in order based on what time of day it is best to visit which is why they seem a little all over the place on the map.
Café with No Name
Start the day at this great little social enterprise. With the help of the police, this café works to return street children to their homes. Child trafficking was a huge problem in Nepal, so I like to support this cause. They have great coffee as well as full meals. Since it's a really small restaurant, it might be too full to get a table. If that's the case, I also recommend OR2K (a Mediterranean restaurant) which is very close by and has ample room.
The Monkey Temple
This is actually my least favorite temple because I hate monkeys, but it does offer an incredible view of Kathmandu Valley. Make sure to take off any jewelry and sunglasses before walking up the stairs. It's also a good idea to keep your phone or camera tucked away unless you're using it. Monkeys are pretty thrifty and seem to love cell phones. When you arrive, you'll have to walk up a lot of steps, but it really is worth the view. Something to remember throughout your time in Nepal is to always walk around the temples in the clockwise direction. It's disrespectful to walk the other way.
National Museum
The National Museum is a great way to see how Buddhism was formed in Nepal, how it spread, and how it changed over time. I found the last bit fascinating since Buddhism started as a philosophy and is now one of the biggest religions in Asia. The museum also has exhibits featuring stone carvings, wood carvings, thangka paintings, and brass sculptures. Seeing the variety of architectural sculptures and paintings from different periods was really interesting.
Military Museum
The Nepalese Military Museum is a little dense on information and requires a lot of reading. The part I really enjoyed was a section of large murals that depicted the major wars in Nepal, the territory gained or lost, etc. Each had a brief description below it and were shown in chronological order. It gave a lot of insight into how Nepal was formed. There was another section on weapons and clothing. Most was about the Kings and leaders. If you're a history buff, this is a mecca of information that is hard to find online.
Tama
Tama is a cute little local spot that has amazing curries. I'd recommend getting a bunch of naan and a few curries to share with friends. It's pretty cheap and has the best Indian food I've had in Nepal. Plus, it's always packed, so the food is always fresh. Try walking to the back of the restaurant where there is additional seating and an outdoor garden area. It's much quieter there and the front is usually full.
Taragoan Museum
This teeny tiny museum is located close to Boudhanath Temple and is free to visit, so I recommend going on the way. The odd shaped buildings used to be a bungalow style hotel in the 70's. I loved the architecture, but the exhibits were interesting too. They depicted traditional Nepali architecture and drafts of buildings. There's also a cafe on the premise in case you want to take a tea break.
Boudhanath Stupa
Boudhanath Stupa is one of the most visited destinations in Kathmandu as well as Nepal. This beautiful Buddhist stupa is one of the largest in the world. There are several myths about how the stupa was constructed. One involves a king who volunteered himself as a human sacrifice to find water for his people during a drought. Another involves an old woman and her four sons constructing it by hand over a Buddha's remains. The stupa is surrounded by cute shops, however I would avoid the restaurants in the main area because they are over priced. Off the side streets are local hole in the wall restaurants that are great for a snack.
Pashupatinath Temple
Pashupatinath is one of the most holy temples for Hindu's in Nepal. It's the site of open air cremations which take place along the Bagmati River. This river flows down from the Himalayas and eventually turns into the Ganges River in India. Therefore, it's seen as one of the most holy rivers in the world. In the evenings (around 6pm) you can witness the Aarati ritual which involves oil lamps being moved in a circular motion while prayers are sung. These prayers are meant to better all of humanity. I have yet to witness the rituals done in the evening but have been told it's truly beautiful, especially since not everyone is interested in seeing a cremation done during the day.
Dal Baht Nepali Kitchen
Dal Baht Nepali Kitchen is my favorite place to have traditional dal baht in Kathmandu. It's inexpensive, but the restaurant is clean and the food is fresh. They have a lot of different options including chicken, vegetable, fish, boar, etc. I recommend the chicken dal baht which comes with free refills on everything except the chicken. This is a great way to have local food in a clean environment.
Purple Haze Rock Bar
After dinner, head back to Thamel to listen to live rock music. The bands are best on Friday or Saturday night, but there is a band every day of the week. There is no cover charge, but you will need to have a drink while there. I recommend heading to the back where there are pool tables. Past the pool tables is a set of stairs. Follow them up to the open rooftop on a nice night, or head back inside to the seating upstairs which has a better view and isn't as hot.
---
My Top Picks for Hotels in Kathmandu
---
Budget Hotel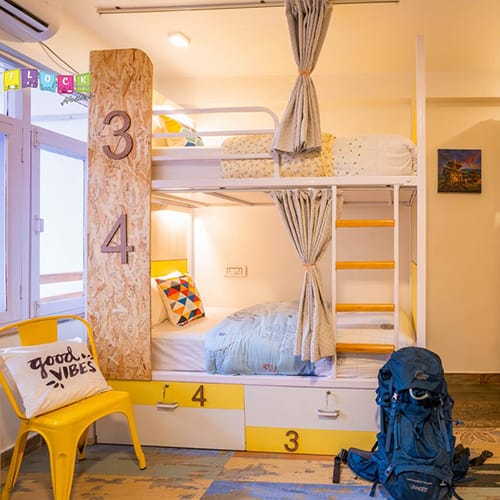 Flock Hostel
$9 a night – Flock Hostel is located in Thamel. Their dorm rooms feature lockers, individual reading lights, conveniently placed outlets, and a privacy curtain. There are plenty of common spaces for hanging out and meeting other travelers.
Comfort Hotel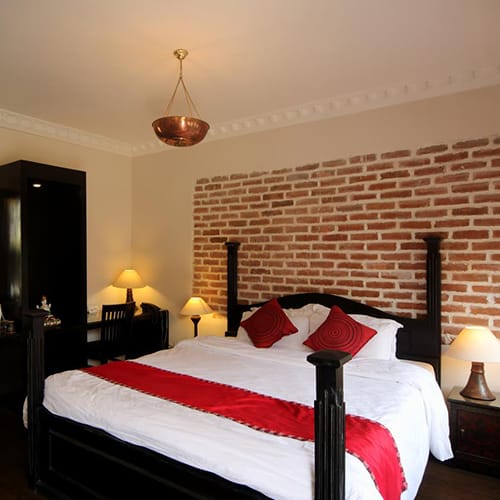 Hotel Thorong Peak
$30 a night – This hotel is located on a quiet side street in Thamel. The rooms are clean, the staff is friendly, the showers are hot, and the breakfast and dal bhat are delicious. They also held my bag for me in between trips, so I never had to lug it around.
Luxury Hotel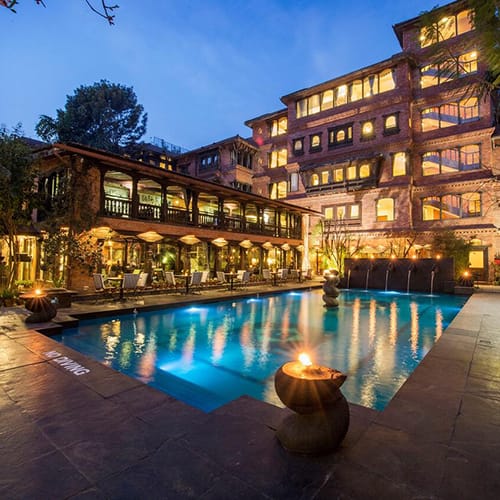 The Dwarika's
$400 a night – Walking into the courtyard feels like you've left Kathmandu and entered a private jungle. The rooms are gorgeous and no detail has gone overlooked. The Dwarika's is by far the most luxurious place to stay in Kathmandu.
Are you planning your Kathmandu itinerary? Leave any questions you have in the comments!
---
You might also like…